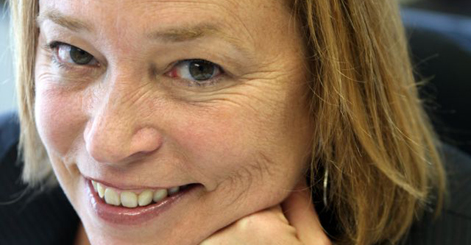 Photo by Hugh Williams
With Memorial Day just around the corner and more people holding on to old cars with old tires, it's a good time to focus on consumer safety issues. No one is more knowledgeable on that topic than Christine Spagnoli of Greene Broillet & Wheeler in Santa Monica. She is one of the world's leading experts on so-called "tread separation" cases, involving generally older tires that separate, often causing vehicles to flip or otherwise go out of control, leading to horrible harm to drivers and passengers.
As a tire specialist, she's taken on Ford, Goodyear, Cooper and other tire makers and has deposed top leaders of the auto industry. She finds the auto industry's current woes tragic, and another illustration of bad decisions by management that result in good people losing jobs.
She saw the results of some of those decisions firsthand in Anderson v. General Motors, in which she was one of the lead trial counsel and won a $4.9 billion verdict for two adults and four children severely injured when a drunken driver rear-ended their 1979 Chevy Malibu on Christmas Eve 1993. The plaintiffs persuaded a jury that General Motors put profits over safety by leaving a fuel tank in a vulnerable spot directly in front of the rear bumper. She also holds the record for the largest personal injury verdict in California, $58 million to a man severely burned when an O-ring imported from Taiwan and used on a Caterpillar grader failed, resulting in him suffering third-degree burns to more than 75 percent of his body. Those are just two of dozens of multimillion-dollar verdicts and settlements she's won in a stellar career in which she also has earned the distinction of one of the rare female personal injury champions.
Spagnoli currently serves as president of the 3,000-member Consumer Attorneys of California, which is dedicated to championing consumer rights through legislation and public awareness campaigns and supporting plaintiff lawyers on the front line for injured individuals.
Lawdragon: How did you decide to become a lawyer?
Christine Spagnoli: I was working for Assemblyman Mike Roos. I always liked politics, but didn't feel like it would be a real long-term career. In the political arena, it's hard to see results, it takes years and you don't feel like you have as much of a direct impact on people.
So I took the LSAT in February with Pat Trendacosta, now the managing partner at Frandzel Robins Bloom & Csato. We both got on the waiting list and we realized we had work to do. So we started showing up at Loyola, pleading our cases. It ultimately came down they had two slots and we got in.
LD: What was your first job?
CS: Before working for Mike Roos, I had done an internship in Washington, D.C., for former Rep. Floyd Fithian of Indiana. I didn't go to work for a law firm until 1984, when I became Bruce Broillet's law clerk. [Broillet is one of the lead partners at Greene Broillet & Wheeler and Spagnoli has worked closely with him ever since.]
LD: What is the first case you remember working on?
CS: I remember working on a case against Volkswagen involving a door latch. Our client had been driving through the Lincoln Tunnel at PCH. He was hit, the car spun around and he was ejected. I worked on a summary judgment motion brought by the door latch component manufacturer. They won summary judgment, which means they would not have to face trial in the case. I wrote the brief on appeal and argued it to the 2nd District Court of Appeal.
LD: You're noted as one of the nation's foremost tire litigation experts. How did you develop that specialty?
CS: It just evolved. I had always done auto products liability since the beginning of my career. Probably 10 or 15 years ago, I had a case involving a Los Angeles Police Department Bomb Squad officer who had a tread separation while on a bomb squad call. He lost control of the vehicle, it flipped, and he became a paraplegic.
The case involved the type of tire used on light trucks. The tire companies always try to limit your discovery to the exact tire that was on a vehicle that crashed.
I remember a very lengthy discovery battle with Goodyear, which took a year. The judge agreed Goodyear had to produce a broad scope of documents about a broad line of tires, not just tires of the exact same size and model as the one that had been on the LAPD officer's vehicle. When we got the documents, from a plaintiff lawyer perspective, they revealed that Goodyear had known about the tread separation problem on the load range E tires and had failed to recall the tires.
As that case settled, we got a case from the crash of a Suburban in Saudi Arabia with the same tire in which three Air Force officers died. I had just returned the documents marked confidential to Goodyear, and I asked for their return. I found more cases involving the same tires. This was around the time the Firestone recall was happening, so the National Highway Transportation Safety Administration opened an investigation and ultimately Goodyear agreed to voluntarily recall a number of tires.
That led to me getting more calls from consumers who had been in tread separation accidents with other tires such as Firestone, Cooper and Michelin. Now it's 80 percent of what I do.
LD: Are tires now more safe?
CS: As a result of the Firestone recall and NHTSA investigation, the testing standard for tires was upgraded. Under the new test requirement, tire companies will have to change the design of tires to add safety components that our experts have said they've needed to do all along. So there should be fewer tire tread separations. Still, there are many older tires out on the roads, so it will be a number of years before tread separations go down. Most tire failures occur when tires are more than 5 years old. Tread separations also occur more frequently in hot weather states like California and Arizona in the summer.
LD: Do you have thoughts about the current crisis in the auto industry?
CS: I think it's a bad day that Chrysler's gone. It's hard to see an iconic industry collapsing and all the people out of work as a result. I certainly would like to see them survive. Good people work for these industries and some made bad decisions. They're not going under because of lawsuits. They're going under because of bad management. I would like to see them have the opportunity to make smarter decisions about their designs so they don't result in injuries.
LD: One of your huge achievements was your work in Anderson v. General Motors, in which a jury returned a $4.9 billion verdict. How did it feel to get a billion-dollar verdict?
CS: The Anderson verdict came down on July 9, 1999 after a very lengthy trial, almost three months, and very hard fought. There were six plaintiffs in the case, including four children who had suffered very bad burns when the gas tank exploded in flames after the car had been rear-ended. The lawyers for GM were very aggressive. The case was almost five years old by the time we got to trial. That's quite a long time to slug it out in that kind of case.
GM told us they would offer $1 million to settle and said it didn't matter if we won a big verdict because they didn't make those cars anymore.
It was quite a shock when the jury read the verdict. We got the compensatory damage verdict two days earlier, and that was for $100 million. So we felt the punitive damages award was going to be big. I remember at the time we were very concerned that whatever it was would be so big it would cause a backlash against lawyers and lawsuits. We were prepared with our press statement and talked to jurors immediately after to encourage them to talk to the press so people would know this was not a crazy jury.
You know, the billion was just not something you ever thought, oh yeah, a jury could award that kind of money. Ultimately, it was cut back by the judge, to 10 times compensatory damages and settled confidentially on appeal.
LD: What are the challenges to being a woman lawyer, especially as a top personal injury trial lawyer?
CS: When I was younger and trying the types of cases where you didn't typically see women, it seemed as though women were not taken seriously such as understanding the engineering issues in car cases. I often feel that we are underestimated and I think that is an advantage.
For me, my life is pretty simple. I have no kids, I'm not married. I don't have a lot of the pressures women who are trying to raise kids have. I don't have to worry about someone sitting home waiting for me to make dinner, take care of household.
It does feel different now, though, since there are so many more women in the courtroom, including women on the bench. To the extent we bring our life experience with us, it feels different when you walk into a courtroom with a woman judge and women lawyers. In the old days, some old time trial judges didn't give the same credibility to women as men. It's much more even now. Having a woman judge helps say that the women can do just as good as the guys and we do it backwards and in high heels.
LD: You've spent a lot of time on bar leadership activities. Why do you think those are important?
CS: What's good about these organizations, like the Consumer Attorneys of California, is that we're able to influence public policy in a way that benefits consumers, whether or not they have lawsuits. We help make good public policy that's consumer friendly.
Just last week I was in Sacramento testifying about a bill to require telling consumers the age of a tire when they buy it. Consumers assume that if a tire has good tread on it, and looks new that it is safe to use. Despite that, if a tire is more than six years old, from when it was manufactured, it has a higher risk of tread separation. Some tires are sold new but have been sitting on the shelf in inventory for a few years, and consumers need to know that information when they are purchasing tires. If we give warnings, we might be able to cut down on the risk of lawsuits.
It's interesting. There are still people in the capital from when I worked there. Mike Davis, who was a field deputy for Maxine Waters, is now an Assemblyman and is carrying the tire bill. We were field deputies together in the 1980s.
LD: Where does your passion for consumer rights come from?
CS: I would say I'm a baby boomer. I came of age and formulated my view of the world when I was in high school in the early '70s, the era of Watergate impeachment hearings, advancement in civil rights and the women's rights movement. With all of those societal changes, I just think I veered toward the underdog, helping protect people from abuse of power.
LD: What case are you most proud of?
CS: The case with the biggest impact was the Goodyear tire cases because there was a subsequent recall and that was directly the result of a process I started by notifying NHTSA about the number of accidents and the flaws in the tires. That would not have happened without work I did. Hopefully that all coalesces into improvement in product safety.