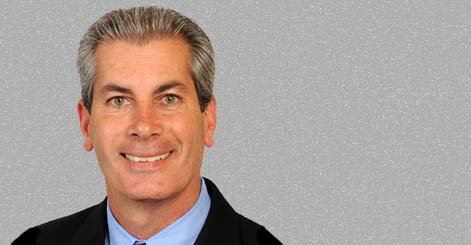 Photo provided by Bingham
Steven Browne wasn't in need of any extra work last year when he assumed the position of managing partner of Bingham McCutchen's Boston office, which dates back to 1891. Browne, a 1988 graduate of Cornell Law School, is co-chair of the firm's corporate practice group and handles an impressive stream of M&A deals for major clients like Citrix Systems, Oracle Corporation and Volition Capital, among others.
But the type of talent it takes to oversee billions of dollars worth of complicated transactions might well apply to the task of running the firm's largest office, which is regularly cited as one of the best places to work in the state. He says he enjoys "the people part of" the new job as well as the challenge of growing something beyond his practice.
Lawdragon: How did you develop an interest in your type of corporate practice, either in school or at the outset of your career?
Steven Browne: Interestingly enough, as a first-year lawyer I had to make a choice between Trusts & Estates and M&A. I started my career at White & Case in New York and they allowed first-year associates to rotate through different departments. I really enjoyed working with the lawyers in the T&E group, but the M&A team wouldn't take no for an answer. I liked the complexity of the large M&A deals I worked on at White & Case, many of which were international and involved numerous countries. Very early in my career I was put in charge of executing the completion of multibillion-dollar transactions — pretty heady stuff for a young lawyer who grew up in Warwick, R.I.
LD: Was there a case earlier in your career during which you feel you really established your reputation or that stands out as providing invaluable experience?
SB: When I was a fifth-year associate at Testa, Hurwitz & Thibeault in Boston, I represented Copley Pharmaceutical, Inc., in its sale to Hoechst Celanese for approximately $0.5 billion. The deal was very complicated as Copley was a publicly traded company and Hoechst was only acquiring 51 percent of Copley. I remember walking into a conference room at Skadden Arps in New York — it was just me and one investment banker negotiating the deal on behalf of Copley. Between Hoechst and Skadden, the other side probably had 20 lawyers and businesspeople in the room. The Skadden partner's strategy was to say no to every point I raised and he insulted me several times.
Realizing I was getting nowhere and my client was going to suffer as a result, I got up and walked out of the conference room. It took a lot of guts to do that. Shortly thereafter, the senior Hoechst businessperson (to his great credit) came to me, apologized and asked me to return to the negotiations. Things went much more smoothly from that point on and we were able to complete a rare and complicated transaction that was terrific for Copley. That was a huge confidence builder for me and I realized that you have to stand up for yourself even in the most difficult circumstances.
LD: You've handled a number of deals in recent years for clients like Oracle and Citrix Systems. Is this deal flow more unique to the success of your practice and the technology sector, or do you have a greater amount of optimism for M&A activity more generally in the year or so ahead?
SB: Oracle and Citrix are two of my key clients, but I cannot take credit for their deal flow. Both companies are very successful, growing technology companies that have used M&A wisely as part of their respective growth strategies. My job is to provide excellent service to these clients so they continue to use me on their M&A deals. I do expect a substantial number of M&A deals in the technology sector in 2012. This is due to a number of factors, including the need of large technology companies to put their cash to work, the need for revenue growth in a challenging economic environment, and the general trend in the technology space for large companies to try to "own the customer" and provide the broadest possible range of products and services.
LD: What are the challenges for recruitment of corporate attorneys in this economic environment? Has your group become more permanently conservative in hiring, as appears to be the trend in the legal industry?
SB: We have always been somewhat conservative in our hiring as compared to many of our peers. We believe in making the extra effort to find truly exceptional candidates who will succeed in our organization and providing them with the opportunity and incentives to succeed and remain with Bingham for the long term rather than hiring large numbers of people and then sorting them out. In this economic environment we are being opportunistic. While the number of incoming associates we are hiring is somewhat down, we are aggressively pursuing talented laterals who we think have what it takes to succeed in this evermore challenging legal profession.
LD: What do you look for in a young corporate attorney whom you would want to spend his or her career at Bingham?
SB: Bingham lawyers, by definition, are business-focused lawyers, so we look for lawyers who put the needs of the client in the context of their client's business. The type of person we want to attract and who flourishes here is not someone who is internally competitive, but someone who is competitive in looking at the needs of clients and delivering excellent client service.
When we interview law students, we look for strong intellect, leadership potential, a commitment to excellence and maturity. After a young lawyer joins us, we expect enthusiasm, hard work, teamwork and responsible, ethical behavior. In return we offer interesting and challenging work, training and professional development, and a respectful, supportive environment.
We look for someone who we can see ourselves enjoying a lasting professional relationship with, whether as a long-term Bingham lawyer, future client or friend of the firm.
LD: Obviously many factors play a role, but what are a few of the key elements that contribute to Bingham regularly being ranked among the best companies to work for?
SB: Bingham has a very strong culture of respect, and that respect applies to each and every person within the organization from top to bottom. Combine that culture of respect with a willingness to listen to people's viewpoints and you have a 'best place to work'. It takes a lot more than that and a lot of elbow grease, but those are the key building blocks. From those building blocks, you add important elements like diversity and inclusion, training, cooperation and teamwork, and overall job satisfaction flow.
LD: Given the level of activity in your practice, what led you to become interested in the Boston managing partner position and to take on that additional layer of responsibility and work?
SB: I have always been focused on two important things in my career: people and growing and building something. Before I took on the managing partner position, I was mostly focused on growing and building my practice and Bingham's Corporate Practice Group, which I co-chair, as well as working with the people in that practice group. The managing partner role allows me to also focus on the more than 600 people in the Boston office and growing our business here in Boston. It is a wonderful thing to have a part of your job focused on people — your responsibility is to get to know everyone, to be a good listener, and to try to improve people's daily lives and help them be more productive. I enjoy the people part of the role most of all.
LD: Can you share any of the strategic goals of the office and how it fits into the firm's broader plans? Bingham has been among the fastest-growing firms in the past decade – is that likely to continue?
SB: Bingham started in Boston in 1891 and that location remains our largest office today. Each of our core practice areas has partners resident in Boston. Also, the talent pool in terms of the number and quality of law schools within the greater Boston area is unparalleled. My plan is to continue to grow Bingham's Boston office by hiring the highest-quality lawyers, working with the highest-caliber clients and taking on the most complex, high-value-add work possible. As to Bingham as a whole, I think we will continue to be opportunistic, but our strategy is and always has been about our clients. We will continue to seek ways to best provide our clients with the type and level of service they most critically need at the quality level that they deserve — which is the highest quality.
LD:  Though it's only been about a year, what have you learned in your new role as managing partner? What advice would you give other attorneys considering such a role?
SB: I have learned that it takes a lot of terrifically talented, highly motivated and loyal people to make a law firm the size of Bingham successful. Each person has an important role, and creating a culture of cooperation and providing support to enable productivity are critical. The real fun of being managing partner is the interaction I now have with people who I didn't spend much time with before. The advice I would give to others considering a role like this is the following: If you like people and are genuinely interested in being part of growing a business beyond your own practice, go for it. The level of interaction with people at all levels within the organization is amazing, but can swamp you under if you don't truly enjoy working with people and spending time helping them succeed.