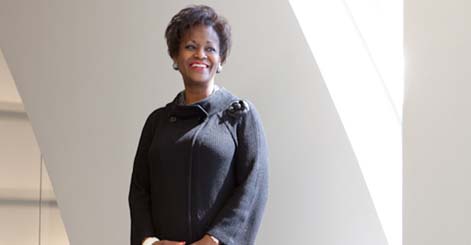 Photo by Justin Clemons
Kim Askew's recognition in our Guide to World-Class Employment Lawyers, posted June 15 in partnership with Human Resource Executive, as well as in our 2011 Lawdragon 500 Leading Lawyers in America, are just a few recent bullet points in what is undoubtedly one of the most award-laden careers of litigators in her generation.
Recent recognitions also include the Dallas Bar Association's Martin Luther King, Jr. Justice Award, in 2010, and her placement on Texas Lawyer's list of the 25 Greatest Texas Lawyers of the Past Quarter Century, also awarded in 2010. Earlier this year, Askew received the State Bar of Texas Section of Litigation's Luther (Luke) Soles III Award.
Though she is a force in the employment arena, the K&L Gates partner handles a range of high-stakes commercial disputes for her clients, including many Fortune 500 companies. She has also been extremely active in professional associations and was the first person of color to serve as chair of the Section of Litigation of the American Bar Association.
Lawdragon: Can you tell our readers why you wanted to become a lawyer?
Kim Askew: My role models were the lawyers who helped our community during the civil rights struggles of the early '70s in Savannah, Georgia, where I grew up. As our community confronted issues with busing and the desegregation of schools and neighborhoods, I witnessed the leadership of local minority lawyers. Many of these lawyers were great orators. They explained rights and opportunities in ways that empowered people and made them less fearful.
I did not always understand what was going on, but they absolutely mesmerized me. As I reflect on the skills they so ably demonstrated in churches and social halls, I can only imagine what they were like before juries. I knew then that I would be a lawyer. I did not see any women lawyers in those days, but I decided I would change that as well.
LD: Much has been written about how challenging it is for women and minorities to enter into what have been white-male dominated partnerships. It remains challenging of course, but it was even less common in prior decades. Can you discuss how you managed to succeed in becoming such an important part of a large firm partnership? Did you have mentors that you remember as key in navigating your career and practice?
KA: You are right. It is still a challenge, but I am pleased to see more successful lawyers of color. I spent twenty-four years of my practice at Hughes & Luce, LLP, which merged into K&L Gates in 2008. Like many great firms, it had a stellar client list, interesting work, and opportunities for advancement, but the firm was unique in some ways.
First, the firm valued lawyers as individuals and understood that I wanted to be a lawyer and a leader in the bar and community. I was able to chart the career I wanted, not the one someone else wanted for me.  Race and gender were never issues in the firm. When I confronted them in the practice, the firm always stood up to opposing counsel and, when necessary, a judge or two.  I wanted an equal playing field and I got it.
Second, the firm promoted clients above all else. It exposed young lawyers to clients and inculcated the bedrock principal that lawyers had to truly understand the client's business and legal problems. We prided ourselves on client service, novel approaches to practice, and out-of-the box thinking. That belief in the client encouraged the practice of great law over the years.
Third, I understood the importance of business development and co-chaired business development activities for the firm early on as a partner.
Finally, mentors made a difference. Skilled lawyers and judges offered guidance to me throughout my career and they still do. Of course, I have become a mentor to many because mentoring certainly helped me. The support and opportunities provided by mentors can make or break a career.
LD: To what do you explain your success in the courtroom over such a long list of cases?
KA: Cases, clients, legal theories, and courtroom practice may change, but the fundamentals of success in a courtroom do not. It is always all about the people. I relate to people. Whether a judge or jury, it is always about relating to and persuading the trier of fact as to why your client should win.
LD: What key lesson or lessons do you try to instill in younger litigators who look to you as a role model?
KA: Number one, be prepared, be prepared, be prepared! Second, know your case inside and out – all the details and the strengths and weaknesses of every theory and every aspect of the case. More importantly, understand the opposing side's case better than your opposition. Third, be a good storyteller. Learn to simplify the most complex cases in ways that everyday jurors can understand. And finally, winning lawyers are authentic before juries. They are comfortable in their own skins. They trust juries.
LD: In addition to your practice, you have been extremely busy in professional associations, taking leadership positions with the ABA, including the litigation section chair and the highly scrutinized work on the federal judiciary committee involving nominations. Why did you pursue these extra-practice endeavors? What have you gotten from them?
KA: It is important for lawyers to be involved in the profession and bar leadership is another way of serving the profession. This work has made me a better lawyer and has afforded me the chance to know lawyers and judges throughout Texas and the United States. Participation in professional organizations provides an excellent platform for those who care about the development of the law.
I have especially enjoyed the work of the ABA Section of Litigation, which is always at the forefront of litigation issues from jury trial innovations to rule changes. I have found the law reform work of the American Law Institute especially rewarding. Service on the ABA Federal Judicial Committee is service to one's country and the courts, and I am pleased that my firm allowed me to undertake this important work. Of course, I encourage lawyers to become involved in these organizations, and I have worked further to open these doors to diverse lawyers.
LD: You have won numerous recognitions in your career. Nevertheless, for me, one of them – being included among the 25 Greatest Texas Lawyers of the Past Quarter Century – stands out, just because it is drawn from so many lawyers, from such a large state over such a long period of time. What was your reaction to getting such an accolade?
KA: Quite humbling! I had no idea that I was being considered for this award. It was especially meaningful to think that I had built a reputation that allowed me to be included with the other great lawyers who won this award. I personally know most of them and they are some of the very best lawyers in our state and nation. Of course, this was a reminder that I needed to start focusing on the next 25 years!
LD: What do you do to relax or have fun outside the office?
KA: Travel! When I get a moment, I am at the beach with a good book.  I will [soon] be at Martha's Vineyard with my Kindle and Ipad in tow.