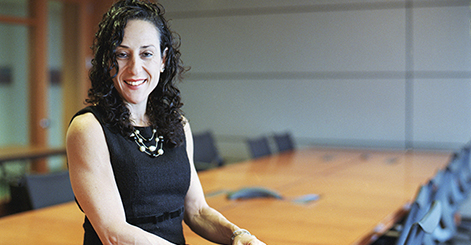 Photo provided by Milberg
In 2012, veteran plaintiffs' attorney Janine Pollack gave shoe manufacturers Reebok and Skechers a run for their money. The Milberg partner obtained a combined $75 million in settlements from the two companies on behalf of consumers who purchased so-called "toning" shoes, those sneakers that promise to tone your body simply by wearing them. She also recently secured a $9 million settlement on behalf of consumers who bought Sensa, a weight-loss product that made advertising claims that were allegedly not based on any scientific or clinical data.
A 1989 graduate of University of Pennsylvania Law School, Pollack made a name for herself representing defrauded shareholders in securities class action cases. As Milberg expanded its plaintiffs practice to handle other class actions in areas such as antitrust, ERISA, False Claims and consumer litigation, Pollack found herself gravitating toward consumer class actions.
"At some point, I began doing consumer cases and, again, found my passion," she said. "I love being able to help groups of victims of  consumer frauds and other wrongdoing to pursue claims that they could never pursue on an individual basis."
Lawdragon: How would you describe your practice?
Janine Pollack: I typically represent consumers in class actions alleging, among other things, consumer fraud, false advertising, breach of warranty and breach of contract. I have also recently represented the widow of a deceased smoker in a wrongful death case against RJ Reynolds. That case went to trial and we won a verdict for our client.
LD: You've recently settled some major consumer class actions across a wide variety of industries. Is this the type of practice you imagined doing while you were in law school?
JP: The only thing I knew for certain in law school was that I wanted to be a litigator. My passion is writing, and litigation affords a writer the ability to be creative while at the same time expressing a legal position in a coherent fashion. In my second year of practice, I took a position at Milberg doing plaintiffs' litigation work and, as it turned out, that was a perfect fit for me.
LD: What's the difference between being a plaintiffs lawyer and a defense attorney? Or is there a difference?
JP: There is a difference between a plaintiffs' lawyer and a defense lawyer if you feel one. For example, some people can represent one side for 10 years, then switch over to the other side, then switch back. For these lawyers, they are simply presenting their clients' interests to the best of their ability, whether it is the plaintiffs' side or the defense.  Others, after representing one side, simply cannot ever represent the other side. It is all a matter of perspective and probably what you get used to. But it is personal and comes from the heart.
LD: You have been a prolific speaker on work-life balance and stress management. What's your advice to young women lawyers just embarking on their career on how to have it all? Or can they have it all?
JP: In my view, besides mastering the substantive aspects of your job, work-life balance and stress management are the keys to achieving your career goals, whether you are male or female, and whether you are a lawyer, banker, or any other professional. Maintaining a healthy diet and exercising are critical components in this regard. However, a woman's career is frequently complicated when she decides to have a family. Insofar as the woman is the child-bearer and often the parent who principally deals with the children, women ultimately have an added layer of stress and must work even harder to find that work-life balance. It is a constant challenge and requires dedication and organization, but women can indeed have it all.
But they must start early in their careers with good healthy habits so that the mind and body connection become a way of life as they progress and grow as a lawyer. No excuses — you do have time to exercise! There is for me tremendous joy in sharing what I have learned regarding work-life balance in my career so far, as I have progressed from associate to partner and from being single to being a mom. Keeping all the balls in the air at work and at home means finding your core energy and tapping into it so you can tackle each day with renewed vigor.
LD: What do you consider the most rewarding part of being a lawyer?
JP: The rewards of being a lawyer are manifold. On a professional level, it is rewarding to believe deeply in your client's position and effectively and persuasively present it to the court and/or the jury, and have them agree with you. On a more personal level, it is rewarding to act as a mentor to younger lawyers to help them achieve their own career goals and strive to find their work-life balance and core energy.
LD: What was your favorite class in law school and why?
JP: I really liked the class on evidence in law school. The entire legal system is built around the evidence in the case, whether it is a civil or criminal matter. Even if it is the most favorable piece of evidence for your client, if it is not admissible it ultimately cannot be considered by the fact finder. Many constitutional issues are also implicated by the rules of evidence. While the concepts, like hearsay, can be difficult to grasp at first, once you truly understand them, you litigate your case more effectively from start to finish with those concepts in mind. Having tried cases both in federal and state court, I look back on my evidence class in law school with new appreciation of what I learned there.
LD: What do you do for fun?
JP: My idea of a fun day is spending two hours in the gym instead of only one, including and especially a yoga class, picking out my fresh ingredients to cook up a delicious and healthy meal to enjoy with lots of family and friends around, taking in a museum or Broadway show, and laughing with my two boys (ages almost 9 and 11) who bring such joy to my life and keep me forever young.