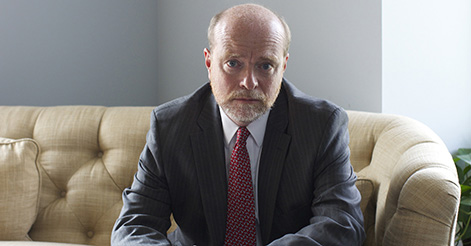 Photo by Eli Meir Kaplan
Public service, in many forms and several incarnations, runs through William Treanor's life. It motivated his transfer to Yale Law School from Harvard ("Yale had more of a public service focus," Treanor, a Yale undergraduate, says.)  It fueled his frequent forays into state and national government – on a New York State commission investigating political corruption; as an attorney in the Iran-Contra Special Prosecutor's Office; and as a special assistant U.S. attorney, misdemeanor trial unit, for the District of Columbia.
Even his entry into legal academia – at Fordham Law, and then Georgetown Law Center – was premised on the argument by a young scholar, Henry Louis Gates Jr., that he would serve a variety of publics answering a host of needs.
It is why Treanor's 2010 selection as executive vice president and dean of Georgetown Law, with its Jesuit heritage centered on concerns for social justice and  "Law is but a means; justice is the end" motto, was a no-brainer.
It's been a turbulent two years, in which law students were buffeted by changes in the legal profession and job market, high tuition rates, higher debt and choosing between the competing realities of the law they'd like to practice and that which of necessity they must practice. Treanor's response: Become a leader in crafting and implementing innovative approaches to law students' education. His efforts have already earned him the approbation of his peers, as well as his selection for the Lawdragon 500.
Lawdragon: What put you on the law school track, given that you first earned a graduate degree in history?
William Treanor: I was fascinated by government and politics, even as a young child. I remember that one of my first books was a comic book biography of President Kennedy that I read over and over; he became my hero. I also remember that my parents and their friends were involved in the Civil Rights movement. That made a big impression on me. I thought of government as a way to make a difference in people's lives and to help them, and, early on, I decided that the best way to become involved in government was to become a lawyer.
When I got to college, however, I was torn. I loved academics, and particularly history. Henry Louis Gates, who is now one of the great figures in education but was then a very young assistant professor, was my mentor and encouraged me to go into academics. He convincingly argued that, as a scholar and teacher, I could influence students and readers in a profound way.
As I was thinking through career paths, I read William O. Douglas's autobiography, and the way in which he had moved between law school teaching and government service – before he joined the Supreme Court – made a big impression on me and helped shape my career plans. I decided to go into law school teaching, both because I thought I could make a difference as a scholar and a teacher, and because it would allow me to move into government at different points in my career and have a role in public affairs.
I also decided that the academic area I would pursue was legal history, because it combined my love of history with my recognition of the importance of the law. That's why I became a J.D.-PhD student, with the PhD in history.  As a scholar, my work has been in the area of constitutional history, with a focus on the early history of judicial review and on the history of constitutional protections of private property.
LD: You've followed the path you envisioned, moving between law teaching and government. Why become an administrator?
WT: Being a dean was appealing because I thought that I could help shape an institution and help educate students for careers that would be meaningful to them. It also made sense because it combines the two primary interests underlying my professional career – a belief in the importance of academics and a desire to make a tangible difference in people's lives.
LD: What were the hardest adjustments as you transitioned from seven years at Fordham to Georgetown?
WT: Fordham and Georgetown have deep similarities. Both are part of Jesuit universities and, consistent with the Jesuit mission, they both have fundamental commitments to educating people for lives of service and to advancing social justice. They each have wonderful scholars who produce important work. The two schools focus on teaching, and each has a superb clinical program. They are also large schools – among the largest in the country – and are urban schools: Fordham is in the heart of Manhattan; Georgetown, the heart of Washington, D.C.
My biggest concern in going to Georgetown was whether my children would adjust well to the move. Liam and Katherine were 13 and 14 and had lived all their lives in New York, except for our years in Washington, D.C., when they were very small.  But they are both enjoying D.C. They also like their new school.  Liam particularly likes the fact that it is co-ed, whereas his school in New York was all-boys. As he said to me one day shortly after our move, "Dad, when you go to school with girls, you can't go back."
The principal work challenge I have faced is the way in which the dramatically changing job market is affecting law schools, a change that largely overlapped with my move. The number of entry-level associate positions at firms of 100 people or more was cut roughly in half in a very short time.  At Georgetown, in the summer of 2008 more than 70 percent of our second-year students were working at  firms with more than 100 lawyers. In 2010, the summer I arrived here, the figure was 34 percent. We are back up to more than 50 percent now, but I don't expect the number to be substantially larger than that in the near future.
As potential applicants to law schools have become aware of the changes in the job market, the number of applications, understandably, has dropped sharply. At Georgetown, we have gone from 12,500 applicants to 7,500 applicants. The great challenge I face – that everyone in legal education faces – is how to respond to this very different market for graduates.
LD: How are you responding?
WT: A number of law schools have cut the size of their entering classes, sometimes significantly. Often, this has been primarily an effort to keep the quality of the entering class from declining too sharply at a time when applications have sharply declined.
At Georgetown, while the number of applications has dropped, the quality of the entering class has remained strong. In fact, while there has been a slight dip in the LSATs, there has been an increase in entering students' GPAs. Nonetheless, I've charged a faculty committee with analyzing the size issue. This year's entering class will be slightly smaller than last year's. Our current approach is look to each year at how many  new students we enroll. At the same time, any significant cut, without some means for gaining other revenues, would result in a huge reduction in the resources that we would be able to devote to students. An alternative to cutting numbers of students would be to put our resources into improving counseling, increasing financial aid and strengthening our already strong curriculum.
In today's market, the people who are able to be of greatest value to employers as soon as they graduate will be the people who are hired. As a result, law schools have an obligation to educate their students more broadly than we have in the past. We have to focus on teaching subjects such as financial literacy, negotiation and management. We have to do a better job teaching oral presentation and writing in a range of settings other than brief writing and writing lengthy memoranda of law.  We have to help our students learn to work with clients and on teams, to work with people across cultural and national boundaries, to assume responsibility and manage their time.
LD: Are you over-emphasizing Big Law firms as the employers of choice?
WT:  I use Big Law as one example of the changed market. In reality, and I want to emphasize this, there are many things you can do as a lawyer. Law schools must help students think more broadly about the right job for them now and in 10, 20 years. At Georgetown we started "The Search Before the Search." What is my personality like? What are my values? What do I like doing? Am I a people person? Do I like working by myself? We want our first-year students to thoughtfully reflect on such questions, to consider what's important to them, and then what's the right path for them.
When I was thinking about legal careers, I worked at a small law firm, maybe 15 people, in Morristown, N.J., my hometown. Many people in the firm had gone to top law schools. They decided to work in a small town because they could make a difference in their community. For many people that is the right choice, or to go into business, or work on the Hill or as a lobbyist or entrepreneur.
One response, then, to the new market may be defining different career paths for students. Part of the education-employment puzzle involves a lack of lawyers in some parts of the profession. There are people with real legal needs, for example, who can't afford a lawyer. I was on a commission in New York on the future of the courts, and it was obvious that there is a dearth of lawyers in some counties. We need more lawyers who won't charge high rates. So at Georgetown we're exploring "low-bono" law firms. We're talking to a law firm to give us space where lawyers could mentor young attorneys, who would work for people who can't otherwise afford them.
LD: Your own career reflects a long commitment to public service. You transferred from Harvard Law School to Yale because of that school's emphasis on public service and Georgetown's dedication to public service is well known.
WT: Our motto is "Law is but the means. Justice is the end." The expansion of our experiential program is not simply about teaching people to be better lawyers, but helping inculcate in them a commitment to service.  We have worked to expand our pro bono program for the same purpose.
Building on what was already a strong program, we have developed a wonderful range of opportunities for students beginning, literally, in their first week of law school. This past year, 250 first-year students were placed with 31 organizations and they contributed to 41 discrete pro bono projects.  We guarantee funding for students who want to work in public interest law during the summer, and we provide support for graduates to work in the public interest; more than 600 people participated in these programs last year.
LD: It's good to remind students that their teachers have lives outside the law school. That said, what is your "other life" like?
WT: I spend as much time as I can with my family, my wife Allison and my two children, Liam, who is 17, and Katherine, who is 16. I enjoy traveling with them to new places, exploring sites in the D.C. area, trying local restaurants and engaging in activities together, like hiking or playing tennis. Katherine is a great runner, and it's fun to watch her compete in school races, and Liam is very active in school plays and in singing groups and he's in a band; it's a real pleasure to see his performances.