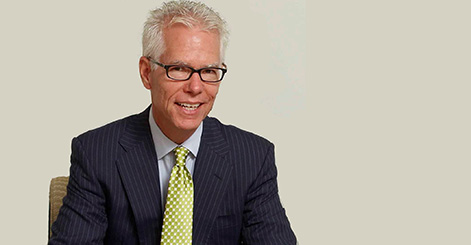 Photo by Alison Gootee
For a solo practitioner, Charles "Chuck" Ross is not at all typical. For one thing, his firm, Charles A. Ross & Associates, maintains offices in two of the country's largest legal markets, New York City and Miami. For another, many of his clients are individuals and corporations that might just as likely choose a larger firm for representation.
He's represented Larry Salander, the art gallery owner who was accused of defrauding his company and clients; celebrity comedian Katt Williams on weapons charges; and a former Madoff Securities London office chief, who was never prosecuted. He's also represented Wells Fargo/Acordia in the New York State Attorney General's contingent fee commission lawsuit; a number of hedge funds in various grand jury investigations; and Bioreference Laboratories in health care related investigations.
"I always liked 'Perry Mason,' 'The Defenders,' and all the swashbuckling defense attorneys in the 60's and 70's," Ross says. "My original plan was to be a juvenile rights defender. I was a youth worker in East Harlem and on the Lower East Side prior to entering law school and I wanted to help kids who got into trouble with the law."
He managed to do just that in the early part of his more than 30-year legal career. A native of Philadelphia, Ross moved to New York City in 1977 and went to New York Law School. Following his 1981 graduation, Ross honed his trial skills working as a criminal trial attorney for the Legal Aid Society in the Bronx, and then as an assistant federal public defender in the Legal Aid Society's federal unit in the Southern District.
Lawdragon: Recently, the New York Times published an article on how top law firms that used to shun criminal defense work are now aggressively competing for this kind of work today against small firms specializing in defending corporate executives and Wall Street financiers under government scrutiny. You appear to have gone a different direction though by setting up your own practice after being chair of Herrick Feinstein's White Collar practice group. What's your take on the recent trend?
Charles Ross: Certainly over the past twenty years or so large law firms have built white collar criminal defense practices which used to be the bread and butter of a few boutique firms. However, very few large law firms actively market their white collar practitioners for non-white collar criminal work. Given that I am able to attract both white collar work and non-white collar criminal defense work, I ended up leaving a significant amount of business on the table when I was a partner at a larger firm. Moreover, conflicts problems restricted my abilities to land even the white collar work. I'll always be happiest representing individuals actually charged with crimes rather than representing a company in need of an internal investigation. I found that I didn't need the larger platform of a top firm to successfully compete for the cases I was most interested in getting. Running my own practice lets me market my firm for any type of criminal case, gives me complete flexibility in setting the rates and types of fees we charge, and allows me a very close relationship with my conflicts committee. When I get a potential new matter I look in the mirror and ask, "Do I have a real legal conflict?"  If the answer is no I can take the case.
I truly believe that smaller firms are a better choice to provide criminal defense services for individuals. Larger firms rely on a leverage model of business. Companies in trouble expect to see a significant legal team with a deep bench of less costly associates. However, associate billable hours contribute to the very substantial fees charged by large law firms. Individuals without multi-million dollar defense war chests can still pay reasonable fees to smaller firms and receive stellar representation without the sticker shock of some larger firm billing practices.
LD: Unlike most white-collar attorneys though, you also do criminal matters such as allegations of possession of child pornography, drug dealing, gambling, racketeering, murder, rape and assault. How different is that practice from white-collar crime? And does the criminal practice contribute or enhance your white-collar practice?
CR: I think any criminal case reduced to its essence is about the theory of defense or storyline that can be presented to a jury. A white collar case is no different from a murder case or drug case in that regard. There's for sure more paper to wade through in a white collar case, but a great defense lawyer always boils everything down to the most compelling case for reasonable doubt. The courtroom skills I've developed for cross examining witnesses in non-white collar cases contribute to and enhance my examination skills in a white collar case. The organizational skills my firm brings to a white collar case and our use of technology to assist us to analyze and present a defense in a securities fraud case  helps us organize and present complicated murder, terrorism, and narcotics defenses. Both practices contribute to and enhance the other.
LD: Judging from your resume, you've spent almost all of your legal career here in New York so why open an office in Florida?
CR: I realized that I knew many lawyers in the South Florida area when I attended an ABA conference on White Collar Crime in Miami in 2009. The conference was in March and while it was freezing cold in New York City it was balmy and warm in Florida. I began to explore the possible synergy of a practice based in both cities and realized that a presence in Miami was a terrific idea. There has always been a significant business connection between New York City and Miami across many industries. In addition, many people who live in one city have relatives in the other. There is just a tremendous amount of personal and commercial overlap. Some of my South Florida friends refer to the Miami/Dade/Broward area as the sixth borough, although a judge friend who sits on the Miami-Dade Circuit Court bench in the Criminal Term blames former New Yorkers with anger issues for the traffic problems in Miami!
So for about a year I explored whether the move really made business sense by meeting with lawyers who had experience in both cities. I developed a belief that a Miami office  would triple my marketing capacity. My Miami contacts would send me New York work, my New York referral sources would send me work in Florida, and gradually I'd break into the referral circles in Miami for work in Florida. Without an office in Miami I really couldn't try out my marketing idea. In order to hang a shingle in Florida I was required to take and pass the Florida Bar Exam and submit to the normal character review. In addition, I needed to take the Multistate Professional Responsibility Exam (MPRE), which didn't even exist when I passed the New York bar. I took and passed the Florida Bar and the MPRE in 2010 and was admitted to practice there in October of 2010. I am now a member of the Florida State Bar and the Bars of the Southern and Middle Districts of Florida. My office in Miami is directly across from the federal courthouse and I employ an experienced associate there.
We've been open for business for two and a half years and already my marketing plan has paid off far beyond my most ambitious expectations. Our Miami office has had a wide variety of representations including a notorious West Palm Beach federal kidnapping case, a Foreign Corrupt Practices Act investigation, and a currency transfer case involving an accounting professional. I regularly get both federal and state referrals on criminal cases in New York City from my Florida business sources. It's not half bad in February to spend time in the Miami office!  So all in all it has worked out incredibly well.
LD: Is there a particular case that truly set your reputation in this area? Or is it an accumulation of representations? If it's the latter, can you cite some of those cases that you think helped most in establishing your credentials in this area?
CR: There was no one case that set my reputation. I have  worked hard and done as good a job as is humanly possible for each client over more than thirty years of practice. I've obtained excellent results in both state and federal courts on all kinds of criminal cases. Mine is a reputation that has grown over time and has been sustained by trying my best for each and every client. While I'm reluctant to provide client names or describe specific cases, my skill, commitment, and dedication to providing the best defense possible has been built over generations of prosecutors who often have later become my colleagues at the defense bar and by working with many great defense lawyers over the years.
LD: You've handled some pretty high profile cases that had been widely covered by the news media. Do you have a tip to other trial lawyers on how to handle the press while trying a high profile case?
CR: My advice is to develop relationships with journalists who cover the courthouses where you practice. Don't wait for the big press case. Have lunch or coffee with the journalists who regularly write about the types of cases you get. That way you have a common ground and an amount understanding and trust already developed. I never tell reporters something unless it helps my client. I don't court the press, but I do not believe in simply providing a "no comment" if the media is interested in one of my cases. Sometimes, reporters can provide me with information I would not otherwise have had access to and I can help them with non-privileged information or public comment that they need to properly cover the story. In this fashion, my clients are protected and I can support a strong and free press at the same time.
LD: Speaking of the media, how has social media influenced the way you practice today?
CR: I'm amazed at the effect of social media on the practice of law. Our website is search engine optimized and allows for contemporary updates on important legal trends and topics. In turn, our active content entries on a variety of legal subjects are made available on Facebook, LinkedIn, Twitter, and many other sites. I have definitely noticed an extraordinary increase in the number of clients who contact us as a result of our efforts at social media marketing.
LD: What was your favorite subject in law school?
CR: I loved my criminal defense clinical program in my third year of law school. It was a terrific class in which we learned all the courtroom lawyering skills through study, demonstration, and actual representation. We represented clients on misdemeanors in criminal court in Manhattan through the law student practice rules.
LD: Did you have a mentor when you were just starting out as a lawyer?
CR: My mentors were my colleagues at the Legal Aid Society in the Bronx. It was an amazing office full of talented and idealistic lawyers who worked incredibly hard to defend poor clients who couldn't afford to pay for counsel. Not only did we believe in what we were doing but we were really good at it. When I started as a young lawyer up there the bar was set very high and I constantly had to extend myself  to reach the mark. My colleagues became my friends and mentors.
LD: Who is your favorite fictional lawyer character?
CR: Recently I got totally hooked on Michael Connelly's "Lincoln Lawyer" series. Michael "Micky" Haller is a former Los Angeles County Public Defender turned private criminal defense lawyer. He lives by hard work, talent, and his wits. Although I liked the movie, the books really do an excellent and entertaining job at portraying a likeable criminal defense lawyer who very professionally and competently represents his clients but wrestles with the lack of a moral high ground in the process. The books are a great answer to the question, "How can you represent those people?".
LD: What do you do for fun?
CR: I run and go to the gym every morning. I like to read, I love summer action movies, and I'm always interested in trying out new restaurants. My wife and I have a little country place in Connecticut and when I'm there I like to garden, fish, and hunt with my English Springer Spaniel, Bailey. I love spending time with my wife – who is a very fun person to hang out with.