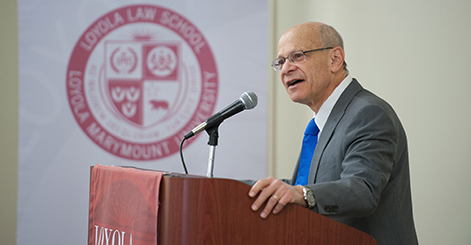 Photo provided by Loyola Law School
Victor Gold's career path makes a clear case for his devotion to legal education and, specifically, to Loyola Law School, Los Angeles. Early in his career, he turned down a partnership offer at Nossaman LLP in Los Angeles to take an Arizona State University College of Law professorship. He joined Loyola in 1984, winning accolades as an educator, including an Excellence in Teaching Award from the class of 2007, and took his first administrative role in 2000 as associate dean for academic affairs. He became the 16th dean at Loyola Law School in 2009.
After college and law school at UCLA, he made himself an expert in evidence law, writing six books on the Federal Rules of Evidence and articles on evidence and advocacy law, while lecturing on evidence and contracts law to students preparing for bar exams. He also has worked as a CBS legal analyst (1994-1997) and provides commentary to news media nationwide.
Lawdragon: What drew you into the field of law and academia?
Victor Gold: I knew deep in my gut that I was cut out to be a teacher based on what I saw in the classroom as a student. My favorite professors were the ones who clearly loved the law and legal analysis, did not take themselves too seriously, had a great sense of humor and were a bit of a ham. That's me! In fact, I was a litigation associate at Nossaman in Los Angeles for five years and declined an offer of partnership to take a professorship at Arizona State University College of Law. I moved to Loyola Law School, Los Angeles, several years later. I became an academic because I love teaching.
LD: What distinguishes Loyola Law School from other law schools?
VG: Loyola's campus truly sets the school apart. Celebrating 50 years at its current location in downtown Los Angeles, Loyola has developed a symbiotic relationship with the city it calls home in pursuit of its focus on social justice. Many of our clinics assist underserved members of our community, giving our students a broad choice of practical-training offerings where they may obtain live-client experience. For instance, students at our Home Base Immigration Clinic help those facing deportation, who cannot afford legal representation. Our Project for the Innocent, part of the school's Alarcón Advocacy Center, works to free those who have been wrongly convicted. It recently secured the release of a man who served 34 years in prison for a murder he did not commit.
Elsewhere, students in our Center for Juvenile Law & Policy work to secure social and educational services for their youth clients, whom they also represent in court. The Center for Conflict Resolution, part of our downtown Public Interest Law Center, assists in resolving housing, employment and other disputes. It recently launched the Consumer-Debt Options Counseling Clinic, which helps clients put their financial affairs in order. Our new Fashion Law Project, the only one of its kind in the West, seeks to train attorneys ready to practice in the rapidly growing field and takes advantage of the school's close proximity to L.A.'s fashion hub. With Hollywood close at hand, our entertainment law curriculum includes a dedicated Concentration, the Entertainment & Media Law Institute and the Entertainment Law Practicum, which places students in externship positions at top studios, record labels and entertainment law firms.
MS: Anything else you wish to highlight?
VG: Occupying a city block just minutes from L.A.'s downtown legal center, our standalone campus is dedicated to the law. Designed by world-renowned architect Frank Gehry, it includes mock courtrooms, client interview rooms, cutting-edge technology and myriad spaces for students and faculty members to interact with each other. Situated near L.A.'s legal epicenter, campus visits by top practitioners and jurists are common. And we regularly host symposia on cutting-edge topics in areas such as criminal justice, intellectual property and entertainment law.
Additionally, we have instituted several programs geared to help first-years obtain their legal footing early in their studies. These programs include Law Start, an innovative daylong session for admitted students with tips for critical skills such as outlining and case briefing. Elsewhere, Orientation II offers networking and other soft-skills training for first-years, along with an opportunity to meet attorneys from a wide range of practice areas. In its second year, Intersession is a weeklong set of intensive, practical courses offered before the start of the spring semester that includes classes like Drafting Pretrial Documents and Financial Basics for Lawyers.
LD: What are your biggest challenges as dean and how are you meeting them?
VG: Ensuring that a law degree remains a good investment for our graduates is our biggest challenge.  To meet it, Loyola has made more changes to its academic program and its administrative structure over the last five years than we saw in the preceding 25 years. We have instituted a dozen new concentration programs, expanded clinics and externships, modernized the first-year curriculum, reduced the size of the entering class, cut budgets to control costs and instituted new degree programs.
LD: Are you seeing trends in the types of jobs your students take after graduation?
VG: The trend is toward flexibility, both geographically and in type of position. Large national law firms have cut their summer and associate classes by half or more and seem to have moved permanently to a business model that permits them to continue to deemphasize entry-level hiring. Opportunities are beginning to expand at small and mid-size firms, some of which are now competing for business that large firms can no longer do as efficiently.
LD: What do you do outside the law school when you're not being dean?
VG: Play with my grandson and my dog.