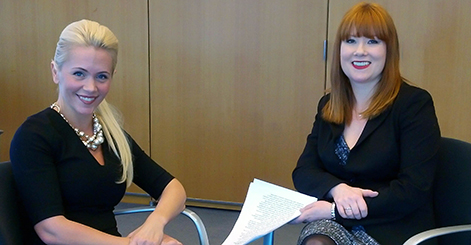 Photo of Debevoise's Erica Berthou (left) and Catherine McGregor by Melissa Chan
[
View the full issue Insights: Private Funds
]
Welcome to the first edition of Lawdragon Insights.
Let me take a moment to tell you about the Insights series, how we selected private funds as our first topic, as well as a bit about our methodology.
Having joined Lawdragon from another legal publisher in 2013, I aimed to create a bespoke publication for corporate counsel, featuring the short list of the top lawyers in of-the-moment practices who were deemed a cut above by the world's leading in-house counsel.
We strived to be consciously elite and detailed – and to provide comprehensive knowledge in our coverage. We have included lawyers from the top through the more junior. It has been, in particular, gratifying to shine an early light on the stars of tomorrow.
As for our selection of private funds as the first topic, I should note it's been an area of particular interest for me since I began covering the private funds space in 2006. Funds today are facing a pivotal moment of maturity, consolidation and increased opportunity after the tribulations of the financial crisis and increased surveillance by regulatory bodies globally.
To create Insights: Private Funds, senior correspondent Cat Rodgers and I independently canvassed leading clients in the market and sought referrals to additional in-house funds counsel. This research informed our assessment of the 15 leading funds practices featured in this guide, as well as those included in "The Honorable Mentions," which regularly act for premier funds. Key criteria included mandates handled in the last three years, with a focus on sponsor-side representation, and the depth and breadth of the practice, including abilities in ancillary areas. We reached out to the firms after the corporate counsel weighed in, seeking more details on individual private firm lawyers and practices.
We consciously decided not to rank the firms or the lawyers, but to focus instead on those in the major leagues, and those who offer outstanding specialists or variations on the private funds practice. This decision was driven by the fact that the number one firm for one fund with a particular strategy and geographical focus may not be number one for another. We leave it to you to decide which is the best for you and hope that the detail offered here brings out the nuances and characteristics of the various teams.
For the record, all selections were made without any influence from firms, whether through relationships or monetary support. Lawdragon prides itself on its independence as a media company, and Insights upholds that standard in every way, I'm pleased to say.
I'd also like to note how pleased I am to be anchoring the first truly international guide to lawyers. You'll find within here the best private funds lawyers on three continents – who provide guidance to clients in every continent on Earth. In addition, I'm delighted to be joining a company with a strong digital platform, ensuring corporate counsel have access to meaningful information on elite counsel through the Web.
For more information, please contact me at catherine@lawdragon.com.
[
View the full issue Insights: Private Funds
]