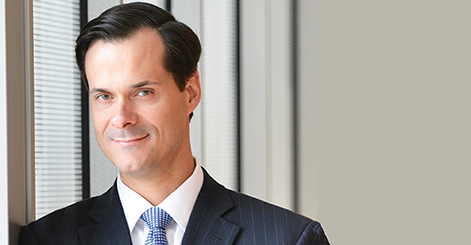 Photo provided by the school.
Anthony Crowell often refers to New York Law School as "New York's law school." The moniker derives less from location than from a history of educating some of the city's most influential citizens. The school's president and dean since 2012, Crowell himself has long been a quietly influential figure in New York City government.
From 1997 to 2002, he served as assistant corporation counsel in the city Law Department's Tax & Condemnation and Legal Counsel Divisions handling complex litigation, advising on constitutional questions, and drafting legislation and regulations for the mayor and city agencies. He turned in 2001 to assisting the families of the 9/11 attack victims as he directed the World Trade Center Death Certificate Program and was counsel at the city's Family Assistance Center. He then served as special counselor and then counselor to Mayor Michael Bloomberg from 2002-12.
Crowell still has a policy hand in the city's life. He serves on the City Bar's Task Force of New Lawyers in a Changing Profession; the city's Conflicts of Interest Board (a.k.a. ethics board); as past chair of the Brooklyn Public Library Board of Trustees and on the Board of Directors of the Citizens Union Foundation, which researches and promotes public-policy solutions on matters affecting New York's city and state governments.
A graduate of the University of Pennsylvania with a J.D. from American University, Crowell managed the government affairs and policy committee at the Washington-based International City/County Management Association from 1992 to 1997. He began his formal association with New York Law School as adjunct faculty in 2003.
Lawdragon: What drew you to legal academia?
Anthony Crowell: In my view, there has never been a more important or interesting time to be involved in legal education. The profession and law schools are undergoing historic and exciting changes. The ability to be on the cutting edge of designing innovative programs, supporting extraordinary scholarship and working with a great faculty to shape the next 125 years of New York Law School's role as a leader in legal education – that is what drew me here.
Before becoming dean I was involved with NYLS for almost a decade as an adjunct professor. I hired, managed, and mentored many NYLS graduates in my previous role as Counselor to New York City Mayor Michael R. Bloomberg and, before that, in my other roles in government.
I believe it is critical that our profession begin to place equal value on traditional and nontraditional jobs performed by those with legal educations. In addition to traditional roles in large and small firm settings, lawyers are a driving force in business, government and the nonprofit sector, and we need to ensure that our law schools prepare students for these roles, and that our profession values these contributions.
Additionally, I felt it was time for law schools to ensure that our newly minted lawyers are equipped not just with substantive legal knowledge and analytical skills, but also with the qualities and experiences that all employers are looking for: leadership, professionalism and the ability to contribute to a team, to manage and deliver on projects, and to communicate effectively. Law schools can help teach these skills through project-based learning, clinics and other experiential offerings. Because of our location – in the heart of New York City's legal, government, technology, and financial districts – the city is our classroom, and thus NYLS is well positioned to provide our students with these important opportunities.
LD: What distinguishes New York Law School from other law schools?
AC: We are "New York's law school." The school has always leveraged its prime location and its long history of being a place that has graduated some of the city's most influential leaders. Our connections to the city's legal, government, technology and financial sectors – which are driving the economy locally and globally – are significant and run deep.
Most law schools recognize the need to provide a learning experience that bridges doctrinal course work and experiential learning. However, as the economy diversifies, it's critical that law schools mark changes in trends and adapt their curricula, and experiential learning opportunities, in ways that prepare students to enter new fields with the skills, innovative thinking, and confidence required to succeed. I believe New York Law School does this as well, if not better, than any school around.
This past year, we doubled our clinical opportunities and now provide 26 different program choices. We place nearly 100 students a year in judges' chambers as part of our judicial externship program. We place nearly 200 students a year with non-judicial legal employers, offering them the opportunity to receive credit. We were also one of the first law schools in the nation to create an accelerated two-year program to give students an extraordinary academic experience in a shorter amount of time.
Our goal is to ensure that all students, before they graduate, can and will take advantage of a first-rate clinical placement or supervised externship and will have the chance to work on real cases, transactions and advocacy efforts with real people – clients and witnesses, business owners and entrepreneurs, government officials and others. This also will allow us to give our students the needed tools to meet the demands of today's market and be leaders in the rapidly evolving legal profession. And it will allow us to further our deep commitment to ensuring that a diverse population is provided with access to justice.
LD: What are your biggest challenges as dean and how are you meeting them?
AC: A challenge that presented itself as I was arriving at NYLS in May 2012 was a drop in bar pass rates. The July 2012 New York bar exam pass rate for first-time takers was 69.8 percent. This was unacceptable. That level of performance was not reflective of the great strengths of our graduates or of the education they receive at NYLS. We immediately introduced an aggressive series of new measures last spring to ensure that our students could get back on track toward meeting and exceeding the first-time bar pass rate of 94 percent that NYLS achieved just a few years ago, in 2008.
Those measures included our Jump Start program, a bar exam prep course for students about to graduate taught by instructors from commercial bar prep companies. Classes were held on five weekend days over the course of several weekends in March and April. NYLS paid to each student who attended all five sessions $500 cash incentive, which they could apply to a summer bar review course. We also added more sections to one of our regular curriculum courses, New York Law in National Perspectives, which benefited many students in the Class of 2013.
With these new measures in place, the NYLS first-time bar pass rate increased by 13.6 points to 83.4 percent for the July 2013 exam.
Speaking more broadly, the legal profession has been the subject of incredible scrutiny in recent years, as has legal education. We are all aware of the media coverage focusing on more limited numbers of jobs, growing debt loads and declining applications. The scrutiny, however difficult, is healthy. It signifies the relevance of lawyers in our lives. Everyone, whether they have been to law school or not, has a vested stake in the development of the profession, because lawyers are the guardians of our democratic process and of a well-functioning society.
With regard to employment, at NYLS we believe that as the economy moves, so must law schools. For us that means focusing on intellectual property, media, technology and the applied sciences; business and financial services; government and public interest – all of which broadly encompass what will be the major areas of employment and growth in New York City and across the world during the next 10 to 20 years. This focus, in turn, provides a clear framework for rationalizing our curriculum, an effort we began last year, as you can see in our Strategic Plan.
I believe that a law degree is the most valuable graduate degree, because it provides such diverse career opportunities for lawyers. It is important to me that our students see all of the possible career paths and partner with us to find the right paths for themselves. Being in New York, the economic capital of the globe, there are many career paths available to them. Our alumni have traditionally been employed across many sectors. In addition to working in firms of all sizes, they are succeeding in government, financial services, technology firms, pharmaceutical corporations and leading nonprofit organizations.
I'd also like to touch on the cost of legal education. In general, rising legal education costs are largely attributable to the effort to provide ever-increasing opportunities for student learning, whether that takes the form of adding outstanding faculty to offer a wide array of classes, introducing innovative clinics and other programs for more tactical and experiential learning opportunities, or introducing the latest technology into the academic setting. For us, there are additional costs associated with being in one of the most expensive cities in the country. We are acutely sensitive to the cost challenges, and we are striving to be able to provide top-notch programming, but in a way that is more cost effective. The solution to that challenge won't arrive overnight, but we are working on it every day.
In our Strategic Plan, released in July 2013, we identified the following strategic priority: "Being highly sensitive to the cost of legal education and making every effort to stabilize tuition and expand the availability of meaningful scholarships to the student body."
In keeping with that goal, NYLS tuition has remained stable since 2012. In addition, since then, we have doubled the amount of financial resources for scholarships. Further, our new two-year honors program, which starts in January 2015, cuts the cost of a law degree by one-third.
LD: Are you seeing any trends in the types of jobs your students take after graduation?
AC: We are increasingly seeing students coming out of school and using their law degrees in nontraditional ways. Not only do we have more graduates working in businesses, financial services, health care, and the tech and IP fields, but we also have more graduates who are entrepreneurs, using their legal education as they start businesses. The majority of graduates are still working in more conventional law firm or government and nonprofit settings, but there is a clear trend that is moving the "lawyer" away from these historic roles and creating many more opportunities, which I view as a positive development that recognizes the broad applicability of a legal education.
LD: What do you do outside the law school when you're not being dean?
AC: I am not exaggerating when I say that I've found very little time to do much away from the law school since becoming dean. That said, I am an urbanist, which means I love to study cities and learn about their evolution, their people, history, laws, culture, politics, values, planning and architecture. While I haven't had much time lately to explore foreign cities, I continue to be mesmerized and moved by the people, neighborhoods and cultures of New York City, which even over a lifetime I could never feel that I have fully explored. I also enjoy sports and games, from skiing to bowling to competitive Scrabble and everything in between.