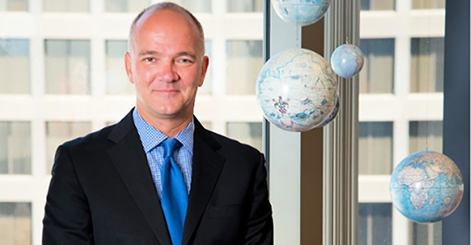 Photo by Amy Cantrell
Who was responsible for Michael Jackson's death? Not concert promoter Anschutz Entertainment Group – but Marvin Putnam spent a good portion of 2013 proving that to a jury in Los Angeles, defending the company in a multibillion-dollar case that was among the most storied of the year. As he later told Georgetown Law Magazine: "There were fans who would line the streets and spit at us. … We had death threats. Until you are in the middle of the circus of it, I don't know if you are ever prepared for how big it becomes."
Though the six-month Jackson trial may be forever considered Putnam's most famous, the O'Melveny & Myers partner and Georgetown Law Center graduate has represented a veritable Who's Who and What's What of Hollywood and worldwide media over the past 20 years, from J.K. Rowling and Clive Cussler to Disney and HBO.
Lawdragon: You've been a trial lawyer on some of the biggest legal stages of the last 20 years, from the Exxon Valdez oil spill aftermath to the Michael Jackson family's wrongful death case last year against AEG. Is that what you wanted when you started out in the law? When did you know you wanted to be a big-time trial lawyer?
Marvin Putnam: Not at all. I wanted to work in the realm of foreign affairs. I had been working for several years as a Director of the Foreign Policy Association, a 100-year-old NGO focused on increasing global awareness and understanding of foreign policy issues, and fully expected to continue working for some NGO, most probably for or with the U.N. I was interested in Georgetown's dual program for the joint JD/MSFS, but had also been accepted into Columbia's PhD program in Middle East Studies, so I was weighing one against the other. Then Secretary of State Cyrus Vance, whom I 'd done some work for, intervened and told me the choice was easy – I had to go to Georgetown. And so I did.
Then, I ended up clerking for the Honorable Roger B. Andewelt in D.C. He had been the Chief of the Intellectual Property Section of Antitrust at Justice, and knew a thing or two about lawyering, and he said I really should look at being a litigator because I had the temperament for it. Well, I didn't know what he meant then, and still don't now, but I know that like with most things, he was right. So, I pivoted and headed to New York to be a litigator. During that first year, I had the opportunity to work on a four-month trial with the incomparable Floyd Abrams and an associate named Paul Butler, who later went on to be, amongst other great things, one of the trial prosecutors in the government's case against Bin Laden. This was a long trial, which I loved – and then, inexplicably to me, the jury came in against us. I couldn't believe it. Apparently I drank Kool-Aid, and believed there was no way we could lose. But we did.
Well, the trial was bifurcated, between liability and damages, with damages beginning the next day, after this terrible, unexpected loss. And I watched as Floyd retreated from the world that night, and I was sure we were doomed. Well, the next day, he emerged and gave the finest argument against damages that you'd ever seen, and ultimately won on that issue. I realized he hadn't retreated, but instead had reassessed and regrouped so he could come out the next morning, stronger than ever with a new – better – handle on the jury and the arguments that needed to be made. It was incredible to watch. And I knew right then that I wanted to be a trial lawyer. I wanted to do that. In the end, I have had the great advantage of having some stellar mentors, who I think about all the time, and who I try to emulate daily.
LD: Regarding the Jackson case – obviously a six-month trial is a grueling affair for all involved. Does anything stand out as a turning point in that case? What do you think swayed the jury, in the end?
MP: It was a long trial, but at this point I have had several long trials, and therefore know how to pace it – both for the jury and my team. It's an endurance test, but one I've done before. In this case, a lot of the focus and sympathy rested with Jackson family matriarch Katherine Jackson, so I think her testimony – and how we handled it – was key to our victory. For decades, she had portrayed herself – and her family – as being blind to and unaware of Michael Jackson's many demons. We showed that this was not only untrue, but that she played a central role in keeping those demons – Michael Jackson's addictions – out of the public eye. The stark contrast between her well-crafted public persona and her actual person played out on the stand, and marked a real turning point in the trial.
In the end, however, I think the jury was swayed by our ongoing emphasis on personal responsibility and the fact that Michael Jackson – and Michael Jackson alone – was to blame for his very bad choices. He was a grown man, and despite the Jackson attorneys' attempts to make it otherwise, the jury in the end understood this.
LD: In a big case with the reputation of a corporation or a person on the line – obviously, the verdict is the most important thing. But to what extent do you feel it's important to win such a case in the court of public opinion, where the reputation may linger far after the jury goes home?
MP: I think it is very important. We no longer live in a world where what happens in the courtroom is the sole consideration. In this day and age, these big public trials play out on a number of stages and platforms, and the courtroom is only one of them. As a result, I often think of a big litigation today as a three-dimension chess game. To be a good and effective trial attorney, you had better be playing on all three levels. A well-handled litigation never loses sight of this, and a good trial attorney plays the role of trial attorney, crisis management director and corporate relations consultant. He or she has to do so. It makes it all the more exciting, and terrifying, and ultimately fulfilling.
LD: Let's talk about some of your biggest cases that went to trial; presumably, there were settlement talks before cases went before the judge and jury. But emotions run high in media cases, particularly those involving reputation. Generally speaking, when do you advise settling out of court and under what circumstances? Do clients always take your advice?
MP: I am hired as a trial attorney, not as a settlement attorney. There are attorneys who try matters, and others who settle them. I am known as someone who tries them, and clients therefore come to me when they believe a matter is going to be tried, or must be tried. If a client wants to settle a matter, then there is no reason to hire me. There are lots of folks who can do that, and some who are really good at it. All of that said, I have definitely settled matters before – and done so when I think it really is in the client's best interest to do so.
That goes back to the three-dimensional chess element that we were talking about. You can have the best legal position in the world, but a terrible ethical or moral position, which could really hamper your place in the world. In that case, I am going to figure out an exit strategy that places my client in the best possible light. In the end, you are a counselor and you are being paid for your advice. It's about them, not you. That is my favorite part of the job in the end. It's a service business, and I like that.
LD: You went to Harvard undergrad and Georgetown Law. Did you always mean to end up in Los Angeles? Was it a lifestyle call to end up in L.A., or a professional decision, or some of both?
MP: No, I never had any intention of moving to Los Angeles. Never. I always wanted to be in New York, maybe with a couple postings in foreign offices like London or Paris. And for the first 10 years, it looked like that was going to be my precise path, and I couldn't have been happier. Then, my wife – who is in the entertainment business – got an offer that she believed she couldn't refuse in Los Angeles. I loved my firm and colleagues and New York and wasn't going.  We looked at the whole bicoastal thing, and then ultimately realized that we wanted and needed to be in the same city, particularly since we had two small children at the time. So, I ultimately agreed to come to Los Angeles, and now I couldn't imagine ever living anywhere else.
Luckily, trial attorneys are not limited to any one location – and I presently have matters in New York, Virginia, Georgia, Illinois, Colorado, Nevada and California, so I can live where I want now. And that's Los Angeles. There is just no other place like it, except maybe Cape Town. It's a magical place. There is a reason folks keep pouring in.
LD: As a young attorney, what trial lawyers did you look up to and learn from, and why?
MP: Well, I looked up to the ones I worked for and with, such as the ones I already mention like Floyd Abrams, the Honorable Roger B. Andewelt, Paul Butler and Secretary of State Cy Vance, as well as a couple others like the great First Amendment litigator Susan Buckley and trial virtuoso David Boies. With Floyd Abrams, it was his great ability to take intellectually complex matters and simplify them to their most compelling and understandable, and with Susan Buckley it was her killer combination of unparalleled competitiveness – she simply would not lose – and absolute command of strategy. To learn at their feet was the greatest fun and honor I will ever know as an attorney.
With Judge Andewelt, it was his great love of lawyering. He loved the job, and his enthusiasm and good humor were contagious. With Paul Butler, it was the fact that no amount of brainpower can make up for a lack of hard work and grit. He liked to say, "He who works hardest wins." And he was right. Cy Vance taught me the importance of integrity, particularly in a lawyer. Your word must mean something. And David Boies taught me how to take a deposition, and that a great generalist as a trial lawyer will almost always beat the narrow specialist because it is just a totally different way of approaching a case, from beginning to end.
LD: Presumably you're immersed in media all day long. When you're away from work, are you a media consumer? What are your tastes in movies, television and books, for example?
MP: I am a massive consumer of all media, high and low, with tastes that equally run the spectrum. I don't board a flight without buying all of the tabloids and the New York Times. Together, they do a very good job of telling you exactly where we are as a people at this exact moment. As to television, I am currently obsessed with Game of Thrones. I have always been taken with all matters that producer Carolyn Strauss has brought to popular culture, from the Sopranos to Game of Thrones. We will look back and see her as one of the great innovators and catalysts for this Golden Age of television. Her material is always so smart, and well written, and ultimately very human. In film, I like my wife's Sundance movies – Justin Simien's Dear White People this year was genius, and that is not easy to do with racial satire – but am a sucker for any Satan/witch/vampire/Revelations flick, whether it be The Devil's Advocate or Rosemary's Baby.
As for books, I run high/low there as well. During trials, I read teenage serial books at night before going to sleep, like The Hunger Games and Ender's Game books. Otherwise, I tend to stick to the big works of fiction, both classic and contemporary. I just finished Wilkie Collins' The Moonstone, which is a mid-19th century mystery that is generally considered the first detective novel, and am now reading Philipp Meyer's The Son, which was a finalist for the Pulitzer this year and is an epic multigenerational saga of one Texas family's rise to power. It's like a high-minded soap opera, and it's great.