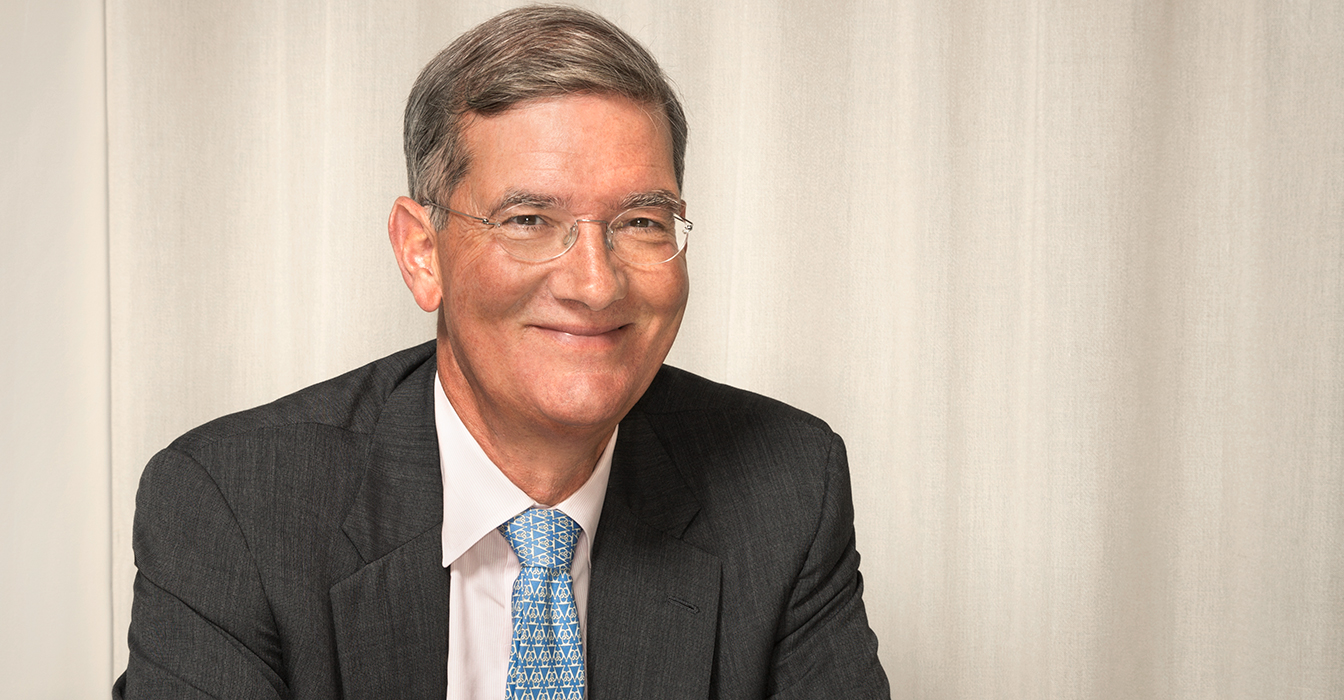 Photo by Greg Endries.
President Obama's Dec. 17 announcement on changes in U.S.-Cuba relations caught most Americans off guard. Carlos Méndez-Peñate, who lived in Havana until the age of nine, counts himself among those surprised by the full extent of the regulatory changes for U.S. individuals and businesses, but he was at least prepared. The Akerman LLP partner, a 1976 graduate of Yale Law School, has had an active Cuba practice for several years as part of his broader corporate finance work. He has been structuring deals throughout Latin America for more than 30 years.
It's safe to say that the Cuba side of his practice will be growing with the expanded export, banking and travel opportunities now available. Méndez-Peñate has extensive contacts in Cuba; last year, he was part of a high-level delegation that went to Cuba with the Council of Americas to discuss the ongoing economic reforms in the country. Of course, much uncertainly remains: The embargo stays in effect pending congressional action, and the thawing of relations between the U.S. and Cuba will be complicated by claims that U.S.-based exiles have on their old properties. Nevertheless, for Méndez-Peñate the changes are providing new ways to help clients and to connect with his childhood.
Lawdragon: Can you talk about how you left Cuba and came to the U.S. as a 9-year-old?
Carlos Méndez-Peñate: My father was a partner at the Havana law firm of Lazo & Cubas, one of the largest law firms on the island.  Most of the clients were U.S. corporations and multinationals. When Castro came to power in 1959, and after the deterioration in relations with the United States began, he started expropriating the property of my dad's clients. In addition, our family became pariahs because we did not support the Castro government. And so things began to get very uncomfortable. After the failure of the Bay of Pigs invasion in the spring of 1961, it became clear that we could no longer remain on the island.  It became a police state. Our house was searched by militiamen, as was my father's law office. They just made your life miserable. So we left.
LD: Why did your family come to New York?
CMP: My dad was lucky enough to get a job with one of his corporate clients in New York, so that is why we came here rather than Miami. In those days, you went wherever you could get a job. Most exiled Cubans, including my parents, were very well educated people, so once they perfected or learned English, they were able to thrive and succeed. It is unfortunate that this large pool of human talent was removed from the island. They have really never been replaced.
LD: You were obviously very young at the time. Do you remember the uprooting experience well?
CMP: I remember as it were yesterday. I recall the day of the Bay of Pigs invasion and the bombings – we could see the bombers in the distance and hoped that the bombs were not going to fall on us. The militiamen coming to search our house – I can picture it in an instant.
I have been going to Havana fairly frequently recently, and I have been back to my old house. When I was down there last year with the Council of the Americas, I was interviewed by CCTV in front of my boyhood home. I have been back to my home and the whole neighborhood, and that brings all the memories back. It was gratifying to reconnect with my childhood.
LD: Your Cuba practice had already been going for a long time. How did it start?
CMP: This Cuba practice at Akerman started several years ago. It started with three of us, two partners in Miami and myself in New York, who are all Cuban, very interested in Cuba and convinced of the inevitability that the Castro regime will pass into history. We have all believed that better times will come to Cuba – democracy, freedom of expression, and all the good things that we hold dear will eventually come back.
I was actually doing some Cuban work at Coudert Brothers in the '90s. People would call about the embargo, asking, "Can I do this, can I do that?" In those days, the answer usually was, "No, you can't do that if you're an American." We would talk regularly to the [Treasury Department's] Office of Foreign Assets Control, and developed relationships with them, because under the embargo you must be licensed by the Treasury Department to do just about anything in Cuba.
We also started traveling to Cuba and taking some of our clients there recently. The two major exceptions to the embargo have been pharmaceuticals and food. We have gotten to know the various functionaries at the Ministries, and the people who make and implement policy, as well as the Cuban Mission in New York and the Ambassador in Washington. We know them very well. So we have gotten to know both sides of the equation, the Cuban side and the U.S. side. That prepared us, I think, very nicely for what happened on December 17.
LD: Were you surprised by the President's announcement? Was that on your radar screen at all?
CMP:  We were expecting something, because the Council of the Americas and other organizations had made proposals and generated White Papers along the lines announced by the President on December 17. But we were not prepared for the extent to which these recommendations were actually incorporated into the announcement. We were obviously delighted that Alan Gross was freed, and that 53 Cuban political prisoners were freed.  We thought the changes would be more incremental, a baby-steps type of approach, and it certainly was not that.
LD: What do the changes mean for your clients and other businesses?
CMP: The regulations implemented Friday, January 16, allow significant, additional U.S. exports to Cuba, in sectors including telecommunications and Internet equipment and services, as well as building materials for private houses, farm equipment and equipment for entrepreneurs.  In the banking and finance sector, the rules now allow U.S. banks to have correspondent banking relationships with Cuban banks, or foreign banks operating in Cuba. Removing Cuba from the list of State Sponsors of Terrorism is a very significant proposal, because if Cuba does get removed from that list, it will facilitate financial transactions between the U.S. and Cuba. It would be almost impossible for U.S. banks to deal with Cuba as long as they are on the list of State Sponsors of Terrorism. In addition,  U.S.-issued credit and debit cards will be allowed to be used on the island.
The rule changes are extensive. Time will tell how it will pan out, but we certainly are getting calls from clients and consulting on the questions of "What does this all mean? Does it mean I can do this, or that?" And so it has been a very interesting period since December 17 of last year.
LD: Nevertheless, will the progress be relatively slow, just given the fact that there will only be so much that the country can take in with its state of development?
CMP:  Cuba is a poor country and, in fact, has had severe economic problems over the last few years.  They can no longer rely on cheap Venezuelan oil.  However, it is a market of  11 million people, so most companies pay attention to a market of that size, and it is a country that needs everything. It has the lowest Internet penetration rate in Latin America, by far. It imports 70% of its food, which is crazy for a country with rich natural resources to be importing that amount of food. The condition of the housing stock is awful. It needs all sorts of infrastructure work -bridges, roads, major buildings, etc.
The tourist industry is actually one of their bright spots.  As you know, the Spaniards, Canadians, Germans and others have been going there for years, and they have built many hotels. But they do not have hotels in Cuba at the level of The Four Seasons, the Ritz-Carlton and other major international chains that would be interested in going in there in due course. That opens up a complicated subject because it is not only a matter of going in there (this area of investment is still not authorized by the Trade Embargo) but also a question of property rights, and claims – building hotels on lands that belong to others.
LD: I saw you quoted on this topic in a Forbes article. How extensive will the claims process be? Will most people who have claims pursue them?
CMP:  Certain Cuban families had extensive holdings in Cuba, including very valuable beachfront properties and will pursue claims to have their property restored.   In addition, the DuPont family of Wilmington owned thousands of acres in Varadero, which now has a lot of hotels, some built on their properties. There has to be some resolution of those claims.  I do not believe they will just walk away from those claims, nor should they. These are lands that were legitimately owned by them, and in many cases have been in their families for generations.
On, the positive side, and I have heard this first hand, from Cuban officials, the Cuban government is willing to negotiate, as to registered claims of U.S persons and recognizes they owe compensation.  That said, the Cubans will argue, "Yes, we owe you X amount of dollars, but, on the other hand, you imposed this embargo on us that has caused billions of dollars in losses on us, and so we should set off one against the other." That is where the conversation will start, I think. But I do not think it is going to end there.
Right after the break-off in relations, U.S. persons, corporations and entities were able to file claims with the State Department.   Many of those claims have been certified. Part of the condition of lifting the embargo is that there be some resolution of those claims on a government-to-government basis. I think something will come of that eventually if we are going to lift the embargo. It has to. That's the law.
LD: I assume in most Latin American countries you have lawyers on the ground that you trust and work with regularly on transactions. What's the legal scene like in Cuba?
CMP: There are attorneys on the ground down there. There are no big firms anymore, like there used to be pre-Castro, but in fact we do know a number of practitioners down there that we deal with.  We are in the process of working with these lawyers to have a steadier relationship going forward. We are U.S. lawyers, we give U.S. legal advice, and we can steer clients through the government maze down there that we know well. But when it comes time to actually implement transactions, sometimes we will rely on Cuban counsel because it is a civil code country. We do not practice civil code law nor do we practice Cuban law.
The situation will mature, I think, in the next few years.  The University of Havana continues to graduate lawyers.  In fact, my great uncle, Rodolfo Méndez-Peñate, was the Rector at the University of Havana, back in the 1940s, and before that he was the Dean of the Law School, so I know a little bit about that. The Cuban bar was always a very scholarly and learned bar.  I recently met the current Dean of the Law School of the University of Havana when I was down there, and she is very serious about training good lawyers.
Cuban lawyers have done some work with foreign investors because the Europeans and others are there, so they are not totally unsophisticated. But I think that the level of work, and the sophistication of the work, will grow exponentially in the years to come.
LD: There were a lot of people who were unhappy with the President's announcement. After this initial phase, what happens in subsequent phases? Do you see Congress lifting the embargo?
CMP:  I do not have a crystal ball, but I think a lot it will depend on how the Cubans react. For example, I was very distressed that two weeks after the President made his December 17 announcement, a rally was scheduled at the Plaza de la Revolución, organized by a few dissidents who were going to have an open microphone and just to air their grievances with the regime. They were rounded up and some went to jail.  That was totally unacceptable.  If the Cuban government starts moving in the right direction in terms of democracy, freedom of expression, and basic human rights, and if there is progress, the feeling in Congress will likely grow in favor of relaxing the embargo, if not terminating it. I see this as a process, and this as the beginning of the process, certainly not the end.
LD: As someone who has seen the country over many years, are you worried about it being spoiled? That it will turn into one of these situations where there will be too much development, too many places where local people can't even go to or afford – that type of thing.
CMP: Sure, that is a concern.  Because the Cubans are so controlling and bureaucratic in their own way they will control the influx of both capital and other projects pretty closely, so that will be a factor. But at the end of the day, you cannot stop progress. If I had to guess, I think Cuba will more resemble the Dominican Republic and other Caribbean countries in the next few years and there will likely be substantial development.  Obviously there are some places in the DR that are overbuilt, but there are some gorgeous places and resorts. I think that it will work itself out. I am not too concerned about it. I am not in favor of having a monolith government or institution deciding what development should happen or not. I am very much in favor of letting the free market determine what the highest and best use of property and similar assets should be.