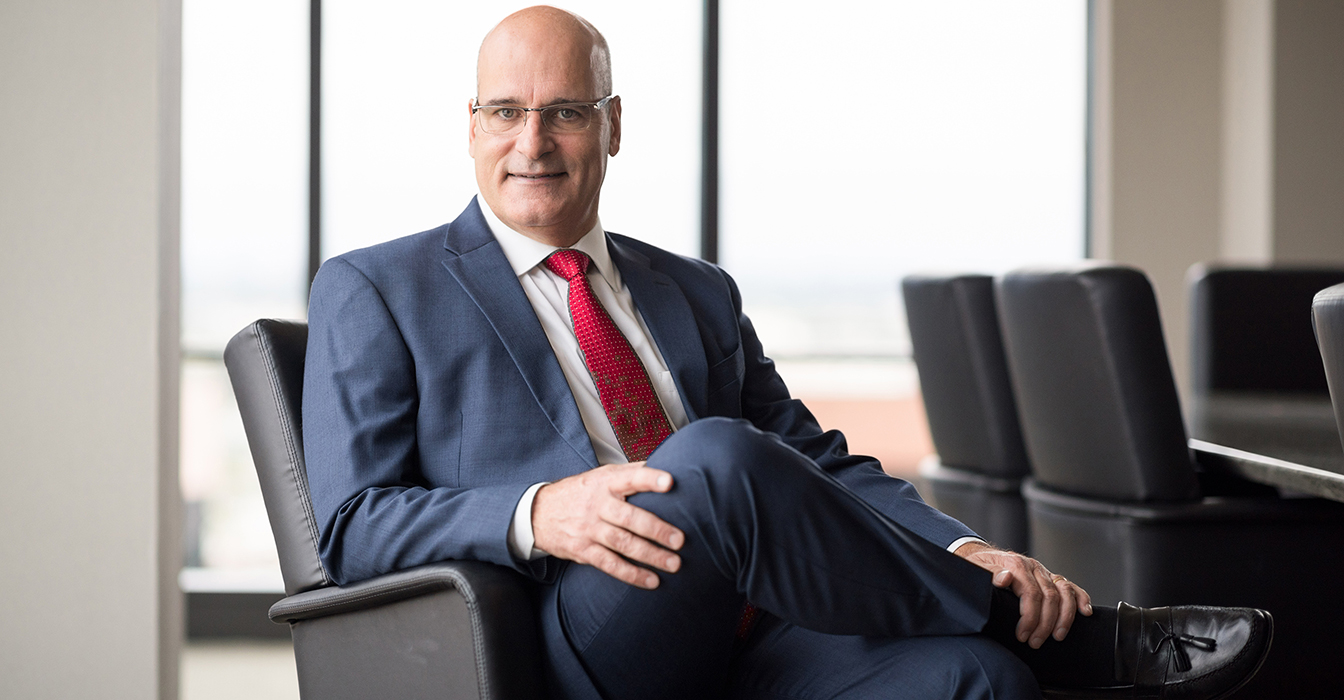 Photo provided by Julie Diebolt Price.
Our 10th anniversary edition of the Lawdragon 500 is bound to have an impressive array of verdicts and settlements, and sitting near the top is Masimo's victory over Philips Electronics North America in Delaware federal court. In October, a jury rejected Philips' infringement claims of $170 million and awarded Masimo more than $466 million for infringement of two Masimo patents related to measuring patient blood oxygen levels and pulse rates.
Joseph Re led the Knobbe Martens team on the case, notching another impressive result for longtime client Masimo and adding to his overall stellar record in patent litigation. Re, based in the firm's Irvine, Calif., office, received his law degree from St. John's University School of Law and a B.S. in civil engineering from Rutgers University. He and his 11 siblings grew up in a lawyerly household, with a mother who worked as a lawyer and a father as a federal judge (Edward Re, chief judge of the U.S. Court of International Trade) and law professor at St. John's. Re also clerked for Chief Judge Howard Markey of the U.S. Court of Appeals for the Federal Circuit before joining Knobbe Martens in 1987.
Lawdragon: Your client Masimo, a medical device company that started small in1989 and now has global reach, has a likable "American success" story that would probably appeal to most people, including jurors. But what in addition to that made you confident about this dispute going to trial, which can be risky in many situations? Is there anything that you identified as being particularly key to the favorable outcome?
Joseph Re: I felt that Masimo's contributions to healthcare were indisputable. With its patented innovations, Masimo has saved lives, prevented blindness, detected diseases, and reduced healthcare costs. I felt it impossible that anyone would think inventions like these do not deserve patent protection.
Joe Kiani, Masimo's founder and lead inventor, is still the CEO of the company and he is so good at teaching the technology and its benefits.  I know of no better witness.
LD: Jurors typically aren't going to have the same technical understanding of the issues in these types of cases. What do you do before trials to make sure you understand the case from their point of view as much as possible?
JR: I make sure my witnesses and my team can explain the technology quickly and simply. I have a good idea if jurors understand the issues by observing several focus groups of lay people and listening to my most trusted jury consultant, and my wife.
LD: For large complex cases, how do you divide up responsibilities among the trial team? Are there parts of trials you prefer to handle yourself while giving other parts to different team members?
JR: I divide things up first based upon who I think would do the best job. For example, very technical witnesses often should go to the people who have strong backgrounds in the technical area and have mastered the expert testimony. Second, I want the work nicely divided so no one is spread too thin, or is merely a spectator. I have no preference which parts I do myself, so long as the client believes I have not over-delegated. It works out perfectly when clients trust that I delegate based on my knowledge of the skills the other attorneys bring to the table.
LD: Masimo has been with you and the firm for a while. Can you talk a little about how this is representative of the client relationships the firm hopes to have, and what benefits this brings once you get into litigation several years or decades into the relationship?
JR: Masimo is a great example of a client that used all of the firm's services as we both grew. The relationship started when we filed patent applications in 1991 for Masimo, and now it includes massive litigation in many areas, patent interferences, patent reexaminations, trademark work, agreement work and counseling. In 2007, Masimo became a publicly held company. By being completely immersed in Masimo's business, the firm is able to better serve Masimo. Obviously that is good for both the client and the firm.
LD: Backing up a bit: I assume having a father as a federal judge had some influence on the course of your career. Can you share a lesson or trait you learned or inherited from him that you take with you to this day?
JR: He would always lecture to his 12 children, and his thousands of students, "Your word is all you have." Nothing got him more upset than when he thought someone was not being candid with him. His writings and lectures always include the ABC of lawyering: "Always Be Candid."
LD: When you pursued your B.S. in civil engineering, did you know you wanted a legal career or were you more up-in-the-air about what you might do?
JR: I always knew I wanted a legal career since I was about 12. My home was inundated with the law. My mother was a lawyer and met my father in law school back in 1949. He taught law for 55 years. He brought his work home every day and it was dinner conversation to help him decide all sorts of cases.
LD: I assume also that working for Chief Judge Howard Markey was quite an important experience. Can you share something about that time that you feel had a strong influence on you?
JR: He was a great patent lawyer and always emphasized how important the patent system is and was to this country. He did everything he could to uphold the patent system and the rule of law.  He was a great influence on me and my philosophy about intellectual property.
LD: What drew you to a career at Knobbe, and what are some of the things that have kept you there?
JR: Nice people drew me here to practice law.  I stayed here because everyone helps each other out in getting and serving clients.  I do not feel we compete with one another.  And the work is important too!  Although I am in court all over the country, having such a great location as a home base isn't too bad either.
LD: Having 11 siblings is something most people would have a hard time wrapping their heads around. Is there any concrete way that you have identified that as contributing to, or hindering, your lawyering skills?
JR: It has helped and hurt. It helped because it forced me to be assertive. It hurts because it often caused me to be too assertive. But having a large family with two lawyers as parents, and being the youngest son of five boys (with seven sisters), that is very fertile ground for the making of a litigator and trial lawyer. All of my siblings are very outgoing and performers.