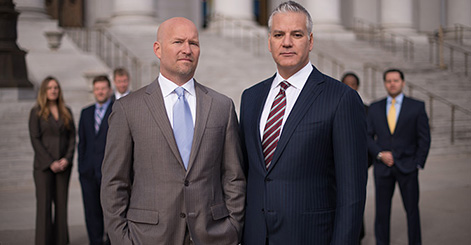 Kyle Bachus (left) and Darin Schanker. Photo provided by the firm.
Since setting out on their own in 1996, Kyle Bachus and Darin Schanker have turned Denver-based Bachus & Schanker into one of the most successful plaintiff-side personal injury boutiques in the nation. Bachus, a University of Florida law school graduate who moved to Colorado in 1994, and Schanker, who earned his law degree at the University of Denver, share a passion for representing the underdog and taking on the risky case that may not pay off – at least financially, as long as they pursue a "moral" victory.
Still, Bachus and Schanker have amassed a long record of multimillion-dollar verdicts and settlements for their clients.They also have advocated for plaintiff and consumer rights outside of the courtroom through lobbying and legislative work. The attorneys gave joint answers to questions submitted to the firm by Lawdragon.
Lawdragon: When did you two meet and how did you come to decide to work together?
Kyle Bachus and Darin Schanker: We met in 1994 when we were working together at another law firm. We quickly discovered a shared vision for building a topnotch personal injury trial practice and both felt strongly that all of our clients should be treated with the same level of respect.  We wanted to build a firm that reflected this. We also wanted to offer the resources to help level the playing field for people fighting the insurance industry.
LD: Over the years, you have built a nationally recognized personal injury firm and a lot of that, of course, has to do with getting great results for clients. I am curious, though, in how your approach to marketing the firm has evolved over the years.
KB and DS: We started our firm at a time when television and the Internet were emerging. In the mid 2000s, we were one of the very first firms to have a website. Plaintiff's personal injury firms were historically small mom-and-pop businesses, but we noticed the trend of a small few who were expanding to regional operations. We had to make a decision on a long-term plan for our firm.
We have always believed in building relationships in the community and developing partnerships with organizations like trial lawyers associations at the state and national level. Taking a leap of faith in the early years to utilize a new and rapidly changing media environment gave us a head start. In addition, we consistently work with law firms around the country; collaborating and attending summits, not letting the limits of Colorado stifle our knowledge and growth.
After 12 years of building our practice, we continue to build our brand through television, radio, Internet, signage and community involvement. Reinvesting in the practice has been the true secret of success for us.
LD: You two, and your firm, have been prominent in protecting what could be called the legal environment for personal injury cases. There are powerful interests all over the country working to cap awards in personal injury cases, limit circumstances, make cases harder to bring. Does it feel like a losing battle sometimes?
KB and DS: Yes and no. It is frustrating that these powerful interests have misled the public into thinking that frivolous lawsuits run rampant. These corporations and lobbyists have put their own financial interests over that of people experiencing significant life situations due to the fault or negligence of others.
The practice of plaintiff personal injury advocates for tort victims. We have worked very hard to represent the real people affected by tragedies that were no fault of their own. The frivolous claims insurance companies would have the public believe are an overwhelming problem, are an illusion. Our system does not let those lawsuits go anywhere.
The truth is that the only people who are hurt by the caps are the ones who are truly in need. In reality, without personal injury lawyers, cases that are the most substantial in damages (and regulated by a cap) shift the cost from the at-fault corporations to the taxpayers.
We believe the 7th Amendment of the United States Constitution provides for one of the most important rights in our country. We have worked very hard at the state and national level to protect these rights. We believe it is important to support candidates who believe in the right to juries in civil cases.
LD: Following up on that, do you think the limits placed on victims' rights have been a backlash against the success of personal injury firms? Over the last generation – has justice for victims, overall, improved?
KB and DS: Yes. In the early 90's when we began practicing law, you could win a case walking in and simply telling your story the way you learned to do in law school. Then, in the mid-1990s those cases started being zero verdicts. You would automatically think well, then it has gotten harder, but actually attorneys have been forced to "raise the bar" where victims rights are uncertain.
Justice for victims has improved because it has gotten harder. In the mid-to-late 1980's Colorado was a petri dish for tort reform, or what we in personal injury refer to as "deform." The insurance industry sponsored think tanks and began to float the ideas that took hold in the legislature where the insurance industry has strong lobby forces.
During that time, actions taken by powerful interests to protect themselves were in direct opposition to protecting consumer rights. We were losing legitimate cases but the public was completely unaware of what was happening, mainly because there was no victims advocate group to make them aware.
What was successful no longer worked because of jurors' attitudes. All the marketing  – multimillions – by the insurance industry to paint injury victims and their attorneys as cheaters of the system finally took hold.
By the mid-1990s, trial lawyers realized they had to go back to the drawing board. We had to reflect and analyze what we needed to do to represent the truth of the case. Almost overnight, the insurance industry had wiped out trial lawyers. In Colorado, the caps and limitations were all passed in the mid to late 80s. The propaganda had worked, and we almost lost it all in terms of consumer rights.
LD: What changed since that time?
KB and DS: At the time, the Colorado Trial Lawyers Association (CTLA) was a social group and did not play big politics. But once these changes began to affect the consumer and the trial results, the CTLA had to change to a political machine. That is the main reason it exists today – to protect our clients.
In 2007 through 2010, after years of battling the forces of a smear campaign against trial lawyers that left consumers (and thus the juries) with sound bites we still hear today, common sense was added to consumer legislation in Colorado. We were one of the first to make dramatic headway with tort reform while other states were still defending basic human rights.
We call the results of this smear campaign the "hot coffee syndrome." So widely known is the case of the woman that sued McDonalds after sustaining injuries due to hot coffee, that you merely say hot coffee syndrome and everyone knows to what you are referring.
We conduct many focus groups at Bachus & Schanker and it is clear that these negative impressions fostered by the insurance companies still affect juries today. How do we prevent these negative impressions from tainting our cases? That is the challenge we must face every day.
LD: Taking cases on contingency can be a substantial risk to a firm. Are there cases you can recall that you took on where your personal convictions perhaps overweighed your sense of fiscal prudence? Conversely, do you recall cases that you just could not take more because of the risk involved?
KB and DS: Through the years we have taken cases that, if our sole focus was the bottom line, would have never made the cut. We are currently working on two cases at our firm, involving thousands of dollars and many man hours, that are about social change and awareness, not compensation. These cases represent underlying issues that affect all of us.  Understanding our ability to facilitate change through laws and awareness motivates a personal injury attorney a great deal.
For example, our firm has been working on the Chandler Grafner case, which involved a seven-year-old who was failed by child protection services in Colorado. Chandler suffered years of abuse and neglect only to die a slow and painful death by starvation. We've invested hundreds of thousands of dollars and an untold amount of hours in this case. It will be a total loss financially for our firm, but our hope is to shine a light on a real problem with a system that had many opportunities to save a life and failed, resulting in an unspeakable tragedy.
Another case our firm has taken on involved a tragic fraternity death. The powerful organizations involved in that case used the legal system to delay the outcome as long as possible. The time and resources we have depleted in defending the family doesn't make financial sense, but we hope we will bring awareness to the very real issues of caps on personal injury awards and the hazing culture within our society that may otherwise be perpetuated and ignored.
These cases present the chance to accelerate change so lives are saved and families are spared future tragedy. One of the motivating factors for getting into our line of work is the moral victory. We often take important cases that other firms have turned down due to the time and upfront financial commitment. We have built a strong foundation and having done so enables us to be able to fight the good fight, even when it might not be the most fiscally prudent decision.
LD: Could you tell us about some other personal injury attorneys whom you particularly admire or from whom you have learned?
KB and DS: Gerry Spence, the attorney for Karen Silkwood, has been a most admired and respected colleague for us.
Spence is a highly intelligent individual and a terrific storyteller.  He has the ability to connect with people on the most human level. He also runs a trial lawyer's college in Wyoming. One of his best quotes: "Jurors can smell the bullshit a mile away." He believes that you have to be honest with who you are to best represent your client. A firm believer in addressing the psychodrama in opening statements, Spence works with attorneys to help them focus and get to the truth of the case.
LD: What characteristics and background do you look for when hiring a young associate? What tells you that someone has potential as a personal injury or plaintiff's attorney?
KB and DS: One of the biggest attributes we look for in a new hire is someone that does not give up. Our work is about solving problems. From road blocks from insurance companies that are working hard against us and focused on their bottom line and the complications of our court system, to the clients with health issues, impairments or uncertainty in their life situation. We could take the easy way out, but that does not serve our client regardless of the obstacles.
What we look for? We assess the candidates' tenacity, resiliency and problem solving skills. Our attorneys must be strong trial lawyers who share our passion to fight for our clients.
One of the reasons for our success is the reputation that we will take a case to trial if necessary. Insurance companies know that we will not hesitate to take a case to trial, so our attorneys have to be both talented and tenacious. Courtroom experience is important, because simply the defendant's knowledge of our experience can mean the difference between a long, drawn-out court battle and a fair settlement. It's also important to us that they are active members of the community – we've cultivated a culture of giving at Bachus & Schanker that helps define us.