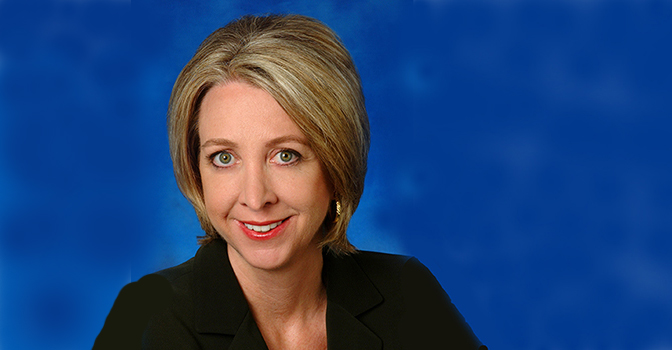 Suzzanne Uhland once wrote that she started out her legal career "believing that 'professionalism' was equated with 'toughness' and maintaining aloofness." But she says the upward spiral of her career at O'Melveny & Myers is due far more to learning the importance of empathy, openness to other points of view and teamwork.
As head of O'Melveny's restructuring practice, Uhland is one of the leading bankruptcy attorneys in the U.S. today, sought after both for her skill in shepherding companies to higher ground and for her views and insights on matters of international debt and restructuring.
Name: Suzzanne Uhland
Firm: O'Melveny & Myers LLP
Position: Partner, chair of the U.S. restructuring practice
Practice Areas: Bankruptcy, corporate restructuring, real estate, technology, energy, municipal and international financing.
Location: San Francisco and Newport Beach, Calif.
Law School: J.D., Yale Law School, 1988
Undergraduate: Stanford University, A.B., 1984, Phi Beta Kappa.
Lawdragon: You've been involved at a high level in quite a few well-publicized bankruptcy cases over the years across a spectrum of industries – high-tech, entertainment, financial, etc. What are some common threads, if any, in how big firms find their way to your door and into Chapter 11?
Suzzanne Uhland: Most of my debtor clients have found themselves the subject of macroeconomic or technological shifts that have impacted their business models. For example, I represented music retailers in the 1990s, when big box retailers got into the business, and again in the early 2000s when technology changed the way consumers acquire music (as one of my clients noted, "it's hard to compete with free"). A few years later, I represented a book distributor and publisher, also a victim of technological advances.
The Great Recession also was a significant recent source of bankruptcy cases. I co-led the bankruptcy of New Century Financial, a large subprime lender, when it filed for chapter 11 at the beginning of the meltdown. I also represented a large investor in the Lehman case, and the buyer of a bankrupt Icelandic DNA bank.
LD: Are there particular sectors or industries currently on your radar for shakeouts of the sort that would bring your expertise to bear?
SU: In part due to low oil prices, exploration and production companies and on- and offshore-service providers are at the top of the distressed list. We are currently representing an offshore service provider that was forced to seek Chapter 11 protection after it was unable to refinance its debt due in large part to dropping oil prices. The Endeavor filing late last year is another example of this trend. The service providers seem the most likely to need a court-supervised restructuring as many of the E&P companies, though highly leveraged, have very favorable covenants.
For-profit education is also on the watch screen, as are retail and managed care.
LD: One of your lecture topics I noticed was "Post-GM Chapter 11: Is Nothing Sacred?" Could you summarize that for our readers? What about Chapter 11 regulation and processes was or should be sacred, and what happened?
SU: I spoke on that panel a few years ago when the chapter 11 process was shifting to the current norm — quick cases driven by powerful secured creditors. With the replacement of senior unsecured debt with second lien debt and the advent of trading markets for the secured debt, the face of chapter 11 has changed. The elegant balance of secured creditor, unsecured creditor, and debtor rights through a plan of reorganization envisioned by the Bankruptcy Code has been thrown off. But any reform must take into account the benefits provided to chapter 11 constituents from a liquid market in distressed debt. I am watching with interest the ABI Commission to Study the Reform of Chapter 11.
LD: What was your career path toward your current practice area? Was corporate restructuring and bankruptcy a particular interest with which you started out?
SU: I often tell young lawyers trying to pick a specialty that I became a restructuring lawyer because I could not decide between being a transactional lawyer and a litigator. Pursuing bankruptcy allows for the collaboration and negotiation aspects of corporate law, while allowing you to go to court and make your case to a judge if negotiations break down.
I also enjoyed my bankruptcy class in law school, which was taught by a professor who also taught "Law and Philosophy." I wonder how Socrates might view cramdown, credit bidding, and indubitable equivalence.
LD: You went to Yale Law. Twenty five years later – how much would you say that influenced your success and the arc of your career?
SU: At Yale I learned to approach law both critically and creatively: To look for an angle or perspective that might have been missed by others. I was particularly inspired by one of my professors, Akhil Amar, who as a young law school graduate developed a novel reading of a provision of the constitution after nearly 200 years of constitutional scholarship missed it. I also learned that often the best service you can provide for your client is taking a step back and giving quiet thought to an issue or situation. In our world of instantaneous deadlines and multitasking, this key role of a counselor is often lost.
LD: Mentoring: You're a big proponent. Should law firms be embracing mentoring in a more structured way or does informal collegiality produce the best relationships and results? How does mentoring work at your firm?
SU: I encourage my peers to pursue the most valuable type of mentoring relationships, which are now being called "sponsorships" – where the sponsor not only guides but also advocates for those he or she is sponsoring. Building these relationships not only benefits the sponsored individual's career, but redounds to the benefit of the sponsor by encouraging loyalty and outstanding performance. In addition, structured mentoring programs provide lines of communication and create opportunities and should be adopted by firms to encourage interaction. At O'Melveny, we have several formal and informal mentoring and reverse mentoring programs. I participate in a variety of programs mentoring attorneys and law students. I particularly enjoy our "March Mentoring Madness," a competition in which mentoring pairs get points for tasks such as reviewing business plans and going to coffee. It appeals to my competitive nature as well as my caffeine addiction.