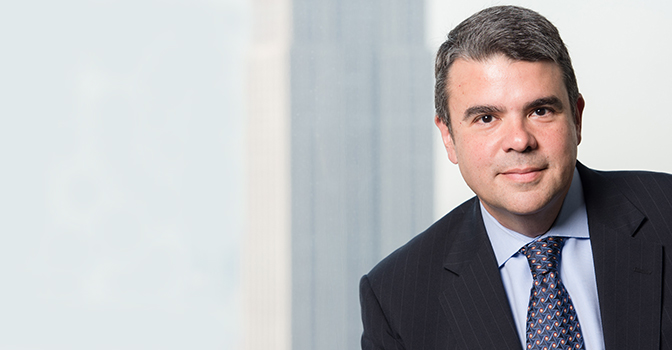 Photo by Laura Barisonzi.
Proving that youth is no barrier to success at large global law firms, Wally Martinez became managing partner of Hunton & Williams – founded in 1901 in Richmond, Va. – at the age of 39. That was in 2006. Nearly a decade later, the New York-based leader is proud of the accomplishments of the 800-plus attorney, 19-office law firm, including the fact that it is regularly recognized as a great place to work.
A 1991 University of Pennsylvania Law School graduate, Martinez's practice focuses on white-collar defense and business litigation. He was a founding partner of Hunton & Williams' Miami office and left the firm in 2004 to serve a stint as general counsel at beverages company Diageo North America.
Lawdragon: You were asked to join the legal department of Diageo North America in 2004. What interested you most in moving from private practice to a senior in-house position? What opportunities did you see there?
Wally Martinez: This was an exciting opportunity for me for several reasons. First, Diageo is a dynamic, global company, and I was very excited to help steer the legal function as we supported the growth of this terrific company. But most importantly for me now, it gave me the opportunity to really understand how a client thinks and operates and that is one of the best perspectives a lawyer in private practice can have.
LD: What lessons did you take away from Diageo North America that have contributed to your or the firm's philosophy of client service?
WM: I learned several lessons: One, our global corporate clients want practical, business-oriented solutions that will help them minimize risk and gain a clear path toward pursuing opportunities.  Two, our clients' businesses are complex – understanding the nuances of the business and the business structure is incredibly important. It's also one of the reasons our firm has developed and focused on a depth of industry experience. Finally, I learned that clients expect high-quality legal services and responsive service. Where the value add comes in is in our perspective on the broad range of business issues impacting the company, in our ability to help "see around the corner" and in helping identify issues and potential challenges – as well as opportunities – in advance. That often requires innovative thinking on their behalf.
LD: You left Diageo to return to Hunton & Williams at 39-years old, as one of the youngest lawyers to become managing partner of a large law firm. What were your goals when you took on this challenge?
WM: At Hunton & Williams, the value we place on our clients, lawyers, staff and community is in our DNA. Leading an international firm at the beginning of the 21st century presented new challenges: new technology, new paradigms for staffing, greater need for communication inside the firm and with clients, and greater need to provide pro bono representation to those in need. Our goal was to address these challenges and continue to ensure that Hunton & Williams is well-positioned for the future.
LD: You have served as managing partner for nearly a decade now. What do you consider your biggest achievements?
WM: As you know, this past decade has been a time of extraordinary change for the legal world. The accomplishments of which I am most proud involve many people – attorneys and staff alike. Some of the work we've done that I am most proud of includes the growth and expansion of client relationships. We have a long history with a number of our clients – many have been with the firm for decades. We have been an innovator in the area of strategic partnerships with clients, an early advocate for and adopter of alternative fee arrangements, and an investor in the technologies that make our work and processes more efficient.
Another accomplishment is the development and execution of a long-term strategic plan, including positioning as a leader in our key industries: energy, real estate, financial services, and retail and consumer products. The firm's industry depth in these areas is significant across our transactional, regulatory, and litigation practices.
I am also proud of the firm receiving continuous top rankings as one of the best places to work – whether it's market-focused, gender-focused, or family-focused, Hunton & Williams continues to be recognized as a great place to work. I am extremely proud of our culture and believe these accolades reflect much of what we are about as a firm.
LD: What about the future? Where do you and the firm leaders want to take Hunton & Williams in the years ahead?
WM: I am excited about the future for Hunton & Williams. We know there are challenges in the legal industry, but we have a strong foundation of relationships with key clients that go back decades, and we are also forward-looking and globally minded. We are creative – we think about new markets, new practices, problems our clients will be facing of which they may not be aware, and better ways of doing things all the time. What I am most excited about is our next generation of leaders – some of whom hold leadership roles with clients and within the firm and others who are rising into those roles. It is that generation that will continue the good work that started generations before us. It's an exciting time for Hunton & Williams.