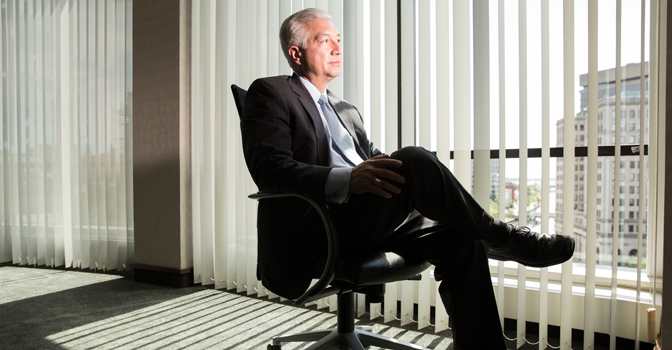 Photo by Ken Richardson.
In the legal world, John Tarantino is simply Mr. Rhode Island. Despite a brief flirtation with Duke Law School as a prospective student, Tarantino has never seriously considered straying too far from his home town of Providence. (Even when he attended Boston College of Law, Tarantino decided to commute.) And there's been no need: Tarantino has established a nationally renowned trial practice at Adler Pollock & Sheehan. From his legendary defense of Atlantic Richfield Co. in the state's lead-paint trial to his defense of political officials accused of bribery and fraud, not to mention a bevy of lower-profile, but no less important pro bono cases, Tarantino has thrived in all manner of civil and criminal litigation – a skill set he first built defending drunk-driving cases. He is just one of 50 lawyers recognized in the Lawdragon Legends for being selected for the Lawdragon 500 each year since it was established in 2005.
Lawdragon: Your practice is quite diverse. How do you decide which cases to take on?
John Tarantino: I do have an extremely diverse practice, handling both civil and criminal matters. The types of cases that I have tried include product liability, toxic tort, civil rights, computer crimes, environmental crimes, bribery, honest services, securities, pension obligations and several constitutional-based claims in both the state and federal courts. I also am fortunate to have an appellate practice as well as a trial practice and have had the opportunity to argue many times before the Rhode Island Supreme Court and the 1st U.S. Circuit Court of Appeals. I take on cases where I believe there is something important at stake – and that importance may be an economic, political or social matter, a civil right, a constitutional issue, etc.
LD: You were born in Providence, stayed in New England for undergrad, went to law school nearby at BC – then returned to Providence. What is it about Providence that kept you there? As your practice took off, did you ever consider trying out a bigger city?
JT: Rhode Island is my home and that fact is what kept me in Providence. I love the state and the people who live here. My law firm, Adler Pollock & Sheehan, took a chance on me even before I had graduated from law school, hiring me as a summer associate and then on a part-time basis during my third year of law school. The firm had faith in me and has always been good and fair to me. Providence is a great place to practice, has terrific lawyers, fine judges in both our state and federal courts, and an excellent and collegial Bar. I cannot think of a better place to practice. I have had a number of opportunities during the course of my career to practice elsewhere, but none of those opportunities ever caused me to seriously consider leaving here. Finally, the nature of my practice has taken me to many larger cities to try cases and at times, to live for weeks or months; I always enjoy returning home to Providence.
LD: I read that you actually stayed in Providence while going to BC Law. Can you describe the circumstances surrounding that, why you did not just move to Boston or closer by?
JT: I was seriously considering going to Duke Law School, but my wife and I then learned during the decision-making process that she was pregnant and that our first child would be born a few months after I was to start law school. For us, that meant I needed to go to law school in Boston, because both of our families were here and it would have been very difficult for us, and particularly for my wife and new child, if we were in North Carolina without any family presence or assistance.
We had an inexpensive apartment in Providence – much less expensive than it would have cost to move to Boston – and my wife also had a job in Rhode Island that we needed her to keep as long as possible so that I would be able to go to law school and work part-time, if possible. I had a very good friend who was going to business school at Babson [College in Boston] and he decided to commute from Rhode Island as well. So, we would meet each morning at my apartment in Providence. I would drive him to Babson in Wellesley, then turn around to head to BC Law School in Newton. Then at the end of the day – usually a very long day – I would drive back to Wellesley, pick him up and then we would both head back to Rhode Island.
LD: Once you started at Adler Pollock, how did you develop into the type of trial lawyer you became? Was there a mentor there whom you sort of modeled yourself after?
JT: I developed into a trial lawyer by trying cases. I was very aggressive in seeking out litigation cases that would go to trial when I first started here. I began trying many criminal cases because we represented a pre-paid legal services plan that allowed for the defense of a variety of criminal cases, as well as certain civil matters. At that same time, the drunk driving laws were changing and many of the legal services plan members were arrested for driving under the influence of alcohol. At that time Rhode Island, for the first time, had mandatory license suspensions without exception for offenses and jail terms for second, third and additional violations. Therefore, at least for my clients, many of them did not want to plead, but rather wanted to take a chance and try the case. That fact got me into court a great deal and allowed me to develop my trial skills in an area of law that was very difficult to try and that had interesting and challenging evidentiary issues, constitutional issues, expert witness issues and the like.
I said then, and I still believe today, that if you can successfully try drunk driving cases and develop the skills necessary to do so, then you can try any kind of case. The skill set is transferable. I eventually changed my practice to handle many civil cases, commercial cases, and felony white-collar cases; but the skills that I developed initially in trying drunk driving cases helped me to become a good trial lawyer. I also learned how to think through complex issues by modeling my approach after John Bomster, who during the early years of my practice was the Chair of our firm's litigation department. John was one of the finest lawyers, and had one of the great legal minds that I have ever run across. He helped me greatly to become a better and more well-rounded lawyer.
LD: One commonality among a good number of your cases is successfully defending companies or individuals accused of some pretty bad behavior. What do you see as a few keys to getting jurors to see things from the point of view of defendants they are probably inclined to dislike in some way?
JT: The key, in my view, is to get jurors to trust you and to trust in the case you are presenting. If the jurors believe that you believe in the case that you are presenting – particularly if the case is long and the jurors get the opportunity to know you over the course of weeks or months – that perception and belief will go a long way in having the jurors set aside any preconceived notions they may have about the client that you are representing as well as any alleged bad behavior. You will have a fair chance to make your case and convince them why your client should win.
LD: Is there a lesser-known case over the years that stands out to you as a favorite, or particularly memorable in some way?
JT: I represented an African-American male, in his early 20s, who had learning disabilities and other cognitive problems. Even though he was in his early 20s, he had the mindset and cognitive ability of a young child. He was charged with exposing himself to a young girl at a playground in Pawtucket, Rhode Island, and was charged with a felony, which if he were convicted, would have caused him to register as a sex offender. I was able to get all of the charges dismissed – although it took more than a year of motion practice, investigation and preliminary hearings to do so. The young man – who is now in his 40s – was able to find employment and live with some other men in a group home facility. I took on this case on a pro bono basis, but it was and will always be an extremely rewarding case for me.
LD: What's your stance on the Pawtucket Red Sox moving to Providence?
JT: First and foremost, I want the Pawtucket Red Sox to remain in Rhode Island. I have been to McCoy Stadium in Pawtucket many times and brought my children there when they were younger. I also am an ardent Boston Red Sox fan and my firm has season tickets, so the Red Sox and the Red Sox organization are important to me. That said, because my firm represents some of the decision makers on this issue, I do not believe that it would be appropriate to express my personal stance or thought process on whether the Pawtucket Red Sox should move to Providence from Pawtucket.
LD: Do you have a restaurant in the city or outside of if that has stayed a favorite since your childhood, or at least for a long time?
JT: My favorite restaurant now – and for many years – is Capriccio in downtown Providence. It has some of the finest food and service in any restaurant anywhere. If you are ever in Providence, I highly recommend a visit to Capriccio. Everything on their menu is first class.
LD: We've been asking some of the Lawdragon 500 members this question as part of our 10-year anniversary: Can you identify or discuss one area of your practice or personal life that has changed the most in the past 10 years?
JT: With respect to my practice, the number of my high-profile and bet-the-ranch cases that have actually gone to trial in the past 10 years stands out. Most cases still settle; but whether as a result of the nature of some of the cases that I have handled or the inability of my clients and their adversaries to reach some common ground, a number of my cases – many of which were quite lengthy – both civil and criminal have gone to trial. Each of these cases has been challenging in its own right, with complex facts, law, interesting expert witness issues and high stakes.
In my personal life, what has changed most in the last 10 years is the fact that all of my children are grown, married, have their own families and their own personal and professional success, which is quite rewarding.