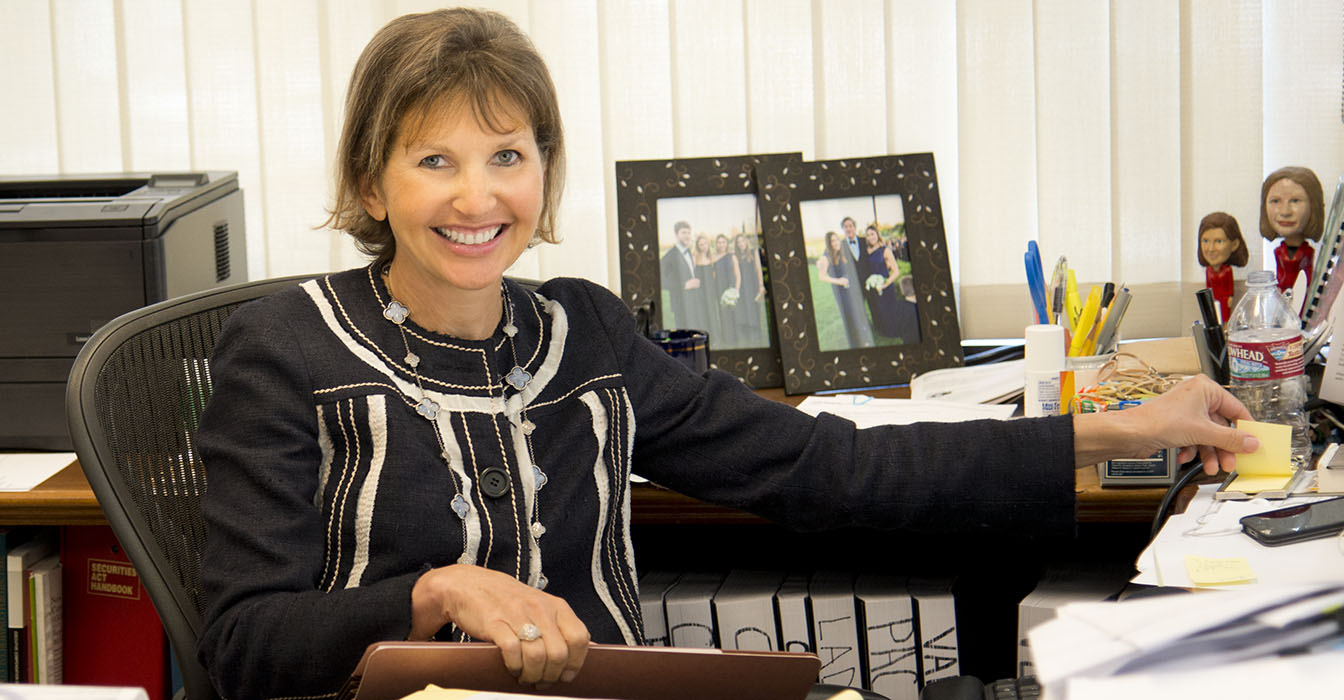 Photo by Amy Cantrell.
The clear majority of transactional lawyers on the Lawdragon 500 are based in New York, where the storied firm of Sullivan & Cromwell has been based since 1879. And that's where Alison Ressler, a Brown University and Columbia Law School graduate, should have ended up spending her career. Instead, she has spent it in the firm's Los Angeles office after a planned two-year stint evolved into a permanent move – and a great one, for both Ressler and the firm. Ressler still made partner a year early and has worked on an endless string of big-ticket deals totaling many billions of dollars. She also has held leadership positions at the firm and currently serves on its management committee.
Lawdragon: What was going through your mind back when you moved to Los Angeles? Was that something you really wanted to do or did you hope to move back to New York?
Alison Ressler: I moved as I was just finishing up my first year of practice. I made the move because I had recently gotten married and my husband had an opportunity out here. My deal with him was that I only needed to stay two years. As it turned out, here we sit 31 years later. I was concerned back in 1984 that the Los Angeles-based firms didn't have the quality practice that Sullivan & Cromwell or other very top New York firms offered. When S&C decided they were opening up the office and offered me the opportunity to come in as the junior associate, I didn't know yet how we would fare in Los Angeles because the firm hadn't operated there before. It's turned out to be a terrific part of the overall firm practice, and I never left.
LD: What was the office like in those early days? How many people did you have and was it uncertain for a while whether it would really take off?
AR: There were eight people when we opened it. The office had interesting, high-profile transactions from the outset. It was clear from the moment I arrived that the office was going to fulfill my personal objective, which was continuing to have an absolute top practice. I was extraordinarily busy from the day I walked in the door.
LD: What happened after a few years – were you still hoping to move back?
AR: I started having children. I had my first child in March of 1987, less than two and a half years after I had gotten to LA. I concluded from a personal perspective that I would like to stay and raise my family here, and that I wasn't sacrificing anything from a professional perspective. I had four children over six years and I made partner in between numbers two and three.
LD: Did you come to like LA?
AR: I found that with having the practice – the Sullivan & Cromwell practice – it never really felt like I had left New York in terms of the work and also the global perspective. I never lost that because of the nature of our practice. I had the benefit that California had to offer in terms of easier living while maintaining the New York professional mentality. My personal life had California benefits and my professional life had everything you look for with being in the financial center of the world.
LD: What do you credit for making partner in that timeframe? Obviously you were good at your job, but there was probably that notion that you had to be in New York – do you think it was a lot harder for you that way?
AR: I'm often asked for advice from young lawyers, both men and women. One of the things I always say is never listen to people tell you what you need to do to be successful because there aren't rules like that that apply universally. At the beginning of my career, had I listened to people tell me what I wouldn't be able to accomplish, I'd probably be in a very different place than I am today. I've always believed that if you're great at what you do things will work out. I never thought about or worried about making partner or that I needed to move back to New York. When I was pregnant with my third child, I was actually made partner a year early.
LD: Was working on deals something that you had wanted to do for a while, even back in school?
AR: Having gone to Columbia Law School and having a good sense of the kinds of transactions that the top law firms in New York worked on, I knew that was professionally the area I wanted to be in. I knew I wanted to be a transactional lawyer, and I wanted to do it at the highest level.
LD: Why is that? What was the draw?
AR: The principal features of doing deals all play to my strengths. Negotiating, strategizing, coming up with tactics, navigating issues, figuring out how to achieve a client's objective and get something done. Those are all things that I really enjoy doing, and we do that for clients who tend to be very smart and very sophisticated. It is fulfilling working with very smart and sophisticated people across industries and across the globe – helping to get deals done. I am continually challenged and love what I do.
LD: Was it harder early on as a woman for people to see you as the person who was really going to lead the negotiation? Did that take a while?
AR: It really didn't. The closest I came to what you're saying is I'd walk into a room and get a feeling early on – sometimes when I was being initially introduced to a group – that maybe they weren't thinking that I was going to be a key person in the room. Honestly, I never walked out of any meeting without people having a very different view. I was able to have that happen as an associate. One of the things about Sullivan & Cromwell is – and we tell this to associates when we recruit them – that you are given as much responsibility early as you can take. I was always encouraged by the partners I worked with to take on responsibility. If you sit in a meeting and you're saying the right things and doing the right things and getting the right results, everybody's going to start listening to you and pay attention. That's what happened.
LD: What does it take to manage such a steady flow of huge deals?
AR: You have to be willing, first and foremost, to work really hard. The thing about M&A work in the environment we currently operate in is that it's a 24/7 business. When you have transactions going, you have to be willing to sacrifice everything else at the time. If you have multiple transactions going you have to figure out how to orchestrate that in a way that every client you're working for is going to get the service that they demand – and are entitled to from a firm like ours. I understand that and I think you need an understanding that we're in a service business, and that what we sell is the quality of our services. It can't be diminished no matter how busy you are.
I've always been prepared personally to make those sacrifices. When you're personally prepared to make sacrifices like that, it sets the tone for the rest of your team. We're very fortunate to have a group of partners and a group of associates across the firm that are used to doing that and working together to achieve a client's objective. I think in order to juggle the volume of deals that I have juggled in my career you also need to be very organized, and you need to have a big, good team around you. I am very organized and I have that team.
LD: In some of the leadership positions that you've had, was that something that you were seeking out or did people come to you to ask you to do it?
AR: It goes back to what I said about walking into a room and just ensuring that when you leave, that the people are listening to you. I've always believed that if you're going to do something you need to do it really well. When you do something really well and you make your presence known, people ask you to do more. That's what happened. I actually have never sought out leadership positions, but I ended up with them.
LD: Are there things that you do or the firm does to try to make sure that there are enough women not just staying with the firm, but attaining leadership positions?
AR: Yes, it's something that we really have focused on. For a long time I was the only woman on our committee running the firm. Now we've added two others. I think the firm as a whole is focused on what we can and should do to keep our women associates interested in doing what we do and other women partners host regular events, mentor other women, spend time sharing experiences and are available to give guidance. I mentor women here and I always make myself available to anyone at the firm whether it's a female partner or an associate in terms of giving them guidance on their career and how to achieve their objectives and I believe male partners do the same. My mentors were men and they provided invaluable guidance to me in developing my career.
LD: I assume you get to know your clients' businesses pretty well. Out of all the different types, is there any industry that you've really come to enjoy working within?
AR: I love the diversity of industries my clients are in, but the healthcare field, pharma and biotech, has always been a favorite area of mine and has always been a very substantial percentage of my overall deal flow. I enjoy working on those kinds of transactions, because it's so important to the lives we all lead – especially when you're talking about working with companies or products developing innovative cures to disease.
LD: Can you talk about some of the extra-practice activities that you devote your time to?
AR: Education has been something I've always been passionate about, ensuring that as many people as possible get an opportunity to get a top education, so I've been affiliated with schools. I recently became co-chair of the dean's council at Columbia Law School. I am one of the four officers on the corporation at Brown University. I'm also a member of the board at the Harvard-Westlake school and have been in leadership positions on that board as well.
LD: What do you do to get some time away from doing deals?
AR: There is nothing I like more than hanging out with my husband and my four children. We do regular family trips, which I really love. I enjoy hiking and spending time by the beach in Malibu.