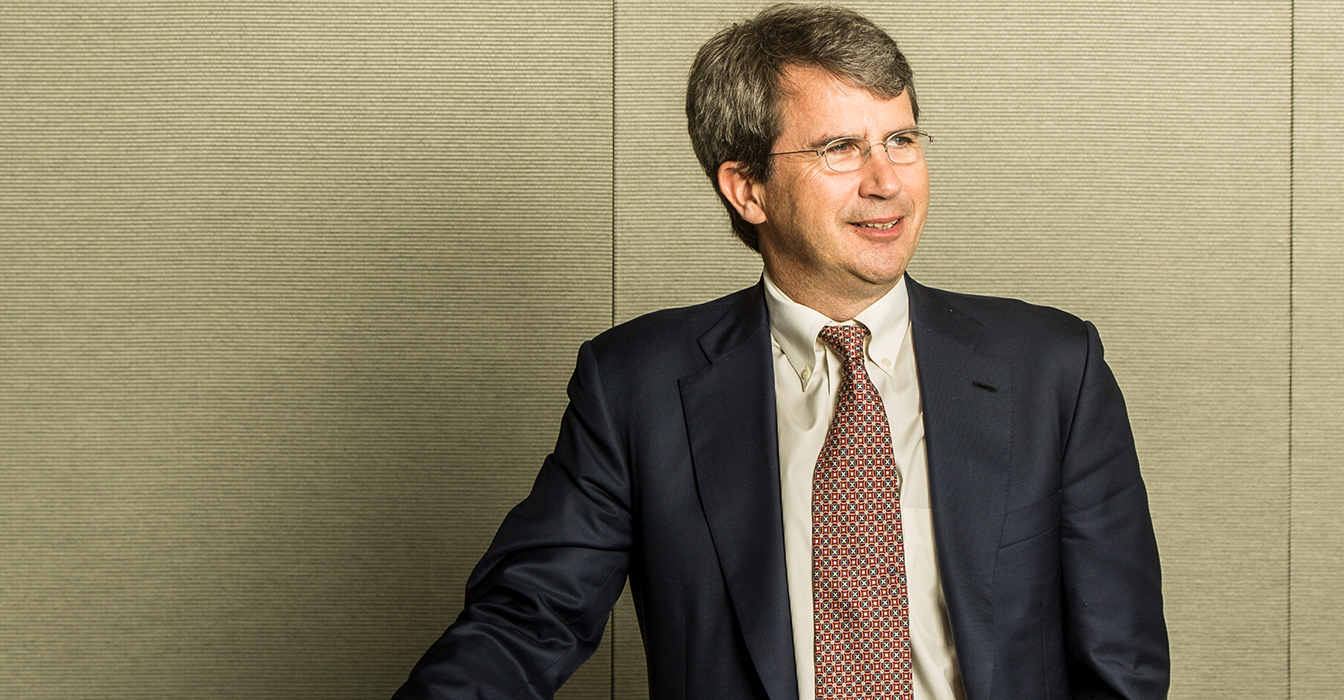 Photo by Stephen Voss.
William Isaacson would have done just fine at his old firm, but he's happy he made the move with fellow Kaye Scholer partner Jonathan Schiller to get in on the ground floor of the epically successful Boies, Schiller & Flexner. That was in 1997. Since then, Isaacson has worked on a fascinating mix of complex antitrust cases, starting with his work in the late 1990s on the firm's groundbreaking work to break up a global vitamin cartel. And the firm has grown to more than 200 lawyers across 13 offices in the United States and one in London.
In recent years, the University of Virginia School of Law graduate served as trial counsel in the antitrust case against Chinese vitamin C manufacturers, resulting in a $162-million verdict in 2013, and in the O'Bannon v. NCAA antitrust trial last year that successfully challenged NCAA amateurism rules. In that case, a federal judge ruled that the NCAA was violating antitrust rules by barring college athletes from being paid for the use of their names, images and likenesses.
Also in 2014, he successfully defended Apple against antitrust claims over an iTunes software update related to iPods. Though the case had dragged on for a decade, the jury took just a few hours to find in Apple's favor.
Isaacson, who is based in the firm's Washington, D.C., office, also specializes in international arbitration. At the time of this interview, Isaacson was wrapping up a trial in Las Vegas for client Oracle in its long-running copyright infringement dispute against competitor Rimini Street. The case resulted in a $50 million verdict for Oracle.
Lawdragon: I noticed that you were into debate in college. Did you have a strong sense then, or even before, that you wanted to be a trial lawyer? If not, when did this interest start?
William Isaacson: I went to the University of Redlands on a debate scholarship, and I was a debater in high school as well. Like many people who are on their feet debating all the time, I wondered whether being a trial lawyer would be a good fit for me.
LD: You clerked for Chief Judge Harrison Winter of the 4th U.S. Circuit Court of Appeals towards the end of his long career as a judge. Can you share anything from that experience that proved to be important for your career?
WI: Judge Winter was definitely a mentor. He had a big influence on how I write and I am sure he is smiling somewhere because I do not split infinitives any more. While I was clerking for him I did find that I was more interested in the trial record as it came up from the lower court than the case law that was being applied in the 4th Circuit, which gave me an indication that I wanted to be a trial lawyer. So, yes, the experience was a very big influence and helped me clarify that.
LD: Your B.A. at the University of Redlands stands out because David Boies went there a few decades earlier – and it's not a school that comes up too much with lawyers we have covered, especially those on the East Coast. Just curious – did you and he have any alumni connection before your decision to join the new firm?
WI: It is a coincidence. I went to the University of Redlands for completely different reasons, some of which were to do with my interest in debating and the scholarship I was offered. I did know and even met David Boies' son, David Boies III, who was also a student there, but I had no idea that one day I would be working with the David Boies we all know. I later met David through my work with Jonathan Schiller.
LD: I assume you were doing pretty well at Kaye Scholer. Was it hard to leave that behind for something as uncertain as a new law firm? What was your mindset at the time?
WI: I had just made partner about a year beforehand, but it was an easy decision to go and start something new with Jonathan Schiller and David Boies. I always wanted to be able to say that I was there at the start of something. The way it came about for me was that one day I wandered into Jonathan's office and he said, "I just spoke to David and we're starting a law firm. Are you in?" And I said, "Sure." When I went home, I said to my wife, Sophia, "I think I was supposed to say let me talk to Sophia and sleep on it and let you know tomorrow. But I said 'sure.'"
I thought the new firm had a good chance of success, but nothing like what actually happened. I thought we'd be a very interesting boutique with interesting clients and challenging cases, but I don't think I or anyone else had any idea that the firm would achieve this level of success.
LD: A number of things stand out when reading about your work on the vitamin cases over the years: You clearly have to do your own digging and investigation, I assume without relying too much on younger lawyers to do the research, and you have to invest a lot of time that might not pay off. It also seems like a little luck helps, in terms of getting a tip here or there. Can you talk a little bit about why you like this type of litigation practice? It must be exciting, but it also seems exhausting and risky.
WI: It is extremely interesting and gratifying when you uncover some violations of law that should be ended. I have done a fair amount of digging and investigation in my spare time. It is on my own time, because I do not think it's fair to ask other people to do research for you that is basically speculative. And, as you said, a little luck helps. And sometimes you build relationships that then come through when something happens 10 years later. I've done a lot of that, too.
LD: Please go into more detail about the litigation relating to vitamins. How did that litigation originally start, and how did it evolve into the Vitamin C case?
WI: The original vitamins case came from a whistleblower who came to Jonathan Schiller, and I was there at that meeting. It involved price-fixing for several vitamins. I learned in the ensuing litigation that the Vitamin C part of that conspiracy broke up because of inexpensive Chinese competition. One of the clients later called me up and said the market has been consolidated into four Chinese companies and prices were going up.
I thought that was interesting. It was not enough for a lawsuit, but it got me thinking. I started researching on my own time, and as I was sitting at my kitchen table at home I found an article in English saying that prices of Vitamin C are going down and that an emergency meeting was being called between the companies to see what could be done about it. I could see from price information I had that, after the emergency meeting, prices had doubled. I called my wife's cousin, who imported goods from China, for some help, and we found more and more information about price fixing on Chinese websites.
LD: The antitrust litigation over Apple's iPod had been going on for about a decade, then the jury took just a few hours to reach a defense verdict. Were you surprised by the brevity of deliberations? Why do you think the jury saw your client's position so clearly?
WI: I do not comment on the work that my co-counsel Karen Dunn and I did for Apple specifically. Sometimes we get a trial where we love our case and we're able to communicate clearly to the jury.
LD: Can you identify a key part, or a few parts, of the O'Bannon trial that you feel was especially important in the favorable outcome? Did you personally learn or uncover information during the proceedings that make you confident that NCAA athletes will ultimately prevail?
WI: My role as co-lead trial counsel for O'Bannon, which I am very proud of, was to confront NCAA witnesses with what was really going on in terms of their treatment of athletes, despite the rhetoric of amateurism. This was an important public airing of what really goes on with college football and basketball. As a result of Judge Claudia Wilken's finding of an antitrust violation and the affirming of that violation by the 9th Circuit, antitrust cases against the NCAA can be tried based on the evidence. The NCAA does not have the blanket antitrust immunity that they have been claiming. Judge Wilken's decision on liability, which was recently affirmed by the 9th Circuit, is a very important decision.
In addition, we spent a lot of time showing Judge Wilken the business of college sports: photos of stadiums, and sports facilities that showed the athletes were players first and students second. And we showed her how the colleges promoted the sale of player cards, jerseys, photos, and other merchandise. In the end, what was most important was Judge Wilken's knowledge of antitrust law.
LD: In addition to the Boies Schiller litigators, it seems like you get to work with a lot of great lawyers outside of the firm. Can you share one or a few that you admire, and why?
WI: I am grateful to Michael Hausfeld, who started the O'Bannon case, for asking me to act as trial counsel with him, just as I am grateful to Ed O'Bannon and my other clients for the opportunity to represent them at trial.