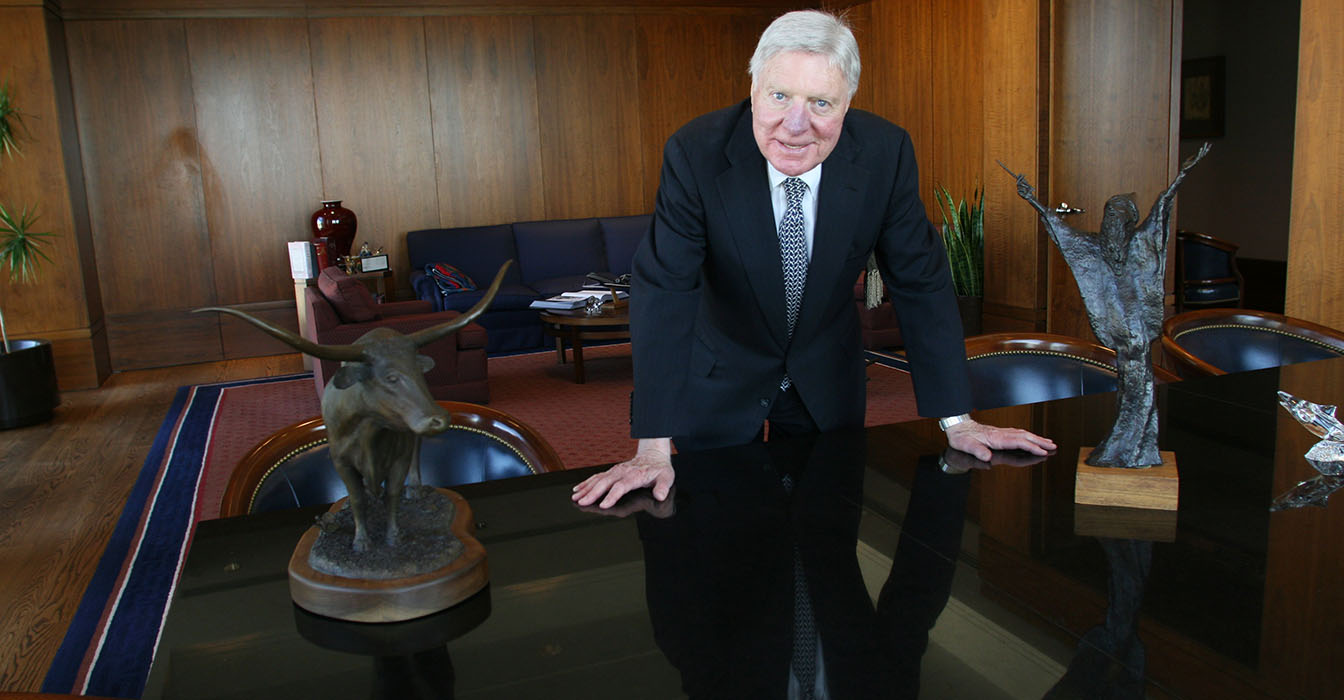 Photo by Hugh Williams.
Article by David Berg of Berg & Androphy.
"Who lives/who dies/who tells your story?"
I've thought often about that line from the musical, Hamilton, since our friend, Joe, died, at 90, on Dec. 23rd, 2015. Who, I wondered, will tell his story, not just because he was a one-off, throw-away-the-model, genius at our craft, but also because his story is our story, of the zenith of civil jury trials, in America, in the 20th Century.
Joe wasn't just zealous in representing injured clients. He was brutal. During a deposition in a wrongful death case, Joe repeatedly warned a Baker Botts partner to quit asking the surviving widow abusive questions about her marriage. When the lawyer (unwisely) persisted, Joe broke his nose. By way of explanation, if not absolution, Joe was an ex-Marine (as if anyone can ever be an ex-Marine) who saw combat duty in the Pacific in WWII, the only subject he avoided recounting.
There was, however, one combat-related story he did tell us. In the eighties, Joe represented a 16-year-old girl who flipped over in a Honda three-wheeler, leaving her paralyzed. During the deposition of its Japanese designer, Joe quickly grew tired of the tedious translations and, skeptical that he needed a translator, snapped, "I'm sure the son-of-a-bitch speaks English." Immediately, without benefit of translation, the witness came across the table at Joe, who quickly ended the confrontation peacefully, remarking, "I killed seven of you motherfuckers. Want to make it eight?" Again, by way of explanation, if not absolution, that was a rhetorical question.
Where did his fierce commitment to the "little guy" come from? Joe grew up "the other," the son of Lebanese immigrants in 1930s and '40s Houston, then a bigoted city, with a prejudice-hating boulder on his shoulder (the Japanese, I confess, were an exception). A child of the Great Depression, he never forgot the sadness he felt as he passed an endless chain of the poor in food lines near his father's produce business.
The man who won the largest jury verdict in history, $11.3 billion against Texaco for his client, Pennzoil, seemed prouder still of the award he won in a 1973 products liability case against General Motors for Elnora Spriggs Williams, left a quadriplegic following a traffic accident – the first million-dollar verdict for a black person in Texas. He and his late wife, Lee, funded minority scholarships at the University of Texas that have sent thousands of underprivileged students through college. They did much more, but there is inadequate space to describe it all. Nonetheless, I'd be remiss without reporting that the idea of giving away the first hundred million came from Lee, who challenged Joe to win it back the following year. (He did win it back, but as he admitted, it took eighteen months.)
If you noticed, I referred to the death of "our" friend. There were two groups of us, somewhat overlapping, one of which gathered at Grappino's, where we'd grab drinks with Joe on our way home, seated among ivy flowering on brick walls imported from Italy. The other group met for lunch at the Lexington Grille, surrounded by nothing flowering, not even human beings – the owner's futile attempt to keep us from scaring off other diners. To be clear, we were, in my opinion, the sort of trial lawyers clients would want on their side: "value-adding motherfuckers," as Joe so delicately put it, willing to tee it up and take it to trial. We were not, however, politically correct, or even quiet, for that matter, which accounts for the private room where we ate.
Joe was center stage in both groups, surrounded by a cast of characters consisting of plaintiffs' lawyers, defense lawyers (including Ken Tekell, whose trial skills Joe really admired), two criminal lawyers (including Dick DeGuerin, a true Southern gentleman and thus, an embarrassment to the rest of us), with, I'd guess, a thousand jury verdicts, or more, among us. There were also two judges, both women, who seemed simultaneously entertained and horrified much of the time.
For amusement, we included the former general counsel of Exxon and his successor, and the head of litigation at an international oil company who deserves special mention. To protect his identity, we shall call him "Bill Noble," instead of his real name, Bill Noble. He earned his invitation following a negotiated settlement of several wrongful death cases with Joe, mistakenly thinking he had a deal because he agreed to pay the $50 million Joe demanded, but late-in-the-day learned there was an additional, deal-killing condition. Which explains why, hanging in Joe's trophy room, is "Bill Noble's" suit.
On the first Thursday of the month, at a rectangular table at the Lexington that seats as many as ten, plates and bowls brimming with barley soup and Caesar salads and grilled trout, Joe held court at the far end, under a light that fell on him like a singer on stage, dressed in oddly preppy suits he bought at Joseph A. Bank, bragging about the free pair of slacks that came with it. He told his stories with brio, making jurors and judges and witnesses come to life with exquisite detail ("I swear to God, I asked him two questions and he started foaming at the mouth").
One day, while discussing religion, his running buddy of fifty years, Ronnie Krist, himself a great trial lawyer, interrupted long enough to shed some light on Joe's theological leanings. They were trying a case against the personal injury lawyer John O'Quinn as the defendant (fit subject for a much longer piece), when the judge, who graduated from a Bible college, suggested that they call in the preacher from Second Baptist to mediate a settlement. Joe snapped, "I came down here for a jury trial, not a prayer meeting. Besides, if this is a contest to see who Jesus loves the most, Ronnie and I don't stand a chance."
Despite the crippling modesty characteristic of trial lawyers, I nonetheless admit that I responded to Joe's insults more often, and more effectively, than anyone else. In fact, it was one such exchange that nailed down our relationship, when he called me a "Palestinian pygmy" and I responded, pari passu, with an unprintable alliteration that will die with our group. From then on, a typical conversation, offensive to all who read further, went like this:
JJ:        My people invented money.
DB:     My people invented interest.
JJ:        Your people invented usury.
DB:     Your guy threw the moneylenders out of the Temple.
JJ:        Well, He made one mistake.
Oddly enough, Harry Reasoner, who enjoys a national, if undeserved, reputation as a nice person, was capable of hurtful invective, which he unleashed at Joe and me one night, refusing advice from "you two pricks." (Actually, I was flattered to be included in any grouping with Joe; everyone agreed it elevated my status as a standalone prick.)
There's no point in trying to repeat all of Joe's war stories; I couldn't do them Jamail justice anyway. What does bear telling is what Joe's friendship meant to us and that involves a third meeting place: Frank's Chop House (now, Frank's Americana Revival, but, really, how boring is that?), where we'd sit, never more than some combination of Joe, Murray Fogler, David Gerger, Robin Gibbs, and me, on tall stools around a small, circular table, where we had a drink and ate handfuls of highly-seasoned peanuts that forced us to have at least a second. But it was those conversations where it was just Joe and me that I most treasure.
Sometimes Joe and I talked about our favorite Supreme Court Justice (Brandeis) and our least favorite Judge (Cardozo). Sometimes, the conversation revolved around the things that meant most to us, like politics and yes, ye of little faith in the human condition, sex, with women. Although once, when we'd been there far too long, I did announce our engagement to Izzie the bartender and sundry others at the bar that night.
Ever so often, our conversation became personal: With his blue eyes locked on me like they locked on jurors and witnesses and judges, the experience was like gaining admission to a coveted private club. Joe the Entertainer would become Joe the Confidante. We would talk about our families.
Let me digress: The last thing Joe would expect of his friends was to canonize him when he was gone. Janet Hansen, his associate of thirty-five years, indispensable to his every deposition and trial, and recent initiate into the Lexington group, knows better than most that while Joe befriended hyperbole, he deplored self-pity and sentimentality.
When a Houston lawyer and fellow Marine, near death, called to ask Joe, tearfully, if he'd do his eulogy, Joe responded, "Hell, I'll do it right now." Maybe that explains why some of his relationships were fraught – that old-school, never-complain, never-explain toughness. But those who knew his family best (which does not include me), seem to agree that one of the gifts of his long life was that with each passing year, he became a more devoted husband and father.
One night, over the din at Frank's, I overheard Joe talking on his cell phone to one of his three sons, I think, Dahr, and in signing off, called him, "Honey." Years later I reminded him of that moment, and how it touched me because, as he knew, I dote on my children. Leaning forward, he laid his hand on mine, and whispered the explanation: "You dumb motherfucker," he said, "I love them." (By way of explanation, that noun was, directed at friends, a term of endearment; at enemies, not so much.)
Every once in a while, I'd coax the conversation around to Lee, who had predeceased him in 2007. Joe, remembering, would look down and his speech became slower, huskier. He told me about their picnics on the grass next to the five-story water wall at Transco Tower, eating beef ribs he cooked, or barbecuing at their Galveston home. After falling gravely ill, Lee spent much of the last two years of her life in the hospital; Joe spent every night she was there at her bedside, sleeping in the room next to hers. "Then one day, she told me, 'take me home.' She'd had enough. Two days later she died." I asked him if he still talked to her. "Every day," the ex-Marine barked, and turned his head toward the street and the cars backed up on Westheimer.
Of course, one would justifiably wonder, given his age, just how addled Joe was. The unequivocal answer is, not at all. Joe was blessed with that genetic abnormality that allows one in a million elderly to retain perfect memory. (I'm pretty sure the study said, "one in a million," but I don't remember.) Once, while updating a book I wrote on trial law, I called Joe, no more than a month before his death, and we discussed the evolution of pleading requirements in the nineteenth and twentieth centuries and the present-day procedures that kill civil jury trials.
Another time (all of us had some version of this experience), discussing a case we had against each other in 1979, I forgot my client's name; Joe remembered it, along with the name of the presiding judge. If you're counting, that was in 2010, thirty-one years after we settled the lawsuit. Joe was 85.
But what I will remember best was the night last August, when he told me about a wrongful death case he had filed on behalf of the survivors of an engineer who'd gone to work for BP in Libya, lured by the company's assurances that he'd have layers of security on the job. But once there, Joe said, the man had no security at all, and one evening, terrorists killed him. Joe described the damning admissions he'd gotten from a corporate representative during a two-day deposition, basically confessing that the company failed to live up to its promises. Suddenly, Joe stopped, smiled wide and said, "I love this case." Almost 90, and he couldn't wait to get to trial. Only death could have kept Joe out of the courtroom.
A few weeks after he passed away, looking for a volume of my trial lawyer book, I found one inscribed to Joe, which I apparently neglected to send, which read: "Without lawyers like you a book like this – a tribute to trial by jury – could never be written. This book is my civilized way of saying fuck mediation and arbitration – bring in a panel and let's tee it up. So, to one of the greatest trial lawyers ever, I say, "Thanks." I am sorry I never sent it to him but I can tell you with 100 percent certainty that Joe would have sent it back with an instruction to rewrite the offending sentence, the one that read, "one of the greatest trial lawyers ever."
We have had one Thursday luncheon at the Lexington since his death, where we left a chair empty, so that Joe, like some-latter day Elijah, would have a place to sit when he returns. But, unless Joe was even more Christ-like than he imagined, no one else can replace his larger-than-life presence. And speaking strictly for me, although I suspect, also for our friends, what I will miss most are his stories and all the laughter that spilled out of our room in the back, washing over customers clear across the restaurant.
Who, then, will tell Joe's story? We will. Until the last of us, and all those stories, are gone, we will still be talking about Joe Jamail. In a way, his stories, mingled with our own, are the best way to tell people what matters most about what we do, and of the days when justice demanded a jury trial and clients demanded lawyers who had spent their professional lives "in the pits," like Joe, like me, like every trial lawyer around those tables.