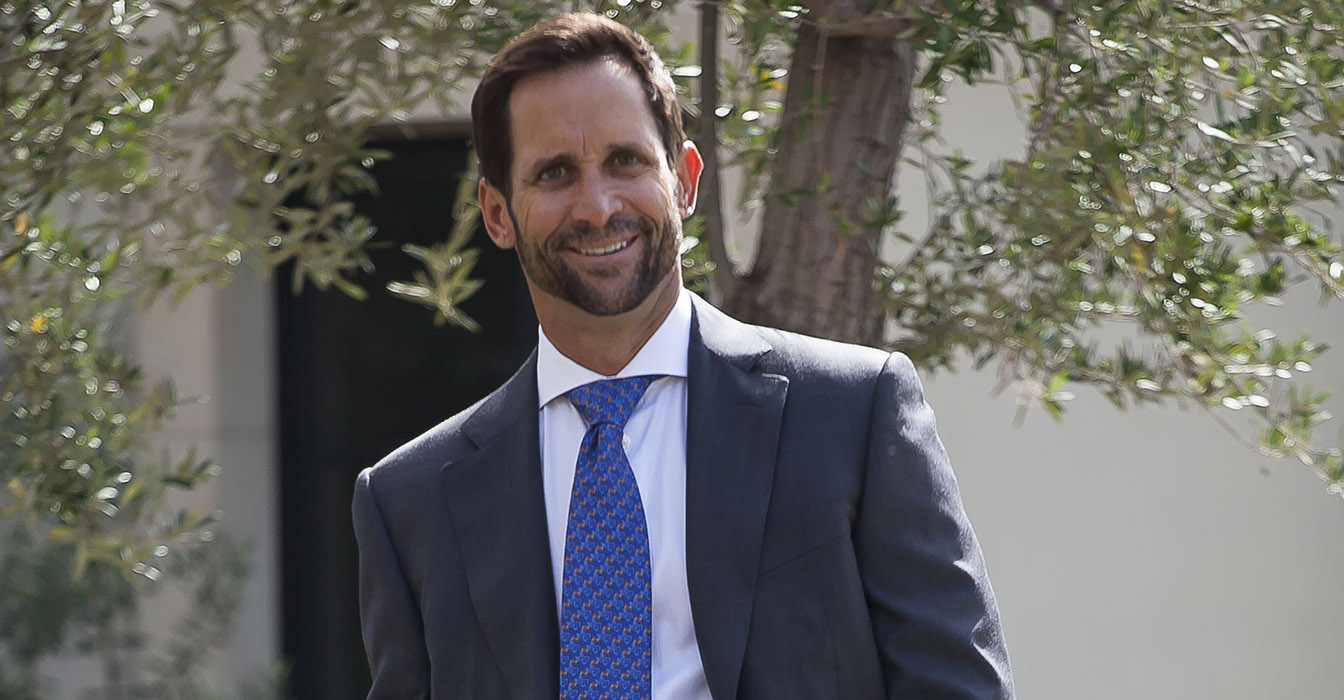 Photo by Philip Ferrari. 
Blair Nicholas didn't have to look very far to find a role model for his life in the law. The San Diego-based partner at Bernstein Litowitz Berger & Grossmann drew inspiration from his trial-lawyer father, Vernon Nicholas, to build a practice representing defrauded investors, for whom he has recovered billions of dollars. Nicholas has amassed an astounding record representing prominent public and private institutional investors and counsels them on whether to opt out of class actions to pursue their individual cases – which is never an easy decision.
"The problem solving in my practice is akin to putting together a complex puzzle for each client to meet their goals and objectives," says Nicholas, who is also a senior and co-managing partner of the firm. He graduated from the University of San Diego School of Law in 1995 and before that did his undergrad in economics at the University of California, Santa Barbara.
Lawdragon: After graduating from law school, what led you to develop a practice focused on representing investors? And what specifically drew you to Bernstein Litowitz?
Blair Nicholas: My father was a plaintiffs' trial lawyer for over fifty years and some of my best childhood memories were watching him at trial passionately advocating for justice and compensation for the injured. When I saw the difference that my father made in people's lives, I had a vision for a similar calling. It has been gratifying to represent investors – including tens of millions of state and local employees – who have had their retirement benefits and other savings depleted or entirely wiped-out due to stock fraud and egregious corporate wrongdoing.
To know that I am working to hold corporate wrongdoers accountable for their predatory practices and at the same time returning hard-earned savings to the retirement accounts of firemen, police officers, teachers, and other hardworking Americans who have been defrauded at the hands of Wall Street and other corporate interests is extraordinarily rewarding. It is this work that attracted me to BLB&G, one of the top firms in the field, and we have to date recovered more than $30 billion for investors.
LD: As someone who has practiced in this field for over 20 years – and who started practicing law the year that the Private Securities Litigation Reform Act was passed – what have been some of the major trends in securities and shareholder litigation?
BN: When I started practicing 20 years ago, it was rare for an institutional investor to proactively pursue litigation to recover assets lost to securities fraud. Today, the institutional investor community is far more connected and educated about their fiduciary duties with respect to fraud, asset recovery, and violations of the securities laws. Recent high-profile scandals and collapses involving massive systemic wrongdoing have caused many institutional investors to revisit and evolve their philosophies with respect to litigation. This includes the accounting scandals of the early 2000s, the financial crisis and subprime meltdown, and the current probes into manipulation of the world's financial markets, benchmark rates, and instruments by global investment banks and their proprietary traders. Today, rather than remaining passive, many of the world's most prominent institutional asset managers are increasingly utilizing litigation and recovering substantial damages for their funds, clients, and beneficiaries.
Another major trend is the advocacy from the institutional investor community to reform governance practices in the corporate boardroom. Public pension funds, mutual funds, and other large asset managers with long-term investment horizons are increasingly coordinating their voices to address deficient corporate governance and promote best practices, and advocate for constructive developments in the law which are critically important to ensure the integrity of our corporate model and the capital markets at large. Too often the business media focuses on activist investors with short-term interests, and ignores the recent wave of shareholder activism that seeks to promote the long-term interests of corporations and their stakeholders through sound corporate governance.
LD: Focusing more on recent trends, how has the institutional investor community's role as litigants evolved since the 2008 crisis?
BN: There is a reason that institutional investor leadership in securities fraud actions has accounted for nearly 90% of the top 100 securities settlements in history. Institutional investors are highly selective in the cases that they pursue, actively participate in the litigation strategy, select and closely monitor legal counsel, and demand significant recoveries for damages caused by securities fraud.   Corporations and their management have significant legal cover and protection from liability and the efforts of institutional investors to push these cases hard and hold wrongdoers accountable have impressed the courts and leveled the playing field in securities litigation. Not surprisingly, recoveries to shareholders have increased dramatically as a result of institutional leadership.
LD: Has your role as counsel to large institutional funds evolved since the crisis? Have you seen more opt-outs – and how difficult is it for you and your clients to assess whether to opt out?
BN: Since the financial crisis, I have generally witnessed an accelerating trend among institutional investors to explore litigation as a means to recover losses caused by fraud and other forms of corporate misconduct. This includes a rising tide of "opt-out" cases – where an institution with significant damages chooses to opt out of a class action and bring its own individual case. However, institutions must be selective in deciding whether to opt out of securities class actions, as there are only a small number of cases that present strong and meritorious opt-out opportunities.
While I have been highly successful representing institutional investors in opt-out matters, the assessment of whether to advise clients to opt-out in any given case involves careful consideration and weighing of many factors. As counsel and advisor to some of the largest institutional investors in the world, my principal role is to educate my clients about their various options so they, as fiduciaries, can make an informed decision of what is in the best interest of their institution and its clients. In some cases their decision is complex, in other cases involving clear-cut wrongdoing and outsized losses, the decision can be relatively straightforward.
LD: What about future trends – do you expect any particular type of litigation to be taking up more of your time in the years ahead?
BN: As for future trends, I believe that shareholders will increasingly demand formal court appraisal for the fair value of their shares in connection with mergers and acquisitions. Increasingly, institutional investors are not passively settling for the merger price negotiated by corporate insiders and are actively demanding fair value for their shares by asserting appraisal rights – which entails filing a claim for a judicial determination of the fair value of the shares being acquired. The appraisal remedy is an important check on the merger negotiation process, as well as board negligence and opportunistic insider behavior. The appraisal remedy assures minority shareholders that they will receive fair value for their shares. No question, it is a powerful remedy that more and more institutional investors are taking advantage of.
LD: More generally when looking at your practice, what would you say is the most interesting aspect of your work?
BN: The most interesting aspect of my work is providing advice to institutional investor clients on how best to maximize their recovery of damages caused by securities fraud. There are many considerations and options and no client or securities action is the same. Therefore, my practice involves the weighing and analysis of complex risks and benefits to formulate recommendations that are in the best interest of each client, based on its unique circumstances and objectives. The problem solving in my practice is akin to putting together a complex puzzle for each client to meet their goals and objectives. It never becomes monotonous, and increasingly encompasses pursuing remedies both within and outside of the United States.
I also really enjoy strategizing with the other attorneys at BLB&G. I am fortunate to work with many of the most talented attorneys in the securities litigation field and working through complex issues with my colleagues is engaging and thought-provoking.
LD: Can you share a few things that are rewarding about playing a leadership role at such a renowned firm?
BN: It is extremely rewarding to serve in a leadership position at the firm as I have the opportunity to strategize with some of the most talented attorneys in the field on a variety of matters, even matters in which I am not principally involved on a day-to-day basis. I also have the opportunity to help develop, mentor and foster junior lawyers' development and nothing is more satisfying than watching those lawyers rise to the top of the securities litigation field. Finally, to participate on the firm's management committee and help set the strategic course for the firm with the sage input and leadership of our founding partner, Max Berger, is extremely rewarding and enriching.
LD: For new lawyers entering the securities litigation field out of law school and representing investors' interests, what advice would you offer?
BN: The advice I would offer new lawyers entering the securities litigation field is their top priority should be to know their clients' goals and objectives. Every client I represent has a different goal and objective, which can dramatically alter the strategy and course of the litigation. Also, securities litigation is constantly evolving and changing and it is critically important to stay apprised of all new developments, court decisions and regulations that may impact your clients so you can provide the most strategically effective and timely advice possible.
LD: You did your undergrad in Santa Barbara and law school in San Diego. Have you always been in and around Southern and Central California?
BN: I was raised in Mesa, Arizona, with three siblings. Because the summers were so hot in Arizona, my family would drive to Southern California and spend time near the beach communities. I always knew I wanted to live where I would most want to vacation, because when I am not working I want to enjoy life to its fullest. I have been fortunate enough to live in Santa Barbara, Sydney (Australia) and San Diego, which are three amazing places. My wife and I have four children who are very active and enjoy the outdoor activities in San Diego.
LD: Can you share how you spend time away from the office, when trying to relax? I hear that you're a winemaker and a surfer.
BN: When I am away from work, I love an early morning surf session, a mid-day golf round, a jog with my wife and dog, and tending to my koi pond and vineyard in the evening. My wife and children all participate in the vineyard harvest and it has become a family tradition. Our four children are passionate about competitive sports, and therefore, I also spend a great deal of time at football and soccer fields as well as at the track.