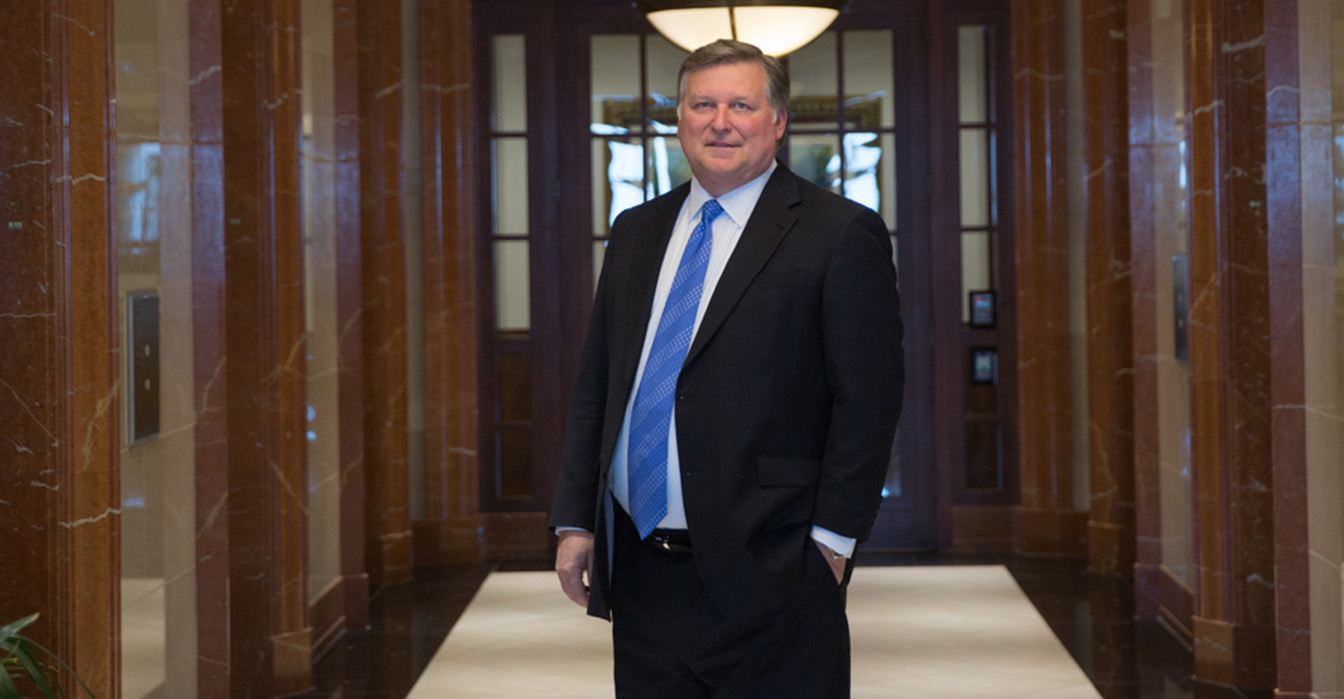 Photo by Justin Clemons.
It will surprise no one that Wayne B. Mason "always wanted to be a trial lawyer," especially when you take into account that he has been at the top of his craft for decades.
"In my neighborhood, many kids wanted to be a police officer or firefighter but not me," Mason explains. "I don't have any memory, nor does my family remember a time when I didn't want to be a trial attorney. That's unusual because there are no lawyers in my family."
The Dallas-based defense lawyer at Sedgwick LLP is on the short-list for companies facing their most critical litigation. Mason excels not only in the courtroom but also in the big-picture role of managing litigation and strategy for clients facing claims in multiple jurisdictions.
These days, among his many cases Mason is using his vast experience crafting winning narratives on behalf of an engineering firm entangled in the Flint water tragedy. Mason received his law degree from Samford University Cumberland School of Law in 1984.
Lawdragon: What led you to Cumberland School of Law as opposed to other options?
Wayne B. Mason: Although I grew up in New York, I went to college in the South and wanted to stay. What many people may not know is that Cumberland is one of the most highly regarded schools in the country for its trial advocacy programs. There are national, annual competitions among law schools for trial advocacy and Cumberland is routinely in the top of these competitions. That, more than anything else, is what attracted me to the school.
LD: What was your first trial? Can you describe what the outcome was and any memory that stands out?
WM: My first trial was actually while I was still in law school. In Alabama you can receive a special permit that allows you to try a case under the supervision of a licensed lawyer. So, my first case was representing a disgruntled homeowner case with a claim against a builder. I can't recall the specifics but I do remember that I lost. But even in losing the case, I learned a valuable lesson. The jury said afterwards that they hated my client, who was sitting behind me the whole time making faces in reaction to everything the defendant said.
LD: Were there lawyers you looked up to as a young trial lawyer that you modeled yourself after?
WM: Yes, there were many whom I admired. What I learned from them more than anything else was that graduating from law school and passing a bar exam is not a destination, it's a beginning. Developing as a trial lawyer happens over a lifetime. To truly excel in this art form, you must commit to a lifetime of study and honing your skills. I'm a voracious reader having studied virtually every trial advocacy book ever written, as well as the lives of some of the greatest trial lawyers. I've studied transcripts of their trials and then developed my own style. The lesson is that you shouldn't copy other people. Learn everything you can from what they know and what they do and then develop your own approach.
LD: Was there a lesson you learned in the early phase of your career that you view as particularly key in reaching the elite levels of the profession?
WM: I had some mentors who were very good lawyers, but I was taught to believe that the people on the other side of the "v,," the plaintiffs, were basically the enemy. Too many times I was urged to be aggressive and non-cooperative and it wasn't until I matured enough in the profession to realize that was a huge mistake. I have come to understand that you can be a successful lawyer, be cooperative, and still vigorously defend your client without resorting to intimidation and being disagreeable.
LD: Along those lines, are there clear ways in which your courtroom style has changed over the years?
WM: Absolutely. I won a lot of cases early in my career but my tactic was basically to out-argue the other side. That is not the best way to persuade. The real breakthrough in my career came when I learned that the narrative is the key to every case. Storytelling always matters, whether it's a complex commercial case or a catastrophic injury case. It's understanding and knowing how to build and deliver the narrative.
LD: To an outsider, it would seem that managing complex litigation and leading broader, long-term strategy, as in a multidistrict litigation (MDL), involves different skills than actually being effective before juries in individual trials. Is it rare to have both sets of skills? How difficult is it to balance playing both roles?
WM: The bottom line is that my job is to first and foremost protect my client's brand. Litigation is most often a threat to a company and an unwanted expense. I strive to understand the business objectives of the client and be mindful of those throughout the litigation . That typically means searching for ways to save money, which can be tens – and sometimes hundreds – of millions of dollars. Sometimes it means pursuing a case for a client who is a claimant, where we are seeking to recover a great deal of money.
Senior lawyers must be good at many things. Clients' objectives are frequently best met early in the process and the case doesn't have to reach a courtroom. What my most sophisticated clients know is that the same critical communication skills trial lawyers use in the courtroom can be invaluable elsewhere. Whether you're talking to the general counsel, the board of directors, a mediator or arbitrator, a jury or a judge the same communication skills can make the difference in ultimately saving (or recovering) large sums of money.
I don't get lost in the minutiae. I work with a highly skilled team of lawyers that works on the administration of the cases. But, being the face and the voice of strategy of the case positions me, hopefully, to most effectively utilize my advocacy skills. In an MDL, for instance, when the other side knows there is an experienced trial lawyer defending the case, it often makes a huge difference for clients. And the administrative and trial elements intersect and complement each other because ultimately if the case can't be resolved, you're not having to play catch-up and parachute in to try the case. I have done that too, of course, but it is much more effective to involve trial counsel as early as possible in the case.
LD: You handle a wide range of cases. Is there an aspect of your trial approach that you bring to all your cases, regardless of the subject matter?
WM: Yes, that's an easy answer. The narrative. Every case has a story and the classic story elements need to be told.
LD: Can you talk a bit about what is keeping you busy these days?
WM: What keeps me busy is that I have a large and diverse practice. Whether it's advising the board of directors on corporate governance issues, working on SEC matters for Fortune 100 clients, acting as national coordinating counsel, or facing "bet-the-company" litigation risks, the common thread is that generally significant damages are being sought or there's the potential for significant impact on a corporation. These are always multifaceted, complex matters. I think the sweet spot, my expertise, is taking the extremely complex and making it simple.
LD: What is the nature of your representation regarding the Flint water crisis? In all the coverage and anger, is there something that you feel that the public has missed or is not grasping with that situation?
WM: I represent one of the engineering firms that advised the City of Flint with respect to certain elements of the transfer of water from the Detroit water source to the Flint River.
From a legal standpoint, it's like a hypothetical on a bar exam; there are so many different issues raised. First of all, what occurred is absolutely a human tragedy, and we can't lose that perspective. But my job, ultimately, is to focus through the courts, and sometimes even through the media, on the reality of what our client's role was and what really happened – which at the end of the day, is what sets a trial lawyer apart. The ability to separate the grandstanding from reality. The ability to represent my client, focus on what really happened, and deliver the desired outcome. Flint is just one example.
LD: What do you do to relax and recharge the batteries when you get a chance to take a break from your practice?
WM: I've shared that I'm an avid reader and lifelong learner. In what free time I do have, I'm an enthusiastic fly fisherman and golfer. I also have a lake house where I enjoy spending time with family. Almost everything I do in my free time is with family.