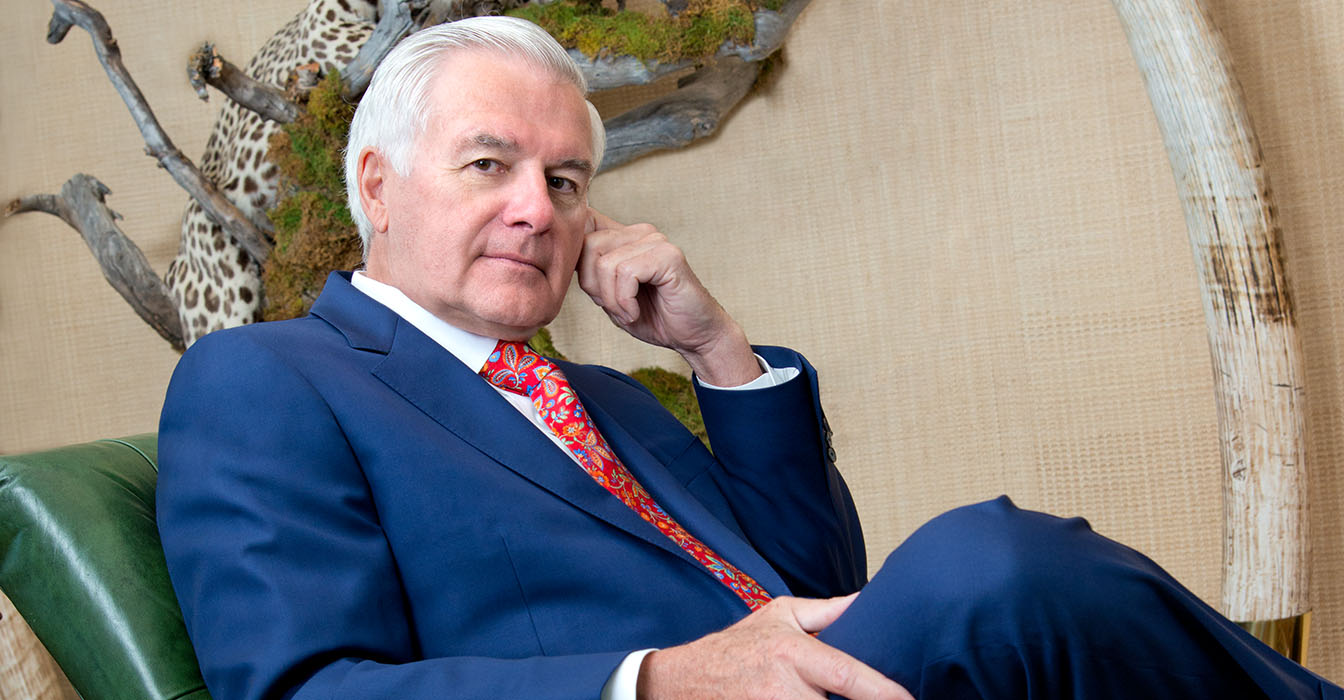 Photo by Amy Cantrell.
It is hard to find a more gracious, intelligent and admired lawyer than Walter Lack.
And yet were it not for an accident in his first job – working for the railroad in Los Angeles – he might never have had the opportunity to help thousands of injured consumers win billions from makers of faulty products, oil companies that harm the environment, and aircraft manufacturers whose failures lead to tragic deaths.
The founder of Los Angeles' Engstrom Lipscomb & Lack is genuinely grateful for every opportunity he's had, particularly since the day he entered Loyola Law School in Los Angeles. We talked shortly before he hosted the class of 1966 from Gardena's Junipero Serra High School at his home for their 50th reunion. He looked at his old yearbook ahead of time, and smiled at his prophecy – he was going to be a lawyer. That's what he said at eighth-grade graduation, too, though no one in his family had graduated from college.
It's great to be smart. It's better to be smart enough to know how lucky you are.
Lawdragon: Can you tell us a bit about your path from working-class kid in suburban L.A. to law school?
Walter Lack: The law came to me in a strange way. My dad was a building contractor and my mom was a full-time homemaker, which was a big job as I'm the oldest of five boys. I loved high school and was very lucky to get a national merit scholarship for four years at Loyola. I moved out of the house and a week after high-school graduation my cousin told me about a great summer job working for the railroad as a switchman and brakeman. I drove to a seedy industrial area in East Los Angeles and applied for a job at the Santa Fe Railroad.
In a few days, I was a bona fide railway switchman and that required me to join the Brotherhood of Railway Switchmen Labor Union. I loved the job and decided to keep it while attending college full-time. As a switchman, you make up the trains of cars by making sure the coupling devices are open so the cars hook together; you get under the cars where the couplers are and hook up air hoses which activate the air brakes. My favorite shift was working 11 p.m. to 7 a.m. because then you could go to school in the morning.
LD: That sounds like a dangerous job.
WL: It was. Not long after I got there, I saw a guy get coupled up between two cars and I was the first guy to reach him. Before they uncoupled the cars, he said, "Tell my wife I love her." And then he died.
After two years, Santa Fe promoted me to Engine Foreman, which meant a good raise and responsibility for running crews of up to 10 men when I was 20-years old. I was injured on the job, my thumb got caught in the dog on a defective brake. I was sent to Santa Fe Hospital for surgery. That's when the law first came to me. Still recovering from the effects of surgery, two gentlemen entered my room and introduced themselves as union representatives and co-workers.
I learned that railroad workers and seamen were the only class of workers in America who were not covered by Workers Compensation benefits but could sue their employer if the accident was the fault of the employer, and mine was.
I went directly from the hospital to the lawyers' office recommended by the Union. My case drug on for years and by the time it went to trial I was in my first year of law school working as a law clerk for the firm representing me. At trial we waived a jury and railroad counsel agreed. Big mistake for them. The judge awarded me enough to pay off all my student loans, law school tuition and stake me an entry in the World Series of Poker. I was starting to really like the law.
LD: And how did you come to found Engstrom Lipscomb & Lack shortly out of law school?
WL: I worked 40 hours a week clerking for the lawyer who handled my case during law school. So I had 10 trials by the time I graduated. I knew the path I was going down, so I only took classes that would help me – maritime law, civil trial advocacy, insurance law. I took aviation law from Bill Tucker, who was probably the toughest insurance defense lawyer doing aviation law exclusively in the country. Fred Lower taught me torts, insurance law and civil trial advocacy. He became a very distinguished dean of the law school and was an inspiration to me and personified civility, competence and professionalism.
After graduation, the top 10 percent of graduates in my class were being offered premium salaries of $18,000 per year by O'Melveny and Gibson Dunn. The firm I worked for started me at $20,000 per year with a guaranteed bonus. At that point I really loved the law. I was given cases to try the day I was sworn in representing railroad workers and seamen. I really liked the clients because I could make a big improvement in their lives.
Within a few months, I started my current firm with Lee Lipscomb, where I have been for 42 years.
LD: You also did a lot of work right from the start in aviation cases, which has been a hallmark of your career. How did that come about?
We started out handling a lot of defense work for the aviation insurance market. Both of my partners had big firm experience defending airlines and representing the insurance underwriters who wrote the business, as well as handling subrogation claims.
The minute we opened the door we got a case from Mather Air Force Base in Sacramento. A plane getting electrical repairs blew up and killed five guys. They assumed the cockpit voice recorder was burned up. But we found it, downloaded and transcribed it. The last words of the two guys in the cockpit were, "If you flip that switch, you're liable to light Charlie up like a Christmas tree." And then the guy flips the switch. We got a great result for the owner of the airplane.
There was also the SilkAir 737 crash. A Singapore Airlines 737 took off from Jakarta and 35 minutes into flight went into a steep dive spiraling into the Musi River, killing 110 people. The critical part of the wreckage was 24 feet underwater; it took a year just to remove the wreckage. We needed the cockpit voice recorders and the flight data recorder; we didn't know we needed, but ultimately got, the tail section. Within 48 hours of the crash, Boeing held a press conference saying this was a clear case of a pilot trying to commit suicide.
We didn't get into the case for the first few years, but then a lawyer came to us with a cascading electrical failure theory. When he got the flight data recorder, we could see somebody had pulled the electrical circuit breakers about five minutes before the crash, which meant there was no evidence of what happened after that – no flight parameters, nothing from the cockpit. And the only way those shut down is one of the flight crew had to have physically shut them down.
I hated the cascading electrical failure theory. The man who became our expert was working on two crashes in America involving 737s where there was "uncommanded rudder failure." The rudder sends a plane up or down, which fit with the plane diving suddenly and spiraling. To prove that theory you needed the actuator device, which weights about 50 pounds and is a beautifully engineered cylinder. It uses hydraulic oil to push the rudder on a 737 up or down.
When I got involved no one knew where the actuator was. I'd been involved in helicopter crashes in Indonesia and knew the chief investigator. We flew an investigator to meet him, and he says, "You know what, I think the actuator is still in our safe." This was seven years after the crash. I sent our referring lawyer to Jakarta and the investigator wouldn't part with it. So we flew him to Florida to our metallurgist, where they did a tear-down inspection and SVM microscopy. They found all kinds of original metal shavings. We developed a theory that a shaving got in there and prevented the slide from moving when they commanded the rudder and the plane went down because of that. And we found evidence that the manufacturer, Parker Hannifin, had rejected this exact actuator several times.
For trial, we borrowed a mock-up of the entire 737 tail. We parked it right across the street from the courthouse. We marched the jury across the street and had our experts use one of the actuators and showed the jury when you make a certain command, the elevator goes up or down. They were enthralled.
When the jury came back, they gave us more than we asked for. We only had four clients, two airline stewardesses and parents. That was the greatest jury I ever had. For four people, we won $50 million. From there, they asked us to represent the rest of the passengers and we settled for about $150 million within months. And the case had been considered a complete write-off, a loser.
LD: We'd be completely remiss if we didn't talk about Erin Brockovich, where you were a featured character in an Academy-Award winning movie.
WL: They filmed bits of the movie in my Century City office and I asked the director if he had an interest in what actually happened at trial. He said, "It's not about that." To the average moviegoer it looks like a third of a billion dollars showed up on the porch step one morning and the case was over. It doesn't show we spent seven months in trial in the first 33 cases, all of which led to a global settlement of just the first 600. There were 10 more years of litigation after that and a total recovery of about $180 million. Today, no utility in America uses any chromium-based product in their cooling towers.
LD: What's the most important thing to you about being a lawyer?
WL: Making a positive impact on a client's life. This is particularly applicable to people who are injured or have lost somebody in a death case. When it's over the only memory or impression of the law they have is how you made their lives better. That's just a fact.
LD: What cases are you working on now?
WL: I still have a number of aviation crashes, none more important than for the family of Alan Purwin, the number one stunt pilot for helicopters as well as a famous fixed-wing stunt pilot. He did all the Michael Bay movies.
He was working on the movie "Mena", the story of Pablo Escobar's first pilot, starring Tom Cruise. They hired Purwil to fly the fleet of three fixed-wing planes and three helicopters. The last day of principle photography, Purwil had been flying Tom Cruise all day and was completely exhausted. He jumped in the back of an airplane piloted by a guy who wasn't even supposed to be on the set. He was just a friend of the director and the director's employee, who was in charge of air operations. They crashed the airplane and killed everybody on the 10-minute flight into Medellin. I'm suing all the production companies, including Ron Howard and Brian Grazer, on behalf of his widow and children.
We're also involved in the Porter Ranch case handling over a thousand cases. I'm on the Planning and Steering Committee, which has already put $2 million in trust to finance a complete historic reconstruction of the well field; we have sources that indicate PG&E knew the field has been leaking for years.
My favorite case right now is a sleeper, like a lot of our cases. The Bluff Fire was the largest fire in California history, burning 3,000 homes in three counties last summer, as well as several hundred thousand acres of forest. Most people assume it was a terrible forest fire. But guess what? We got PG&E in open court to say they're responsible and they'll pay for everything.
The actual investigation revealed that PG&E hired a very large tree-trimming service, Trees, Inc., to do that work. When two lines came down intersecting at a roadway, they left three trees untrimmed – and that's the exact point of origin. At 60-mph, the lines came together and created a spark that was unstoppable. We hired a drone firm to fly to the boundaries and visualize every stump in HD. We measure the size of the stump from the aerial photography, then we know how big the tree was and we can calculate the board foot of lumber in each tree and multiply it by its value. The largest element of damages is a loss of timber, for which there's a special civil code section providing two times fair market value. We can get the actual damages to within a hundred dollars on a hundred-thousand acres.
LD: You are considered an outstanding investor. Can you talk about how your work as a lawyer introduced you to investment opportunities serving on the Boards of Directors of notable companies?
WL: Some of the early results we achieved were judged by the clients to be phenomenal and new opportunities presented themselves. Some clients wanted us to invest in their business; some wanted us to be a part of it. If you litigate, the law requires you to become an expert on something new every day of your life. You must appreciate that the law can present infinite opportunity if you are willing to tolerate risk of failure.
The law has allowed me to obtain on-the-job training in fields that no university curriculum could ever duplicate. About five years in to the practice I was invited to join the Board of Directors of a multi-national insurance company where I served for 26 years. During that tenure I was elected Chairman of the Compensation Committee and Lead Outside Director. I also served on the Boards of several public companies with full disclosure that I was a plaintiff lawyer and Democrat. I was Chairman of the Board of a high-tech company that had a lot of government contract work. Sitting on that Board was a retired Naval Admiral who was Chairman of the Join Chiefs of Staff under Bush I, who got me investing in companies that all turned out to be home-run investments.
I sat on the Board of a pharmaceutical company for 15 years. During that time the company discovered two compounds which the FDA has approved to treat two different blood cancers. During a London Board meeting, we traveled to Cambridge University and met a world-renowned cancer researcher. At lunch he mentioned his interest in the work of a small company in America that was close to a possible cure for Hepatitis C. Thankfully, Gilead Sciences is the largest holding in my retirement plan today.
These stories could go on and fill a telephone book – if they are still making them. The only constant is the law's ability to offer an infinite flow of life opportunities. Trial lawyers really are the lucky ones.