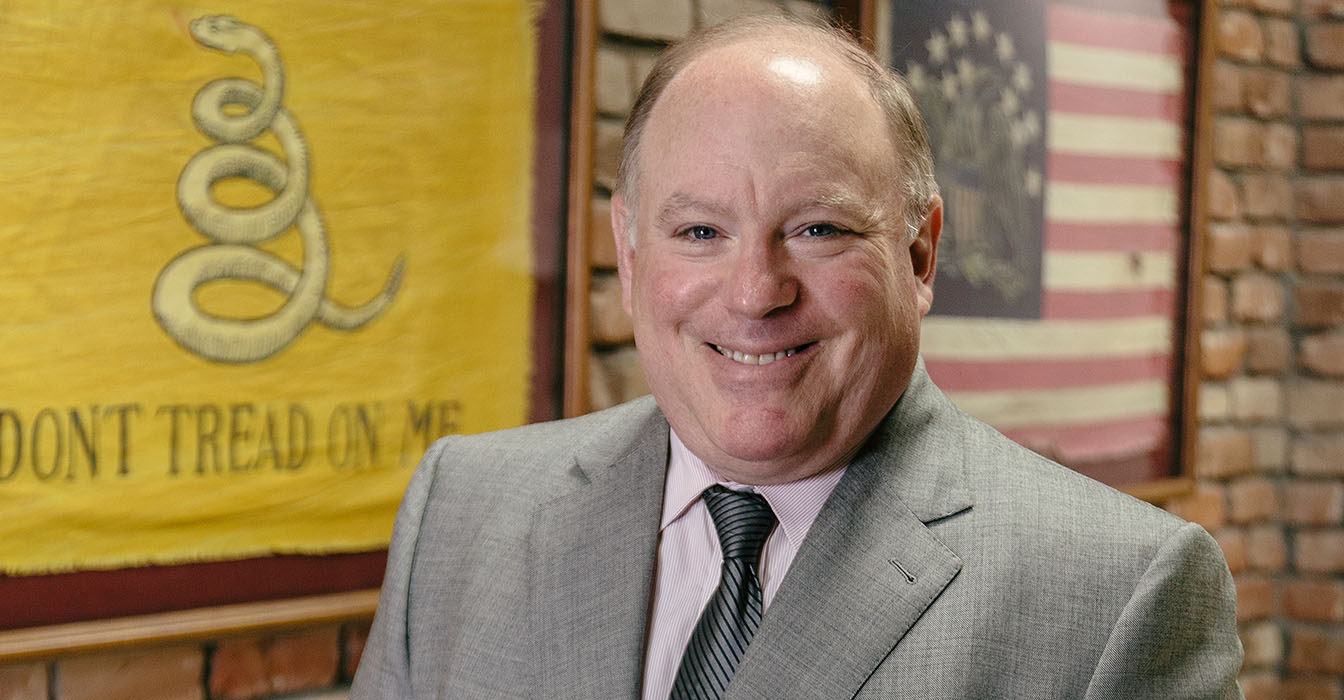 Photo by Sara Essex Bradley.
If there is a lawyer who knows how to handle a crisis, it's Herman Herman & Katz managing partner Steven J. Lane. Not only has he managed New Orleans' preeminent plaintiff firm since Hurricane Katrina hit, he also excels as a family-law attorney.
As managing partner, he makes the trains run for a firm that has taken on massively complex and heartwrenching cases, helping victims of Hurricane Katrina, the BP oil disaster, and bad Chinese drywall installed in homes damaged by the storms. As a family lawyer, he is called on to help New Orleans' elite in affairs of the heart. Most often, that means the broken heart – and the broken-hearted do crazy things. From drugged margaritas, to an enraged grandpa with a hammer and disputes over – what else, beloved pets – Lane has really seen it all.
Lawdragon: Can you tell me a bit about how you decided to become a lawyer?
Steven Lane: I wanted to become a lawyer because I thought it was a very honorable and prestigious profession. It is an honor to be a lawyer. And it's very unfortunate that lawyers have the negative reputation they do because for the most part the vast majority of lawyers are out there doing everything they can to assist the public, doing pro bono work, doing volunteer work.
All you read about in the paper are partial facts about cases that people make fun of, like the McDonald's coffee case, and they blame lawyers. Or they see large awards and attorneys getting large fees. And they don't realize the attorneys have gone out and borrowed millions of dollars and have worked tens of thousands of hours without getting paid.
LD: How did you end up joining Herman Herman and then becoming a family lawyer?
SL: Well, that's a good story. While I was attending Loyola Law School, I was Russ Herman's law clerk. He had all these high-profile divorce cases. People would come to him to handle the divorce cases and he hated those cases. After a few years of working on these cases together, he said, "When divorces come in, I'll do the interview, you do the work". And within about five years I was handling them all myself.
I had become his clerk because his sister, Shelly, was my law school classmate. I had zero intention of staying in Louisiana, and planned to go back to New York. All I took was common law property courses, no Louisiana civil code courses. But in my third year, I decided I was going to stay in New Orleans. Russ' sister said, "Why don't we study for the bar together?"
So I'd study for the bar at Russ' parents' house, and his dad, Mr. Harry, would be there in another room. He heard us studying and knew I was looking for a clerking job. I didn't know it, but Mr. Harry told Shelly to tell Russ to hire me because he was sure I wouldn't be passing the bar anytime soon.
LD: Being managing partner of a plaintiff law firm is so difficult. Can you talk about some of the challenges, and what happened to the firm when Hurricane Katrina hit? Your offices are right by the Superdome.
SL: I had been doing half class actions and half domestic, but they asked me to become managing partner a few years before Katrina hit. I had to stop the class-action work – there's so much travel – and use that half of my time to manage the firm. As managing partner, I make the personnel decisions in terms of hiring and firing, handle the financial matters with the firm's CPA, lines of credit, bonuses, raises, partnership distributions, and insurance issues. Whenever anyone has a problem, they come to me.
When Katrina hit, the whole inside of our building was destroyed. So we had to move, to Houston, Florida and to the North Shore of Lake Pontchartrain. By January 2006, the building was redone and we moved back. We needed a new air system, built more conference rooms, and upstairs offices. Most of our records were intact, and whatever was on our computer system was in Atlanta.
We were in the midst of the Vioxx trials, which got moved to Houston. We didn't miss a beat in terms of any of our MDLs, though of course our courts were closed so you had to travel to wherever they were transferred. Some judges went to little small towns near Baton Rouge and you'd go see the judge and their staff in a hut to try your case. Almost every judge in Orleans parish lost their homes.
LD: Can you talk a bit more about the impact you saw on the New Orleans legal community after Katrina?
SL: Once people left, a lot didn't come back. For family law, that meant many disputes where a parent wanted to relocate and the other parent objected. There was also a substantial increase in the number of divorces. People who had been on the edge – "should I stay married, get divorced?" – once Katrina happened they went over the line and couldn't take it anymore.
We also saw a lot of law firms that didn't make it. Many firms that had been in business for years ended or broke up. Many personal injury firms or others who relied on a certain segment of the New Orleans population as clients, once it was wiped out in the 9th Ward, a third of the population up and left and they were a large portion of what these smaller PI firms relied on. But if you work at McDonald's in New Orleans, you can work at McDonald's anywhere. You can't have a car accident if no one is living there.
We were lucky at the firm because we were so diversified in terms of what we did – it wasn't all personal injury or domestic. We also had Vioxx going and several seven-to-ten figure civil cases that settled right before or after Katrina and gave us the money to keep going.
We try to do whatever we can so that people have an accurate view of the benefit that lawyers have on society. When recent floods came through and hit Baton Rouge, we went out and solicited donations of school supplies from around the country. We filled a conference room with boxes and boxes of pencils, notebooks, backpacks, household supplies, canned food, and then we coordinated with the Governor's wife, who's a teacher, to make sure all these items got out to the public that needed them. What's funny is we were getting shipments every day from Fed Ex and the truck driver making the delivery said, "When I saw all these boxes, I thought I was making a delivery to a warehouse."
We just do what we do knowing it's helping someone and that's the reward. Not whether we got a case from or made money from it, it was just the right thing to do. Because of our contacts throughout the country, through the Louisiana Association for Justice and the American Association for Justice, lawyers came and made these donations. Lawyers helping lawyers to help other people helped tens of thousands of people.
LD: You also represented the ACLU in its litigation against your prior governor, Bobby Jindal, over marriage equality. Hos did that come about?
SL: My daughter went to school with the daughter of Marjorie Esman, the executive director of the ACLU in Louisiana. Ms. Esman contacted me to challenge the Governor's executive order, which basically allowed state workers not to penalize businesses or individuals who discriminated against gay couples seeking to get married. Jindal issued that executive order minutes after the legislature voted it down.
I went to our partners and they all immediately said, "We need to help." That's what we do – we protect people in the minority who are getting bullied. We ended up filing suit against the Governor to undo his executive order as unconstitutional. The Governor filed an exception that we had no cause of action, which was denied. When the election for the new Governor took place, any executive order rendered by the outgoing governor is automatically undone if nobody takes any action to keep it alive. The new Governor let Jindal's order lapse. Essentially, the suit went away by itself, and we prevailed.
What's interesting is within the last several weeks the new Governor, John Bel Edwards, has been in a fight with the new AG, who has been rejecting proposed state contracts in which the Governor insists on language concerning sexual and marital equality. There's a fight going on now, so this may rear its ugly head again.
LD: What are you working on now?
SL: I can't really talk about most of my family law cases, because it's people's private lives. I can talk about a big case I'm working on with Russ right now involving the most valuable property in the city, the World Trade Center, which our client is trying to turn into a Four Seasons hotel. We represent Carpenter & Company Inc. and Woodward Interests LLC. Another bidder, who lost in the bidding process, is trying to hold up the hotel. It's a really nasty case, and it got personal. The judge told us to file for sanctions against our opponent. We did and were awarded $60,000 on one motion, and another is pending. Folks have been trying to put this property to use for the past ten or 15 years. Russ and I have represented the last three prospective owners and every time the city thinks it's found someone, there's another reason the deal falls through. But this developer has some great backers and we'd love to have it built for our tricentennial, in 2018. It would be a real feather in the cap of the city and a huge economic boost.
LD: How long will you continue as managing partner?
SL: President Obama and I are going out at the same time. It's been 15 years. Brian Katz and Steve Herman are going to split up the responsibilities of managing partner. Maybe I'll have more time to practice my tennis. I may even break down and get a dog.