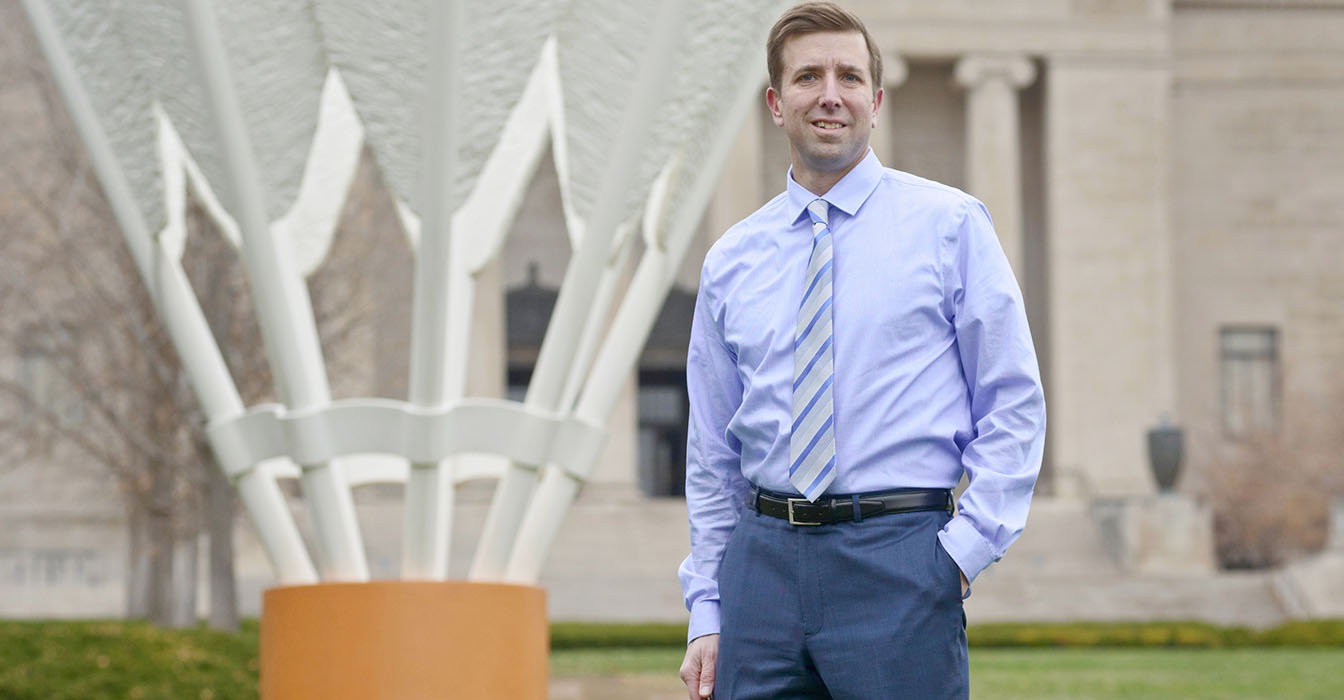 Photo by Jason Dailey.
Burton Taylor proves that nice guys can finish at the top of their profession, and also that operating out of the big coastal cities isn't necessary to reach the elite level. Taylor is the founder and CEO of Mission, Kan.-based Proventus Consulting, which provides marketing, public relations and business development services to law firms, lawyers and clients in other industries. A former journalist, Taylor started his own company in 2012 after a stint as media relations manager for Shook, Hardy & Bacon. His highly regarded work for law firms and overall outstanding reputation secured Taylor a place on Lawdragon's most recent 100 Leading Legal Consultants & Strategists guide, composed of the nation's most trusted advisors to the legal industry.
Lawdragon: We knew you for a while at your past firm, Shook Hardy. Can you discuss what led you to start your own firm with Proventus?
Burton Taylor: As a guy who has always had an interest in starting his own business, it did not take long for me to work alongside the attorneys at Shook who were growing their own practice before I developed an overwhelming urge to start mine. I learned countless lessons from the partners at Shook that instilled in me a work ethic, commitment to value and appreciation for clients that I continue to carry with me today. In fact, I am constantly reminded that I would not be doing what I am doing today if not for the opportunity provided to me by that firm. I continue to be grateful to them for trusting me to lead their national PR efforts.
LD: What about going back farther? What led you to want to work in marketing and public relations with a focus on having law firms as clients?
BT: I started my career as a newspaper reporter who had an itch to be more involved in the news. In turn, I jumped into PR for a United States Attorney who has been a mentor to me ever since. In fact, in addition to the first opportunity to serve as his PR guy when he was U.S. Attorney, he gave me a second "break" when he and his law partner hired me and became one of my very first clients. I've remained in legal PR throughout my career because I enjoy the challenges presented in this space both in terms of the legal issues involved, as well as the nature of the matters at stake.
LD: What has kept you at it – what do you like about working with lawyers?
BT: I respect the legal industry's work ethic, attention and commitment to detail and its dedication to being considerate of and anticipating the consequences of an action. We act similarly in PR. I also enjoy the relational aspects of the law – we often say that relationships are King in legal – which I enjoy because of the opportunity it creates to get to know and enjoy so many uniquely accomplished individuals.
LD: More specifically, is there something in particular you like about working with lawyers in the Midwest?
BT: We are fortunate to work with attorneys and clients from coast to coast, but we certainly have a connection to those attorneys we've come to know as we've grown our business from the Midwest. In fact, we've modeled our business after theirs to some degree. For instance, Shook, Hardy & Bacon's chair John Murphy used to reference that the firm's "back-of-the-house" function was based in Kansas City, which created efficiencies for its clients. As an agency serving as the marketing and PR department to our law firm clients, we see ourselves similarly – as their back-of-the-house service function.
LD: There still can be a bias towards the big city coastal markets. Is it more challenging to get PR and editorial attention from national publications for clients in the Midwest?
BT: We have never found that bias to hold true. For instance, I have had the privilege to work with Lawdragon since it was founded and your founder always embraced us for our interest in being involved. In my experience, in fact, we have been received well by the coastal media for the fact that we bring a new level of engagement and dialogue to legal industry news.
LD: You have a reputation for being one of the nicest guys in the business. Do you see this as an advantage, or can you otherwise discuss your approach or mentality for the services you provide?
BT: I talk to my team frequently about my intent as it relates to relationships – the bottom line is that I consider the people I work with as friends. I look at my relationships with the media in the same manner. And, in turn, I get personal enjoyment from treating the people I work with as such. Like any business, we face challenge in our work together, but strong relationships and the respect we have for one another make overcoming those challenges rewarding and enjoyable.
LD: Can you discuss some of the biggest changes in your job since the early days of providing these services to firms?
BT: When I started Proventus Consulting, I was a PR guy and I continue to consider myself the same, but with even more passion for the job. My role has certainly changed in that I have also learned to operate and grow a business, which was something I naively didn't realize would take so much dedication. That said, we have been blessed to find success as a relatively new startup legal marketing agency, and we continue to consider it a privilege to work within this industry.
LD: For younger folks interested in this type of work, what is a lesson you learned early on in your PR and marketing career?
BT: I learned very early on that your personal credibility is everything in this business. Whether it's in regard to the promises you make, your attention to detail and/or your representation of your experience, if you lose credibility, you lose trust. We are fortunate that we have and we've been able to maintain the trust of our clients and the trust of our friends in the media.
LD: What mistakes or shortcomings do you see most often with how lawyers and firms handle their communications and public relations needs?
BT: The industry has traditionally always been "reactive" in terms of PR and, since the beginning of my career, I've advocated that lawyers flip the script on that approach and take a "proactive" approach whenever possible. And while I certainly respect that there are instances when you may be inclined to rely on "no comment" as your response, I try to encourage attorneys to separate what they cannot say on a matter from what they can say and focus your conversation on those messages as a way to participate with the media.
LD: Where do you see your business heading in terms of the types of services or advice you'll be providing to clients in the legal profession in the years ahead?
BT: While we focus a great deal on our core strength – national legal PR — we have expanded our services to include client feedback initiatives and surveys, which has been exciting for our PR team as we consider client communications a form of public relations where the stakes are at their highest. It's under these circumstances where our team excels. We also find tremendous reward in helping our clients identify ways they can enhance services to theirs. We know through experience the value of a client relationship and client feedback initiatives can do a great deal to protect those bonds.