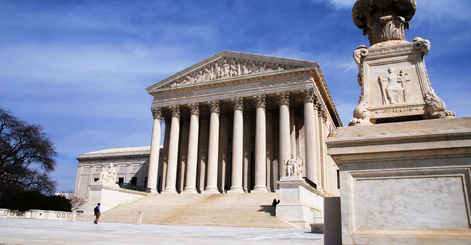 Photo by Jonathan Souza / Dreamstime.com
On February 20, 2008, the Supreme Court waged into the controversial waters of the federal preemption debate issuing a decision that effectively shields medical device manufacturers from lawsuits brought by injured patients in state court.
In Riegel v. Medtronic Inc. the wife of a man who died after a balloon catheter burst causing his death sued Medtronic, the manufacturer of the medical device for damages. The lower court dismissed the lawsuit finding that an express provision in the Food, Drug, and Cosmetic Act, preempts state-law claims seeking damages for injuries caused by medical devices that received premarket approval from the FDA.
Medtronic was successful in its preemption argument because the law that grants the FDA authority to regulate medical devices contains a clause stating that rules imposed on medical device manufacturers are preempted by federal regulations. Although the preemption clause is silent on state-tort law actions, the Supreme Court interpreted the preemption clause broadly to include such actions.
The decision in Riegel v. Medtronic Inc. shocked many consumer protection advocates who believed it was a devastating blow for consumer rights and a boost to big business. Indeed, many feared the decision was a prelude to the expansion of the preemption doctrine in the pharmaceutical drug arena.
On March 4, 2009, the Supreme Court refused to adopt such an expansive view when it ruled against a pharmaceutical giant in Wyeth v. Levine, a state tort law case brought by a woman whose arm required amputation after an "IV push" injection of Wyeth's anti-nausea drug caused irreversible gangrene.
In its defense, Wyeth argued that the FDA's approval of its drug labels for the anti-nausea medication preempted the state law claims and provided it with a complete defense. The Supreme Court expressly rejected Wyeth's preemption argument, finding that the state law claims did not obstruct the FDA's authority to regulate drug labeling and that the evidence actually suggested that Wyeth had long ignored reports showing the dangers of injecting the drug using the IV-push method.
In fact, the court observed that Wyeth could have "analyzed the accumulating data and added a stronger warning about IV-push administration of the drug." Ultimately, the court rejected Wyeth's companion arguments, which spouted the impossibilities of complying with both state law and the FDA's regulatory scheme and the danger of allowing a "lay jury's decision about drug labeling" act as a substitute for the "expert judgment of the FDA."
The court's decisions cannot be separated from the underlying federalist view that state laws provide an "additional, and important, layer of consumer protection that complements [federal] regulation." It is clear that the Wyeth court based its ruling, in part, on the salutary benefits resulting from the coexisting relationship between FDA regulation and state tort claims.
For example, the court noted that state tort suits: (1) help uncover unknown drug hazards and provide for drug manufacturers to disclose safety risks promptly; (2) provide distinct compensatory function that motivate injured persons to come forward with information; and (3) lend force to the FDCA's premise that manufacturers, not the FDA, bear primary responsibility for their drug labeling at all times.
The court's decision in Wyeth is supported by legal and medical scholars, like David Kessler, dean of the University of California San Francisco School of Medicine and former Commissioner of the FDA, and David C. Vladeck, professor of law at Georgetown University Law and Director of the Center of Health Regulation and Governance, who have long advocated that barring state-law failure-to-warn claims will further expose consumers to harmful drugs by leaving the regulation of drugs solely to the FDA, an agency beset with resource limitations and gaps in statutory authority.
In A Critical Examination of the FDA's Effort To Preempt Failure-To-Warn Claims, Kessler and Vladeck contend that giving the FDA the "final say," through top-down regulation, without allowing consumers to bring failure-to-warn actions would leave too much power and responsibility in the hands of an agency unable to take on the Herculean task of monitoring comprehensively the performance of every drug. After all, they observe, there are at least 11,000 FDA-regulated drugs on the market, with nearly one hundred more approved each year.
Kessler and Vladeck believe that state-law litigation imposes a "complementary discipline on the marketplace," uncovering and assessing risks that are not readily apparent to the agency during the pre and post approval testing process; one which gives plaintiffs, through the power of subpoena, powerful investigative tools such as obtaining internal emails, memos, studies, etc., documents unavailable to the FDA.
It appears that the final act in this theatrical showdown came on May 20, 2009, when in his memorandum "Preemption: Memorandum for the Heads of Executive Departments and Agencies," President Obama requested that heads of agencies and departments reevaluate their preemption policies, and only issue preemptive statements "if supported by sufficient legal principles."
Obama's memo – an express rebuke of the Bush Administration's support of an expansive view of preemption – was predicated on an understanding that, while "[t]he Federal Government's role in promoting the general welfare and guarding individual liberties is critical,…State law and national law often operate concurrently to provide independent safeguards for the public."
This view of the important interplay between federal and state-level protective measures is echoed by Erwin Chemerinsky, a constitutional law scholar who argues in his Federal Preemptions of State Tort Law: The Problem of Medical Drugs and Devices: Empowering States: The Need to Limit Federal Preemption that federal regulation can, if not in direct conflict with state law, create a multi-layered level of protection for the public, empowering all levels of government: "The genius in having multiple levels of government is that if one fails to act, another can step in to solve the problem. …If one level of government isn't providing an adequate deterrent from unsafe products, another level of government can step in and do this."
Chemerinsky's view highlights what courts have long recognized and President Obama now supports: that federal agencies, such as the FDA, can work – and actually do work best – in conjunction with state-law regulation. Over time, consumers and pharmaceutical companies alike will likely test the applicability and strength of the Wyeth ruling. But, for now, consumer advocates and victims of pharmaceutical drug companies can relish in this victory and rest assured that they have preserved their right to hold pharmaceutical companies accountable in court.
About the authors: Deborah Gutierrez practices at Los Angeles-based Khorrami Pollard & Abir, LLP, a national law firm representing individuals in a variety of cases including class actions, mass torts, pharmaceuticals, consumer fraud, labor and employment matters, catastrophic personal injury, civil rights, product liability, natural disasters and toxic torts. Nicole Papincak is a law clerk at the firm.