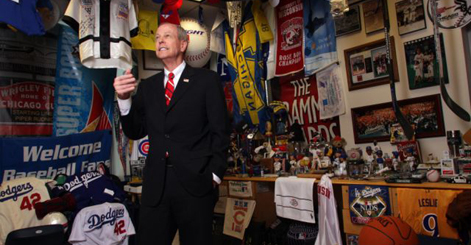 Photo by Hugh Williams
Times are tough in the real estate business. So it might seem a little odd that for California's leading real estate leasing lawyer, every day is a good one. That's in part because of his determination to see the positive in every situation
There is no lawyer in America with an office like Michael Meyer's. Every square inch is filled with sports memorabilia, bats, balls, pennants, signed photos, chairs from Wrigley Field, where he started out sweeping the stands at 8-years old, for 35 cents and a pass to the next game. As a sweeper he met Jackie Robinson, which led to his involvement with the Jackie Robinson Foundation, run by Rachel Robinson. Meyer later graduated to usher and still has his Cubs usher hat.
He's come a long way from those days. Now, he represents corporations like Bank of America, City National Bank, The Capital Group, TCW and Rand in leases that account for much of the office space in downtown Los Angeles, as well as significant tracts of Orange County and San Francisco.
Lawdragon: You have the most unique office of any lawyer I've ever visited. What possessed you to decorate it that way?
Michael Meyer: When someone told me I couldn't put up anything on my walls because it wasn't lawyerlike. I said I wanted to put up my diplomas, and they said I couldn't. I killed myself getting those diplomas. And I finally decided I spent more waking hours, unfortunately, in my office than at home. So then I began to put up pictures of my family, friends and others from charities in which I'm involved. We also allow two of the charities I work with – the Jackie Robinson Foundation and Reviving Baseball in the Inner City – to use some of our office space. As a result, really famous players would come to board meetings at our offices, they'd see my office and send me something to add to the collection. It started to mushroom.
LD: When did you become such a big sports fan?
MM: My grandfather and father would always take me to Cubs and White Sox opening days. Spending time with my grandfather and dad was always great, but spending time at baseball games was always more fun. I fell in love with sports as a diversion. I can really root for the team I like, but I don't hate the other team. That sets me apart from most sports fans.
LD: So you can root for both the Cubs and the White Sox?
MM: Sure! My license plate reads Cubsox.
LD: If you had to pick one piece of sports memorabilia that is most special to you, what would it be?
MM: Anything from Ernie Banks, who's given me bats, balls, lots of stuff. He was my favorite ballplayer growing up. And when he moved to LA, he asked me to represent him. I treasure him as part of my family.
What sets Ernie apart is, one, his glass is always 9/10 full. Two, if somebody comes up to him and asks for an autograph, he says 'thank you for asking me. Thank you for remembering me.' And he makes them feel like the most important person in the world. We'll go to dinner and it will take 3 ½ hours to eat a meal because he cares so much about thanking everyone and treating others well. He says "all these people have been rooting for me all these years. I just want to take the time to be nice to them."
LD: How did you become a real estate leasing specialist?
MM: A long, long time ago, we started representing various multinational corporations who were starting business operations in the United States and the first thing they needed was a lease for space. I read some of them and felt nobody in their right mind would ever sign a lease the way these were drafted because they contained a tremendous number of provisions that were unfair, unreasonable and took advantage of unsuspecting tenants.
I started negotiating on behalf of the companies and landlords would say, "No, no, no, this is the way we've always done this." They'd tell me everyone did it that way and I'd look foolish if I didn't go along. I thought that was the worst kind of argument. It was like intimidation. My mom had always taught me if everyone else jumped out the window, you don't have to.
LD: So for an average person, why should they care about office leases?
MM: Well, most of us go to work every day. And our office space is one of the biggest expenses the company we work for has. It's very important for tenants to know their rights and make sure they gain flexibility for their future needs.
Early on, most people looked at a lease as 'just a lease.' Like Yogi Berra said: "You don't know what you don't know." What I did was I listened to property managers, architects and contractors about what was happening in the real world with provisions in leases. I learned a lot you can't learn just from reading documents. To be successful in transactions, you need to know the underlying business. You need to understand what is the business of renting office space, how it is constructed, contracted out.
LD: What advice do you have for these difficult times?
MM: The typical standard cliché in real estate is location, location, location. I've told my clients to change that thinking. The new mantra is location, location, location; flexibility, flexibility, flexibility. I ask those clients how many of their 5- or 10-year business plans have been good for more than one year? And the answer is always none of them. Everything now needs to contemplate that business can go up or down within five or 10 years and provide maximum flexibility to support that.
LD: What are you working on now as businesses close, cut jobs and need less space?
MM: I'm doing what I always did before, but getting lots more support from clients. In the past, most clients were governed by adherence to the real estate curse. When you're sitting in negotiations and someone says "Don't worry, it's not going to happen", that makes it happen. What I always did was pretend that what they said never could happen, would happen.
That approach has served my clients well as the unthinkable has occurred. I'd be in negotiations and people would say, "You don't have to worry about it because it's Lehman Brothers or Arthur Andersen." And I always would worry anyhow. So now we're getting lots more business from clients when one of those things have happened and they find they're protected because we put in 10 more pages to the document.
LD: What do you like about your job?
MM: It doesn't feel like a job. It's the passion where I love the intellectual challenge but I also like the fact that even though I work with a huge real estate community, it's actually very small. You work with the same people over and over and over again. As a practical matter you really can't take advantage of anyone because once you get a bad reputation, you'll never get a deal done.
LD: Among your accomplishments is redefining what a "fair market rental rate" is. Can you explain that to us and why it's important?
MM: Most very, very smart people still don't know what they don't know. So when someone says to you "I got a great deal because I'm paying $25 in rent and got a year's free rent," they don't realize there's no such thing as free rent. It just means they're paying higher rent in future years and things like tenant improvement allowances are built into that rate.
What people need to look at when they're looking at their cost of space is the Fair Market Rental Rate, which is not just the dollar amount per square foot, but also how its measured, whether it's gross or net and other factors. You have to compare what you have to what other comparable owners of comparable space for comparable terms are able to get. look,
LD: Any final words of wisdom?
MM: It's very important that you take your job seriously while not taking yourself seriously. That's what gives me my edge. That plus remembering my grandfather came over on a boat from Russia, couldn't speak English, and became a janitor. That taught me to watch how people treat janitors and to never forget where you came from.