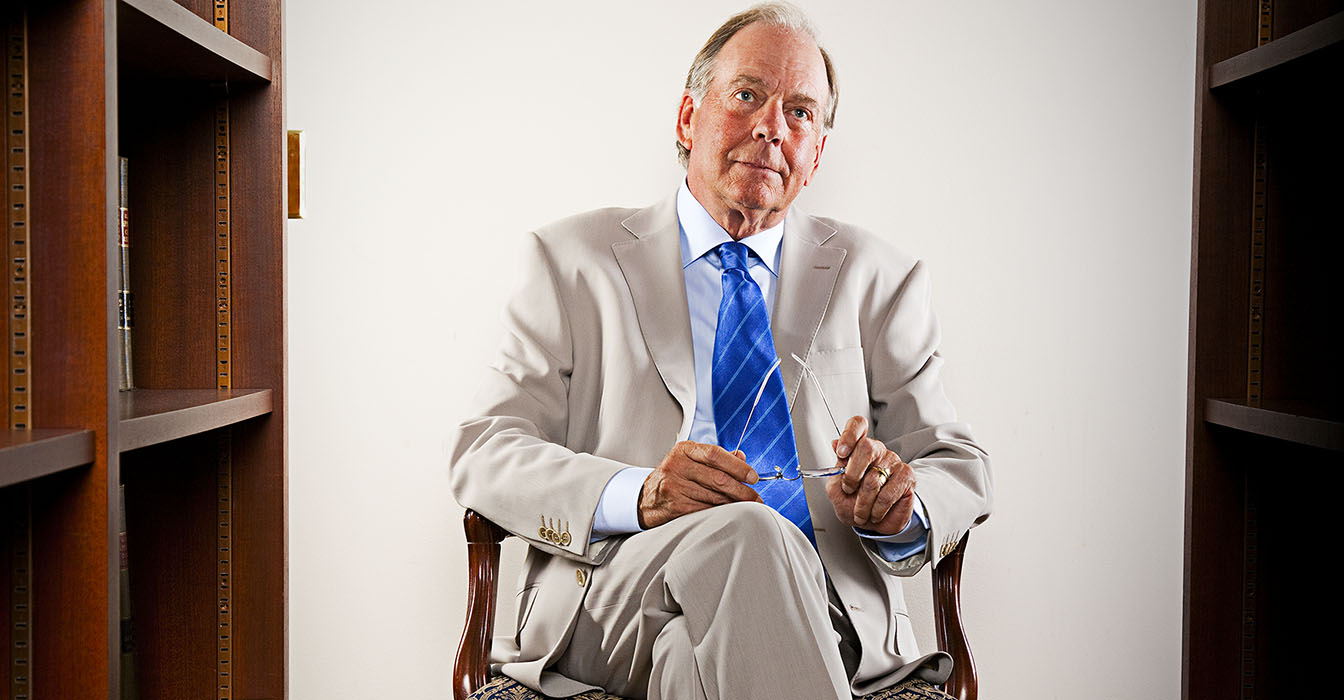 Photo by Michelle Nolan.
Thomas A. Demetrio has built his career trusting juries, and so far they have yet to fail him. In his 37 years of litigating serious personal injury cases and wrongful death cases in the area of transportation and aviation, the Chicago lawyer has won more than $130 million in jury verdicts and an estimated $1 billion in settlements for his clients. He recently won a $29.6-million verdict for an individual injured in a mass transit crash after turning down a $16-million settlement offer.
It's no surprise juries have an affinity toward him. Demetrio is a charming man with a casual demeanor, who could put anyone at ease the instant he enters a room. He began his career as a trial lawyer in 1973 as one of six associates at the Law Offices of Philip H. Corboy & Associates, which was started by legendary Chicago tort lawyer Philip Corboy in 1952. In 1982, after nearly 10 years of successful courtroom work, Corboy offered him partner and his name on the firm's shingle.
As past president of the Chicago Bar Association and Illinois Trial Lawyers Association, Demetrio is one of the most recognized and respected lawyers in the area. He is active in numerous charitable endeavors and has also done extensive teaching, lecturing and writing in the field of trial techniques and civil litigation.
Lawdragon: Tell us about your firm and what distinguishes it from other law firms.
Thomas Demetrio: We have 19 lawyers and approximately 60 support staff. We concentrate our practice on catastrophic injury, wrongful death emphasizing airplane crash litigation. We also do very selectively medical negligence, product liability and railroad occurrences.
I think what sets us apart from other firms is end results. We've been very, very successful in large part because of our results. I can tell you that in Illinois lawyers are advertising in ways I've only seen in Florida – it's become very aggressive but we shy away from that. I'd rather spend money that would go for advertising to Haiti, for instance, where the firm recently donated over $100,000 to rebuild an orphanage. I just feel better, spending money in that fashion instead of touting ourselves in the media because at the end of the day when lawyers think about referring a case to a law firm or the public, they go to a firm that has a proven and established track record.
Another thing that sets us apart from the competition is the fact that we have very little turnover. Our lawyers have been here for 20 years and more, so we have consistency and that is something that the public looks for as well.
LD: Can you talk about your most recent success in court?
TD: Last year, I tried a case that was fascinating to me even as somebody who has been doing it for a while. The occurrence dealt with Chicago's Metra Train system. A train was traveling 70 miles an hour in a 10-mile an hour zone, and it came off the tracks, killing two people and injuring a third. We represented the estates of the two victims who died and the third person that was injured. The two death cases settled at the start of trial and the injury case proceeded. The defendant was insured by AIG, which offered my client $16 million – a rather significant amount. I did two mock juries, and both of them were consistently saying the value of the case was $30 million. So I rejected the offer.
What shocked me in opening statement was that the defense lawyer told the jury that he was of the opinion the value of the case was $16 million. I almost fell off my chair because he was setting a basement rather than a ceiling. The way he looked at it, he was going to shock the jury by asking them why these three lawyers are even making them sit through a two-week trial when the defendant already offered the plaintiff a substantial amount. The case proceeded and the verdict was $29.6 million. I don't know of any case where anybody in Illinois ever turned down $16 million and took a chance at trial.
LD: How did you end up in this area of law?
TD: I clerked for Judge James Geroulis during law school. He was among the most active trial judges in Cook County, and I got a taste of what trial work was all about in his courtroom. I immediately thought it was something I'd like to do because I like interacting with people. When my clerkship was over he told me to come see him when I'm ready to go to work. Then I took the bar in Illinois and also Florida. I didn't want to ever study again, so I took the Florida bar because I figured if I would ever move it would probably be to Florida. So I went to see Judge Geroulis after I passed the bar. At the time there was a trial going on, and a witness on the stand was being cross-examined by Philip Corboy. Judge Geroulis shouted out from the bench and introduced me to Corboy saying: "There's this young man I was talking about." Corboy asked me if I wanted a job. I said "yes." I started work that same day.
I've been at it ever since. I just think if there's ever a job where you'll be interacting with an eclectic mix of people, this is it. I could be talking to an economist, an orthopedic surgeon or a carpenter on any given day. It's just the kind of thing I really enjoy doing.
LD: Who is the most influential person in shaping your career?
TD: Corboy, no question. I had the opportunity to work closely with him early on, and I learned from him that the key to success as a trial lawyer is being the most prepared person in that courtroom. I think a lot of lawyers when they go to work for law firms don't have a mentor, and they are expected to just bill an X number of hours – they aren't given the guidance I had.
LD: What's the hardest thing about your job?
TD: I think the level of hand-holding that's required. We have to stay on the one hand somewhat objective and detached from the tragedy that befalls families, and on the other hand, we have to be very empathetic and concerned about the emotional well-being of our clients. It is a difficult task. In addition to that is evaluating, what I call, full compensation with respect to settlements. Ninety-seven percent of all our cases are concluded without a jury deliberating, so only three percent of our cases go to trial. I have always found myself questioning if I did the right thing in settling. I still have trouble placing a value on intangibles, like grief and sorrow, love and affection, etc.
And I appreciate even more the task of a juror. I have learned over time that a lot of times cases will settle based upon similar cases, taking into consideration inflation. But after years of interviewing jurors after every case, they have less difficulty in evaluating the case and they always do the right thing. So I'm a huge fan of allowing them to make important decisions.
LD: What is the most rewarding aspect of what you do?
TD: Improving the quality and dignity of people's lives, bar none.
LD: What do you do for fun? Or should I ask do you have time for fun?
TD: One of the things that we do here at our firm is we emphasize the importance of family. We have no rules regarding vacations or time away. Lawyers are the authors of their own free time. If a guy wants to cut away for three weeks, he can do that. So to answer your question, yes, I do have time for fun. I do play golf. I just got back from a 10-day golf trip to Ireland. And I travel a lot for pleasure.
LD: What is the most important lesson a trial lawyer must learn in order to be successful?
TD: Thorough, exhaustive preparation. You should know everything your opponent is going to do and whom they are going to do it with. You should know what evidence should never see the light of day. You should basically know everything so when you are selecting a jury or, I should say, deselecting a jury, you know who to pick. You can only do that if you know every aspect of the case. Second most important thing is maintaining your credibility with the jury and the judge. If you have your credibility intact at the end of the trial, then you've done your job.
LD: Tell us a little bit more about your fund-raising effort in Haiti.
TD: A priest in Minnesota who was trying to raise funds for several orphanages contacted us. I was impressed by the project and the fact that 100 percent of every dollar would go toward the project unlike other larger entities that were raising money at the time, so we donated $100,000 for the effort. In the Chicago area, we are pretty well-known for helping various professional and charitable associations.
When I was president of the bar association, I started a program called Lend a Hand in 1993. We started out with 500 lawyers who worked on a pro bono basis as mentors and tutors for inner-city kids. This year, we gave away close to $2 million through the bar association to various mentoring organizations throughout the city to help provide kids alternatives to gang life and foster the importance of higher education. This is a natural thing for us because we are in the people service business.