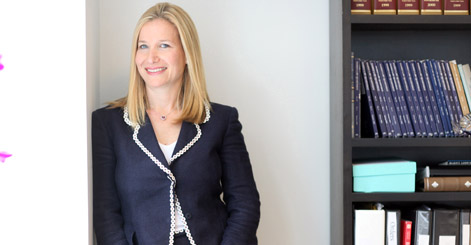 Photo by Michael Falco
Starting a law firm is never easy. Doing so at age 28, as a woman in a male-dominated practice area, might be considered an extraordinary risk. But for Nancy Chemtob, founder of Chemtob Moss Forman & Talbert, the move paid off both for her career and her clients in the area of matrimonial law. Chemtob represents high-net-worth individuals during the most difficult times of their lives, including the ex-wives of celebrities like Tiki Barber and Michael Douglas, and is a regular commentator on divorce issues in the media.
Lawdragon: I read that you were initially interested in fashion. What led you to go to law school?
Nancy Chemtob: Although it was originally my dream to be a fashion designer (I even took a course at Parsons the summer before college), being a lawyer is in my blood. I come from a family of lawyers – my father, two uncles and older sister are all attorneys. In my freshman year of college, I signed up for a pre-law class, during which I gained a better appreciation for the law. Growing up, my family and friends always told me that I was a natural born debater, but it was not until college when I realized that the law was in fact my true passion and I set my sights on being a litigator. Besides, after taking that summer class at Parsons, I quickly learned I was not equipped to be the next Coco Chanel.
LD: What prompted you to open your own firm at such an early age?
NC: At the age of 28, I was working at an employment law firm and although I made a good salary and received excellent benefits, I had always possessed the will to start my own matrimonial and family law firm, so in 1994, I did. I had a passion for matrimonial law, which at that time was considered an "old boy's network" and a highly competitive area of law. I researched matrimonial law firms in New York, but ultimately decided to go out on my own, because not only do I come from a family of lawyers – all the lawyers in my family have started their own firms.
I had grown up thinking that was just the way things were done. I had a more entrepreneurial approach to law, and I remember thinking to myself in my late 20's, now is as good a time as any to start my own firm. Looking back, it was definitely a "gutsy" move, especially considering that I had no idea if my firm would even be profitable, but it was also an inevitable move.
LD: How challenging were those first years? What advice would you give other lawyers considering a similar move?
NC: To quote Charles Dickens, "it was the best of times, it was the worst of times." It really was. It was incredibly challenging because in addition to being an attorney, I was a small business owner, office manager, and in charge of the overall functioning of my firm. I worked seven days a week, twenty-four-seven. I went into an area of law that was uncharted territory for me and I was extremely nervous about making mistakes. I attended every single CLE course offered in my area of law and read almost every matrimonial book I could get my hands on. It was emotionally, physically and financially trying.
My advice to other lawyers considering a similar move is to have a plan. If you want to open your own practice, you need to know how to run an office. You also need to be prepared for the fact that you will be making less money than you were prior to opening your own business and that you will have no life for the first few years.
The most important thing for any entrepreneur, in addition to having strong banking relationships, is to utilize whatever resources you already have. To save some money in the beginning, my husband served as my in-house technical support and was in charge of connecting my phone lines, setting up computers, etc. Also, spend a majority of your first paychecks on primarily investing in yourself – most of my initial retainers were word-of-mouth referrals. I cannot stress the importance of face-to-face marketing; attend prospective client dinners and charitable events, join beach clubs, and anywhere else where you can get a possible client referral. Above all, do not get discouraged.
LD: Is there a case early in your career that you feel helped establish your reputation and really give the firm some momentum?
NC: In Assini v. Assini 11 AD 3rd 417, 783 NYS 2d51 (2nd Dept 2004), I successfully argued a motion upholding a lower court's decision to grant a father custody of his son without a hearing, due to the exigent circumstances that existed in the case. In Assini v. Assini, I made significant headway in the battle for protecting father's rights in family court – it was virtually unheard of at that time for a father to get primary custody.
LD: You obviously took well to family and matrimonial law. What is it about this area of law that made it such a good fit for you?
NC: I feel an affinity to my clients because I watched my own mother work hard to put my sister and me all the way through law school after my father died. I understand what it is like when your world is turned upside down and I feel an obligation to my clients. Family and matrimonial law is practical, hands on and it matters. Day-to-day it affects people's lives. You are not dealing with a corporation; you are dealing with finances and children. Whether a case involves child custody concerns or complex financial issues, these are deeply personal and emotionally charged circumstances, the outcome of which will affect a couple's future and those of their children.
LD: What are some of the challenges associated with taking on new clients when they are going through horrible times in their lives?
NC: I often say that I meet my clients at the worst time of their lives, because it is true. My clients walk into my office after their world has turned upside down. I think the hardest challenge when working with new clients is to get them to be comfortable with me as their advisor, while simultaneously realizing that it is hard for them to trust anyone at this point in their lives. I have to ask them to trust me and let me make crucial, life-changing decisions for them, and offer legal advice of a very personal nature.
LD: Clearly, more than regular lawyering is involved. What blend of skills do you find yourself employing in your cases?
NC: Wearing the hats of a financial planner, therapist, and life coach is all in a day's work for me. Over-preparation is essential in this area of law. When I prepare for litigation, I never take things at face value – I always look more into what is going on behind the scenes. It is important to listen to what your clients actually want, not just what you think they need. Patience is a virtue. You must have the right balance of warmth and compassion towards your client, while still being a fierce advocator on their behalf. The bottom line is that this is a demanding area of law – you have to really love what you do and feel honored to be able to help people during such an important part of their lives. Otherwise, it will get the best of you.
LD: How do you recruit lawyers for this area of law? What do you look for in young candidates?
NC: I look for the basics in potential candidates, someone who is well educated, has excellent written and litigation skills, experience in this field, and someone who is quick on their feet. Above all these qualifications, we will never hire someone who thinks that they may like family and matrimonial law. You simply cannot dabble in this area of law: It is a body of law you have to know and be an expert in 100 percent.
LD: Are there any trends in the family and divorce practice area that you and the firm are seeing now?
NC: Besides the fact that more women are cheating? We have seen a recent explosion of custody cases where fathers are fighting for primary custody. The expectation before was that fathers got 50 percent, but this is changing. However, it is still an uphill battle for a father to get primary custody of a child in a case when the mother does not have substance abuse issues or psychological problems. Also, I know there has been a great deal of speculation that New York's new no-fault divorce law will increase the divorce rate because it is easier to get a divorce, but we haven't seen the divorce rate dramatically fluctuate as a result of the new laws – they are just making divorces less contentious.
LD: What do you do in your free time for fun?
NC: It's hard to find free time because I run my business as a client-services firm and am accessible to my clients at all times (I even have some of my clients on speed dial). I am on the board of Mount Sinai Hospital and am co-founder of Friends of Newborn Medicine, which was created in 2001 to support the Jo Carole and Ronald S. Lauder Newborn Intensive Care Unit (NICU) at the hospital.
The only real free time I ever really have is when I travel with my husband and our three sons. Being on vacation is when I not only get to sort through thousands of emails, but I also find time to read for pleasure and go for long runs.