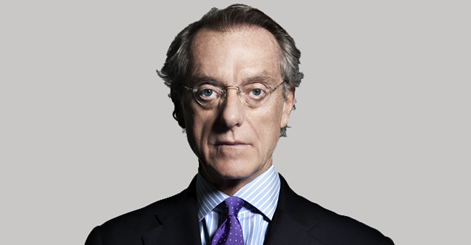 Photo by Eric Cassee
Patrick McGroder still "lives and dies" with the Buffalo Bills and Sabres, which is understandable. His dad Patrick is on the Bills' Wall of Fame for his work in bringing football to the city and serving as team vice president for more than 20 years. But McGroder quickly developed a love for Arizona after moving to attend the University of Arizona Law School and has stayed since getting his degree in 1970.
McGroder started his career as a jack-of-all trades lawyer in Phoenix, handling a range of criminal, civil, and trusts and estates matters, then worked a stint at the Arizona Attorney General's organized crime task force before being recruited by a personal injury firm. The rest is history. McGroder launched his own practice after a few years and has since handled much of the region's highest-profile plaintiffs' cases. He joined Gallagher & Kennedy in 2001.
He spent more than a decade representing police officers and their families against the Ford Motor Co. in claims that the Crown Victoria Police Interceptors erupted in fuel-fed fires upon impact. The case led to a remediation of vehicles and future design improvements in addition to money for the victims. McGroder now is representing the family of Border Patrol Agent Brian Terry, who was killed in a 2010 attack by individuals using weapons from the tragically botched "Operation Fast and Furious," in their wrongful death lawsuit against the U.S. government.
Lawdragon: Let's start with the Terry case. In the course of trying to get more information about the killing, where has the Terry family gotten their information at this stage?
Pat McGroder: The information about the death of their son has come from three or four different sources. The first, of course, was an initial briefing by law enforcement right after the event about how Brian Terry died, what kind of gun killed him and things of that nature. The information was still sketchy at that point. The next source that quickly followed was a briefing by the U.S. Attorney's office here in Phoenix, directly to the Terry family. That information was at best erroneous, at worst misleading. It wasn't until the third or fourth sources of information, which happened concomitantly, that the Terrys started to understand what happened to their son.
That was a whistleblower going to the media and hearings by Congress over the "Fast and Furious" debacle, along with the media response to that. Their information has been primarily secondhand and thirdhand, and I think the lack of clarification and the lack of factual closure along with the emotional grief have really served up an enormous amount of frustration for the family.
LD: Did the family support the contempt hearing for Attorney General Eric Holder or have they taken stances on some of the political gesturing?
PM: The family has made statements about Attorney General Holder and the Obama administration's use of executive privilege that are borne out of the enormity of their loss, the failure of transparency and the lack of full disclosure on the part of the government that might shed additional light on their son's death. There is a simple logical syllogism: Brian Terry was killed under suspicious circumstances, there may be documents to clear up those suspicious circumstances, and the government may have these documents, but the government has not disclosed them. That is what the family wants.
The family wants to avoid at all costs Brian Terry being used as a political football. If you look at what has happened in the media and the political environment, everybody invokes the name of Brian Terry. The family is interested in finding out what happened to an American who laid down his life for us, to be provided with the best and most accurate information possible. The Terrys are Midwestern, God-fearing Americans who believe in the rule of law. What we don't want is the rule of law being abused in any way relative to the investigation into and ultimate resolution of what happened to their son. This guy put his life on the line to protect all Americans. He fought and died for the rule of law.
LD: Aside from getting a full accounting, what else is the family interested in related to this case?
PM: As a tribute to Brian's life and legacy, the Terry family has established the Honor of Brian Terry Foundation, which is a nonprofit organization that will be geared towards helping other Border Patrol agents and their family members who find themselves in harm's way, as well as a number of other charitable causes. The Terrys have dedicated their lives now to this foundation, and it's quite an honor to be a part of that.
LD: Backing up a bit, when did you know you wanted to be a lawyer? Did that start at a young age?
PM: I never had any notion of being a lawyer. I was raised in Buffalo, NY, and my father was Vice President of the Buffalo Bills football team. We were a very tight Irish-Catholic family. My goal was to return to Buffalo and work with my father. But my father like other Irish-Americans then believed that education was the key to success in life. He encouraged me – to use a nice word – in reality, he told me that I would be going to law school after graduating from Notre Dame.
Of course I rebelled, but my father was quite a – how should I say – persuasive man, and he prevailed. I had gone to all-boys Catholic schools growing up, including Notre Dame, which at the time was all male, so I decided that I would apply to a number of schools that had more to offer than those offered by all-male Catholic schools. I applied and got into the University of Arizona. I came here in the late 1960s and just fell in love with it. I came up to Phoenix to take the bar, still with the intention of going back to New York, but I loved the city so much that I decided to stay.
LD: What did you do after getting your license?
PM: I couldn't get a job anywhere so I opened my own practice. I was 24-years old at the time, and I tried my first case two days after being sworn in. I had no idea what I was doing, or even where the courtroom was, but I found my way there. It was a criminal case. I don't think the jury even left the box before convicting my client in record time.
From that moment on I decided I would try to become the best trial lawyer I could be. I was on my own for a couple of years and did primarily criminal work, murder and kidnappings. I was out every night – I didn't get married until I was 40 – passing out cards; it was really kind of a dirty street lawyer story, doing criminal work and then wills, trusts and personal injury work.
LD: What drew you to plaintiffs' work and has kept you at it?
PM: What I am most proud of in my career is making the world a better place, helping my clients make their lives a little bit better and adding a modicum of dignity to their lives. But I am also proud of how we've done some social designing in virtually all of our cases to ensure that these types of things don't happen again, whether it's HMO reform, insurance reform, aviation, road design, whatever, these cases all involve some type of social architecture component, and I'm very proud of our record in that regard. I'm not fed by ego or money but by solving problems and making the world a better place. That's my philosophy of life, and my philosophy of being a trial lawyer. It's what my father taught me.
LD: What about the trial process do you like?
PM: Other than the birth of my children, I don't think there is a greater thrill than a jury verdict coming back in favor of my client. It is most satisfying on a couple of planes. Number one, for my clients of course, which is the most important thing. And number two, for what the verdict stands for. On a personal level, I am driven by the idea that no one can outwork me – it's that work ethic that my parents instilled in me. I just assume the other guy or woman is a lot smarter than I am, and the only way I am going to win a case is if I can outwork the other side. That's been a mainstay in my practice. Working is my hobby. It sounds kind of sick, but I really do enjoy the trial work.
I also really enjoy the uniqueness and differentness of what I do. No two case work-ups are alike, and no two trials are alike. I might be dealing with five or 10 factual, medical or legal issues on any given day, all of which are unique. I think the ultimate detective work is really that of a trial lawyer. You have to understand the case, understand the facts and the theories and put it together in a cogent manner, then articulate it and demonstrate why you have the better argument. I love the work of a trial lawyer, and I love being around trial lawyers.
LD: Given your track record, are trials easier now? Are you more relaxed or confident in any way that shows up?
PM: I started practicing law at 215 pounds, and I'm now 170. I operate on nervous energy. A great motivator for me is always fear – fear of forgetting something, fear or losing, fear of not doing everything possible for my client. During the course of trial, I'll probably lose anywhere from five to 10 pounds. I operate on adrenaline and nervous energy.
LD: Any rituals?
PM: Not many. I never drive to court when I'm in trial. I always have a driver because I don't want to have to worry about traffic or getting there, or parking when I arrive. I also always take one or more of my kids with me for the verdict. Other than that, I train for trials. I know that sounds kind of funny, but I physically train for trials. I'm a health nut and workout freak anyway. I cut my sleep hours way down and train harder to have more endurance for the trial. I don't take a lot of cases so I never have more than 10 files at any one time. I start preparing six to nine months before trial.
I used to have a photographic memory, and still have a pretty good memory, but what I've noticed is that within 48 hours of completing a trial I would be hard pressed to give you any details of what happened.
LD: How would you describe your courtroom style?
PM: I would characterize it as pure and natural. I'm a product of my upbringing. I am a passionate and emotional Irish Catholic guy who is family- and friend-oriented – those relationships are as important to me as anything in my life. I think because of the way I was raised I have a natural appreciation for the human condition. People tell me that it's very evident in the courtroom. I don't think about being emotional, it just seems to me to be entirely natural – it just comes and flows. I also can be pretty funny in the courtroom, not about a catastrophic injury, of course, but to defuse an acrimonious situation or other troublesome things in the courtroom.
LD: It seems that your dad made the right call – something about being a lawyer must have really clicked with you.
PM: When I started practicing, I was overwhelmed with the enormity of the responsibility of having someone else's life in your hands. I don't mean that in a trite way. And I don't just mean someone charged with murder, but the people coming in need of a will or some family law issue. It's just overwhelming the faith, trust and confidence that people put in lawyers. That really drove me to understand the beauty of our profession. I made a commitment relatively early on that if people are going to trust me with their problems, I better be the best I can be, and that's what I did.  I think it is that emotion that really centered my career in the law, knowing that I could perpetuate change, that I could bring some peace, harmony and quality of life to my clients. That just struck me as the purity of our profession, and that's why I still do this.
LD: I see that much of your philanthropic efforts are devoted to homelessness. What drew you to that issue?
PM: I was raised to believe that if you're lucky enough to be successful, you need to share that success with others and help take care of those less fortunate. I gravitated to the homelessness issue because the idea that we live in the greatest country in the world and there are people going to bed in Arizona without water, food or a roof over their head absolutely nauseated me. I've spent the better part of my philanthropic career actively involved in what's known as CASS (Central Arizona Shelter Services), which is a mission to eradicate homelessness in Arizona, so I've also committed myself to that goal, as well as to giving assistance to those that don't want to get themselves into some social services system, to reach out through other organizations. It just blows my mind that, in this country, we still have this problem.
LD: What else is keeping you busy?
PM: This year I also am president of the International Academy of Trial Lawyers, which has been the highest honor of my professional career. It's a fabulous organization, and I am the first president from Arizona and the first from a Southwest state. This year, I am responsible for three meetings. I also have played a leadership role in the Ireland Program, where we bring two young barristers from the Republic of Ireland and two from Northern Ireland to the U.S. and embed them with fellows of the Academy so they can learn what we do and how we do it. I am an Irish citizen as well, and I'm proud of how the program has helped to bridge some of the issues between the bar of Northern Ireland and the bar in the Republic.
I am very busy with my work and my philanthropic endeavors but I don't want it to go unsaid that I live for my family – my wife and three kids [two are in law school, one is in college]. We really support and love each other very much. I talk to my kids two to three times a day, no matter where they are in the world. We are a very close-knit Irish family. That's how I was raised, and that's how my family has been raised.