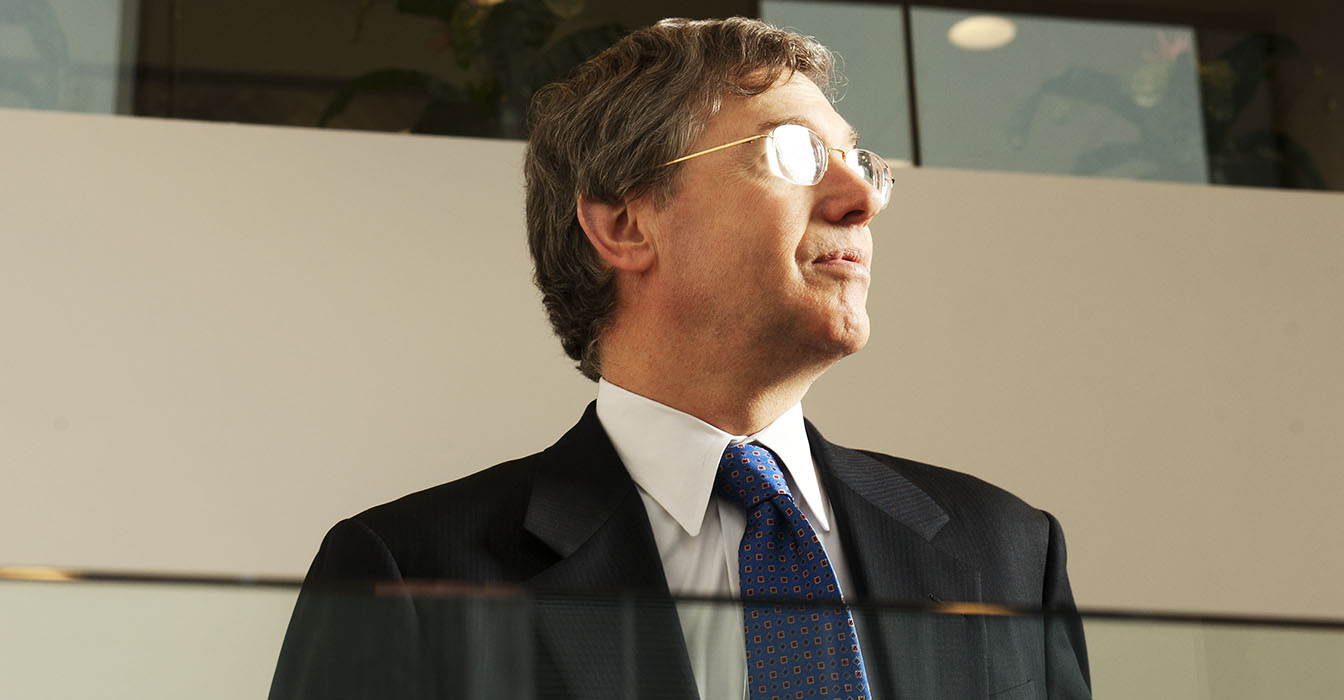 Photo by Laura Barisonzi.
The thing about the attorneys at Wachtell Lipton that often goes unsaid is that they may be better at corporate law than anyone else.
It's not that their attorneys earn more than any other firm and have the lion's share of the claim to being the most successful corporate firm in the world. They pick and choose the deals and clients whose matters arise to being the most critical, and then execute those matters with a nuance that's rare. They're a bit like the Warren Buffett or Bill Gates of corporate law.
It's the understated nature of how incredibly good they are that always surprises. That comes through when you talk to Daniel A. Neff, the firm's co-chairman of the executive committee. He is a quiet icon of the dealmaking world with his name attached to many of the trademark matters of the last three decades: Unocal's merger with Chevron, which was contested by China's CNOOC, El Paso's merger with Kinder Morgan, Rohm and Haas in its sale to Dow Chemical. And, of course, and most recently, Airgas in its defense against a $5.8B hostile takeover bid by Air Products and Chemicals.
The Airgas representation was one of Neff's proudest moments, not just because it saved a company that he says "by all accounts deserves to survive" but also because it preserved the Wachtell view of the world: sustainable shareholder value and management capability matter and should win out at the end of the day. In a very noisy world where much is made of very little, Neff oversees one of the purest meritocracies that remain in the law.
Lawdragon: Wachtell Lipton today is one of the preeminent law firms in the world, but when you graduated from law school in 1977, that wasn't yet the case. What led you to select this firm then?
Daniel Neff: I had worked for a larger firm the summer before, and I was looking for a firm that was both smaller, and more – how do I say this – had a culture that seemed more egalitarian. I didn't like the gulf between unapproachable partners and constantly nervous associates who were expected to stay a couple of years only, and a culture where you'd go into a partner's office by appointment only. That just didn't seem like normal behavior. I didn't like the structure of New York firms, the leverage, the internal competition. And it's funny, I had almost spent the summer at Wachtell, but was talked into going to a big prestigious firm because that's what people at Columbia Law School did.
So, you're right, back in '77, coming to Wachtell Lipton was not the obvious move. However, it had a great reputation, 35 lawyers who were extraordinarily highly credentialed, but had a reputation, in the terminology, of being a sweatshop. But I concluded wherever I went, I was going to work hard. So I wasn't going to view that as a negative. Nobody wants to work every minute of every waking hour, but I saw life in a big firm and frankly if you had ambition and wanted to advance you were going to work incredibly hard anyway. So I figured I'd go to a place where that was an acknowledged part of a culture rather than where people didn't acknowledge it.
LD: That's uncommon good sense relative to the way most young attorneys choose their employer. Where did you learn that?
DN: I started at Wachtell when I was 24. My father is a businessman and both grandfathers had their own businesses. I always have been reasonably good at figuring out organizational things, not to say I'm a politician. But at the other large firm, I worked incredibly hard, although it was not encouraged. So while people in the summer program would take a long lunch and leave at 6 p.m., I got onto a big project where I had a lot of responsibility. So at 9 p.m., when their inhibitions would wane, I'd talk to the midlevel associates and they'd tell me what was really going on. You could go do a nice lunch every day and leave at 6, but you would not have the perspective that I had. I got real perspective on the workings of a large, typically structured New York law firm.
LD: It has certainly worked well for Wachtell Lipton to be a meritocracy.
DN: We've also had remarkable leadership throughout the history of the firm.
LD: Tell me a little about the firm's history.
DN: We were founded at Christmas in 1964. The founding generation provided and continue to provide incredible leadership. My generation is comprised of people like me and Ed Herlihy, the other co-chair of the Executive Committee, who bought into why the firm is different. It's both a great opportunity and enormous responsibility to perpetuate a culture and approach to being a law firm that's always been part of the fabric of the firm. And so I guess we're the second full generation, and at this stage we're guiding the firm.
But I can't underestimate the value of having Marty [Lipton] and Herb [Wachtell] coming to work every day and continuing to make enormous contributions as practicing lawyers and mentors. They are amazing people.
So we fully believe in what the founders tried to do and succeeded beyond their wildest dreams and believe we have a duty to pass on what we've inherited in the best shape we possibly can.
LD: Who do you consider your mentor?
DN: Well, start with Marty as a visionary, a great technical lawyer – something people don't appreciate. They know he's a scholar of the law, which he is. But in addition to all that, he literally ran the firm for decades. He's a unique individual. And you can copy only so much of Marty because he's such a forceful personality and legendary figure.
In terms of lawyering and judgment, in addition to Marty, I've had a number of extremely, extremely good mentors. One who comes to mind is Jim Fogelson, who died in Sept. '91. He was 48-years old. He was the hiring partner and would have been head of the firm for the last 20 years. Jim was a tremendous blend of all good things in a business lawyer. Just the consummate professional, taught us how to get deals done. It's not about winning every point; what matters is which points do you have to win; how do you serve the client's interests; and are you meeting the client's goal. He was so, so good on both the overall view of the deal, but also the details. He had tremendous control of the detail in any deal, he knew everything about the deal. He taught us the documentation is of critical importance and he lived that. He, too, was a scholar of the law.
His was an enormous loss to the firm, but he had been such a great mentor to so many of us in addition to having hired us that, in a way, we are a big chunk of his professional legacy. Quite a number of us of my vintage in the firm, the people leading many of the big deals, are Jim's trainees.
Another partner who has been an important mentor is Dick Katcher, who was managing partner for seven years, and a great lawyer. He was very, very skilled, with excellent judgment and extremely precise also, so we were trained to be very, very focused on the documentation and we got that message along with an emphasis on the "big picture" of a deal from each of Marty, Jim and Dick.
LD: What do you consider the biggest lesson you've learned as a lawyer?
DN: That's a hard question. Let me throw out some thoughts.
A big part of what we do is really listen, listen and anticipate. I find clients really appreciate it when you tell them what's going to happen before it happens which enables them to be prepared for developments as they occur.
Another skill which is appreciated is to reflect and continually grapple with issues clients present.  With some frequency – and realizing the issues I'm now asked about are often very challenging – I will not respond immediately. Instead, I just listen and think about why a certain issue is important, consider whether there is another way. And then ultimately if you believe you're right, tell clients "yes" or "no," as the situation warrants, or you tell them, "I wouldn't do it this way, but here's an idea."
Ultimately, it's taken me a long time to figure out what it is that lawyers should do and what they should not do. When you're asked for pure business advice, it's ok to give it. But when you're not asked for it, it's probably wise to defer to those who've spent their careers in a particular industry. As lawyers, we know a lot about the law and  human behavior, but on particular industry dynamics, although we are involved in many situations and hear numerous management and board presentations, you need a sense of humility. Because it's not really our knowledge, it's what we're hearing from people who've spent their lifetimes in particular careers and industries.
LD: Your legal philosophy of focusing on helping clients achieve their goals certainly was reflected in the firm's long struggle to win the epic Airgas decision, in which – after litigation in Chancery and the Delaware Supreme Court – your firm prevailed in protecting the poison pill developed by Marty Lipton. [The Airgas case began in October 2009 when Air Products and Chemicals launched a hostile bid for Airgas, proposing a bylaw that allowed Airgas shareholders to hold two annual meetings in four months, which would have allowed Air Products to gain control of the Airgas board by voting in new directors who would presumably support the Air Products acquisition.]
DN: Certainly one of the more unpleasant parts of Airgas was to tell the client early on, months and months in advance, "You will lose the proxy fight. Your good directors who are up for reelection will not be reelected, even though they've been extremely valuable directors and are very capable people whose performance merits reelection."
The client was quite upset with me, and told me I was unduly pessimistic. And then the incumbent directors lost 2-1. I was just trying to prepare them in advance for the outcome we knew was coming. Where we were aggressive was in saying we think we have the better of the arguments on the two litigations. That did not feel good on the night of Friday, Oct. 8, 2010, when Chancery said, "No, you can have two annual meetings in four months."
It's good to be knowledgeable and experienced, it's a lot better to have great litigators. We thought we would be able to convince the Delaware Supreme Court, based on long-established understanding and practice by corporate lawyers and Delaware-incorporated companies, which were consistent with the ABA's views on staggered boards.  We thought all of those things would be more compelling to the Delaware Supreme Court than to Chancery.
So you didn't see us after the loss at Chancery go negotiate, which, frankly was a hardball move, but we thought we had the better of the argument. So we just kept pushing.
[Neff and Wachtell counseled Airgas that they could prevail with an argument that the bid undervalued the company, so the directors would be justified in rejecting the Air Products bid. They persuaded the three new directors chosen by Air Products to reject its bid of $70, and then persuaded the Delaware Supreme Court to reject the accelerated meeting bylaw. The case concluded in February 2011, when Chancellor William B. Chandler III ruled that the company's directors had 'quintessentially' upheld their duties by deploying the poison pill. Air Products then withdrew its bid.]
LD: And vindication was sweet?
DN: As good as it gets in business law for a lot of reasons. If you spend any time with Airgas, there's a real sense the company has an amazingly strong culture, with people who are extremely good at what they do, and is very profitable. I made a presentation at an annual get together of their top 500 people and spouses, which was held in Philadelphia, where Airgas is based.
I grew up in Philly, so I asked Peter McCausland [the chairman and CEO] whether my father could come and listen. My father sat in the audience, and predictably told me that I spoke for too long. When I pointed out to him that the people from the company were in complete rapt attention for over an hour as I took the audience through what had happened, he responded, "Yes, I noticed that, they have a remarkable culture, there's a pride, professionalism, they venerate their leader."
You can feel and see it. When it works, when companies are good, they're really, really good. In addition to professional satisfaction, we had a number of other tangible benefits from our success in Airgas. We saved three- to four-thousand jobs of people who were going to be synergies just to pay for the deal. We preserved a company that by all rights deserved to be preserved. And then for stockholders – who turned down a premium to market of 70 – over 15 months, the stock hit 93. The stock has drifted back to the lower 80s now, when the market pulled back. All the constituencies ended up winning, so it was just extremely satisfying.
LD: Do you think the lessons of Wachtell Lipton in some ways parallel that of Airgas?
DN: There was a palpable cultural connection between law firm and client, it wasn't just about business for us, it was something far more fundamental for our firm. It was to vindicate our view of how the law does and should operate and to do it we were blessed to have a client which seemed to us to epitomize why the law is the way it is and should continue to be the way it is.
You can take the view that the shareholders are always right, but the difficulty is that shareholders really do come and go and really do have a much shorter time horizon than is workable for good companies. One of the difficulties with any rule – whether it says the shareholders decide or the board decides, those being basically the opposite ends of the spectrum – is that in some instances the outcome resulting from the rule will prove to be right and in some instances the outcome will be wrong. But when you get it right, when you have a board decide in combination with management which is superb at what they do, you produce outcomes that make you very pleased and proud.
That's what we had with Airgas, and for this firm, a lot of people played major roles in accomplishing what we did. We viewed it as far more than just another matter. It was vindication of our view of the law.
LD: Well, let's talk about Wachtell Lipton's view of the law, and at least one noted "other" view, that being at Harvard Law School. You and three of your firm's most illustrious members have taken Harvard to task for its new Shareholder Rights Clinical Program, which has students advocate on behalf of pension funds and charitable endowments that corporations declassify their corporate boards.
DN: What's bothersome about the Harvard Law School approach is it purports to be grounded in some academic research, but it's flimsy and contradicted by other studies. But it resonated with a number of shareholders because it ultimately is a shareholder-centric view of how companies should be run, so the approach coming out of Harvard sits well with shareholders who want to be at the controls but don't even have the time to properly study the companies they invest in, or even take the time to figure out how to vote. So why is it that they should demand to have the ability to direct these enormously complicated enterprises which people devote their professional lives to and still struggle to make the best decisions?
There's an enormous disconnect in the thought process. The move by Harvard is not based on real world experience or sound academic studies, and honestly I don't think the academic studies will ever be able to factor out all the variables necessary to produce really sound guidance. I think it's a bit of sophistry to think that by running screens of 300 companies and manipulating a couple of variables you're going to come up with truth. It's so situationally driven, what markets are, what competitors are, what is a company's particular position in a market.
LD: And I understand you're about to go on vacation?
DN: I am and I'm more than ready. My wife and our three adult children are going to Russia tomorrow night. My daughter works in the financial industry, one son is in his third year of law school, and our younger son is in college, his junior year. They want to travel with us, so we asked ourselves where we haven't been that's going to be interesting. But I have to say, if you're ever thinking of going to Russia, leave a month for the visa process, including time for correcting answers to some trick questions in the visa application.