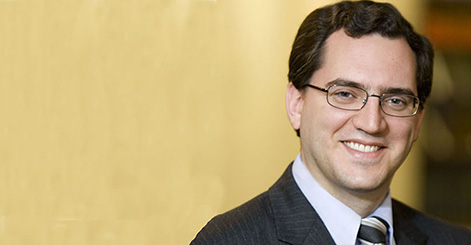 Photo provided by Berger Harris
Attorney Brian Gottesman heads the Corporate/Business Entity Counseling practice at Berger Harris, an emerging Delaware firm founded in 2009, and still finds time for his writing projects. He is a 2003 graduate of Harvard Law School, and received his B.A. from the University of Rochester. Joining Berger Harris, he says, enabled him to take his practice in an "entrepreneurial direction."
Lawdragon: Can you describe your practice to our readers?
Brian Gottesman: I have extensive experience counseling corporations and closely-held alternative entities (including limited liability companies, Delaware statutory trusts and limited partnerships) on issues relating to their formation, governance and management. I serve as counsel in acquisitions, business formations, the establishment of subsidiaries and holding companies and sales of assets and equitable interest. I also provide opinions on Delaware law relating to limited liability companies, business trusts and other Delaware entities involved in real estate and other secured finance transactions and business mergers.
Because of my specialty in business entity governance, I serve as counsel in many litigation matters in Delaware courts, particularly in the Court of Chancery. I have represented clients in breach of contract, breach of fiduciary duty and business divorce actions, as well as a wide array of other corporate and commercial litigation matters.
LD: How did you come to develop an interest in practicing corporate law in Delaware? Is this the type of practice you imagined yourself practicing while at Harvard Law?
BG: I always knew while at Harvard that I would be returning to Delaware after graduating. I wanted to be close to family and the culture (including business culture) of Delaware appealed to me. Harvard exposed me to study of a wide variety of legal topics that have given me a better understanding and appreciation for Delaware corporate and business law and its place in the world and in history.
LD: Did you have a favorite class or professor that was particularly influential in your studies or future career?
BG: The most formative class I ever took was called "Blood Feuds." I took it my second year at law school. The professor, William Ian Miller, was visiting Harvard from the University of Michigan Law School. The class focused on how disputes are settled in pre-state societies (societies without executive authority to enforce laws), with a particular focus on 10th- and 11th-century Iceland. Professor Miller has a keen understanding of human nature and behavior, and his class really helped me understand what makes people tick.
That understanding has served me very well as a practicing attorney, and I think I learned far more in that class to better my practice than in many more "practical" classes. I still keep in touch with Professor Miller (he is the only law school professor I am in contact with) and enjoy our correspondence.
LD: While your firm has been growing, the market remains tough. Is there any particular advice you would give to current law school students?
BG: The legal market is changing rapidly, and may be at a point of economic singularity. In the past, many people went to law school with the expectation they would get decent jobs at large firms and work there more or less their entire careers. That model is not tenable for many people anymore and may never be coming back. People entering the legal market need to be aware of the ways in which the market is different, the courses it may be taking in the future and must develop new strategies to secure their place in the legal field and build their careers. The models relied on by their mentors, parents, older siblings, etc. may no longer work for them.
LD: Can you discuss your decision to move to Berger Harris from Connolly Bove – what about the firm attracted you?  And more generally, what accounts for your interest in practicing at a boutique firm instead of a larger law firm?
BG: Buddy Berger and Jack Harris had a vision for a law practice very different from anything any of us had done before, and I found it greatly appealing. We had extensive discussions about the structure and organization of the firm from the beginning. We all had big-firm backgrounds and wanted to take our practices in a more entrepreneurial direction. The idea was that each of us would focus on a different area of law while at the same time providing support and working with the other attorneys on matters where we could add value.
The ability to determine the direction of the firm, control its business affairs and have discretion on how to deal with and bill our clients was extremely attractive to all of us.  As we've brought on attorneys (David Anthony, Mike McDermott, Suzanne Holly and Michelle Quinn), we have sought people who similarly were looking to build their own practices while also having the backgrounds and abilities to be able to complement our own practices.
LD: What are some of the challenges of leading a practice at a relatively new firm? Do you have specific plans for growth in 2013?
BG: One of the biggest challenges is simply getting the word out about who you are and what you do. In my practice, I have worked with many attorneys and business people at many different firms and companies, and found that they have been the most effective means of getting the word out by way of referrals and introductions. In 2013, a number of our attorneys, including Jack Harris, Michelle Quinn and I, will be traveling to visit clients and referral sources in a number of cities to discuss their ongoing legal needs and concerns.
Within the next month or so, Berger Harris will also be launching the Business Law Basics blog, in which we will be co-blogging on business law issues with Sam Brickley, a former Delaware attorney and now a professor of business law at Plymouth State University. The blog will provide practical guides for business people on legal issues that may affect them, as well as providing analysis of legislation and case law. The blog will supplement a book by the same name that Professor Brickley and I co-authored, which will be available in part online.
LD: What do you do for fun when not in the office? Is there any particular hobby you have to get your mind off work?
BG: I have two small children so my hobby time is at a minimum.  When I have a spare moment, I like traveling, hiking and reading (history and historical fiction in particular). I also do a bit of creative writing. Two pieces of legal historical fiction, "Gudmund's Solution" and "The Silent Wife," were published in The Bencher and The Journal of the Delaware State Bar Association, respectively.  I also have two unpublished novels that I work on from time to time.