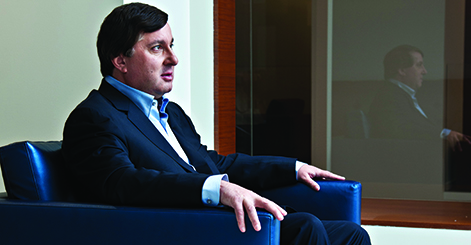 Photo by Jennifer Pottheiser
His lineage is one of the most important things to know about Nick Gravante. Certainly, his Italian-American heritage from Brooklyn, but also his pristine credentials as a trial lawyer. Not too many lawyers have been mentored by David Boies, Gerald Shargel, Charles Ogletree and, for good measure, Duke basketball coach Mike Krzyzewski.
It's not just luck that led to that cast of all-star mentors. Gravante is one of the hardest-working lawyers around, and has made a career of taking risks to ensure he learned every skill possible and made every connection along the way. As a result, he's become the counsel of choice for the Andy Warhol Foundation; John Ferolito, the co-owner of AriZona Iced Tea in his $5B partnership dispute; author Mary Higgins Clark; and Ann Freedman, former president of Manhattan's oldest art gallery in several art authenticity claims.
He sat down to reflect on the making of a trial lawyer after a late night with summer associates at Tiro a Segno, the oldest private rifle club in the U.S., in the West Village, where you can have cocktails and take target practice. To him, nothing is more important than the tried and true values of doing your own work, meticulous preparation and the art and craft of the trial.
Lawdragon: So what did you think of this year's summer associates? They must have loved the rifle club.
Nick Gravante: It's always their favorite event, they all took home their targets to show how well they did! It's scary how good they are as young lawyers, much better than we were. I asked one of them to research and write a letter seeking indemnification for a client's legal fees – would have taken me two days as a summer associate – I got back a perfect letter in 2 hours.
LD: Do they remind you of the "best and the brightest," much like those you started with at Cravath?
NG: When I graduated from law school in 1985, there was no question the best and the brightest went to Cravath. David Boies had the CBS v. Westmoreland case, Tom Barr had the Ariel Sharon v. Time case. You'd go home after getting out of the library, turn on Nightline and there was David with Ted Koppel. Cravath was the center of the universe in terms of litigation.
LD: And you left Cravath for criminal defense?
NG: I learned so much at Cravath, from David, from Frank Barron. But Gerry Shargel is where I learned to try cases. In two years, we must have tried 12 cases together. You learned not only how to try a case from Gerry, but everything to do in front of a jury. How to act, how to walk, how to stand, how to own the courtroom, how to project confidence even when evidence is pouring in against your client and you're getting killed.
With David, I learned from the best civil litigator in the country and, with Gerry, the best criminal defense lawyer. If you can't learn how to litigate effectively and try cases from those guys, you're not going to learn from anyone.
LD: What have been some of your favorite cases at Boies Schiller?
NG: Defending Otto Penzler in Los Angeles federal court. Penzler owned the Mysterious Bookshop on 57th. And this publisher, Michael Viner, who had a lot more money than Otto, just kept suing him. Otto had agreed to compile certain sports anthologies, commercial disputes kept arising and it was obvious that Otto didn't have the money or wherewithal to constantly fight this guy over every little thing in California. That trial was great because Viner was a bully and Otto finally stood up to him. Viner lost all of his claims against Otto, we filed and won counterclaims against Viner–winning large dollar amounts, and, because of that trial, Viner had to file for bankruptcy.  The bully got his just due.
LD: Weren't you also successful defending the teenager charged with setting the fire at Bergen Beach Stables that killed 21 horses?
NG: Yes, he had confessed on videotape, but was actually innocent. Thank goodness he was acquitted! He's not the first person, nor will he be the last, to give a false confession. But to win that case I had to make the jury understand the psychology of false confessions. And to do that, I actually had to employ strategies that everyone thought were crazy, like moving into evidence the otherwise inadmissible results of a polygraph test that my client took and, according to the DA, failed. In proper context, however, the videotaped confession became our best piece of evidence; the DA played it in opening statement, but never played it again.
It was an unusual case for Boies Schiller, but I took it on because my client told me he would plead guilty to possessing marijuana, which the police found in his knapsack on the day of his arrest, and go to jail for a year–but would not plead guilty to the arson even if he were promised probation. That meant a lot to me. I went to Boies and said "I believe this kid is innocent"; he said then do what you have to do.