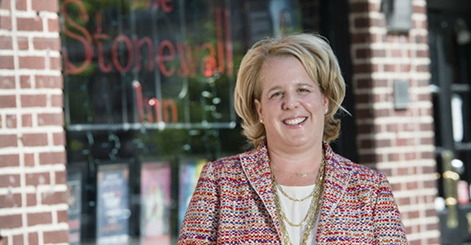 Photo by Laura Barisonzi
Roberta Kaplan credits her friends and family, which includes her wife and 7-year-old son, for helping her get through the "out-of-body experience" and historic, high-stress litigaton work for which she is noted. In recent years, the New York-based Paul Weiss partner has managed to juggle a successful practice with clients such as JP Morgan Chase and Fitch Ratings while also working on the case that led to the landmark U.S. Supreme Court ruling in U.S. v Windsor, which overturned the Defense of Marriage Act, or DOMA.
Kaplan is a 1991 graduate of Columbia Law School and received her undergraduate degree from Harvard University. She did her first Q&A with Lawdragon back in 2006, when she was battling for marriage equality on behalf of other gay and lesbian couples who wanted to wed.
Lawdragon: The last time you spoke to Lawdragon, in 2006, was a few weeks before the New York State Court of Appeals decided against 12 couples who asked the jutices to allow same-sex marriage. Did you ever imagine you'd get another chance to argue a similar case and go all the way to the U.S. Supreme Court and win?
Roberta Kaplan: Definitely not. Having the honor and privilege of arguing the Windsor case before the United States Supreme Court was like winning the "lawyer lottery." Indeed, if you had told me in 2006, when we lost the New York marriage case, that a marriage bill would be enacted in New York only five years later, I would never have believed you.
LD: What is the biggest litigation lesson you've drawn from this experience? For example, is there a strategy you would "do over," or some decision on your part that you felt was particularly instrumental in the ultimate success?
RK: Even in a Supreme Court case involving complicated issues of constitutional doctrine, facts really matter. Seconds after meeting Edie Windsor, I believed that her claim represented the best possible case for overturning DOMA, not only because of the huge damage she suffered  — a $363,000 tax bill — but also because her life and love story so poignantly demonstrate the discrimination that gay people have experienced and why the marriages of gay couples are entitled to equal dignity and respect under the Constitution.
LD: A lot has been written about your client in recent weeks. Do you have a special memory of your time with her over the course of the case?
RK: Our entire legal team had a great deal of fun and an even greater number of laughs. I will never forget as long as I live the scene when we walked out of the Supreme Court building on March 27 after oral argument only to look down and hear the thunderous cheers of thousands. The Passover seder that we held with Edie, our family, friends and the legal team in Washington, D.C. just prior to the oral argument was another once in a lifetime experience.
LD: Aside from the recent victory, what have been some of the biggest changes in your life since we last spoke? At the time, you were a relatively new mom.
RK: As a not-so-new mom, there is no question that raising my son is the single most important job I have ever had or will ever have. In fact, Edie and my son have formed their own special relationship — Edie made him a huge, life-size card on his last birthday and miraculously never tires of reading him his favorite Captain Underpants books. My son got to ride with Edie in the convertible at the front of New York's gay pride parade this year, an experience that I'm sure he will never forget.
LD: A lot has been written about the challenges women and minorities face in ascending to the top of the male-dominate legal profession. Can you discuss if you've faced particular challenges over the years for being a lesbian? How has the comfort-level for being openly gay at Big Law environments changed in recent years, or since you started practicing? Are the changes dramatic?
RK: To paraphrase the President, the American people, elected officials, and even the United States Supreme Court, from Romer to Lawrence to Windsor, have been evolving on these issues over the past several years. Recently, that evolution has been amazingly rapid.
In 2009, for example, when we filed our case, only five states permitted gay couples to marry. In 2011, New York became the sixth state to do so. When I argued the case at the Supreme Court, 9 states plus the District of Columbia authorized such marriages. Today, 13 states do.
Since the legal profession obviously reflects our wider society, it too has experienced this same kind of dramatic change. At least in my own practice at Paul Weiss, I honestly don't think that the fact that I am a lesbian is a disadvantage at all. After all, New York City may well elect an open lesbian, Christine Quinn, to be our first woman mayor.
LD: Prior to your newfound celebrity as the DOMA lawyer, you were already an accomplished litigator handling high-stakes cases for big corporations. How have you balanced the demands of a busy practice, an epic pro bono cause and a young family?
RK: I would not be telling the truth if I were to say it's a "piece of cake." But at least in my experience, it is possible as long as you continue to have fun practicing law and get a lot of help from friends and family. One thing is certain — I never could have achieved any of this without the support and wisdom of my wife, Rachel Lavine.
LD: In 2006, as chair of the women's initiatives committee, you and the firm had made strides in creating a more family-friendly environment and in adding women to the partnership. Have things continued to improve in this area for Paul Weiss?
RK: Absolutely. In 2006, there were nine women litigation partners at Paul, Weiss. Today, I'm proud to say we have 16 women litigation partners or 27 percent of the total, with two more likely on the way. And the vast majority of the women partners have families with children.
LD: Let's switch gears a bit. What was your favorite class/course in law school?
RK: Civil Procedure, Evidence and Federal Courts.  I was clearly a litigator even then.
LD: What course do you now wish you took, but didn't?
RK: That's a tough one since it has been a few years. Structured derivative financing for lawyers? The problem is that I don't think that course existed when I went to law school!
LD: What's the best advice you can give to an aspiring lawyer in this tough economy?
RK: Practicing law has never been a relaxing or stress-free job, even when the economy and job market were far brighter than they are today. So the best advice I can give a young lawyer is to make sure that you have a passion for what you are doing and that you are having fun doing it. It may well be that you have to be a little crazy to enjoy reviewing documents or drafting discovery requests, but that is the only way that I know of to do this job and succeed.
LD: Aside from the media blitz, how has your life changed so far since the Supreme Court ruling? Any plans this summer for taking a break or doing anything special to celebrate, or do you have too many other cases on your plate?
RK: It's truly been an out-of-body experience. The best way to describe it is that I feel like the guy in the Chagall paintings floating in the air over my own body. And I am answering these questions while on a trip with my family to Jackson Hole, Wyoming. The mountains of the Tetons were the perfect antidote to the stress of waiting for the Supreme Court to issue its decision.