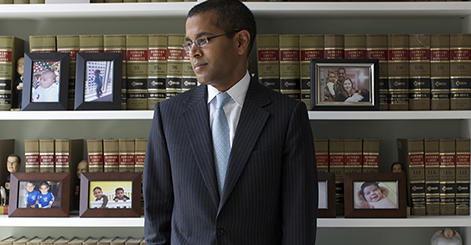 Photo by Eli Meir Kaplan
It's likely unanimous that Kannon Shanmugam is on his way to an illustrious career as a Supreme Court advocate.
One of the youngest Lawdragon 500 members ever, he was the first lateral partner hired by Williams & Connolly in 22 years. He's given 14 high-court arguments – last year breaking the high-water mark held by the legendary Edward Bennett Williams for the most by a lawyer in the firm's history.
The Lawrence, Kansas-born prodigy attended Harvard College at 16, serving as editor-in-chief of the Harvard Independent and winning a Marshall Scholarship to Oxford by answering questions such as "Why was the poet Ovid exiled?"
As if that wasn't sufficient training to face the Supreme Court justices, he then completed the legal world's stations of the cross: serving as editor of the Harvard Law Review; clerking for the 4th Circuit's J. Michael Luttig and then U.S. Supreme Court Justice Antonin Scalia. He worked with Kenneth Starr at Kirkland & Ellis before joining the U.S. Solicitor General's office in 2004. There, he argued eight cases before the U.S. Supreme Court.
When he left in 2008, he undertook the task of building a preeminent appellate practice for the estimable Williams & Connolly. There, he has argued six more Supreme Court cases, most recently Clark v. Rameker, in which the court ruled that funds in an inherited IRA are not exempt from bankruptcy protection.
Lawdragon: How does one join the ranks of Supreme Court appellate advocates, perhaps the most elite corps of lawyers there is?
Kannon Shanmugam: I don't think there's any one path to becoming a Supreme Court specialist or an appellate specialist more generally. By and large, it's helpful to have had an appellate clerkship, to have been at a firm with a significant appellate practice, and to have spent time in the Solicitor General's office.
However, you could find people who are very successful appellate litigators who haven't done all of those things.
LD: When you completed your master's in classics at Oxford and enrolled at Harvard Law School, were you interested in being an appellate lawyer?
KS: I certainly did not go to law school with the desire to be an appellate specialist. I really developed that desire while clerking and after coming to private practice.  I went to Kirkland & Ellis, and worked with Judge Starr in the appellate practice there. I was fortunate to work on cases with him early on in my time there, and I found I enjoyed it. One day I woke up and realized that all I was doing was appellate work, and I decided that I didn't mind that.
A lot of people graduate from law school with a sense that doing Supreme Court and appellate work is sexy. And it's very easy to think of appellate work as similar to what you do in law school and clerking.  But it's not for everyone. It requires a certain temperament. And there's a different rhythm to life as an appellate lawyer.  If anything, cases actually move more quickly at the appellate level, so you're always moving on to the next case.
LD: Tell me about the first Supreme Court argument you attended?
KS: The first Supreme Court argument I saw was in 1999, in a case called NCAA v. Smith. I was clerking for Judge Luttig at the time, and my co-clerks and I went up to the court to watch oral arguments.
Three lawyers argued the case. One was John Roberts, the second was Carter Phillips, and the third was Ed Kneedler. [Roberts, then at Hogan & Hartson, would become Chief Justice; Phillips is one of the most respected high-court advocates with 78 arguments to the Supreme Court and now chair of Sidley & Austin; and Kneedler, of the Solicitor General's office has done more than 100 Supreme Court arguments.]
And I came out of that argument thinking two things.  First, I thought, 'There is no way I could ever do that.' They were so good. It was legal advocacy of the highest order and to this day one of the best Supreme Court arguments I've ever seen. But I also thought, 'Boy, it would be fun to do that one day.'
LD: So tell me about your first Supreme Court argument.
KS:  It was in 2004, in a case called Muehler v. Mena. I was 32 years old and had just started at the Solicitor General's office. I was probably too young to be as scared as I should have been. But I was still pretty scared. It is a singularly daunting experience to get up to the Supreme Court podium for the first time.
And, as with all such experiences in life, it was a bit of a blur. It was only a 10-minute argument, because the government was supporting the petitioners as an amicus.  Carter Phillips was representing the petitioners, and he got up first and gave his argument.
I felt like the tiny running back who scampers behind the big lineman. I felt like getting up and saying, 'I have nothing to add because Mr. Phillips argued so well.' And I do remember thinking as I was getting up to the podium that I hope I don't faint or throw up.
LD: And you won!
KS: We did. The court unanimously ruled that the 4th Amendment allows officers to detain an occupant in handcuffs while they are executing a search warrant, and they do not need an independent basis to inquire about the occupant's immigration status.
LD: Does it ever get easier to argue at the Supreme Court?
KS: It stops being as stressful, but the excitement never goes away. Once you've done it a few times, comfortable isn't the right word. But you feel more confident you can do it. Not to the point that you get overconfident; that's the point at which you should probably retire.
LD: You came to Williams & Connolly to build an appellate and Supreme Court practice, at a firm which already has a robust appellate practice. How is the Supreme Court practice different from an appellate practice?
KS: The Supreme Court is so active at argument. That presents very distinctive challenges in how you prepare and make the argument.
A large part of the value that Supreme Court specialists have to offer is familiarity with the court.  But we are also generalists who are arguing to a court that consists of generalists. Part of the value that Supreme Court specialists can add is in the ability to figure out how to frame arguments in a way that appeals to a generalist court.
That having been said, I really enjoy collaborating with lawyers who have subject-matter expertise. In 2012, on Maryland v. King, the case about the constitutionality of DNA testing, I worked with Steve Mercer, Chief Attorney in the Forensics Division for the Maryland Public Defenders. He brought legal and scientific knowledge that was indispensable.
LD: In the past decade, the elite members of the Supreme Court bar have developed star status. How do you think that came to be?
KS: The Supreme Court bar is perhaps more prone to a focus on the individual because it's such a small bar. And plenty of members of the Supreme Court bar, like Ted Olson [of Gibson Dunn], have become well known in their own rights.
Also, there are a finite number of Supreme Court arguments and thus a finite number of opportunities for people to deliver those arguments. So when the press covers the Court, it inevitably becomes, well, Ted Olson is arguing today, Seth Waxman [of WilmerHale] is arguing tomorrow.
But as in other areas of legal practice, the reality is that the person you see at oral argument is just the tip of the iceberg. What differentiates the top Supreme Court practices is the people who work on the brief and think strategically behind the scenes about how to frame issues. As much as I'd like to take personal credit for any victories I've had, I owe a huge amount to the teams that worked on the cases.
LD: Are you ever surprised by the outcome of a case after argument?
KS: With the Supreme Court, one thing that is often misunderstood is the relative importance of briefing and oral argument. I think briefing is more important. Oral argument sometimes changes the outcome. But usually, once you've gotten briefs in a case, you can predict the outcome. There are cases that are genuinely uncertain, but those cases aren't typical.
When we came out of the argument in Maryland v. King, it looked like both sides had votes, but it was hard for either side to be certain they had five votes. But it's really rare as an advocate to come out of oral argument without a pretty good sense of what's going to happen.  [And, Maryland produced an unusual lineup in a 5-4 decision that it is reasonable under the 4th Amendment to take a DNA swab from an individual detained in custody, much like a fingerprint. While Justice Anthony Kennedy wrote the majority, Justice Antonin Scalia wrote for the dissenters: Justices Elena Kagan, Sonia Sotomayor and Ruth Bader Ginsburg.]
Of course, that's part of what makes litigation so interesting. Sometimes you do have uncertainty, and you don't know who the winners and losers are going to be.
LD: It must also be interesting that the Justices are members of this legal community.
KS: Definitely. You see Justices like you do Senators and Representatives and others around town. The Justices are very much part of the legal community. One of the nice things about being in Washington is the chance to see the Justices outside of the court.
The justices are not just great lawyers, but terrific people. They take their job incredibly seriously, and they all work very hard. The thing that's distinctive about the Supreme Court, perhaps in contrast to other branches of government, is that at the end of the day there is a tangible work product. The justices are very invested in their work; it's their legacy.
LD: Growing up in Kansas, what did you dream of becoming?
KS: By the time I graduated from high school, I wanted to be a journalist or a lawyer. I was the editor of my college newspaper and I love journalism, but I sensed, even before the advent of the Internet, that it would be hard to make a career out of it.
I was very lucky in that I spent a summer working as an intern for then-10th U.S. Circuit Court of Appeals Judge Deanell Reece Tacha (now dean of Pepperdine Law School). That experience convinced me I wanted to be a lawyer. Judge Tacha was my neighbor growing up, and she took pity on me because I couldn't get a summer job. She said, "I can't pay you, but you'll be able to be in chambers for the summer." I went to Denver and watched arguments, and the cases were so interesting and it was so much fun to read her opinions and those of her colleagues. It was then that I first began to see myself actually practicing law.
LD: Let's talk about your decision to leave Kirkland & Ellis, where you worked for Ken Starr and join the Solicitor General's office.
KS: I had worked at Kirkland for four years by the summer of 2004, when openings arose at the Solicitor General's office. There were six vacancies for positions as assistants to the Solicitor General, the line attorneys with day-to-day responsibility over cases. It was very unusual to have that many vacancies.
Judge Starr, who had been Solicitor General, encouraged me to apply.  I felt a strong urge to serve my country, especially in the wake of 9/11.  And I couldn't imagine a better way to do that than to argue cases before the Supreme Court on behalf of the United States – particularly because the Marines weren't exactly going to take me.  So I didn't have to be told twice to apply.
LD: And did the position live up to your expectations?
KS: Every single day, it was a thrill just to walk the halls. It was a privilege and carried with it a real sense of responsibility. It's such a tremendously talented office that in many ways represents all that is best about the profession. The attorneys are very ethical. And they take their duty of candor to the Supreme Court very seriously. It's a great place to learn how to be a lawyer.
I was hired by Ted Olson, then served under Paul Clement [now of Bancroft] and Greg Garre [now of Latham]. They are all fantastic lawyers. And the career civil servants, particularly Ed Kneedler and Michael Dreeben, the two longest-serving attorneys in the office, were mentors and role models to me.
LD: You have certainly had incredible role models.
KS: In addition to the judges I clerked for, Ken and Ted have been my primary role models. Ken was my first boss in legal practice, and Ted hired me into the Solicitor General's office.
They are both role models in every respect. Judge Starr is someone of the highest principles, incredibly modest for all he's achieved in his legal career and someone who takes mentoring young lawyers as seriously as anyone I've encountered.
Many of the same attributes apply to Ted. He's such a terrific all-around lawyer with incredible judgment.  Both have offered good advice at critical points in my legal career. From a selfish perspective, I'm very grateful to both of them.
LD: It must have been a hard decision to leave.
KS: It was very hard. I loved every day I was in the Solicitor General's office. Frankly, a large part of the reason I left was financial. I had a young son and another on the way. And the disparity between pay in the private and public sector is as acute as it's ever been.
But there was also a sense that I was looking for a new challenge. That's not to say I had mastered the job; nowhere close to that. But the opportunity to come to Williams & Connolly and build an appellate practice was a rare one.
I was lucky that as I was starting to think about leaving, I talked to my neighbor.
LD: You must have some interesting neighbors.
KS: My next-door neighbor at work at the Justice Department was Lisa Blatt [then an assistant to the Solicitor General, now of Arnold & Porter].  Lisa's husband, David, is a partner here.  At a party, I ran into David and said I was thinking about leaving the Solicitor General's office. But I didn't think Williams & Connolly brought in lateral partners.
Unbeknownst to me, the firm had been thinking about building an appellate practice. In fact, in its most recent long-range planning exercise, the firm had specifically identified building an appellate practice as one of its priorities.
I met with 40 partners over the course of the process – almost half of the partnership. The great thing about that process was not only that it allowed the firm to decide it wanted to hire me, but it allowed me to get a sense of the firm's work and the type of people it attracts. It became clear to me pretty quickly that this was the place I wanted to be.
LD: And you became the first lateral partner at Williams & Connolly in 22 years!
KS: From my perspective, it's been a great marriage. It really was exactly the place I was looking for. It's a terrific litigation firm that takes professional values very seriously. It's a firm with a very strong and cohesive culture; a firm with partners who work together very closely. It's old-school in all of the good senses of the term.
LD: What grade would you give yourself on building the practice here?
KS: Incomplete! But I'd like to think we're off to a good start.
Williams & Connolly always had an appellate practice, dating from the days of our founder, Edward Bennett Williams, who was not only a great trial lawyer but also a great appellate lawyer. If anything, the firm was simply suffering from a misperception that it did not have a strong appellate practice.
Part of what I was charged with doing was to raise the profile of the practice that was already here. The goal is that, when people think of Williams & Connolly, they'll think of us as an all-purpose litigation firm, not just as a trial litigation firm.
LD: And it's fair to call your overall appellate practice at Williams & Connolly robust?
KS: By the end of this summer, I will have argued in every one of the 13 federal courts of appeals since coming to the firm.  That illustrates that this is not just about the Supreme Court arguments. Frankly, I view that as a lower priority. The goal is to build an all-around appellate practice that is as good as it can be. The Supreme Court practice is the most visible part, but by no means the primary goal.
LD: And how does that work since the firm doesn't have formal practice groups?
KS: That's a hallmark of Williams & Connolly. While I do exclusively appellate-type work, we don't have a formal appellate litigation group. We have a number of lawyers who do both trial and appellate work. With associates, they are not assigned to any particular group, though there are some with whom I work pretty regularly.  We want our associates to develop a wide range of litigation skills.
One of the things I'm proudest of from my time at the firm is helping with the firm's recruiting efforts. In my view, we attract the best associates in the country, bar none. Like all of my partners, I'm very proud of that. To the extent that we attract people interested in doing appellate work, that's great.  But our first priority is simply to attract the most talented young lawyers, because they are the future of the firm.
LD: You've accomplished so much. What are your next goals?
KS: I have two sons, 6 and 5, and my wife recently became the chair of the rheumatology department at George Washington University. So life is pretty busy, but there's nothing about life I don't enjoy.
I have no other plans. I love being here. I've really enjoyed helping to build the practice.  It's been tremendously fulfilling in terms of working with clients, working on interesting cases, and working with talented younger lawyers, which I derive enormous satisfaction from.
I see the challenge today as the same as it was six years ago:  to build the best appellate practice we can. I don't spend a lot of time thinking about what the competition is doing. Our goal is to do the best we can every day, and let the chips fall where they may.
My job is to make sure that the last brief we filed and the last argument we did is the best it can be, and I don't worry too much about who's up and down in the rankings. It's never been my goal to have the most Supreme Court arguments. I don't lie awake at night thinking, 'if only I can get to 15 arguments'. I've done 14, which is about 14 more than I would have expected when I decided to go to law school.
LD: You've now been at Williams & Connolly for six years. What more do you hope five years from now to have accomplished?
KS: I'm always looking ahead to the next challenge. Over the next five years, the challenge is to continue to build the practice here and to do the very best work we can. I'm very happy to be here and very privileged to be a partner at Williams & Connolly. That's not something you often hear partners at law firms say, but not a day goes by where I don't feel privileged to be here.
This is one of the very few law firms in America that is truly a special place. I feel lucky to be a part of this great institution with its great history and to have the opportunity to build an appellate practice here. I really do think that this is the best trial litigation firm in the country. And I hope to build an appellate practice that's the equal of our trial practice.
I've got Brendan Sullivan right down the hall from me. To live up to that standard is a huge challenge. You've got some of the best lawyers in the business at this law firm, and it's an honor to be their partner. And I love what I do. There's never a day where I feel like it's a chore to go to work.
LD: Never?
KS: Well, maybe on those Saturdays or Sundays when I'd rather be home with the kids or watching football.
LD: Do you have any cases on the docket for next term?
KS:  We have two cases:  Warger v. Shauers, on the admissibility of evidence of juror dishonesty at voir dire, and Omnicare v. Laborers, on the actionability of statements of opinion under the federal securities laws.  They're both going to be set for oral argument early in the term, so it's going to be a busy fall.