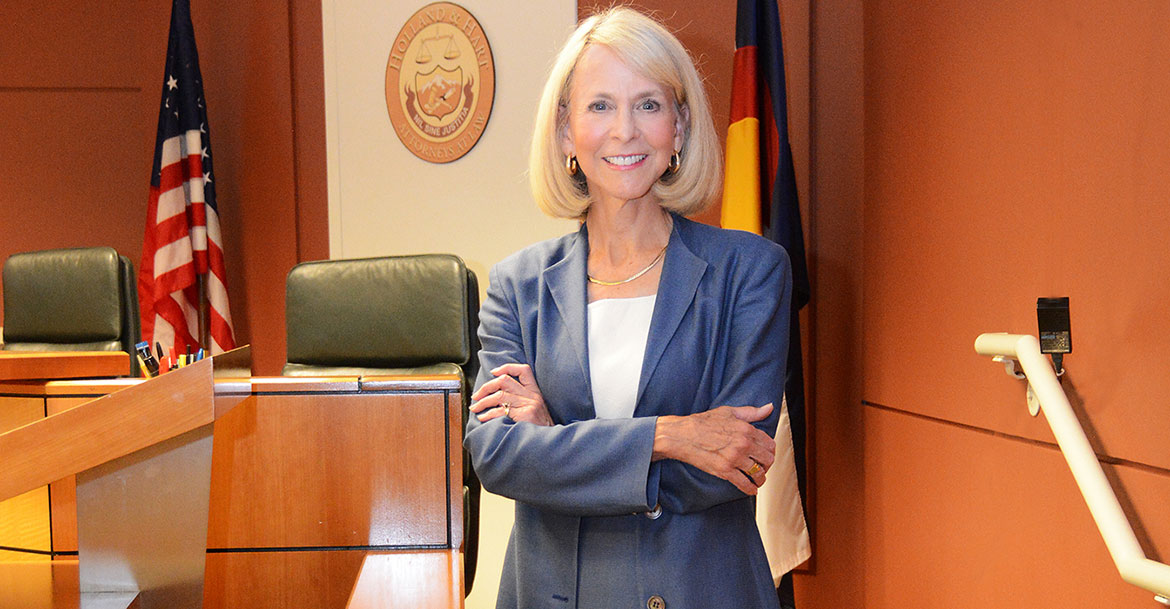 Photo by William Thach.
Jane Michaels may have come out West on a "whim," but the Boston University School of Law graduate certainly made the most of the opportunities that awaited her in Denver. She clerked at the 10th U.S. Circuit Court of Appeals and embarked on a litigation career at Holland & Hart, where she serves as chair of the firm's trial practice. The Lawdragon 500 member has excelled in all manner of complex commercial and intellectual property cases, with a long track record of success in patent infringement and other disputes for clients across the software, Internet, communications, manufacturing, energy and biotech industries. Michaels also spends part of her practice arbitrating and mediating complex cases.
Lawdragon: I see you did your undergrad, master's and law school all in the Boston area, after having been born in Pittsburgh. Did you grow up in Pittsburgh?
Jane Michaels: Yes, I was raised in Pittsburgh. Looking back on it, it was a great place to grow up. I am grateful for the Midwestern values and enduring friendships. Pittsburgh is a passionate sports town, and yet Pittsburghers also have a genuine, enthusiastic appreciation for the arts. My dad was a devoted Pirates and Steelers fan, as well as a beloved pediatrician. My mom is a talented artist.
I feel particularly lucky to have benefitted from the left-brained logic of my phenomenal father and the right-brained vision of my creative mother. Both of my parents gave me a healthy sense of roots – and wings.
LD: What brought you out West after having done all your education in and around Boston, and did you think you would stay out there?
JM: It sounds crazy. Sheer whim brought me out West. Yet, by 20/20 hindsight, it was one of the best decisions I've ever made. I like Boston a lot – and am so fortunate to have gone to college, graduate school and law school there. But I felt an urge to head off to a new area of the country, where the opportunities seemed to be as vast as the landscape. I've never looked back – I simply love living in Colorado.
LD: How did you come to develop a litigation practice with such a strong IP focus? Was that something you had as a young lawyer or was there a turning point in your career that put you on this path?
JM: In law school my favorite course was tax, so back then I thought I might become a tax lawyer. But when I graduated from law school, I had a wonderful opportunity to clerk for Judge William E. Doyle, who was on the 10th U.S. Circuit Court of Appeals in Denver. That clerkship had a huge influence on my career path. I realized that my real passion was litigation. I was eager to become a persuasive advocate for my clients in the courtroom. Right after my clerkship and shortly after I joined Holland & Hart, I was fortunate to work with Ed Kahn, a brilliant trial lawyer, who let me argue motions and take an active role at trial, even though I was only a puppy lawyer at the time.
In the beginning of my career I handled commercial litigation. Throughout the years, the cases became more complex, and many of them revolved around computer software issues. Several bet-the-company trade secrets cases kindled my growing passion for intellectual property law. Learning the technology intrigued me. Understanding the law, the technology and other complicated issues well enough to convey complex concepts simply and persuasively to judges and juries became my mission. As Albert Einstein once said,  "If you can't explain it simply, you don't understand it well enough." I was drawn to IP litigation from that point forward.
LD: What keeps you excited about it? It seems like you are almost constantly diving into a wide range of technological and other complex matters.
JM: I thoroughly enjoy learning about new industries, understanding different technologies and getting to know the people who are behind the story. Being a litigator is, at first, a little like being an investigative reporter. Our initial job is to dig into the voluminous facts of a case to find the key evidence. The primary role of an effective trial lawyer is to crystallize the critical facts, frame the underlying theme of a case and then communicate the client's story simply and convincingly. That's what keeps me excited about IP litigation as well as complex commercial litigation.
LD: In terms of your skill set, was there a mentor or a professional experience that you feel was especially influential in your development into one of the nation's best trial lawyers?
JM: I was fortunate to have learned how to practice law from many talented lawyers at Holland & Hart. One lawyer, in particular, had a major impact on my career. Bill McClearn, who passed away in 2012, was my primary mentor at the firm. Bill was not only a superlative advocate, but also the epitome of professionalism and integrity. His high standards of excellence, dedication to clients, impeccable ethics and just plain good judgment were my guiding lights. I will always be grateful for his wise leadership. Watching Bill in the courtroom gave me a unique opportunity to learn the most important lessons in litigation from an inspirational role model.
LD: Are there any routines you go through, or superstitions that you have, before starting a trial or arbitration?
JM: I always feel compelled to re-read the rules of evidence before I start a trial. I can't begin to count how many times I have read those rules. But, it's been worth it, even if only for peace of mind. My mantra is: "The only thing better than being prepared is being better prepared."
LD: How much of your practice is spent handling disputes yourself as a mediator or arbitrator?
JM: Over the past 25 years, I have devoted a small portion of my practice to handling disputes as the mediator or arbitrator. It has been a fulfilling role in many respects, and I have received such positive feedback that, at this point, I intend to focus a larger percentage of my time serving as an arbitrator or mediator. Since over 95% of cases ultimately settle, I can help lawyers and their clients reach a resolution more cost-effectively at an earlier stage of the litigation or even before a lawsuit has been filed. I'm proud of my successful track record as a mediator in facilitating settlement of disputes, sometimes in the wee hours of the morning.
Litigation has become so expensive, particularly with the costs inherent in extensive discovery and document production. As an arbitrator who can hear the evidence and reach a rational decision in a matter of months after a case has been filed, I gain a sense of satisfaction in knowing that I've saved the parties substantial litigation costs and, by deciding their cases fairly and expeditiously, I've helped them move forward with their primary business objectives.
LD: As a senior leader in the firm, can you discuss anything that you and Holland & Hart do to make sure that young women lawyers stay with the firm to progress to partner and have an opportunity to take on a leadership role?
JM: It's important to me and to Holland & Hart that young women lawyers succeed at the firm.  Like many of our attorneys, I make sure that I involve the women lawyers with whom I'm working on a case at every possible stage of the litigation.  I think it's also critical to introduce female associates to clients and to model the elusive art of business development in order to cultivate the next generation of rainmakers.
Back when I was a young associate, the firm's female associates drafted a maternity leave policy, which the firm ultimately adopted. At that time, it was one of the first maternity leave policies implemented by any law firm in the country. The firm has also adopted a policy for attorneys to work reduced hours in order to balance work with other commitments in their lives, without having any negative impact on their careers or advancement within the firm. I think it's imperative to break down institutional barriers and to develop these types of innovative policies so that women can enter, succeed and remain in the practice of law. It is evident by looking at the number of women in leadership roles at Holland & Hart that the firm is committed to ensuring that our women lawyers progress to partnership and into leadership roles.
LD: Over the past 10 years, can you identify one area or aspect of your practice that has changed the most?
JM: Over the past 10 years, technology has had a significant impact on all of us. Social media has changed the way many people in society communicate. These technological changes affect our pretrial preparation and courtroom communication. In addition, during the discovery process, millions of documents are produced electronically. We use software tools and predictive coding technology to review those documents, rather than scores of lawyers huddled over scores of boxes, reading dusty papers in corporate basements or warehouses around the country.
In many courtrooms, we can use software tools to pull up documents for each juror to read electronically on a computer located at his or her seat in the jury box. We can cross-examine witnesses with instantly accessible videotaped portions of their depositions. We can prepare demonstrative exhibits or power point demonstrations for closing arguments on the fly, using new-generation litigation software technology.  The basic principles of persuasion have not changed. But, the tools to be persuasive have changed significantly over the past 10 years. Many younger jurors are accustomed to absorbing information in short sound bites. As communicators, we need to be nimble in communicating effectively with them.