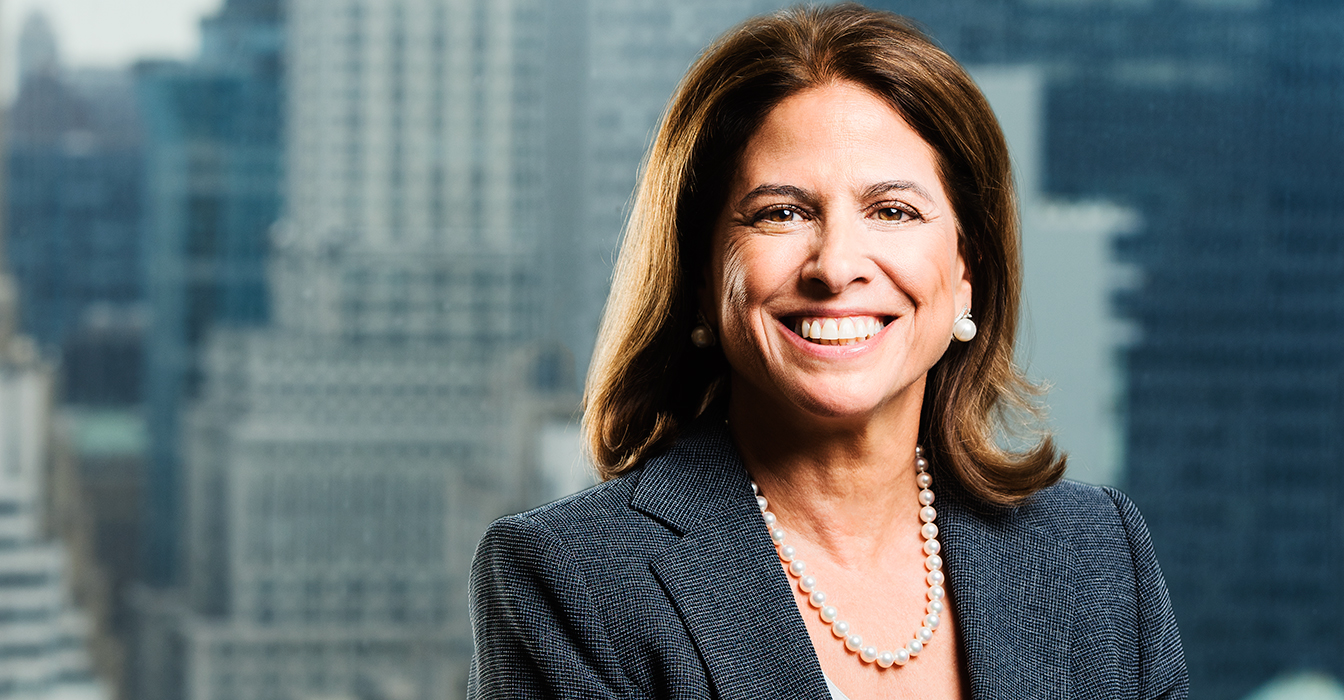 Photo by Laura Barisonzi.
Wendi Lazar, a partner and co-chair of the Executive and Professionals Practice Group at Outten & Golden, describes her path to employment law as an evolutionary one. She worked as a news and film producer before entering the Benjamin N. Cardozo School of Law, which she initially saw as a way to enhance her media career. But Lazar has since become one of the nation's leading lawyers focused on representing high-level employees, and she is passionate about helping them navigate the "transparent and often treacherous" terrain of their jobs. In 2014, Lazar was elected as a Fellow to the College of Labor & Employment Lawyers.
Name: Wendi Lazar
Firm: Outten & Golden
Position: Partner
Practice Areas: Labor and Employment Law
Location: New York
Law School: Benjamin N. Cardozo School of Law
Undergraduate: Hunter College
Lawdragon: Congratulations on being admitted as a Fellow of the College of Labor & Employment Lawyers. What does this honor mean to you?
Wendi Lazar: The College is one of the greatest honors for a lawyer in employment law. You need to be eligible in terms of experience and tenure but thereafter, you need to be sponsored, then nominated and supported by lawyers on both sides of the aisle — in other words to be respected by your peers and your adversaries for qualities of civility, excellence, and outstanding contributions. I was elected in my first year of eligibility, which was unexpected, and then supported by so many colleagues that I feel overwhelming pride, fellowship and at the same time, great humility as a new member.  I also look forward to nominating other qualified women now, who as a group remain a minority in the College.
LD: How did you become interested in being an employee-side employment lawyer?
WL: My choice of employment law was an evolutionary one. I started a practice 18 years ago doing a combination of business, employment and immigration law – and what tied it all together was that I represented talent. As a prior producer in news and feature film, I represented international talent across industries and specialties – in media, financial services and other small partnerships as well as public companies.
LD: You have been at Outten & Golden for ten years after having a small niche practice representing talent. How has your practice changed being at a larger firm?
WL: My partners at Outten (and particularly Wayne Outten) have supported the development of a unique practice representing executives, professionals, teams of employees in mergers and acquisitions, as well as expatriate and other cross-border matters globally and throughout the U.S.  When I came to the firm ten years ago, Wayne already had an active and successful practice in this arena, but with the support of the firm and my own unique background and experience, we were able to expand this practice to become one of the most important individual side global practices in the U.S., with our biggest competitors being the large management side firms that represent individuals on a case by case basis, often having conflicts. We now have a sophisticated multinational practice, comprised of several partners and associates, whose primary goal is to continue to expand our full-service executive practice and work alongside our network of foreign lawyers, tax experts and other executive support professionals globally. We have contributed to the international employment practice by leading the ABA's Labor and Employment Section in this area and by writing and speaking both in the U.S. and abroad.
LD: What about as your career began – is there a mentor who really helped shape the course of your professional life?
WL: I went to law school as a grownup and started my own law practice after a short stint as a trial attorney with the government. I had a lot of gumption and little experience in a law practice. I went with my instincts, some business acumen, and very little money in the bank and miraculously was successful. I partnered with some amazingly smart clients and was passionate about their success above all. Having been involved with high level talent in the media, I had a good understanding of the demands of representing individuals and expanded that to other industries – such as tech, private equity, advertising and branding. The digital world was in its infancy but I had a head start conceptually in media.  My parents were both entrepreneurs and I think that motivated me to strike out on my own – I grew up thinking I could do anything as long as I worked hard.
I have to say that organizations like the National Employment Lawyers Association (NELA), the American Immigration Lawyers Association (AILA) and the Women's Bar mentored me as a new lawyer and I am eternally grateful to them and their mentorship.
LD: Can you share a few things that you find satisfying about representing high-level employees in the various legal issues involved with entering and exiting an employment situation? What keeps the practicing exciting for you?
WL: I like working with smart, creative and motivated clients. Not every high level employee is able to think strategically and to necessarily represent their own interests well, and I pride myself in being their advisor and often their advocate. I like partnering with them to make their careers better and to empower them. Most of my clients are extremely demanding but so am I, and I relate to their needs, challenges, and fears, and helping them manage their strategies and often help them create new ones. Executive women, in particular, are still struggling across industries to define themselves and manage their careers against difficult odds – particularly high level and professional women. I find this part of my practice very satisfying when I can help catapult their careers, protect them from injustice and work behind the scenes at the same time to preserve what they have achieved in their careers.
LD: Is there anything that stands out to you when thinking about what has changed in your practice over the years — in the world of contracts?
WL: The workplace has changed much more than the practice of employment law itself but in terms of equality, sadly the change is slow and uneven. In the last 10 years I have seen our firm grow exponentially: in size, location and in the many areas of the law we have pioneered. Wage-and-hour cases have exploded and class actions continue to be the greatest tool against systemic discrimination in the U.S. But the workplace has gotten worse for employees with the proliferation of the digital world and the internet, and so the challenges remain. The workplace has become a transparent and often treacherous place, and there are no safe havens for the unwary, and overly honest or profuse writers of emails. Companies have used email and the Internet against employees, and the stakes are high particularly in industries where bonuses are deferred and equity is earned over the long term, so any suggestion of wrongdoing can be fatal.
In terms of public companies, plans and policies have become more uniform as the individual's rights and remedies are lost in the fine print.  Restrictive covenants that are applied to the masses and mandatory arbitration are good examples of this trend. Employees – even high level executives and professional partners – are victim to agreements that bind them often before they even know what they are signing and often without the advice of counsel. That has created a need that has kept our practice busy and our advice critical.
LD: With non-compete agreements, is it safe to assume that negotiating those clauses and dealing with the aftereffects in litigation has become a bigger part of your practice over the years? For those who haven't read your work, can you summarize your position on what you think states should do in terms of policy related to enforceability?
WL: I have co-edited the first international treatise on trade secrets and restrictive covenants for BNA Bloomberg that has both a plaintiff and management side perspective and crosses all borders. With 39 country authors and nine editors, the book was more than a labor of love.
My restrictive covenant practice is non-stop in terms of counseling executives, professionals (lawyers, doctors, and financial managing directors and partners) on leaving one business to start another, moving their business across states and country borders, expanding and moving their teams from company to company and country to country. I love the fact that you can wake up as a defendant and go to sleep as a plaintiff – all on the same case as this is a fast paced area of the law – and injunctive relief is at its core. Your adversary one day is your ally the next and strategy is critical.
LD: What is the biggest or most common mistake that high-level professionals make when taking on a new job?
WL: I used to say not having a written agreement, but I think it is not fully understanding the offer of employment and the policies, practices and culture that they are entering into. This takes time, work and exploration and it means reading or hiring the right attorney to read the fine print in terms of handbooks, policies, non competes, and equity agreements.  Much of this is available to the public online and yet, an executive falls in love at the interview and fails to read the pre-nup – often culminating in a divorce where the company has the upper hand.
LD: Do you ever miss your days as a producer? Are there aspects of that work that you feel helped prepare you for being a lawyer?
WL: I started my film career as a journalist and editor and both these skills made me think, ask questions and find out everything about my subject – all the details I need to know about a person, a product, a place or a business. These skills are what make a great lawyer – going behind the person, studying their needs, motivations, experience and being their advocate. I pride myself in being the representative my clients want me to be for them – not necessarily what I want to be.  Like a great journalist, removing yourself from the process is key to be a successful and honest representative for someone else.
LD: When you get to be away from the job, what do you do for fun?
WL: I spend time with my family, my parents, my children and my husband.  I am also a jock who loves food. I like to cook, to eat and to work out.  When I really get down time, I love the ocean, the theater, the tennis court and in case I am feeling too good about myself, there is always the golf course.