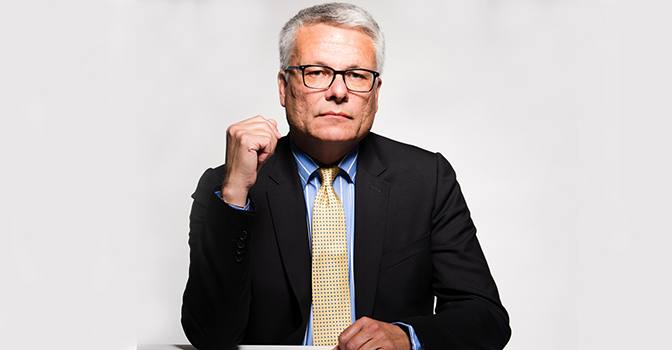 Photo by Laura Barisonzi.
Like many masters of the defense bar, Bruce Yannett gained much of his early experience on the other side. For Yannett, the New York-based deputy presiding partner of Debevoise & Plimpton and chair of its white-collar and regulatory defense group, that experience just happened to be working on the Iran-Contra matter from 1987 to 1988 under Lawrence Walsh's Office of Independent Counsel. He then served a stint as a federal prosecutor in Washington, D.C., until 1992, including time in the transactional and major crimes unit that involved prosecuting international crimes.
At Debevoise, Yannett leveraged that experience to become a leading expert on the Foreign Corrupt Practices Act (FCPA) – a particular strength for the firm. His highly lauded work for the audit committee of Siemens AG – accused of bribing government officials around the globe – led to a 2008 settlement with U.S. and German officials that was far more favorable as a result of his team's investigative work and cooperation with the authorities. Yannett defends companies and individuals embroiled in criminal and civil cases, including securities fraud actions, and also is regularly hired by companies to perform internal investigations. He is a 1985 graduate of New York University School of Law.
Lawdragon: Looking back at NYU Law, was there a professor, course or experience that was important to how your career developed, or that made you particularly excited about entering the profession?  
Bruce Yannett: My first-year contracts professor, William Hogan, was a brilliant Socratic method teacher. He helped expand my way of thinking and paved the way for success as a law student. As a third-year student, I went on to serve as his teaching assistant and watched with delight as the light bulb went off in his first-year class over the course of the semester.
LD: You served as a law clerk for the highly lauded Judge Edward Weinfeld near the end of his four decades of service on the federal bench. Can you share a little bit about what it was like working for him and what you took away from the experience?
BY: Clerking for Judge Weinfeld was without question one of the most significant experiences of my career. The judge held himself and everyone around him to the highest standards of professionalism, preparation and dedication. He worked legendary hours, six days a week, even in his mid-80s when I clerked for him – which made for a grueling year for his clerks. He remained a fully active district court judge until his death, never taking senior status. His insistence on getting everything right – not just the law but the facts as well – was imbued in his clerks throughout the year we spent with him. One of the joys was eating breakfast with him in chambers on Saturday mornings, during which he would regale us with stories of growing up in New York City in the early 1900s, reminisce on his friendship with Judge Learned Hand, or discuss a recent ruling by the Supreme Court.
LD: What was the motivation for your decision to depart Debevoise relatively close after joining the firm to work on the Iran-Contra matter? Decades later, is there a memory from that experience that stands out to you?
BY: I had accepted an offer to join the U.S. Attorney's Office for the Southern District of New York at the end of my clerkship and before starting at Debevoise. Due to a hiring freeze in the government, Debevoise extended me an offer to work for the firm until my Assistant U.S. Attorney position opened. The Iran-Contra scandal erupted while I was at the firm and Bob Shwartz, then a young partner and former prosecutor, was hired by Lawrence Walsh. I had been working with Bob, and he provided my resume to Judge Walsh. About 10 days later, I was on a one-way train to D.C.
The memory that stands out for me was the remarkable level of responsibility I had as a young lawyer, from interviewing the Secretary of Defense, to negotiating with the Government of Israel for access to evidence and witnesses, to dealing with highly classified intelligence information at the CIA, NSA and Pentagon.
LD: You rejoined Debevoise after finishing your stint as an assistant U.S. attorney. My guess would be that you would have had a number of options of where to go after getting that experience. What about the firm drew you back and has kept you there?
BY: Debevoise was and is a very special place to work. The lawyers and staff who have the privilege of working for the firm are both superb professionals and people of the utmost integrity. The firm values and lauds public service and throughout its history its ranks have included dozens of partners who have held important government positions. And, of course, Debevoise truly has world-class practices, not the least of which is white collar.
LD: The firm has had a noted expertise in FCPA matters for a long time. Can you talk a bit about how this developed? Did your experience working on international crimes as a prosecutor spur your interest in having this type of private practice?
BY: Having worked on international criminal matters at the Iran-Contra Independent Counsel's Office and as an AUSA investigating terrorism and money-laundering cases, I have had an interest in such matters throughout my time at Debevoise. I began writing, speaking and representing clients in FCPA matters long before the explosion in FCPA prosecutions 10 years ago. It was our experience representing a U.S. company facing FCPA issues in Germany that helped us get retained two years later by Siemens.
LD: You won great acclaim for the Siemens investigation. Though each case is unique, are there big-picture lessons or insights from that massive matter that your teams apply to all international internal investigations?
BY: One key lesson is to remember that in every country outside the U.S., we must understand and respect that country's laws, rules and practices. The U.S. criminal justice system is not replicated in very many countries. Simply because the U.S. approaches issues one way does not mean that is the only legitimate approach that can be taken.
LD: You have the type of practice where it's preferred that the matter is resolved before charges are filed, ideally before the public learns much about it. Does the firm's practice have a particular style or philosophy when it comes to interacting with government authorities that you view as key to a long track record of success?
BY: We believe that our reputation across federal and state agencies for honesty and fair dealing serves our clients well. While we aggressively advocate on our clients' behalf, we do so without distorting the evidence or "playing games." Because of this reputation, when we make a representation to the government, it is treated as reliable and credible.
LD: Are there any regions of the world where clients operate that appear to be taking up more of your time these days? Or any other practice trends that you are seeing?
BY: The practice remains truly global. I have clients either located in or facing challenges all over the globe – North and South America, Europe and Asia. The trend toward more international law enforcement matters is continuing unabated.