Veteran trial attorney Frank Lamothe discusses his litigation practice and the satisfaction he takes in evening the score for his personal injury clients.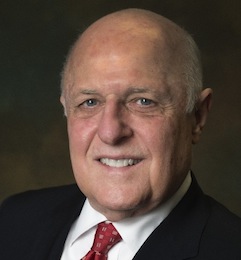 Name: Frank E. Lamothe, III
Firm: Lamothe Law Firm
Position: Founder, partner
Practice Areas: Personal injury, wrongful death and business litigation
Location: New Orleans
Law School: Tulane University Law School
Undergraduate: Tulane University
Lawdragon: How did you first become interested in your current practice as a trial lawyer focusing on personal injury and business litigation?
Frank Lamothe: When I graduated from law school, I was interested in doing something which would benefit disadvantaged people, make their lives better. I went to work for the New Orleans Legal Assistance Corporation for a year as a public service commitment. I was warned I would never get a good job with a major firm if I did this. I later received numerous offers despite this advice including one from the individual who gave me the admonition. I was able to go to work for a very good New Orleans personal-injury and business litigation firm where I began my career as a trial lawyer.
LD: What do you like about it?
FL: It is professionally satisfying to help people who have limited recourse. These are the forgotten people in our society. Large corporations can spend large sums of money for lawyers to service their interests. The working man has a limited ability to hire lawyers to make his life better. I like to even the score.
LD: Can you describe a recent case you've handled?
FL: I handled a high-pressure gas release case which caused serious injuries to three people. It involved an extraordinary amount of effort over a three-year period. During that time over 400,000 documents were exchanged and numerous motions were filed and heard by the court. We were eventually able to settle it in excess of $15 million a few months prior to trial.
LD: What were the key challenges of litigating the case?
FL: This case produced numerous challenges. We were litigating against a number of law firms who were sparing no expense or effort to thwart our efforts. We were able to go around the corners with them as quickly as they could. We were able to meet them head on and prevail. We had a great trial team in which everyone gave their best.
LD: Was there a broader impact of the case in addition to the settlement for your clients?
FL: We always hope that our efforts will improve safety in a given industry. We established a number of bad practices in this case. As result of this case, a number of safeguards were implemented. We hope that expands throughout the industry.
LD: Can you talk about why you pursued a career in the law in the first place?
FL: Practicing law was a natural thing for me to do. It provided me with an opportunity to do the most gratifying thing I can do which is to help other people. It was never about money. While I have certainly made money, this was not my primary goal.
LD: How has your practice changed since the early part of your career?
FL: The profession has changed. It is less intimate and collegial. When I first started practicing, the bar was small and everyone knew each other well. Civility and professionalism were the hallmarks of all of my colleagues. Today, law practice is more anonymous and unfortunately the goal of many is to win at any cost or through any means. Competitive pressure to satisfy clients has driven many lawyers to sacrifice the high standards which are the hallmark of great lawyers. I also find that technology has changed our practice and the technical mastery of lawyers has dramatically improved. Everyone's game is sharper.
LD: There are many high-quality firms out there. What do you do try to "sell" about your firm to potential recruits – how is it unique?
FL: We sell commitment and quality.
LD: What do you do for fun when you're outside the office?
FL: I enjoy competition outside of the office as well. I am a tennis player. When I was a nationally ranked amateur, I played on Tulane University's tennis team. I take martial arts training (Krav Maga) for conditioning and the development of another skill set.
I regularly ride motorcycles. I do long distance riding and also ride on the track with my sport bike. I like the exhilaration of going fast and being in control. I also enjoy reading. It's a wonderful window to the world.
LD: Do you have a favorite book or movie about the law or justice system?
FL: My favorite book is "The Price of Justice," which is about two brave and committed lawyers who took on the corrupt coal interests in West Virginia.