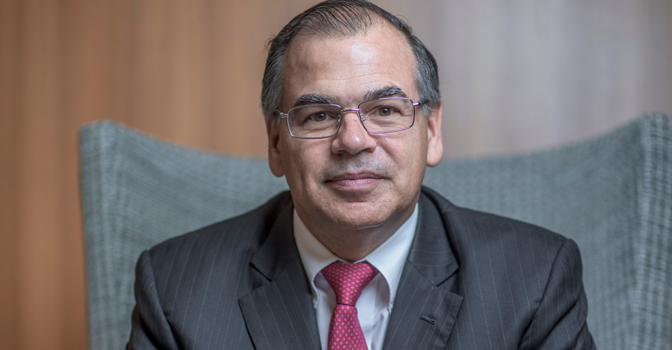 Photo by Josh Ritchie.
A love of fiction writing as a college student – and the influence of one writing professor in particular – played an unlikely but crucial role in the state of Florida having its first Hispanic justice on the state Supreme Court. Raoul Cantero combined his writing chops and his degree from Harvard Law to develop a leading appellate practice that eventually led then-Gov. Jeb Bush to appoint Cantero, whose parents were born in Cuba, to the Tallahassee-based high court in 2002. The family's deep family ties to Miami led Cantero to decide to move back there and return to private practice after a six-year tenure. He chose White & Case, where he heads the firm's Miami commercial litigation practice and also serves as its global head of diversity.
Lawdragon: Can you talk about where you grew up and how you developed an interest in the law?
Raoul Cantero: My parents came from Cuba. I was born in Madrid, Spain, and when I was nine-months old we came to the United States. I grew up in Miami speaking Spanish as a first language, and English as a second language. In high school, I liked to do the mock trials and thought I would be good at law. At college I started majoring in criminology. Then, on the advice of some lawyer friends of my father's, I changed my major to English and writing, and I developed an affinity for writing fiction. I ended up majoring in fiction writing and business, and minoring in math and philosophy. My father graduated from law school in Cuba, but we emigrated before he had a chance to practice there, and he never practiced here.
LD: I assume your affinity for writing played a role in your eventual focus on appellate law, as opposed to another type of practice.
RC: When I started in college I was probably a mediocre writer, but this one fiction writing professor changed my life. The first day of class he said, "If you're going to law school or medical school, don't take my class because I don't give out A's." But he had this one policy that if you turned in a story, and you didn't like the grade that you got, you were welcome to edit and revise it, and bring it back for a different grade. He also had office hours where he would explain to you the problems he had with your story. I started getting C-minuses on my stories, but I kept bringing back draft after draft on particular stories, and in the meantime a new story would be due. I would be working on the third draft of story one, and the second draft of story two, and the first draft of story three, and it kept building up. I worked really hard that semester, and finally I got an A – perhaps more from persistence than competence. It really taught me the importance of editing and constant rewriting.
When I graduated from law school I clerked for a federal judge, so by the time I started working for a firm I had developed a proficiency in writing. I joined a small firm made up of former state prosecutors, and they were really good trial lawyers. But they all hated to write and never had time to actually sit down and write anything. Whenever there was an appeal, they would give it to me to write. I was the 13th attorney at that firm, and by the time I was appointed to the Florida Supreme Court, we were about 150 attorneys. As the firm had grown over the years, the appeals gravitated toward me. We had a lot of different departments, so I developed experience in a lot of different kinds of civil appellate issues, and even criminal issues. That's how I developed that expertise in appeals, because to me it was a great way to combine law and writing, and in that firm it was kind of natural that I should handle those.
LD: How did the appointment come about? Were you sort of overwhelmed when it happened given the historic nature as first Hispanic justice?
RC: Certainly, I had never ever planned to even apply to be on the Florida Supreme Court, although I did want to be a judge one day. I planned to be maybe an appellate judge, but in my home community of Miami. I hadn't planned to move to Tallahassee and be on the Florida Supreme Court. As the vacancy was opening up, people started approaching me about applying because I did have a specialty in appeals, and I had argued several times in the Florida Supreme Court. Back then, this was 2001-2002, there weren't too many Hispanics that specialized in appeals. I didn't think about it much at first, and speaking to my wife, she was hesitant about moving. We prayed over it and finally decided to apply. Yes, when I was appointed it was overwhelming. To me it was a celebration of the whole Hispanic community, and I felt also a responsibility as the first Hispanic to make sure that I did a good job, that I was a good example for other Hispanics and that I would make my community proud.
Sometimes, during my tenure there, when I missed Miami and our home community, I was wondering why I had accepted the job. But one day during oral arguments, this group of undergraduates from the University of Florida had come to watch. The marshal of the court had told me during a break in the arguments that one of the students wanted to meet me. I went out there to meet him, and he was a student who had just arrived from Cuba maybe a couple of years before. He still had a heavy Cuban accent and had gotten a scholarship to go to the university. He told me how proud he was that we had a Hispanic on the court and that he knew it was possible to reach whatever heights we wanted to as Hispanics, that I was an example to the community. That was an affirmation to me of why I had done it, and the importance of having a Hispanic on the court.
LD: I know that in other articles you have said that the Terri Schiavo case really stands out, when looking back at your tenure. Do you still feel that way?
RC: Well, there certainly were some important cases while we were there, but yes. There's a saying that you don't really become a judge until you rule against the person who appointed you. That was the first case in which we ruled against the Bush administration, and the legislature. We did it unanimously. We all agreed it was the legal thing to do. To me it showed that regardless of who appoints you, you have to apply the law as you see it. That's why it was an important case to me. A lot of people accused us of being an activist court. That's actually an example, not of judicial activism, but of restraint, because we were following the separation of powers and were also giving discretion to the trial judge to make factual findings, and not deviating from the factual findings. The term judicial activism, while it has its place, is often overused.
LD: How did you start to think about leaving the court?
RC: It began with my family clamoring to move back to Miami. We come from a very large extended family with a lot of aunts and uncles, nephews, nieces and cousins. Every month there's somebody's birthday to celebrate, or some communion, or graduation or something else. My kids really missed that camaraderie of being with the extended family. My wife and I at some point said, "I guess it's time." I didn't think I would be leaving after six years. If I had stayed two more years, I would have become chief justice, and then I would have been chief justice for two years. I thought I would be staying at least ten years. As it worked out, they've loved being back and have thrived in Miami, and we do have a great extended family and I was able to make a career here. I don't regret the decision.
LD: What type of career were you seeking and how did you end up at White & Case? You must have had some offers.
RC: Once I had decided to leave I made a public announcement so the governor could start thinking about my replacement. Firms started calling me, and I decided that I was going to talk to everybody who called and not exclude anybody. As the interview process went on, it became clear to me that I thought I should go to a multinational firm with a substantial litigation presence in Miami. That kind of narrowed it down because of the international firms in Miami, many did not have large offices here or large litigation departments. At the time I came here there were 100 lawyers in Miami at White & Case, and about 40 of them in litigation. I thought that having a large litigation department would give me an entry into handling appeals, and also into the arbitration area. I thought that being in Miami, international arbitration would be one of the areas that I could focus on in addition to appeals, and White & Case offered a combination of all those things.
LD: Have you enjoyed the mix of work you're doing?
RC: I do like the mix. Obviously I have a lot of experience in appeals, but I've always yearned to keep learning new areas of law. I had never been involved in an arbitration, and within a year of arriving at the firm I represented a client in a $10-million arbitration matter. I examined witnesses, cross-examined witnesses and did opening and closing. It's a stressful experience to do it for the first time, but once you do it, you feel great satisfaction that you've adopted another skill, and that you're becoming better as a lawyer. I always want to keep learning, becoming a better lawyer. I don't think lawyers should ever stop learning new skills and honing the skills that they do have. It's been exciting for me to be in the trial practice and the arbitration area, because it gives me a chance to learn and interact with clients.
LD: Have you been supportive of what's been going on with renewed relations with Cuba?
RC: I am pleased that the Cuban people can have more interaction with the American people, because I know that for a long time they've been told misrepresentations about what the American people are like, what the Cuban-American people are like. They don't have a lot of access to the news of the world. To the extent that they can have more access, more freedom, freedom of the press and religion, and freedom of speech, I support it. I'm skeptical that the Cuban government is going to open those freedoms up. They haven't yet, they've never indicated that they want to. On that end, I think there's still a long way to go in Cuba. I think the United States has given a lot, and the Cuban government hasn't given much in return to normalize relations.
LD: Do you still write fiction once in a while, to take a break from the law?
RC: No. Unfortunately, I don't have time to write fiction although now my daughter, who is a junior at the University of Miami, is majoring in screenwriting. She's inspired me to help her with her stories, and think of ideas for screenplays, so I see writing in my future. Right now I'm so busy in the practice that I don't really have time. Writing fiction takes a big chunk of time that you have to step aside and focus only on that. I don't have those big chunks right now, but I'm hoping in the future that I'll be able to pick that up again.
LD: As the global head of diversity, can you talk a little bit about what the firm is doing in that area?
RC: First, let me mention that we've been rated number one in diversity among the big law firms for two years [in the American Lawyer's "Diversity Scorecard"]. I don't think we can rest on our laurels in that regard, because the numbers are still pretty low, and if we lose a couple of minority lawyers, our numbers can drop very quickly. One thing we're doing is we have affinity groups within the firm for minority attorneys so that they can discuss their issues and problems. We are making lawyers aware of what they call "unconscious" bias, where you don't mean to be discriminatory against a minority attorney, or a woman, but sometimes you might have an unconscious bias. Once people become aware of it, I think then they can try to control it.
Another thing we are doing is trying to get on campus to the minority groups at select law schools before the on-campus interview process in August, and to connect with minority students in the spring – so that going into on-campus interviews they already know about us, they know that we care about minority representation, and they choose to interview with us. There still aren't a whole lot of minority law students, and the ones that are at the top of their class are very coveted, so we want to make sure we get in touch with them early in the process and recruit them. It takes persistence so I think that's two things that we're focusing on – to keep doing it, and to make sure we're in the front of the minority students' minds during the interview process.