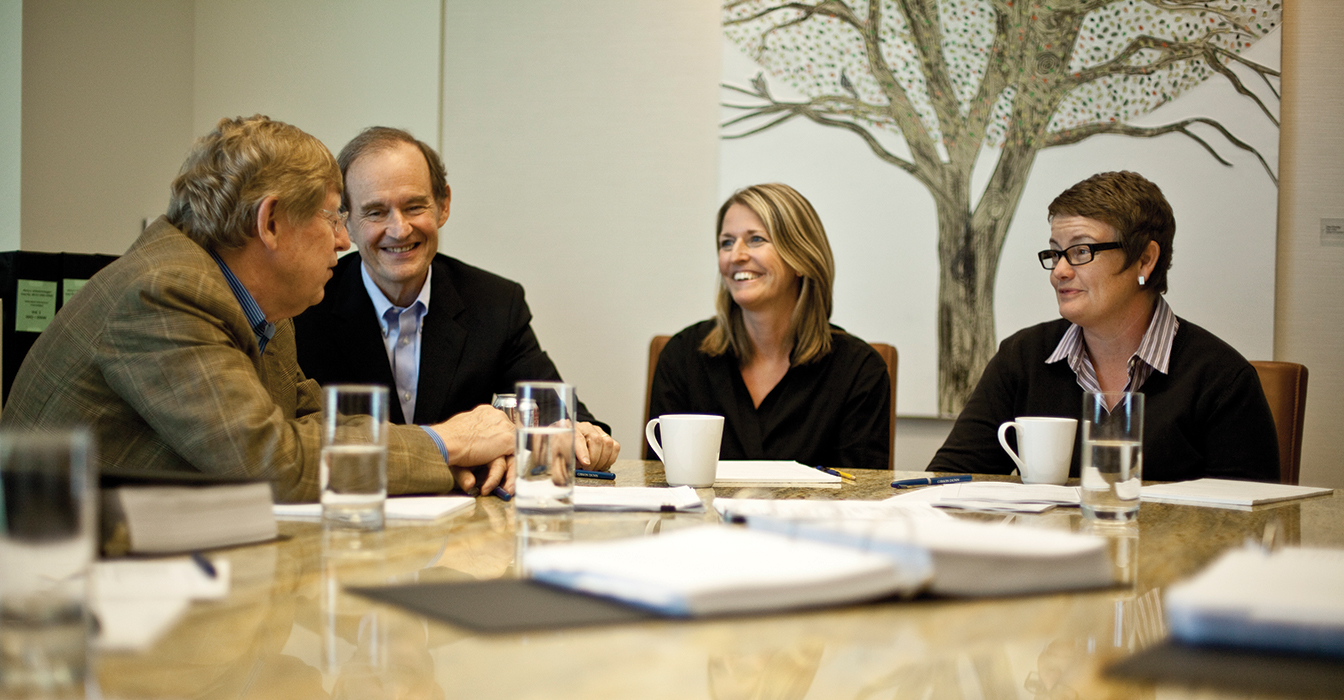 Magazine Feature: Lawyers who see their work as a chance to help others have been our mission for 10 years. It's been a wild ride. (Photo of Ted Olson and David Boies with their clients in the Prop. 8 case, Sandra Stier and Kristin Perry, by Gabriela Hasbun).
There's a golden-white hue to the light in California that can make anything seem possible.
That's how it was one early autumn day in San Francisco, walking down Market Street to visit an old friend. Jeff Bleich was a rising star at Munger Tolles & Olson in the early '90s. A recent clerk for U.S. Supreme Court Chief Justice William Rehnquist, he had done a stint on the U.S. Iran-Claims Tribunal and made his mark on work for Warren Buffett at the same time he handled an important case over benefits to the homeless in San Francisco, known as the Matrix Case. When he was sworn in as State Bar President of California in 2007, his three young kids did an admirable job of not misbehaving.
He's traveled the world since, first as Obama's Special Counsel in his first term, and then as Ambassador to Australia. Today, we catch up on Bleich's recent work for Silicon Valley companies in cybersecurity and overseas trade, as well as his role winning posthumous admittance to the state bar of the nation's first Chinese lawyer.
But it's when we turn to his most recent pro bono client, a woman abused by a relative when she was a child, that he mists up. At the terrible abuse she suffered, of course – and which he will argue to the state Supreme Court she should not have to revisit – but also with simple gratitude that he has the skills to help her.
We all have a chance to make the world better for someone every day, he says. And as lawyers, we also have the responsibility.
That's a big statement in this financially-calibrated era, the notion that lawyers have a responsibility to help others. And that it's responsibility, rather than reward, that defines what it is to be a lawyer.
Turning right at The Embarcadero, I look in the windows at Chaya, and the table at which the mission of Lawdragon started to clarify in January 2010. The Prop. 8 trial, Perry v. Schwarzenegger, had just opened in the courtroom of U.S. District Court Judge Vaughn Walker, and Ted Olson and his wife, Lady, and David Boies were having dinner with several writers. It was already clear the trial could be a blockbuster in public acceptance of marriage equality by the raw audacity of putting discrimination on trial. While some lawyers questioned the strategy, Olson and Boies that night predicted the case would lead to the U.S. Supreme Court finding a constitutional right to marriage equality.
That night, I knew I had gone down the rabbit hole. And, like Alice, nothing would ever be the same again.
---
The important thing about building a business, any business, is to not stop. You. Must. Keep. Going.
That has been Lawdragon's mantra since 2005, when a crew of very talented but frustrated reporters from the Los Angeles Daily Journal decided to break out of our paywall and build a legal media company for the future. Better to take the battlefield ourselves and win or lose on our own terms than cower in the face of the inevitable death by a thousand cuts that had begun to define newspapers and reporters everywhere.
The tale of Lawdragon's first 10 years is weirder than even Alice could imagine. Forget talking caterpillars. As I write this, our editor, John Ryan, is in Guantanamo Bay reporting on the case against the 9/11 defendants, while fine-tuning this magazine. Perhaps the first U.S. magazine produced in Cuba in the past 50 years?
You don't plan for these things. We've been accompanied by our own Cheshire cats, and even met a Queen of Hearts. We've traveled over a million miles to meet lawyers from Seattle to Johannesburg in search of what it is to be a lawyer.
We started Lawdragon because we knew the future of legal news was digital. But we also had a different philosophy than that of the dominant legal media, which seemed impelled largely by the profits-per-partner in New York corporate law firms. As a crew mostly from L.A., we aimed to give voice to a nation of great lawyers with different thoughts and approaches to justice that included but also transcended corporate deals and litigation, to write about plaintiff lawyers and judges, corporate counsel, government lawyers and public interest leaders on an equal footing with BigLaw.
It sounds so obvious now, but preaching digital in 2005 was an entirely different proposition. I'll never forget celebrating with our co-founder Robin Davidson at a bar in Brooklyn when Cravath's Evan Chesler agreed to be on our third cover of the quarterly print magazine we put out in the first few years to validate what we were doing online. (The bar also served free pizza, which was greatly appreciated.)
The financial collapse of 2008-2009 was our mushroom. Survival meant being very, very small – not hard in a world without money, where enormous institutions were crashing all around. But it also provided the answer to the very large question of what it is that matters in the law – because in a world without money, there must be something else.
The failure of money as the critical value proposition in law was laid bare by the thousands of partners jumping firms in search of safety, and the dozens of firms – most cobbled together by branding and ostensibly economics – that imploded with barely a whimper.
What survived are the lawyers you read about in these pages. Some make a fortune, others enough to live on. But money is not their measure.
Impact is – they take to heart the responsibility to make a difference.
---
It's bitterly cold in Wilmington, Del., on the day Leo Strine is sworn in as Chief Justice of the Delaware Supreme Court, succeeding the universally admired Myron Steele, who in 2013 joined Potter Anderson after 25 years on the bench. Steele and Strine solidified Delaware as corporate America's Main Street during their 15 years together, pairing Strine's acid insight and skepticism with Steele's military stoicism and gravitas.
Ruth Bader Ginsburg and Antonin Scalia, Olson and Boies… it's hard to think of many legal pairs who've had the impact of Steele and Strine. Together they've written more than 800 opinions defining corporate conduct for the likes of El Paso, Martin Marietta, AIG, Blackstone and Yucaipa. Steele earned $191,000 his last year as Chief Justice, while Strine earns $201,000.
Delaware judges have very cool groupies – Ted Mirvis and William Savitt from Wachtell, Mark Morton of Potter Anderson, Rick Climan of Weil. I joined the pack early on by way of a "real-life" corporate law class, "Mergers, Acquisitions and Split-Ups," that Strine taught at Harvard with former Dean Robert Clark. Throughout the fall of 2007, a heady array of New York dealmakers traveled to Harvard to teach students from the law and business schools about how deals were really done – Richard Parsons, the late Bruce Wasserstein, Paul Cappuccio, James Morphy, Eileen Nugent, Lou Kling and Climan.
No star shone more brightly than Strine, then an upstart Vice Chancellor in Delaware, making a mark with his sharp pen and lacerating questions while powering through the world's most influential corporate docket. I followed Strine all over Delaware, as well as to his class at Penn. We sat on the floor at the back of the Tulane Corporate Law Institute one year so we could get some work done while mostly paying attention. He is nothing if not direct, and has spoken often about the challenges of raising a family on a judge's salary, which, while not peanuts, is a fraction of a fraction of what the lawyers who appear before him earn.
Judges like Strine and Steele, and the 7th Circuit's Judge Richard Posner, members of the Supreme Court, and career advocates like the Solicitor General's Edwin Kneedler live the responsibility of the law every day.
---
New Orleans has always had a special meaning for Lawdragon.
As we selected our first Lawdragon 500 Leading Lawyers in America in the late summer and fall of 2005, we used our California connections to call lawyers all around the country, looking for the best antitrust lawyers, the best education lawyers, securities litigators and so on. Our network of sources grew as John and others got lawyers on the phone, and patiently explained we were not some weird new cult, but rather a serious journalistic enterprise with a weird name. (It's still the number one question we get; dragons are strong and powerful and protect you.) Lawyers throughout the country gave us their time and trust and we knew if we did a great job, we could leverage the 500 network into a new approach to legal journalism.
Our first magazine was smart and impassioned, with a look at a new effort to help foster children in Oklahoma, what turned out to be the successful effort to take down securities litigation honcho Bill Lerach and a controversial article, entitled "Shades of Gray," on whether there should be term limits for Supreme Court justices. The Court had announced in Oct. 2004 that Chief Justice Rehnquist was being treated for thyroid cancer, and he had missed 44 arguments in 2004 and 2005, after decades as the indomitable leader of the court. His fellow justice, Sandra Day O'Connor, had announced her retirement that summer to help her husband, who was suffering from Alzheimer's. We offered a philosophic take on an aging court.
As we headed to print, two things happened: what was once Tropical Storm Katrina became a Hurricane and hit the Gulf Coast and New Orleans on Aug. 29. Rehnquist died the evening of Sept. 3. That was our start, and there's not been a dull moment since.
We've spent a lot of time in and around New Orleans since then, because of great friends as well as the litigation from the Hurricane and then the BP oil spill. Lawyers like Russ and Steve Herman and Steve Lane of Herman Herman & Katz and Lee Sher and James Garner of Sher Garner show every day what it means to work in a community, especially one in need. Meeting shrimpers whose livelihood was lost, or telling the story of Sher Garner's emergency response to get businesses back on their feet, teaches you a lot about the difference lawyers can make. So did our visit to Reilly Morse, whose environmental practice in Gulfport, Miss., was washed away. Our longtime photographer Hugh Williams and John Ryan went in early 2006 to document his story, of loss and finding the strength to rebuild.
Sometimes you lose more than you wanted on the way to where you're going. That's been our experience. Building a company is tough stuff and, as I recently explained to a friend, not everyone wants to be a pirate forever. Folks who will always be dragons to us are making their mark at great law firms and as writers and parents elsewhere. The journey would not have been possible without them, our families or the hundreds of lawyers who have shared our journey.
---
If you're going to jump off a bridge, jump off a bridge.
That's been a catchphrase of the last 10 years, not in a grim, mortal sense but as a definition of real risk. Our own experience – imagine dragons jumping off bridges – may give us a greater appreciation of the role that risk plays in today's most successful law practices. You can't really say, well, I'm going to 10 percent jump off a bridge, which is what a lot of big firms seem to think.
Whether you call it partnering with clients, shared risk, the Susman model or contingency work, no model of law practice is more lucrative when done right.
Plaintiff firms have long profited from rolling the dice on clients – from Joe Jamail to Bernstein Litowitz to Gibbs & Bruns. Today's hottest commercial law practices are also risk-based: Boies Schiller; Wachtell; Quinn Emanuel; and Susman Godfrey.
The thing is, you can also lose. Or as our dear friend Russ Herman once said, "Every time I walk into court I can lose everything I've ever had or ever will have." So what you need to do better than the other side is know your risk, plan for it, and figure out the edge you need to have the chance to come out way ahead.
We'll return to David Boies momentarily, but let's focus for a moment on the profit powerhouse he and Jonathan Schiller have built in less than 20 years. Like all such enterprises, for at least a period of time, it's a high-wire act. But it's also one where if you make the crossing, you can bring home a $100M payday.
In the past 18 months, Boies Schiller New York managing partner Nicholas Gravante hit on two huge contingency cases, winning a $1B valuation for his client's share of AriZona Iced Tea, and a $663M award from Trinity Industries in a Marshall, Texas, battle alongside Karen Dyer, George Carpinello; Sam Baxter from McKool Smith; and former federal judge T. John Ward of Ward & Smith.
Gravante spent decades perfecting his craft, starting at Cravath, then learning to try cases from New York criminal defense maestro Gerald Shargel. As a partner at Boies Schiller, Gravante's come center stage, which he backs up with a team that has a taste for winning.
And then there's Steve Susman.
He started his career at Fulbright & Jaworski, then started teaching at the University of Texas Law School before moving to Mandell & Wright to try the Corrugated Containers antitrust case on contingency. He won $400M, and an $8M fee – enough to start Susman Godfrey, in 1980.
Enough, also to create one of the best Susman stories of all time. When now partner Robert Rivera interviewed with Susman back in 1990, he asked whether the large, strange piece of cardboard on Susman's wall was a memento of the case that launched the firm.
"No, fuck-face. It's a Rauschenberg," Susman replied, of the artist whose work he collects.
And like a Rauschenberg, Susman and his crew are both deceptively simple and ridiculously good. They are elemental, and grind a case to the ground before deciding to take it on. They thrive on risk, and folks who don't may pass a spell in their halls, but they won't be there tomorrow.
Seattle partner Parker Folse explained the philosophy as: "You make of this what you will, if you make a good thing, you'll do well." Folse himself put a punctuation mark on that winning an $88M fee for a case he never filed.
Folse, Neal Manne, Bill Carmody, Vineet Bhatia, Geoffrey Harrison, Max Tribble, Jacob Buchdahl – they don't want to do well if their clients don't. Susman has preached and lived that mantra for years, and pound-for-pound his firm can make the message resonate for decades to come.
"The fact this firm turned out to be so successful as a business is really an incredible tribute to Steve," says Folse. "He made so many personal sacrifices over the years so the firm would succeed, and so the people within it would succeed personally." Susman and Lee Godfrey basically worked like mad dogs for years to just keep the doors open.
And though Susman himself has done fabulously well, it's because he was far more selfless than selfish, Folse says. "He wanted all of us to feel a sense of ownership in what he was trying to do, as opposed to us working like slaves and him making a lot."
From the beginning and to this day, Susman reportedly takes out less in client attribution – what a lawyer takes home at the end of the year – than almost any other partner.
You can do well by doing good.
---
Which leads to David Boies.
He's epic.
Yes, he is written about quite a lot. And yes, he is famous. But his legend substantially predates the era of being famous because you are famous.
He earned it. He was a partner at the nation's quintessential power firm, Cravath, Swaine & Moore, for 37 years, starting his second act at his own firm at the age of 57.
He is a great lawyer, with a fiendish mind inhabited by a savant, an artist, a disciple of Sun Tzu and a very cool guy who likes to play poker and drink good wine.
His range of impact is unsurpassed: IBM, the U.S. against Microsoft, CBS in the Westmoreland case, Bush v. Gore, George Steinbrenner, AIG and Hank Greenberg, Napster, Sony Pictures, and, of course, marriage equality.
That means, in short order, his work has helped define the terms of our technology, our business economy, the presidency, social justice and press freedoms. That's the short list.
He should be forever remembered for all of those battles, but none moreso than marriage equality. With Ted Olson, he laid the cornerstone of a revolution in public opinion in favor of gay marriage. Many soldiers and field generals won and lost battles, but it was the profile of Olson and Boies that electrified the discussion.
Day after day in federal court in San Francisco, Boies, Olson and Ted Boutrous pounded away at the tent erected to justify discrimination, collapsing it to show not even a white elephant inside. The case made a speed track for 30 years of efforts throughout the country to win acceptance by the Supreme Court in Obergefell, argued by Douglas Hallward-Driemeier and Mary Bonauto.
Boies once noted that if there's an exciting new play or happening, he will not have seen it. His life is nicely distilled to his craft, his family and friends.
And really, what else matters?
---
Jayne Fleming went to law school because she was a single mom with two kids to feed. Fast forward 15 years and she is the advisor to Sean Penn's efforts in Haiti, the pro bono director of Reed Smith, and has established a project in Afghanistan to bring the rule of law there.
She got her start as a first-year associate representing a woman who had been gang raped in Guatemala, winning recognition by the 9th U.S. Circuit Court of Appeals that rape is a weapon of war. Fleming recently helped a Honduran mother and her child who fell off a train in Mexico while escaping threats to their lives, with the son losing his leg and the mother suffering a crushing arm injury. Fleming and her team helped find the documents they needed to be considered for, and win, asylum.
You don't need to care about refugees, marriage equality, or wealth disparity, #BlackLivesMatter, or climate change or be in Guantanamo defending accused terrorists. But you should care about something.
It's a little frightening, actually. It's like falling in love with someone who may not love you when you care without knowing whether you can make a difference.
I believe in impossible. If our ethos is embodied in anyone, it's John Ryan, who with our famously limited budget has travelled in recent years to The Hague, Bosnia-Herzegovina, Serbia, South Africa and, perhaps most excruciatingly, Rwanda, to research and write about how governments and societies account for massive human rights violations, through legal and other efforts. It's the same curiosity that has him now at Camp Justice in Guantanamo Bay. Finding out where and when lawyers and the rule of law can make a difference – and when they cannot – is important because, well, it's important.
It's ridiculously old-fashioned, but it may just be that it matters to try to do something that matters – and if you're a lawyer, to look in the mirror and ask hard questions about what it is you do with those gifts and skills you have been given.
Cheryl Little asked herself that in the midst of a successful career as an antiques dealer. And her answer led her to enroll at the University of Miami law school, where she volunteered to help Haitian refugees fleeing the regime of Haitian President Jean-Claude "Baby Doc" Duvalier. After his overthrow, she used her law degree to win freedoms and protect the rights of thousands of Haitians and other refugees (some of whom were held at Guantanamo).
To say as the executive director of the Miami-based Americans for Immigrant Justice that she's in the eye of today's storm understates the case.
And it's not just Miami or even the Southwestern U.S. We are in the midst of mass migration of people fleeing war, crime and repression throughout the world, seeking to open a door when so many have slammed shut. The juxtaposition of Syrian immigrants being turned away at European borders while some U.S. political rhetoric diminishes immigrants' basic humanity could not possibly be more sickening.
This is no more an abstract, unsolvable issue than was marriage equality just 30 years ago. Today, Little and others are working tirelessly to help tens of thousands of children who have fled El Salvador, Guatemala and Honduras under threat of death or rape if they don't join a gang or otherwise comply with violent regimes.
In the U.S., these children face deportation back to life-threatening situations with no right to a lawyer. Along the Southwest border, tens of thousands of children, including toddlers, fill government-mandated beds in detention camps, enriching private contractors while diminishing us all. Because of "national security" concerns, their asylum claims are heard with no due process rights.
And still, Little goes on. As do great lawyers everywhere who understand the law is not just a license, but a liberty, and an opportunity to do something that matters.