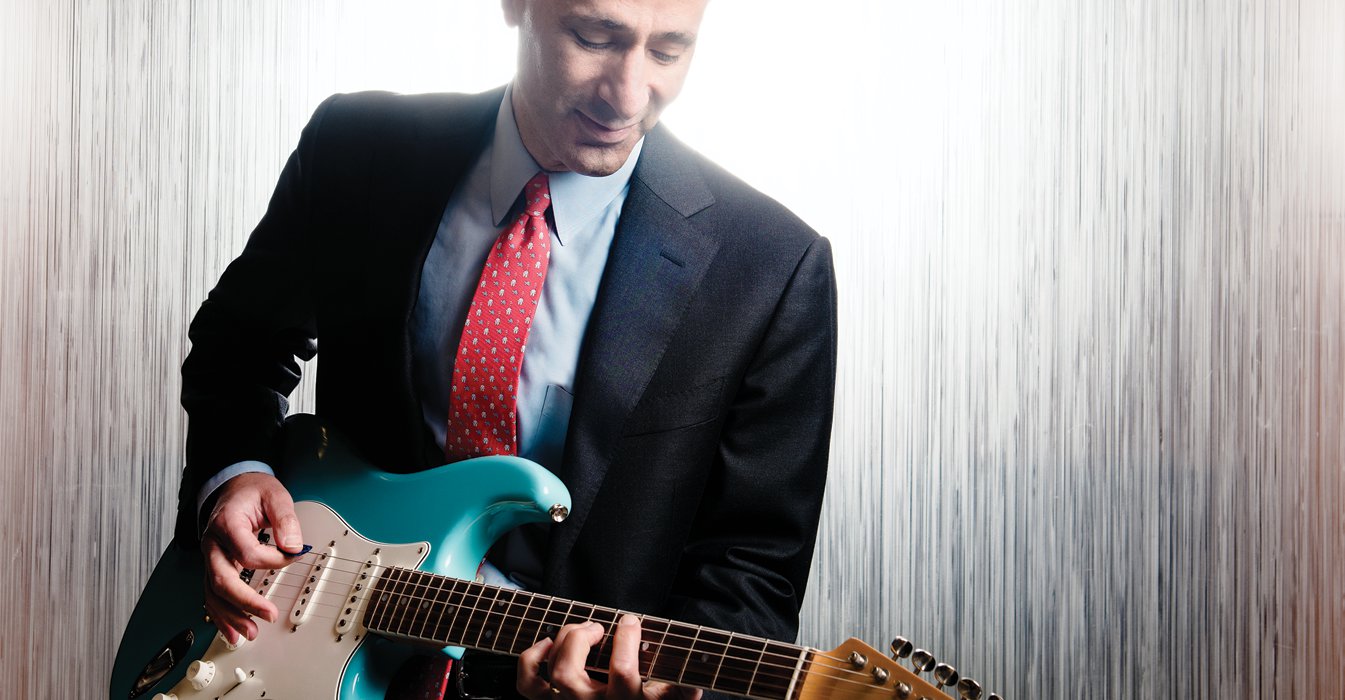 Photo by Laura Barisonzi.
He's just another rock 'n roll singer-cab driver who studied jury dynamics of 19th-Century France and now handles the most important corporate battles in the world as the co-head of litigation at Wachtell, Lipton, Rosen & Katz.
If you read the Wall Street Journal, you might as well be looking at Bill Savitt's daily calendar. He successfully defended a poison pill for Sotheby's, which was under attack by an activist investor; defended the merger of the New York Stock Exchange with the InterContinental Exchange; defended the going-private sale of Dell; and also defended Allergan under a hostile bid from Pershing Square and Valeant.
He's currently representing Charter Communications in litigation flowing from its merger with Time Warner; Chubb in its merger with ACE; and a few years back blocked Martin Marietta's hostile takeover attempt of his client Vulcan Materials before then-Delaware Chancellor Leo Strine. A raft of his current cases are appraisal matters – the bane of corporate governance today – meaning that when you do a deal, you don't know how much it will cost you. Good luck with that.
At any one time Savitt is deep in the weeds in multiple cases involving billions of dollars and do-or-die matters for investors, executives and employees, playing out in multiple courts, typically including Delaware and New York. If Corporate America has a voice, it is that of Wachtell, and among Wachtell's storied litigators, Savitt is, well, you know. A rockstar.
Lawdragon: What's with the guitar?
William Savitt: It's a historical artifact. I play it every once in a while but mainly keep it around the office as a reminder of a past life. After college I moved to New York to have a go at the music business. I'd had an indie band at Brown and we all came down here after graduation and started a new band, called Section 8. We played the bars on Bleecker Street and Ludlow Street and even had a few shows at CBGB's, which remains a lifetime highlight—on par with arguing in Chancery. After that band broke up I tried out a solo act. I'd just go onstage with an electric guitar and sing. It's a tough business, the music business.
LD: And I understand you also drove a cab?
WS: That's true. At the same time I was playing music I had to make a living, because the gigs barely covered the cost of equipment. So I got my hack license and started driving a cab, which is another tough business. I met a lot of interesting people driving a cab, though, and part of the intrigue is that you never know where you're going next.
LD: How did you get from rock singer-cab driver to studying European Legal History at Columbia?
WS: Well I had some friends who were in graduate school and reported that they were being paid for it, which at the time amazed me. That seemed like a pretty good deal, so I applied to the Ph.D. program in French history at Columbia.
During my coursework, I gravitated toward a dissertation topic in legal history. My research was mostly at the National Archives in Paris. I focused on the courts of Dijon, in Burgundy, which had particularly well-preserved archives and was demographically representative of France as a whole. I read through all the records of the nineteenth century jury trials. After a year in the archives, I came back to New York and started writing my dissertation.
LD: What was your dissertation topic?
WS: The plan was to assess the introduction of the jury into French society. Juries hadn't historically existed in France; the Enlightenment philosophers admired the institution and then the Revolution imported it from England. The thesis of the dissertation was that traditional French historiography had misunderstood the behavior of juries and jurors once the system was established.
LD: Can you explain what that means?
WS: French history is, or at least was, dominated by Marxist or Materialist interpretations. The basic idea is that social class and economic position drive history and so the shape of politics and law are an effect of underlying economic arrangements, not the cause. In the nineteenth century, only property owners could serve on French juries, and the national statistics showed that the conviction rate was much higher for theft and other property crimes than for murder and violent crimes. The traditional materialist explanation was that property owners were concerned with protecting property rights above all else.
But I found a different and I think better explanation when I looked past the aggregate statistics and read the descriptions of what actually happened in court.   About half of property crimes, or even more, were the equivalent of plea bargains—defendants were caught with stolen property, and had no possible defense, so what they did, quite rationally, was confess in exchange for a more lenient sentence. The defendant would stand up and say, "I did it, I'm really sorry," and under French procedure there was nothing left for the jury to do but to render a conviction.
Whereas the narrative for violent crimes was entirely different. These cases tended to have a sense of evidentiary ambiguity that did not exist in the property cases. You have a barroom brawl that gets out of control and someone gets hurt. The defense is, the other guy started it; or self-defense; or an intolerable insult to family honor, you name it. And the evidence presented in these cases tended to be badly incomplete, raising very close questions for the juries, and therefore higher acquittal rates. So I concluded that there were concrete evidence-based reasons for the differences in outcomes. And in that way the project evolved into a defense of the jury system.
LD: Sounds like your time in France was very productive.
WS: And that's not close to the half of it. I sublet an apartment in Paris from a friend of a friend of a friend, and wound up falling in love with and marrying my landlord – or landlady, I suppose.
LD: Did you finish your dissertation?
WS: I was making progress on the dissertation but I decided to pursue a joint Ph.D.-J.D degree. And then when I graduated law school in 1997, I was lucky enough to get a clerkship with Pierre Leval on the Second Circuit. There's no judge anywhere who's a better mentor or better to work for. Judge Leval has the ability to range over every topic of law – bankruptcy to criminal to corporate to contracts – with enormous sophistication without missing a beat. He would sometimes admiringly say that Judge Friendly, for whom he clerked, knew all law. I'd say that Judge Leval knows all law. He's like Westlaw, but with pitch-perfect analytical ability.  And a much better sense of humor.
LD: Tell me a little about your time clerking on the Supreme Court for Justice Ruth Bader Ginsburg.
WS: That clerkship started shortly after my time with Judge Leval ended, and it was for the second year in a row just the luckiest, best job you could hope to have.   Justice Ginsburg is a hero.   Before she was a judge she was a truly brilliant litigator. She litigated the equal rights cases with uncanny tactical discipline and foresight. She's been such an important judge that I'm not sure she is credited enough for her advocacy.   And now she's been a justice of the Supreme Court for over 20 years and has emerged as the most articulate, forceful, persuasive voice on the progressive wing of the Supreme Court. She's an incomparable person of incomparable achievement, and then you meet her and she's unassuming, down to earth, kind and just plain delightful.
LD: Is Justice Ginsburg why you finally said no more French legal history?
WS: I've never said no more French legal history! Maybe I'll never finish the dissertation but I haven't given up yet. If I could just find a free month…
LD: Did you consider staying in Washington, D.C., for practice?
WS: Most of the Supreme Court clerks stayed in D.C. to work for firms with a Supreme Court practice. But I was more drawn to private law than public law, and I found corporate law particularly interesting. During my clerkships I always volunteered for the commercial cases, the contract and fiduciary cases. For that kind of practice, New York made more sense than Washington.
What was less clear was the choice between a transactional practice and litigation. At the end, I really like reading cases and mixing and matching arguments from different lines of cases and different branches of the law. And I found more of that in litigation.  But in a sense, my practice in corporate governance and merger litigation straddles the line between litigation and corporate. And our firm recognizes how thin the membrane can be between corporate and litigation, and ensures that our matters are handled on a task-force basis that involves all the relevant legal disciplines.
LD: For at least the past decade, maybe more, Wachtell has been on the front lines of the evolution of stockholder litigation. From inventing and defending the poison pill, you now are ground zero for the "every-deal-begets-a-lawsuit – maybe two!" era. And, as a firm, you and your partners are passionate and prolific writers about your views on activism and corporate governance.
WS: The world certainly has changed when it comes to the volume of deal litigation. Not that long ago, merger litigation was occasional. Squeeze-out deals drew litigation; and there might be a suit to challenge a manifestly deficient proxy statement. But deal litigation was the exception not the rule.
Now we see a lawsuit on every deal – and often more than one in more than one place. But I think the pendulum may be shifting back. My guess is when they do the data for 2015 we'll see a downtick in the frequency of merger litigation.
LD: What are some of the factors contributing to a shift?
WS: The advent and clear judicial acceptance of forum selection bylaws makes multijurisdictional litigation difficult and will disincentivize duplicative lawsuits.  We are also seeing greater judicial receptivity to motions to dismiss fiduciary cases where the pleadings don't disclose a real factual basis for suit. There have been a number of dismissals, in Delaware and elsewhere, confirming the importance of weeding out non-meritorious cases early, before discovery costs mount. The courts are also turning up the pressure on the settlement process to ensure that settlements are substantive and fair. That trend should also reduce meritless filings.
LD: Let's talk a little about the Wachtell way, which strikes me as being deeply thoughtful about your clients' business on the highest levels.
WS: We are taught from day one to think in a holistic way about our clients. No matter what the lawsuit or transaction, we make it a priority to bring detailed knowledge of the objectives of the company, and the people who comprise it, and the whole range of business and legal risks they face. We like to think of clients as partners, and for the long haul. With that philosophy, we've been able to develop many very close advisory relationships. There's nothing more gratifying in the practice of law.
Another distinctive aspect of the firm is that it always encourages its lawyers to think beyond the case and to think about the law and its development, and to try out new theories, new deal structures and new arguments. Our founding partners imbued the place with a spirit of innovation, and it carries through everything we do.   Not once since the day I showed up have I been discouraged from teaching or writing or pursuing a new solution to a client problem or rethinking an issue from the ground up. We're a law firm of course, but we're also a kind of think tank on corporate governance and corporate law.   And we remain true to the vision Marty [Lipton] and Herb [Wachtell] articulated when they hung out their shingle: to bring together a small group of deeply committed people who would practice law with maximum intensity and at the highest level. It's a privilege to be a part of it.
LD: What do you do when you're not working?
WS: Objection, foundation! But seriously, I have a wonderful family and I spend every minute with them that I can.