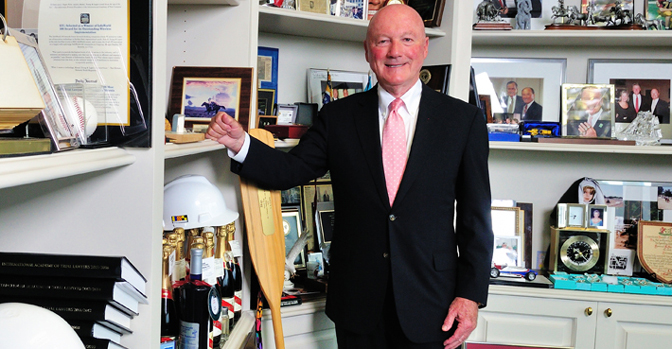 Photo by Thomas Wasper.
As a young lawyer, Skip Keesal decided to set up shop in Long Beach, reasoning that – if the business tanked – he would have easy access to play volleyball, a hobby he picked up as an undergrad at California State University, Long Beach. Instead, his firm thrived and Keesal has garnered an endless string of awards for his diverse litigation practice, including a standout securities arbitration specialty, as well as his charitable contributions, many of them made to the Long Beach community. Keesal, Young & Logan, which Keesal founded in 1970, five years after he graduated from University of Southern California School of Law, is a full-service firm that also has offices in San Francisco, Seattle, Anchorage and Hong Kong.
Lawdragon: As Lawdragon looks back on 10 years of covering the profession, is there anything you can discuss in your practice or personal life that has changed the most in the past 10 years?
Skip Keesal: I don't think there is too much. I've got a beautiful family and enjoy the things we do on our off time, and I certainly enjoy the practice of law as well as the people I practice with. At our firm, 78 percent of our people have been with us since graduating law school or at least had their first legal job with us, and six of them have been here with me for 40-plus years. We've really got a great group. I can tell you that they are wonderful people, and wonderful lawyers. So not much has changed – I have a very active trial practice, and in my personal life I have a wonderful wife and three kids. That couldn't get any better.
LD: Can you talk a bit about what it was like to grow up on a ranch? I read that you've continued to do roping competitions. Are there ways in which that upbringing continues to affect you today?
SK: I'm not sure to what extent it affects my life now. I've always been somebody who has enjoyed the outdoors. I love horses, and I have a horse now. I enjoyed riding horseback when our family first went to Tucson, and we ultimately moved there. We had a ranch and built a roping arena on the property. I rodeoed professionally for many years, seriously for a couple of those years. I still have a roping horse, although time has prevented me from doing that recently. On my 60th birthday and my horse's 30th birthday, we went into a roping competition and nobody told me or my horse we were too old, and we came out on top. I love that, I love the competition of it. I like the idea of being outside and doing something different than the indoor practice of law.
LD: What drove you to pursue a career in the law? As that interest developed, did you imagine yourself as a trial lawyer or did you expect to do another area of law?
SK: When I was 10 or 11 somebody said, "You've got a good gift of gab and should probably be a lawyer." Without much direction of my own, I thought, "If they think that's a good idea, I should probably do that." I always imagined that, if I would be a lawyer, I would be a trial lawyer. I thought that was the ultimate. If you're going to be a lawyer, you ought to be able to back up your position and be comfortable that, if it came to a trial, your position would be vindicated.
LD: Now that you've done 75 trials and many other proceedings, is there a lesson that carries through all of them?
SK: Absolutely. You have to be 100 percent straightforward and forthcoming. Our motto here is like the Ritz Carlton – ladies and gentlemen serving ladies and gentlemen. The JP Morgan Chases and UBS's and Phillip 66s of the world want people to represent them with style and grace, and we certainly try to do that.
LD: Is there one thing you've continued to do before each proceeding as either preparation or superstition?
SK: I have no superstitions at all. I prepare as much as I possibly can but use some common sense with regard to what needs to be done and what doesn't. If we start getting bad results, maybe I'll change that, but I doubt it. My view is that things turn out as they should turn out. If you can look a judge, jury or arbitration panel in the eye and say that your position is sound, then if you're right they will accept that.
LD: What is it about Long Beach that led you to found the firm there, and what has kept you there over the decades?
SK: I played volleyball at Cal State Long Beach and loved it. When I decided to go out on my own I thought that if I was in downtown Long Beach and didn't have any business – and I never believed I would – then I could go across the street and play volleyball. Fortunately I never had to play volleyball but that set us up in Long Beach and we've got 45-50 lawyers here in nice offices.
LD: You've earned numerous distinctions for your charitable work, and the firm is obviously very tied to Long Beach. Can you talk a little bit about why you built the firm this way – your motivation behind combining a law practice with public interest work and a commitment to the community?
SK: I'm delighted if those awards are right, but my bottom line here is that we're all in this together, in terms of the community, in terms of charity and in terms of our Foundation. We really feel strongly that we've had a good break. If we can help other people, in particular children, medically challenged people, people who would not otherwise get a break – education being an important part of that – we want to be here to help them to the extent we can.
Twenty-eight of our 80 lawyers are on boards of directors, unceremoniously, not looking for credit but because they want to help. They're not required to do that; they ask if it's OK on some occasions, on others they just do it. The point is that if you have really delightful, forward-thinking, practical lawyers they can probably really be of value to a board of directors of some of these charities, which may need some of those characteristics on their boards.
LD: I read that one of your mottos is "Lead from the side." Can you describe what you mean by that?
SK: A number of cases that we try have been with other law firms and are transferred over to us. That's difficult for the lawyers from whom it's being transferred. I always want to keep them involved. The thought is that they have pride and may have seen things a little differently than the client, but if we win, we all win, and if we lose, we all lose. There's always an incredible amount of historical knowledge that they have about the cases. So rather than push ourselves to the front, I believe in helping to move the project ahead from the side. I think that's worked out well. Our view of how to deal with litigation is to be the most gracious people in the room.