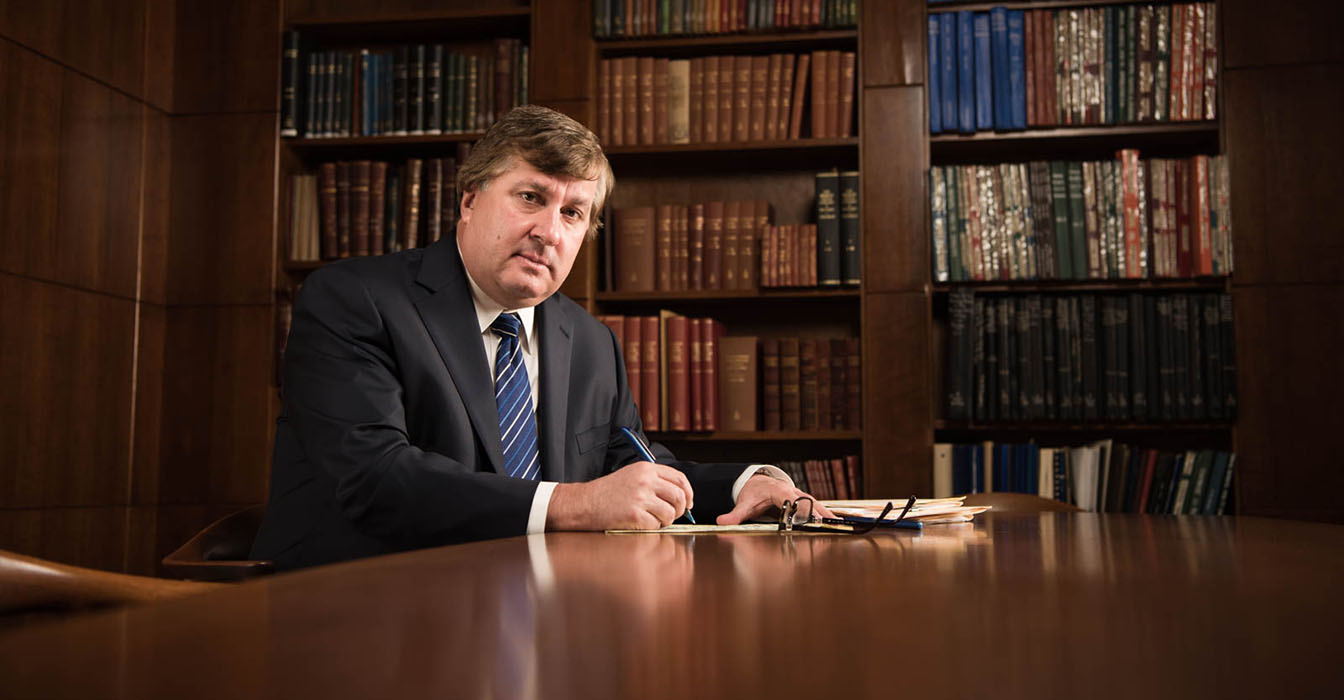 Photo by Laura Barisonzi.
Lawdragon is presenting a series looking at lawyers who produce vast amounts of business for their firms, typically $20M and up per year. Rare air. To start off, we talk to Nicholas Gravante Jr. of Boies Schiller & Flexner, a motherlode of rainmaking built by the top trial lawyers in the U.S.
It was hot as hell in Flushing Meadows, Queens, in August 2014. And at the annual sports and celebrity fest known as the U.S. Open, Nicholas Gravante of Boies Schiller was in full swing, schmoozing with clients from the Warhol Foundation, talking up the Brooklyn Public Library and thinking through his upcoming closing argument in the heated $2B battle over AriZona Iced Tea.
It had been a long summer, and he would head to Marshall, Texas, for trial in the Trinity Guardrail case in five weeks. That case, too, had blockbuster potential as it involved whistleblower claims that the guardrail manufacturer had knowingly installed flawed rails throughout the country, leading to death and severe injury.
He had worked tirelessly for more than two decades for a moment like this, attending every bar function; drinks and dinners five nights a week; leveraging coveted sports tickets to the Knicks, Nets, Islanders and U.S. Open; and political contacts that he stoked like his life depended on it.
And then his father had a stroke. His father was the lawyer to know in Bay Ridge, Brooklyn, where Gravante grew up and still lives with his family, just a few doors down from his childhood home, and across the street from where his wife, Jackie, was raised.
In that moment and the agonizing months that followed, Gravante's very big year turned into the kind of drama that puts even a platinum book of business in perspective.
Perhaps fittingly, Gravante thinks of business development as survival. From the time he graduated Columbia Law School in 1985, he has made a series of unconventional choices that gave him tremendous lawyering skills, as well as street smarts. He started out at Cravath, where he received exquisite training as a lawyer and formed relationships that have defined his career.
"In the mid '80s, at least, Cravath got business because it was Cravath. There was a nonstop series of cases and they had the luxury of picking and choosing what they wanted to do," he said.
After four years, Gravante was itching for real trial experience. He had an offer to join Rudy Giuliani's team as an assistant U.S. attorney for the Southern District of New York. But at the time, no trial was bigger than the expected prosecution of John Gotti and his colleague Sammy 'the Bull' Gravano for murder and other mayhem. Gravante decided he wanted to work for Jerry Shargel, a lawyer he had never even met, but one with a prominent reputation, who had defended Gravano and played a key role in the prior acquittals of both men.
The son of a paint store owner, Shargel was a solo practitioner who made his own way to the top of the criminal defense bar. Gravante's father had done the tax returns of Sammy Gravano, whom he knew from the neighborhood, so was called as a witness in a case against him. Because he had been so impressed with Shargel, he recommended Nick talk to him.
The rest is history. Gravante sent his resume, Shargel saw he was from Cravath and Columbia, and said he was hired. Shargel had never had an attorney with Gravante's credentials, and Gravante took the opportunity to learn how to own a courtroom, as well as how to get business.
"I saw the way Jerry hustled," says Gravante. "And I don't model my networking after Jerry's in the sense that Jerry hung out at the Ravenite Social Club with John Gotti and Sammy the Bull. But he needed to be seen, to have a drink with them, have lunches, go to parties. And I analogize that to the people I want to be doing business with. "
When Gravante moved a few years later to the Cravath spinoff, Duker & Barrett, he knew how to hustle, but now he had to hunt. "When your survival depends on bringing in business, you do it by necessity."
He's watched over and over how lawyers learn to develop business when they must, not because they should. And it is necessity that helps producers withstand the prospecting – what can seem like a blur of inconsequential meetings, plane rides, questionable uses of time, and yet another cocktail.
The monotony of the hustle is all forgotten when a contact hits. "You throw the seeds and maybe 5 to 10 percent of them grow, but they grow," said Gravante.
David Boies left Cravath in 1997 to found Boies Schiller and is the maestro of the jazz orchestra that is the narrative of each and every case, from hitting its first note to managing it through its unexpected and often thrilling end.
Gravante joined the firm in 2000 and has won Boies' praise. "Nick is an exceptional trial lawyer who has earned the respect of his partners and clients. His reputation and accomplishments have made him one of the Firm's key business generators. The Firm is lucky to have him."
Part of the magic of Boies Schiller is that – while Boies and Jonathan Schiller are vast rainmakers each and every year – lawyers like Gravante and D.C.-based Bill Isaacson also produce jaw-dropping amounts of business that often has little relationship to the top of the marquee.
"I get my work from everyone, everywhere," says Gravante. "I have no idea where my next cases are coming from, I just know they're coming."
Take, for example, his relationship with Judge Eugene Nardelli, which resulted in Gravante doing an internal investigation related to the Jared Fogle scandal, among many other engagements. Gravante met Nardelli because he was vetting an applicant as a screening committee member for the 2nd Department of the Appellate Division of the New York Court. An applicant for presiding judge of that department listed Nardelli, then retired from the1st Department as a reference, and Gravante called him.
The two became fast friends; Nardelli joined Boies Schiller as counsel in 2011 after 18 years as a Justice of the Appellate Division, and is well connected in New York politics. And today Nardelli and Gravante are a regular twosome at bar events, the Columbus Club and other Italian-American community dinners.
Gravante's rainmaking is also successful because he is a friend, who makes time for associates and fellow partners, stays in touch with people, making sure they have a cocktail or go to a game each year. One former associate remembered Gravante's criminal law background and reached out for help in the case of Stephen Kovacs, an Australian national who became a U.S. resident.
Turns out, after Kovacs' Manhattan store was robbed in 1991, he agreed with the insurance adjustor to commit fraud. When charges were filed more than five years later, Kovacs told his lawyer to just cut a deal so he could pay restitution and put his mistake behind him. Most important, he said, was that whatever charges he pled to could not have immigration repercussions because he traveled frequently to Australia and could not risk being kept out of the U.S., where his family lived.
As these things go, after the initial fraud, Kovacs did everything right but still was told in 2009 that upon his return to the U.S., he would be detained. Eventually, the case made its way to Gravante, who resurrected the ancient and arcane doctrine of error coram nobis – basically the opposite of habeas corpus (let the body go), and meaning a writ to release an error when no body is in custody. The error he relied on was made by the original lawyer who provided flawed advice on the immigration consequences of the guilty plea.
"Kovacs made full restitution and did not assert the statute of limitations because he wanted to accept responsibility," said Gravante. "He paid 100 percent of what he owes, his probation is terminated early, his whole family is in the U.S., his grandkids are here, and he's in Australia visiting relatives. He's told if he flies back to the U.S. he will be detained. So he's stuck out of the country for years."
Not only did Gravante convince the 2nd Circuit, he also wowed the New York Observer, which ran a banner headline declaring, "Boies Firm Sinks One from Half Court."
The combination of tireless networking, relationship maintenance and creative and connected lawyering is trademark Gravante. He became the lawyer to Mary Higgins Clark at Sid Davidoff's 70th birthday party in Sicily; his longtime friendship with Harlan Levy – until recently with the New York AG's office – has brought connections to investigations against Marathon Oil in Kentucky and a complex federal antitrust case; his longtime friendship with Paul Napoli's father led to Gravante's work in the breakup of Napoli Bern; work for Starr Companies in China propelled similar claims in Russia; he attends the Monte Carlo boat show in September each year, harvesting new clients; and a drink at Mr. K's while waiting for his family turned into a role representing one of the owners of Avianca Airlines. It does not hurt that he regularly plays tennis with Senator Kirsten Gillibrand, spends time with Andrew Cuomo, was an early fundraiser for Bill DeBlasio and is currently Board Chair of the Brooklyn Public Library.
Later this week, he will head to Punta Cana in the Dominican Republic for the 30th anniversary tennis trip of a group of well-connected guys, which Gravante joined about 15 years ago. Not surprisingly, he's gotten business there, as well.
Why do they do it? Ultra-producers are driven by many motivations, which largely come down to varieties of competition or compensation.
To Gravante, it's about pride. "Within our own firm, though I'm not in competition with my own partners, there is pride. We all want to be the partner that brings in the most business in a particular year."
"And we're a firm, we're partners. And not everyone has the inclination or the social skills. But I love doing it. I want to do it."
"It's exhilarating to win a case, but it's just as exhilarating to have a company retain you for a multibillion-dollar matter and say 'we're putting our confidence in you and entrusting you with our livelihood.' "
Gravante ended up winning a $1B payout for his client, John Ferolito, in AriZona. In Marshall in October 2014, he sat at the counsel table after the jury returned its $175M verdict, which is trebled under federal law. The lawyers with whom he tried the case handled press interviews with mobs of reporters outside the courthouse while Gravante sat, alone in the courtroom, enjoying perhaps the biggest win of his career and checking his Blackberry for updates on his father's health.
His father passed away in March 2015. A few months later, Judge Rodney Gilstrap added penalties to Trinity's tab, which now totals $663M. The case is on appeal to the 5th U.S. Circuit Court of Appeals.
Perhaps fittingly, Gravante and some friends purchased the boat where he and his family spent some of their last, best times with his dad. It's called Lady Victory.