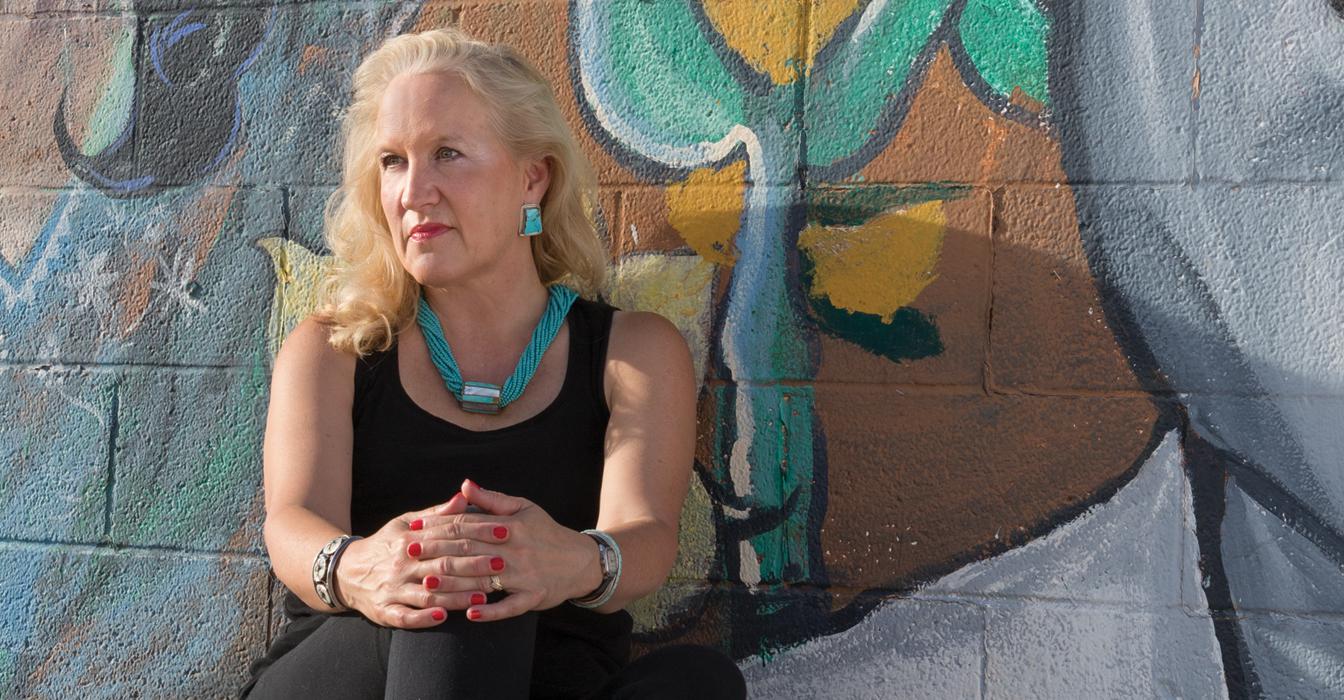 Photo by Kip Malone.
There's trial-lawyer tough, and then there's Randi McGinn tough – the little extra something that makes one a genuine badass and, in her case, one of the most accomplished plaintiffs' lawyers in the nation at Albuquerque-based McGinn Carpenter, which she founded and now runs with four women partners. Whether it's a depressing (at least at first) family move from Los Angeles to small town New Mexico as a high school student, giving birth the day before the bar exam or being denied a bank loan when trying to start her own practice, McGinn has blown by challenges to become the best at her craft – a trial lawyer, what she calls "storytelling on steroids."
When jurors go out and buy you a gift while the trial is still going, you know you're doing something right. Another sign, of the more serious variety, is when the district attorney in Albuquerque taps you to become the special prosecutor in the murder case against two police officers who shot James Boyd, a homeless man. That happened earlier this year after a judge disqualified the DA's office from the case. McGinn developed her trial skills prosecuting violent crimes in Albuquerque and in her civil practice has successfully litigated cases involving excessive force. McGinn, a graduate of the University of New Mexico School of Law, is also the author of the trial guide book "Changing Laws, Saving Lives" and is married to New Mexico Supreme Court Chief Justice Charles Daniels.
Lawdragon: Can you talk a little bit about what brought your family to New Mexico in the first place? In your younger years, did you think you would end up staying for so long?
Randi McGinn: At age 14, after my first year at a large high school in Los Angeles, my Air Force father was transferred to Holloman Air Force Base outside of the small town of Alamogordo, N.M. As my parents and four siblings drove from the West Coast, the surroundings became more and more desolate. No ocean, no green, not a single palm tree. When I opened the sliding glass door of our new home on the base, there was nothing but the stark Chihuahuan desert. My first thought was that I should just kill myself now as my life, at least the life I had known as a blonde, beach-going Southern Californian, was over.
In hindsight, the move to New Mexico was the best thing that ever happened to me. I was a mischievous teenager. The great thing about living in a small town was that when you were acting out – "borrowing" the giant Big Boy mascot from the local drive-in restaurant, stealing 100 lit Halloween pumpkins to place around the town fountain, sneaking out to White Sands in the middle of the night, for which the statute of limitations has run – people tend to call your parents rather than the police. Rather than a dark prison cell, my youthful hijinks gave me great stories to tell – first as a journalist and then as a trial lawyer.
When my family moved on, I stayed. I had fallen in love with the state of New Mexico, a place where the 100-mile views in every direction let you see not only where you are going, but where you have been.
LD: What led you to switch from journalism to wanting to go to law school?
RM: I was working as a newspaper reporter and writing spec articles for blind submission to national magazines. Of course, all of my articles were being quickly rejected, unread with form letters. I asked my uncle, Noel McGinn, a Harvard professor, for advice on how to get the editors to look at what I was writing. He suggested that getting an advanced degree would help establish credibility. That's right: I didn't go to law school to save the world, but so that people would read what I wrote.
Once at law school, I discovered my true calling in the courtroom. It turned out being a trial lawyer was storytelling on steroids. Not only did you get to investigate and find the true story amongst the morass of facts, you got to write the script, direct the witnesses and star in the trial. For me, it was a kind of verbal alchemy. By truthfully telling a client's story, you could turn words into justice.
LD: Your bio notes that you gave birth to a daughter the day before you took the bar exam. We have to ask – how was that possible? How did you get through the experience and pass?
RM: The secret? Sitting on big pillows. My daughter has always had impeccable timing. She was due on the first day of the three-day bar exam, but popped out a day early after a short four-hour labor. My mother, Jean McGinn, came into town to watch her while I was in the bar exam and would bring her by at lunch to breastfeed. The truth is that after the adrenaline of giving birth, all the pressure was off.   If I flunked, everyone would chalk it up to the delivery rather than my lack of preparation. As a postscript, my daughter Heather McGinn, just gave birth to her first child on June 30, 2015. His name is Calder Bulleit Baumgartel.
LD: What was it like in the DA's office in those early years prosecuting violent crimes, as a woman? I assume it was great for trial experience but how big of a challenge was it to fit in and make it work?
RM: Even though my law school class was 50 percent women, when I graduated there were still not many women in the courtroom. Since I wasn't able to find a female mentor, I had to stumble along figuring out things on my own. I started out emulating the male trial lawyers by wearing the same dark blue or black suits and white shirt, complete with rosette tie. After seeing a picture of myself in this get-up, complete with my long hair tamed in a severe bun, I looked like a daguerreotype of my great-grandfather. This was not me at all. Off came the suits and I stepped into clothing that reflected my true personality – flowing dresses, sweaters and killer heels or boots. Rather than being a challenge, it has been my experience that being a woman is an advantage in the courtroom. The courtroom is the great equalizer. The traditional stereotypes about women break in our favor with the jury.
As a young lawyer, when a male lawyer kept repeatedly making loud and aggressive objections to interrupt a direct examination, one of the male jurors finally had enough. The juror stood up in the jury box and said, "Now you just leave her alone!" Once, as I was giving a closing argument standing next to the jury rail, a woman old enough to never have had the chance to go to law school leaned out of the box and patted me on the arm. One jury even went out and bought me a present while the trial was still ongoing. Luckily, they didn't give it to me until after the verdict was rendered or it might have created a mistrial.
LD: I'm sure you also faced some challenges starting your own firm. What was behind your motivation to start on your own as opposed to joining an existing practice, and also to focus on cases for injured people that could not guarantee a payout?
RM: There was only one challenge to starting my own firm – the female loan officer at the bank where I had been doing business for years. I went to her for a $10,000 line of credit, an amount which seemed astronomical to me at the time. After reviewing the list of my 30 open cases and my predictions for when money would be coming due in each of them, she snapped her loan folder closed and said, "Honey, I think you better keep working for someone else for awhile." My response to her resounding lack of faith in my future was to find a new bank.
My law firm is now five women partners and three male associates. I had to laugh last year when the bank who turned down my initial line of credit called seeking our business.
LD: Your book "Changing Laws, Saving Lives" provides a lot of advice for taking on corporate defendants. Can you share a lesson or insight that was particularly difficult to learn – one that took longer for you to identify and or learn how to master in complex litigations?
RM: One of the few things that strikes fear in the hearts of corporate wrongdoers is the American jury. It is the one incorruptible group that is almost impossible to buy or bribe. When it is at its best, it operates to protect the community and punish dangerous behavior. The lesson for trial lawyers is to push the case to trial as hard and as fast as you can. Most insurance companies and corporate baddies will not agree to change their ways or pay to fix your client's injuries until they can see the whites of the jurors' eyes.
LD: Obviously it was not the financial consideration involved – what led to your interest in taking on the role of special prosecutor in the Boyd shooting?  Maybe you could touch on some of your experience in cases involving police shootings.
RM: The James Boyd shooting is the first prosecution of an Albuquerque Police Department officer for an on-duty shooting in the past 50 years. This despite the fact that the APD has killed more citizens per capita than any police department in the nation. After our local District Attorney filed murder charges against two officers in this case, their attorneys moved to disqualify her from the case claiming a bias against the APD, which had started an investigation into her after charges were filed. When the motion was granted, she contacted me and requested that I become a special prosecutor in the case.
What is not well known is that I turned her down when first approached. I thought it important for this first prosecution that a real DA, someone with the imprimatur of the state, prosecute this case. She approached all twelve District Attorneys in the state and the Attorney General's office.   None of them would even look at the file out of concern for lack of resources or retaliation. I took the case because who will protect us from the police if they are free to violate the law?
LD: You are successful in most of your cases, of course, but not so in the Billy the Kid pardon attempt. What led you to pursue that matter with the state of New Mexico?
RM: Alamogordo is in the heart of Billy the Kid country. After moving there, I became a cowgirl for a time, doing rodeo horseback riding events like pole-bending and barrel racing. We now own a vacation home in Ruidoso, which is located in Sheriff Pat Garrett's old apple orchard. Growing up, I thought I had heard all the stories about Henry McCarty, aka Billy the Kid. Then, New Mexico Governor Bill Richardson began talking about one I hadn't heard before – the story of how Billy agreed to testify against someone who murdered a man in broad daylight if then-Governor Lew Wallace would grant him a pardon in the shooting of Sheriff William Brady. Billy came in and testified, but under public pressure, Governor Wallace did not keep his end of the bargain.
I volunteered to investigate the historical records and, if I thought there was a promise that the government did not keep, I agreed, free of charge, to file a petition for a pardon. My historical research took me back to Lincoln, New Mexico, where Governor Wallace and Billy had a secret meeting and to the letters in Billy's own handwriting setting out his understanding of the deal. Although, in the end, Governor Richardson denied the pardon, it was a fascinating project that brought international attention to our state. The one advantage of representing a long dead outlaw is that he cannot complain when you lose the case.
LD: As a lawyer who's married to a state Supreme Court justice, do you find yourself talking shop at home with him? What do you guys do for fun to get away from the stresses of work?
RM: My husband, Charles Daniels, has been the love of my life for 26 years, long before he went on the Court. We don't talk shop much. We spend a lot of time laughing, battling on Words with Friends, traveling the world, swing dancing and hanging out with our four daughters, seven grandchildren, and our "adopted" foreign exchange son from Hong Kong. In his spare time, Charlie plays bass guitar in a band and races vintage Formula Fords.