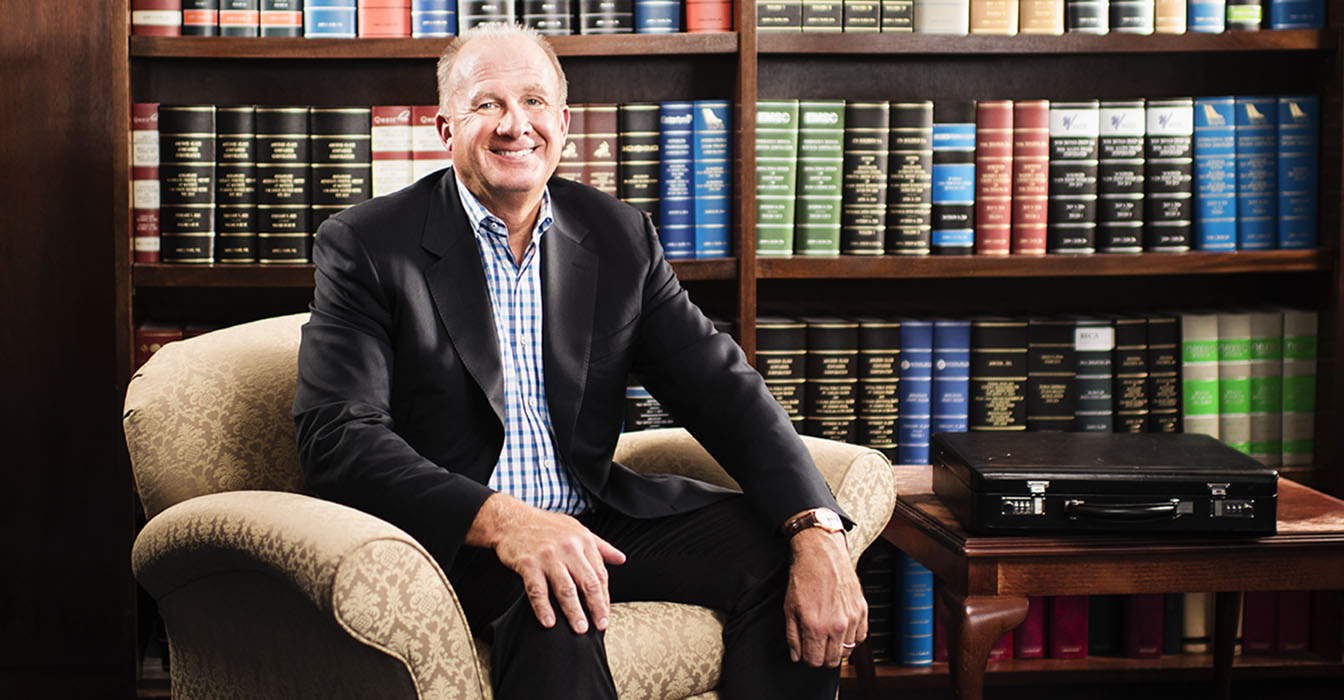 Photo by Laura Barisonzi.
For Jim Clark, a chance experience as a courtroom witness sparked an interest in law school – which he decided to attend despite his family's preference for him to pursue a medical career. He credits Cahill Gordon & Reindel for the flexibility that allowed him to shift from the litigation to the corporate side of the firm, where under the mentoring of partner Ike Kohn he began his long and successful deal-making career. The 1979 graduate of Albany Law School also praises the "throwback" style that has maintained more of a familial relationship between the partners at Cahill, where he sits on the Executive Committee. Among his major transactions in recent years, Clark represented NBCUniversal in the $7.75 billion acquisition of the 2022-32 U.S. broadcast rights for the Olympic Games.
Lawdragon: How did you first become interested in having a high-end transactional practice?
Jim Clark: Well, it certainly wasn't what I had planned coming out of law school. I wanted to be a trial lawyer. That's why I went to law school. I joined Cahill – one of the great litigation firms in the United States – after graduation and started doing litigation work. After six months of working on great cases, big and small, I came to a realization – although I loved the notion of being "at trial," I did not enjoy all of the work that went into the preparation for trial, such as research, discovery, depositions, motions, etc. At many big New York firms that would have been a major problem but not at Cahill, where associates can decide what areas of law they want to work in and when they want to do it. So I asked a corporate associate who was down the hall from my office if I could work on a corporate deal with him. That afternoon, I was sitting in the boardroom of a corporate client with their CEO, CFO, two Cahill partners, the associate and me mapping out a strategy to save this company from bankruptcy. I was hooked! And here I am now 35 years later with a "high-end" transactional practice.
LD: What do you like about it?
JC: I am extremely lucky. I absolutely love my job and look forward to coming to work 99 out of 100 days. After all these years, I still enjoy learning about businesses and industries that I haven't dealt with before. I also enjoy the problem-solving aspect of the job – in fact, I probably get five-to-ten calls a week from clients as well as lawyers from other firms asking my advice on matters that my firm is not involved in.
LD: If you had to pick, what would you say is the most interesting matter you've worked on as a lawyer?
JC: The most interesting "thing" for me, by far, has been my work over the years for NBC Sports negotiating the U.S. broadcast rights for 14 different Olympic Games. Those negotiations have taken me all over the world and have involved all sorts of complex and interesting issues. And it doesn't hurt that I am a sports fanatic so the subject matter is exciting for me.
But I have to say that the most interesting "time" for me as a lawyer was working with the people at Drexel Burnham in the late 1980s. I watched Mike Milken and his team "invent" the high-yield bond market, the financing of leveraged buyouts, "highly confident" letters and all the other things they pioneered. It was a whirlwind but I learned so much. I have never seen in my career more talent, work ethic and creativity in one organization than there was at Drexel. It was a very special place and it was a privilege to be able to play a small part in it.
LD: What types of transactions are keeping you busy these days?
JC: My practice has largely evolved over the years into a corporate transactional practice principally representing investment banks in securities offerings (called capital markets transactions by some people) and bank financings. These transactions are typically for non-investment grade rated companies which means that they pose many more issues and problems than would be the case for a blue-chip issuer/borrower. I also do a lot of work in the debt restructuring area, especially in the oil and gas industry recently. As I like to say, I know how to put them together as well as how to take them apart.
LD: Why did you pursue a career in the law in the first place?
JC: My family wanted me to become a doctor so I was a pre-med student in college but I didn't really like it. In my junior year of college I was called as a witness in a trial involving a car accident. I was absolutely fascinated by the lawyer for the insurance company. He was very sharp and great at cross-examining witnesses. And I was told his fee was one thousand dollars a day! I wanted to do what he did, so I applied to law school
LD: Why did you choose Albany Law School?
JC: I was the oldest of five boys and was the first one in my family to go to college. My parents and grandparents begged me not to go to law school. As I said, they wanted me to become a doctor. I was accepted into a number of schools but chose Albany because my brother was going to nearby Siena College and I wanted to be close to him. I had absolutely no idea at the time that there were big differences among law schools and the impact it could have on the ability to get a job. Had I known that at the time, I probably would have gone somewhere else. And who knows how that would have turned out for me.
LD: Is there a professor that stands out as being key for your career?
JC: I was fortunate to end up doing very well at Albany and became editor-in-chief of the Law Review. I had a number of job offers from big New York firms but I was interested at that time in moving to Arizona or Southern California, where I also had offers, to escape the Northeast winters – which I still want to do actually. But one of my professors, Frank Wallace, gave me tremendous advice. He told me to go to New York, get the training that these big firms give you, and after a couple of years if I still wanted to move to warmer climates there would be any number of firms who would take me. It was great advice. Unfortunately (or fortunately) for me, I got hooked on the practice here at Cahill so here I am 35 years later still wishing I could do this job in a warmer climate, but I can't.
LD: Do you have advice for current law students?
JC: I think that many law students are reluctant to come to big firms in New York City. They may not like the weather, the lifestyle or the long hours often required at these firms. However, I still to this day pass on the advice I received from Frank Wallace. If you are lucky enough to get a job offer at one or more of the big New York firms, take it. After three or four years of working there, you will have been trained to run deals or cases and have a sense of self-confidence that will stay with you for the rest of your life. Lawyers with that training are in high demand everywhere – both in law and in business – so you will have opened many doors to continue your career even if you decide that the big firm life is not for you. And this advice is coming from someone who really is not a big fan of New York City!
LD: Was there an early experience or mentor at Cahill who really helped shape the course of your professional life?
JC: I was extremely lucky that Ike Kohn, who was a senior partner at Cahill, took me under his wing when I was a third-year associate. He was a brilliant lawyer and rainmaker and he taught me almost everything I know about the practice and business of law. I will forever be grateful to him for that. Ike did not believe that lawyers should seek or get publicity but rather do their jobs and stay in the background. He definitely would not approve of me doing this interview!
LD: Out of all the deals you've worked on, is there one that stands out as a "favorite" or that is particularly memorable?
JC: Without a doubt, it was my first Olympic television rights deal for NBC. It was 1986, NBC was Ike Kohn's client and they wanted Cahill to represent them in the negotiation for the TV rights to the Olympic Games to be held in Seoul, Korea in 1988. NBC had done a prior Olympics deal for the Moscow Olympics in 1980 using in-house counsel, and it did not turn out well for them in the end, but that's a whole other story. So I was a sixth-year associate and Ike asked me to do the deal, in part because he knew I was a sports fanatic.
The prior Olympic broadcast deals were done via a three- or four-page letter agreement between the International Olympic Committee (known as the IOC) and the network that was televising the Games that did not say much other than the price. I was charged with transforming that letter agreement into a 100-plus-page contract that contained provisions for everything from what time events would be held to maximize primetime viewers, where NBC could put their cameras and what happens if North Korea comes across the border in the middle of the Games. After a brutal eight months of negotiations we finally agreed on the long-form version of the contract and to this day that form serves as the template for Olympics television contracts in the U.S. Arthur Watson, who was the then-President of NBC Sports (Dick Ebersol succeeded him a few years later), took a real liking to me during the deal negotiations and taught me about the network television sports business. I also made many friends at NBC that opened up other doors for me within my practice and my personal life. Gary Zenkel, who used to work for me at Cahill, went up to NBC Sports after a few years of practicing law and eventually became, and still is, the President of the NBC Olympics unit.
LD: Is there a lawyer you have come up against in your career who stands out?
JC: I have had the privilege of working across the table from many talented lawyers in my career but the one that stands out to this day is Don Petroni from O'Melveny & Myers in Los Angeles. Don, who retired some years ago, was a senior partner at O'Melveny and represented the IOC and the Seoul Olympic Committee in the 1986 Olympic contract negotiations. Don had a style that was unique. He was a great lawyer and negotiator but always honest and fair. He also knew how to lose his temper every so often to keep you on your toes. I have tried to emulate his style in my practice and, although I could never be as good as he was, I think that style has served me well.
LD: As a member of the Executive Committee at Cahill, are there challenges you face in your current leadership role?
JC: The business of law has become increasingly competitive during my career and especially in the last few years. One thing we are focusing on is developing our next generation of leaders and rainmakers. In today's world, where virtually everything is done via e-mail and conference calls, it has become more and more difficult for the current generation to actually meet the people working on deals and build personal relationships with clients. That is something that we have been stressing to our younger partners. Also, the quality of the work is extremely important. My motto is "you are only as good as your last deal." We try to remind people that keeping the quality of work at the highest level is of upmost importance.
LD: Can you share some strategic plans from your firm for the coming months or years?
JC: Well, Cahill is a bit of a throwback firm. Very few lateral partners (90 percent of our partners came to us as associates from law school or shortly thereafter) and very few partner defections. There are not many firms left that can still say that. We have resisted the model employed by most of our competitors to have offices in multiple cities around the world and numerous lateral partners, which also corresponds to numerous partner defections. Cahill has three offices – New York, Washington D.C. and London – and a real feeling of "family" among its partners.
Ike Kohn, whom I talked about earlier, was the Chairman of the firm for 20 years and he had very strong views of what a law firm partnership should be. Once Ike retired, he chose Bill Hartnett to be his successor and Bill has done a tremendous job in the 10 years he has been Chairman. He has stayed true to the Cahill model while at the same time growing our practice in select areas, such as corporate investigations and white-collar crime. I think that approach is working extremely well for us and is the one we will stay with for the foreseeable future. Bill and I started at Cahill at the same time and have been very good friends since day one. He and I are similar in a lot of ways except he has way more patience than I do.
LD: There are many high-quality firms out there. What do you do to try to "sell" Cahill Gordon to recruits?
JC: The interesting thing about Cahill is that you can choose what you want to work on and, more importantly, whom you want to work with. There are very few firms that let you do that. What attracted me to Cahill 35 years ago is still true today – great work, close-knit partnership, people who are go-getters and a real freedom to shape your own career. One of our favorite sayings here is that "we don't have very many titles or many rules." So if these are the things you are looking for (and not everyone is), Cahill is the place for you. I have had many fortunate things happen to me in my life, but coming to Cahill has to be near the top of that list.