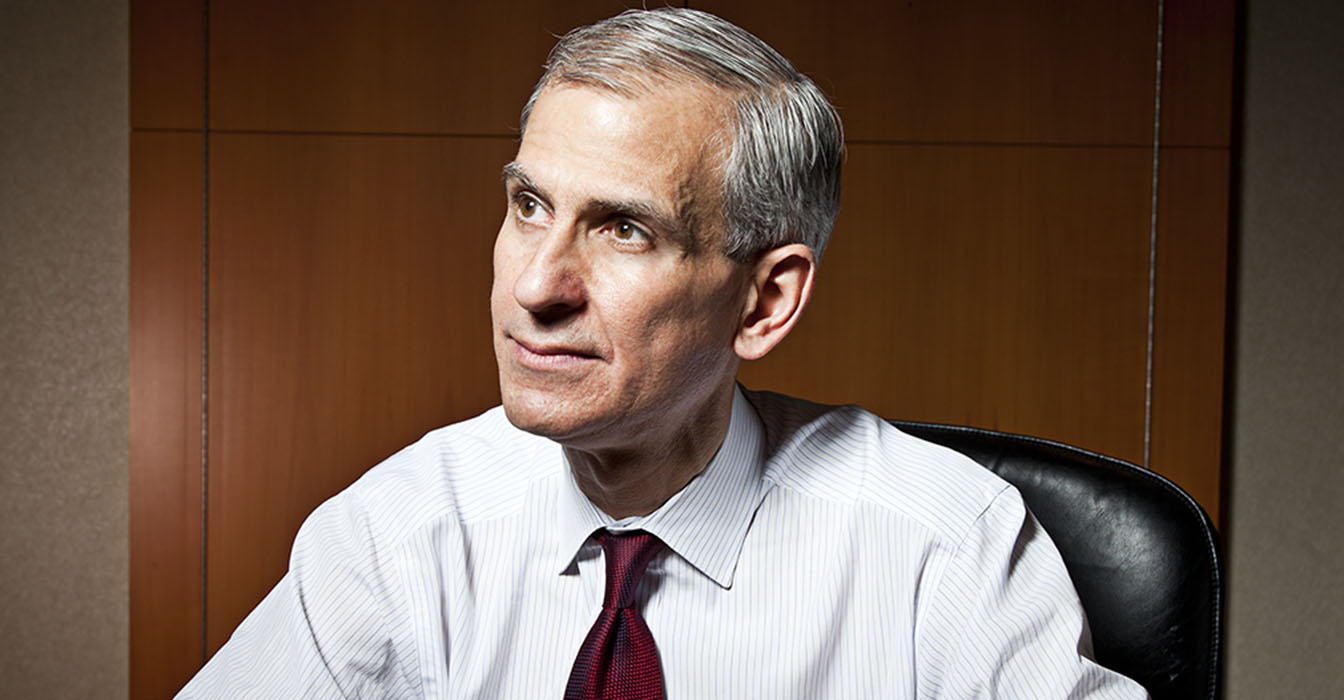 Profile below originally published on Sept. 10, 2012. 
Companies facing complex securities litigation and SEC enforcement actions would be hard pressed to find better legal counsel than Brian Pastuszenski, one of the most trusted and undisputed leaders in his field as identified by our reporting for the Lawdragon 500. The Boston-based Goodwin Procter partner was drawn to his practice area by the intellectual demands and high stakes of the cases; it's safe to say he has built a satisfying practice.
In recent years, Pastuszenski has defended a large number of securities litigation matters for Countrywide Financial (now part of Bank of America) for claims arising from the financial crisis. He has won dismissals of putative class actions and other investor suits in jurisdictions around the country, limiting the extent to which investors of mortgage-back securities can recoup losses through litigation. (Pastuszenski said he could not comment on pending cases.)
Lawdragon: Can you provide a comment on the Cornerstone numbers that show the declining value of settlements in securities class actions: Do you see this as continuing, or do you expect the trend to change course?
Brian Pastuszenski: If one looks back over the past 15 to 20 years, one sees that the average value of settlements has risen steadily – from an average settlement value of just under $9M in 1997 to an average of $21M in 2011. Given the historical data, the odds are that this upward trend will continue over the longer term, though there certainly will be yearly fluctuations. There are many unknowns, of course, that will shape the actual settlement numbers we will see over the next few years.  Among other unknowns, we have yet to see the full impact of settlements in the post-credit-crisis cases, particularly putative class action cases brought on behalf of buyers of mortgage-backed securities, only a handful of which have settled.  And the plaintiffs' lawyers who brought these cases face high hurdles.
For example, those hurdles include standing limitations (both statutory and constitutional) that require plaintiffs seeking to bring these class actions actually to have purchased the securities over which they are suing.  These standing limitations have resulted in the significant downsizing of many putative class actions. Many of these suits also are untimely in whole or in significant part due to the expiration of statutes of repose and statutes of limitations. In addition, the institutional investors that bought mortgage-backed securities typically intended to hold them for the long term, and many of these securities to this day have not missed any payments – the absence of any missed payments represents another hurdle to recovery. As does the fact that the risks associated with buying mortgage-backed securities (particularly ones backed by loans originated on the basis of reduced- or no-borrower documentation as to assets or income) were well known, including the risk that they could be adversely impacted (in price or performance) by a downturn in real estate prices or the broader economy, which is precisely what happened beginning in the third quarter of 2007.
Class action lawyers also face very real causation problems connecting the decline in price or performance of the securities that the named class plaintiffs bought to what they claim were misstatements in the offering documents, as opposed to the real estate and credit market disruptions that this country and the international community have been reeling from for nearly five years now.  These are just some of the hurdles that class plaintiffs in these cases face, and where these cases ultimately settle remains to be seen.
LD: In terms of claims filings, the total number has stayed relatively low. Is this now more of a permanent situation we are seeing – the result of several pro-defense high court rulings in securities litigation, as some observers have suggested?
BP: The Cornerstone numbers reflect the ebb and flow of the securities class action industry.  The industry is going through another transition – as it did when the Private Securities Litigation Reform Act was enacted in late 1995 and as it did again when the option-backdating cases and regulatory investigations began to wind down in late 2006.  When the Reform Act was enacted in 1995, many predicted the end of securities class action litigation – the number of filings dropped precipitously in the couple of years following passage of the Act.  One plaintiffs' securities class action lawyer that I had faced several times over the years commented to me that he was looking into other kinds of suits to bring, including employment and ERISA class actions because he feared that the stricter pleading standards and other reforms that Congress had enacted in the Reform Act would put him out of business.  But that did not happen.   And I predicted at the time that the downturn in filings was only temporary – that filings would rise again as the plaintiffs' bar identified ways to adapt to the new requirements, which is what happened.
Since late 2007, the plaintiffs' bar has ridden the post-credit-crisis wave, with cases alleging that financial institutions misstated their exposure to risks that materialized when the real estate and credit markets imploded.  To the extent not dismissed on the pleadings, those cases will begin to settle in greater numbers.  And as the mix of cases begins to shift away from credit-crisis-focused claims, the plaintiffs' bar will shift its focus again, as it has in the past.  With the resurgence of the credit markets, there will be more initial and secondary public offerings, which will attract class action suits.  The plaintiffs' bar recently also has focused its attention on Chinese companies that have become publicly listed in the U.S. and have allegedly experienced financial accounting problems.  So, the bottom line is that I do not predict a long-term downturn trend in securities class action suits.
LD: You have handled many cases stemming from the financial crisis. What other types of cases do you see playing a bigger role in your practice in the years ahead, as claims related to the crisis might taper off? Has your practice group also been working on the increased number of cases related to M&A deals?
BP: We will see a continuing stream of suits – both shareholder derivative and putative class cases – following the announcement of M&A deals. Just about every M&A transaction is attacked now – the costs of defending, dismissing and settling these cases has become part of the standard closing costs.  And yes, defending suits in the M&A space has long been a mainstay of our securities and shareholder litigation practice at Goodwin Procter, and it will continue to grow as more deals get done.  We have been very successful in achieving complete dismissals of many of these cases at the outset, which has allowed our clients to move forward with these acquisitions without the overhang of litigation.
I also expect that suits attacking financial accounting restatements and other alleged GAAP violations will continue to be a major focus of the plaintiffs' securities bar, and a major focus of our practice at Goodwin Procter.  Indeed, the latest Cornerstone numbers show that the percentage of cases asserting financial accounting-related allegations grew substantially in 2011, after a dip the year before.  It's not hard to understand the plaintiff class action bar's attraction to financial restatements.  When a public company announces a restatement, plaintiffs' lawyers pounce on this as an automatic admission as to two elements of a securities fraud claim – (a) the existence of a misstatement and (b) its materiality.  From the plaintiffs' lawyer's perspective, this means that the class plaintiff need show only that the misstatement was intentional – and of course if it's a fraud-based claim, that any claimed damages suffered by the class were actually caused by the restatement and not by other market- or non-fraud-related events.  The plaintiffs' bar gravitates to restatements, particularly where the restatement is followed by a publicly-disclosed SEC investigation.
LD: Do you see any potential benefit of the Dodd-Frank whistleblower provisions? Has this been a major area of concern for your clients in terms of the counseling you provide, and is it likely increase the amount of regulatory work in your practice?
BP: The impact of the Dodd-Frank whistleblower provisions remains to be seen.  Generally speaking, an unfortunate by-product of the attention in corporate America on "whistleblowers" is that a growing number of disgruntled employees who are asked to leave a company for reasons of poor performance, or who chose to leave for personal reasons, threaten to complain to regulators unless these employees are given severance benefits or other payments to which they otherwise would not have been legally entitled.  This is an unintended and harmful consequence of the focus of corporate compliance advocates and regulatory authorities on encouraging whistleblowing.
LD: How did you come to focus on your particular type of practice? What about it has kept you passionate over the course of your career?
BP: I was attracted to securities and shareholder litigation defense by the complexity of the legal concepts and the high stakes these matters typically involve.  In my experience, securities litigation is among the most intellectually demanding areas of the law.  These cases challenge a lawyer to use his or her full set of intellectual skills and use them in creative ways as financial instruments (such as CDO squared securities and other asset-backed securities) become more complex.
As for the high stakes, it is not so much the very large dollar amounts these cases involve that keep me energized, but the importance of  these matters for senior management, senior in-house legal counsel, and boards of directors (or, in the investment-fund space, boards of trustees).  These matters are often headline-grabbing, and the events that spawn these matters can cause a public company's market cap to drop precipitously when announced.  It is a significant – and personally satisfying – responsibility to advise senior officials about how to defend and resolve these cases.  That advice requires me not simply to identify legal issues and formulate the most effective litigation defenses, but also suggest thoughtful, sound, and practical recommendations that will enable the client to assess the risks and benefits of different possible paths and help the client achieve its business goals.  The same need for sound judgment exists when advising a client about how best to prepare for potential future litigation or appropriately sizing an internal investigation that may need to be conducted into possible misconduct.  Although it is always possible to read every internal email and interview every potential witness no matter how peripheral when undertaking an internal investigation, sound judgment may suggest that a reasonable and appropriate inquiry will involve a more focused approach.
LD: Can you share a key lesson you try to instill in younger litigators who look to you for guidance?
BP: I have a handful of suggestions for younger litigators.  First, all lawyers – not just securities litigators – are in the service business.  Our clients are entitled to utmost responsiveness from us, which often may interfere with our personal lives.  Clients, however, cannot control when problems will occur or when the need for our legal advice and our sound recommendations will arise.  Younger lawyers especially must hardwire this responsiveness – no workday should end without each client phone call being returned and each e-mail being responded to, and those calls should be returned and emails responded to as promptly as possible consistent with delivering thoughtful, helpful advice.  Clients want to read today's news today, not tomorrow.  This is a simple truth, but a very important one.
A second suggestion is not to forget that we ultimately are advisors, not just lawyers.  What separates a good lawyer from a good litigator is sound judgment.  Identifying a long list of legal issues (or worse a long list of reasons why the client may not be able to accomplish what it wants to accomplish) does a client no good.  We lawyers must remember that our clients live in the business world – not in the ivory tower of the law school class room.  Too many lawyers forget that.  Our job is not only to identify problems but also to recommend paths around those problems that our clients can then assess as a business matter, taking into account the legal risks and potential costs of each path that we have identified.  At the end of the day, the choice of which path to take is our clients to make, not ours, but they can intelligently make that choice only if we have done our job of identifying the practical risks and costs and have made our best recommendation given the mix of considerations.
Third, perseverance – besides responsiveness and sound, practical judgment, clients deserve our unflagging effort to achieve the best results under the circumstances, consistent with the client's budget.  The business world moves quickly, but there is no substitute for thoroughness and doggedness when formulating a strategy, identifying the weaknesses and strengths of an argument, or assessing the possible defenses to the next mutation of claims the plaintiffs' bar will spawn.
And I cannot stress more the importance of clear, concise, compelling legal writing.  Most lawyers are smart – they would not have gotten to where they are if they were not bright.  But a bright lawyer is not necessarily an effective advocate.  A great litigator is one who can translate his or her legal thinking into effective legal prose (and effective oral argument in the courtroom).  For all too many litigators, this is not an inherited talent, but a skill that must be honed deliberately and continually.  Most briefs are longer than they need to be – extra words dilute otherwise powerful arguments and risk losing the attention of the judge and his or her clerks.  And clarity of thought is critically important – regardless of how many words are used, effective legal writing must articulate clearly the point the court is being asked to adopt.  In novel factual or legal situations, this may mean drawing analogies to real world examples the court will more readily understand.