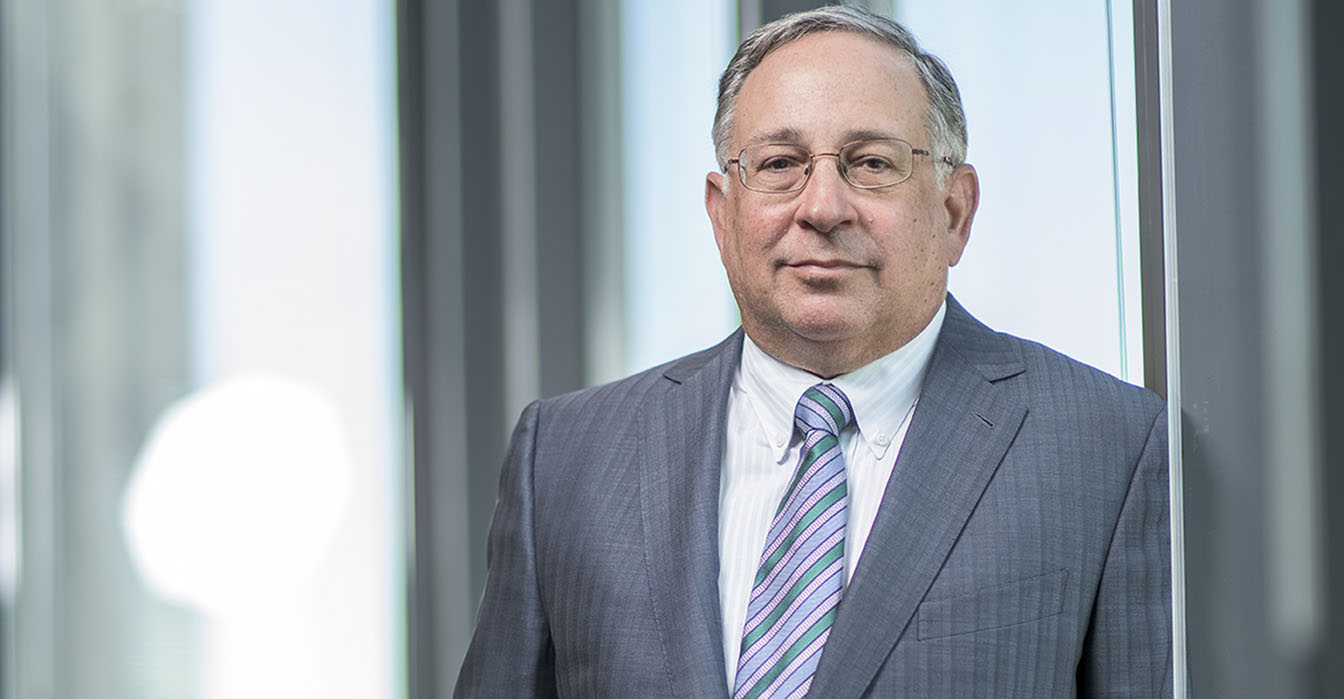 Photo by Josh Ritchie.
It's the sport of champions – legally speaking. Just ask more than a few members of the Lawdragon 500.
It's all about debate, and few were champions as early as Stuart Singer – who got his start as a high school champion in Miami and went on to win the National Collegiate Debate Championship while at Northwestern University.
He's never looked back.
Where have those skills landed him? As the president of the Harvard Law Review; two-year clerk to U.S. Supreme Court Justice Byron White; partner at Boies, Schiller & Flexner; and counsel of choice for, Carnival Cruises, Fidelity National Financial, and NextEra Energy, the largest renewable energy company in the U.S.
In recent years, he's secured what's been called the most important transformative relief in the multi-level marketing field, against Amway/Quixtar; co-led the elite Boies Schiller class-action corps in huge opt-outs from both the LCD and CRT (cathode-ray tube) litigations; and, enjoyed success in litigation on behalf of Madoff victims in the Anwar feeder fund litigation – in which they both made good law and won a significant settlement.
But what we're here to talk about is a case close to Singer's heart, and which may have changed more lives than any U.S. litigation of the past decade.
Because who better to rip off than children – and Florida had 2 million children in 2005 who were being denied Medicaid benefits to which they were entitled.
At least until Singer came along.
Lawdragon: Tell me how you decided to become a lawyer, and what role debate played in that?
Stuart Singer: I was born in Miami in 1956 and grew up in a very modest neighborhood, which is now part of Little Havana. I was a debater at Miami Senior High in 1972 and then went to Northwestern, principally because they have a great debate program. Debate is probably what got me into Harvard Law School and allowed me to do well there.
While at Harvard, I continued to be involved in debate, serving as a part-time coach for the University of Redlands and traveling to debates they'd have on the East Coast each year. That's how I met Bill Isaacson [a Boies Schiller partner who was a National Debate Tournament Finalist from Redlands in 1981]. It's also how I met Michael Gottlieb, another Boies Schiller partner, more than 20 years ago when he was a Northwestern debater. The debate coach said this guy is incredibly good and recommended we keep an eye on him. [Gottlieb won the National Debate Tournament in 1998 and 1999.]
LD: How did you come to join Boies, Schiller & Flexner?
SS: After I clerked for Justice White, I came home to Florida and joined Greenberg Traurig, which then had only 60 lawyers. Mel Greenberg recruited me. After I made partner, another clerk for Justice White, Peter Kalis, contacted me to ask if I would consider joining K&L Gates to manage its Miami office, which I did from 1993 to 2000.
In 2000, through Bill Isaacson, I met Jonathan Schiller and Don Flexner, and then met David Boies. They asked me to join the firm. The opportunity to work with this firm was so extraordinary – to do plaintiff work, defense work, public interest work and have a national platform while still living in Florida was really something unique.
LD: Many lawyers don't realize that the second-largest contingent of Boies Schiller lawyers is in Florida.
SS: The first Boies Schiller & Flexner office in Florida was with Karen Dyer and Gary Harris in Orlando. I joined Caryl Boies here in Ft. Lauderdale and we built up the office and then Steve Zack and Mike Koznitsky merged their top-notch firm into Boies Schiller in 2001 for our office in Miami. And we also have an office in Hollywood from our merger with James Fox Miller, one of the nation's best family lawyers, and his team.
LD: Lawdragon met you in 2005, because of your lawsuit against the state of Florida on behalf of 2 million children who were being denied health care under Medicaid. Now – 11 years later – you've finally won sweeping reforms. Congratulations. Can you talk a bit about how you got involved in that case?
SS: Jim Eiseman from the Public Interest Law Center in Philadelphia contacted me and asked if we would do this case jointly with them. They had done that in other jurisdictions, in Illinois and Oklahoma, representing children to try to get better care for what's called the EPSDT mandate of the Federal Medicaid law: Early Prevention, Screening, Diagnosis and Treatment.
For children, unlike adults, there are a series of services the state has to provide for healthy kid checkups: full exams, immunizations, lead blood testing, vision exams, hearing and dental. It also requires providing treatment for conditions that are found and ensuring that children get care with reasonable promptness.
Separate and apart from that, the Equal Access Provision provided that Medicaid beneficiaries should have equal access to care – or, more specifically, that payment rates for doctors treating the children should be set at a level to facilitate equal access. The federal Medicaid act also required outreach to inform people that services are available.
One of our partners, Carl Goldfarb and I began to investigate, and then we were joined by Damien Marshall, who's now a partner in New York but started out as an associate in Ft. Lauderdale, Sashi Bach, also a partner in Ft. Lauderdale, and Josh Riley, who is now counsel in our Washington, D.C., office.
LD: After you understood what was required of the state, what was your next move?
SS: The physician organizations began to find some plaintiffs. What that meant, basically, was finding the guardians and parents who were willing – even though there was nothing in it for them financially – to poke their heads up against the state of Florida and take them on in a big lawsuit. We were helped by the Florida Pediatric Society, which is the organized pediatrician group in Florida, and in particular, a wonderful individual, Louis St. Petery, who is a pediatric cardiologist who practices in Tallahassee.
We filed suit in South Florida on their behalf, as well as on behalf of the Florida Chapter of the American Academy of Pediatrics and the Florida Academy of Pediatric Dentists. Probably the most important stroke of good fortune for us is that the case was assigned to Judge Adalberto Jordan. He's wonderful and smart, and was also willing to take the time to deal with what he said was the most complex case he's ever had.
LD: How did you break down such a complicated case to prove the state's failure to meet its obligations and the harm it caused so many children?
SS: We broke the case down into six areas. One was the lack of preventative care from pediatricians. A second was the lack of specialty care, which was a huge problem. The third was dental care; Florida ranked last in the entire United States in the percentage of children on Medicaid who received dental care – at the time of trial, only 21 percent of Florida. It's now about 27 percent.
The fourth area was arbitrary terminations of care and switching, where kids were switched from one doctor to another or arbitrarily terminated when they should have been kept on. There were 25,000 kids being terminated a year wrongfully.
LD: How could that happen?
SS: The two computer systems in Florida – one at the Department of Children and Families, and the other at the Agency for Health Care Administration – couldn't talk to each other effectively.
The fifth area involved problems with the application process. During the trial, I asked the other side's expert to try to complete the application and the expert couldn't do it. Their witness from the Department of Children and Families couldn't do it either.
And the sixth area was the outreach program, which Florida in its wisdom eliminated in 2003, even though it's mandated. There are two forms of outreach that are important. One is that people who are enrolled need to know they're entitled to benefits, including that they're entitled to transportation, and they should get reminder letters about dental care. In addition to that, there needs to be the second type of outreach – to the people who are eligible for the benefits, but need to be notified so that they can enroll.
Florida took the position that the statute didn't apply to eligible but unenrolled children. Judge Jordan shot that down – there are 250,000 kids in Florida who are eligible but not enrolled. You need to have outreach including billboards, and flyers in welfare clinics and in schools.
At trial, we showed how the state knew they were failing to meet the mandated requirements with some wonderful video testimony our team put together. Let's watch a little of it. Our case manager, Mike Calvin, can show us.
LD: What we're going to see here are clips from testimony that you presented in court. Is that right?
SS: Yes [referring to a video]. Here's the former head of AHCA, whose deposition I took a year after he left office; he was the senior-level cabinet officer responsible for the program. The state fought tooth and nail to prevent his deposition. We had to win in front of the magistrate judge, the district court and they even took it to the 11th Circuit in an effort to prevent us from getting his testimony.
But we won those battles. I went to the State of Washington to take his deposition – and he has amnesia. He doesn't remember anything – but we had a transcript of a speech he had given when he was secretary and one of our case managers had through a public records request obtained a videotape of that speech , which led to my ability to do this at trial, comparing the deposition to the videotape of his speech.
[SS, on tape]: "Was serious access to healthcare a problem during the time that you were secretary of AHCA?"
[Response, on tape]: "The word serious access to healthcare is very general, so I can't say."
[SS, on tape]: You understand you're under oath here.
[Response, on tape]: Yes
[SS, on tape]: This incident didn't occur a long time ago. It occurred in 2007. You were secretary of AHCA. Did you ever tell anyone that there was a serious access to healthcare problem in the course of your official duties?
[Response, on tape]: I don't recall.
[SS, showing a taped presentation with the witness speaking]: So all of that is to say, yes, the service indicates and our experience confirms that we have a serious access to healthcare problem in the state of Florida and we have to address it.
SS: Of course this attempt by the state to avoid his testimony blew up in front of Judge Jordan.
And this was a legal battle that involved many seriously injured children. Among the named plaintiffs, you had a boy with a tumor growing on his neck and he couldn't get radiological scanning. You had another kid with scoliosis; he couldn't get surgical treatment. You had children who had broken bones that couldn't be set promptly. Two children who were named plaintiffs died during the pendency of the case. This was a tremendously serious situation.
Resolving this was very hard and the state fought us tooth and nail. In Illinois there was a settlement, although it was also after a trial. There eventually was a settlement in Texas. Some of these cases, like in Texas, have also gone for a decade, but it didn't have to happen. It didn't have to take a decade.
LD: Children. Healthcare for children. It shouldn't be a hard sell. How could anyone disagree on that?
SS: One of the things no one disagreed with was that preventative care for children is about the most cost-effective place to spend money because by dealing with this at the preventative stage you'll avoid bigger problems where you have to pay for more health care down the road.
Yet in earlier administrations up until the time of the suit, the state would go to the legislature and ask for more money for the same things we were asking for, but the legislature would not approve the funds. In fact, we used that in our case, so if there's a real culprit in this case more so than AHCA, it's the Florida legislature because they wouldn't fund what they were required to fund.
We had to win class certification. We had to win against a motion for summary judgment. We had years of discovery. Our trial started in front of Judge Jordan in December 2009. Originally, he had imposed a time limit where each side would have about 120 hours, and the state complained so much that he took off the time limits because it's an important case. The state took tremendous advantage of that. They called witnesses that testified for six, seven days at a time.
The trial went a few days here and a few days there through 2010. In October 2011, we were a long way from finished and Judge Jordan was up for appointment to the 11th Circuit. Other judges took cases from his docket, but he kept this case. We then were in trial almost constantly from October 2011 through March 2012, when we closed. The state made a lot of post-trial motions. It took a long time, 94 trial days, to get to the finish line.
On December 31, 2014, the decision came down – a sweeping decision in our favor on everything. The state continued to fight, arguing that because they had now moved to managed care, these problems had been taken care of, that the evidence was stale, all sorts of additional issues.
In a few areas after the trial, the state largely fixed some things like terminations of eligibility . The applications were better, but other problems such as not paying doctors enough money to incent participation, paying them at Medicaid rates that are 50 percent below Medicare and 70 percent below private insurance, remained.
In October 2015, Judge Jordan directed two magistrate judges, one to have a remedy hearing in April of this year and the second, federal magistrate judge Chris McAliley, to have a mediation. We had a mediation before the trial that didn't accomplish anything, but this time around the state had some new attorneys, including Carol Licko with Hogan Lovells, and Rick Figlio, who has worked with the governor and works in Tallahassee. You had a new general counsel at AHCA, Stuart Williams, and Judge McAliley was determined to exhaust every opportunity for settling the case. Through everyone's efforts, we got the whole thing settled in the space of two months of about 10 to 12 all-day mediation sessions.
LD: Are you happy with the settlement?
SS: It's a good settlement, and it's a compromise, which means you don't get everything you want. But it provides a system of changes which, if implemented properly and if they have the intended effect, will get Florida to national norms in both medical and dental care in three to five years. The State has committed to spending all the savings from the Medicaid program to increase reimbursement levels. And if they don't meet interim benchmarks, they have to increase all the doctors' compensation up to Medicare levels so as to incent more doctors to participate; and similar changes are made for dentists.. The settlement also encourages the agency to work as partners with doctors' organizations, including to meet with them on how to improve applications and outreach. The court retains jurisdiction until 2022. The State also agreed to pay us and our co-counsel at the Public Interest Law Center $12 million in attorney's fees and costs.
LD: You must personally feel very gratified about your work in this case.
SS: It wasn't just me. Carl was there right next to me. We were nicely honored by the American Pediatric Society. And we're continuing to work on it because we have monitoring responsibilities.
I still remember at the very front end when I looked into the case and I called up David Boies and said, I'd like to do this. Actually, I sent him the memo on the case, and he wrote back. "This is exactly the kind of case we should be doing." We spent $16 million in time on this case.
LD: What cases are keeping you busy now?
SS: One that is a little out of the ordinary is in Luxembourg. It's a suit to try to collect on a $6.5 billion judgment against the Republic of Iran and various Iranian entities. It has its roots in the tragedy of 9/11. A number of plaintiffs' lawyers, not us, brought an action against the Republic of Iran and Iranian entities saying they were complicit in 9/11, that they provided aid and assistance – which was an issue left open by the 9/11 Commission.
Iran did not defend the case, In re Terrorist Attacks on Sept. 11, 2001, which was filed in the Southern District of New York. Under the Terrorism Exceptions to the Foreign Sovereign Immunity Act, U.S. District Judge George Daniels had to be convinced that there was substantial evidence to support the allegations. His opinion goes through the fact that Iran cleansed passports for some of the individuals who trained in bases there, provided training in flight simulators, provided financial assistance, and that all of that was part of a knowing plan to aid an attack on the United States.
The plaintiffs have a judgment of $6.5 billion on behalf of the 9/11 families, and they came to us to see if we could help collect it. They interviewed a number of firms and selected us; we're doing the case on a contingency. We, including my partners Doug Mitchell and Mike Gottlieb, have been working on a number of fronts, one of which is active right now. We have identified Iranian assets in Luxembourg and the reason we think they're there is because the Central Bank of Iran has actually appeared to defend the action.
That's the first appearance that anybody related to Iran has made in this case.
More typical is a case where we're defending one of our longtime clients, Florida Power & Light Co., which is part of NextEra Energy, in a suit pending in Florida which alleges that Florida's allowing for nuclear power plants' cost to be recovered through approved rates is unconstitutional. It's a class action brought by the Hagens Berman firm. We have filed motions to dismiss, which recently have been granted.
LD: What do you do in your spare time?
SS: I spend as much time as I can with our sons, Mark and Matt, who go to graduate school at Northwestern University and Indiana University. Mark and I just went and played golf in Ireland for a week. We played Lahinch, Doonbeg, Tralee, Ballybunion and Old Head, which are these great links courses in the Southwest corner of Ireland.
We had done a similar trip before in Scotland. He only had to ask me once.
LD: And what about debate? Do you still have time to be involved in what started all this?
SS: Yes. Probably my principal philanthropic involvement is with the National Association of Urban Debate Leagues, where we start and support debate programs for urban high school students where debate has largely died out in the public schools all across the United States. In April, I will begin serving as the next board chair for NAUDL.