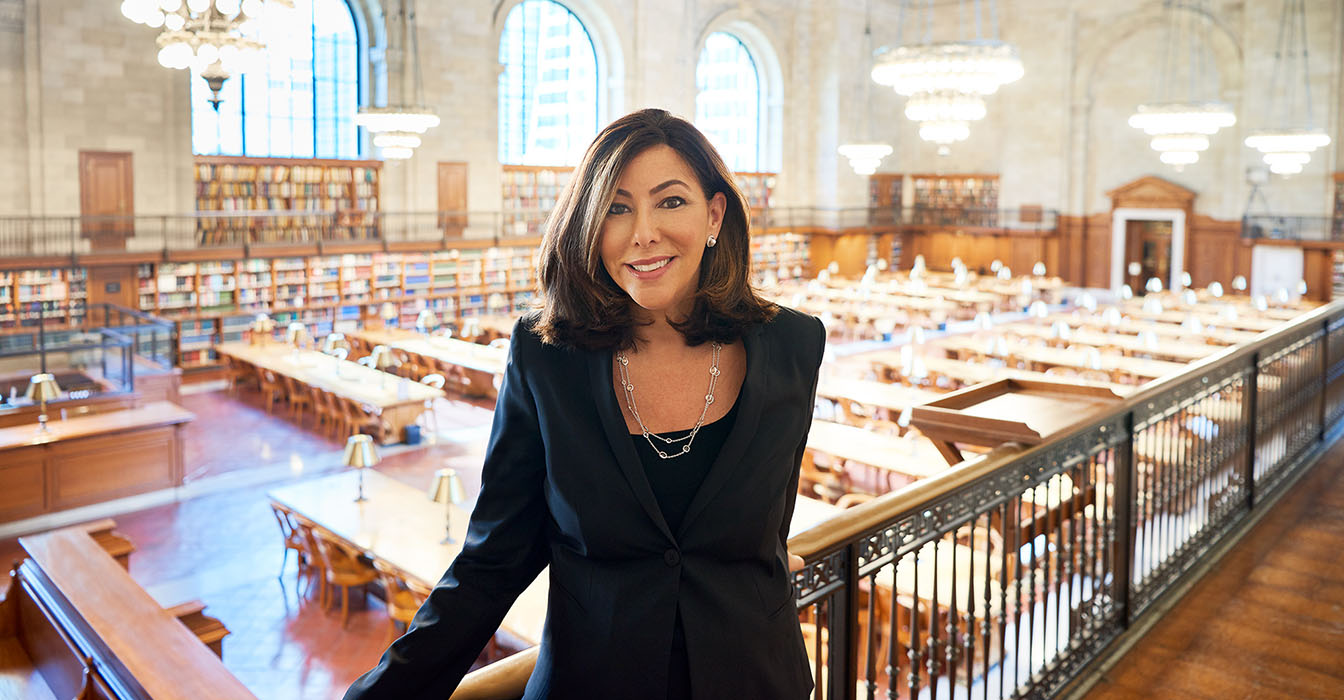 Deborah Farone at the N.Y. Public Library, where she is Advisor to the Chairman of the Board. Photo by Laura Barisonzi. 
In the rarest air of legal marketing, there are two, maybe three, CMOs who have stood the test of time at the world's most elite law firms. And one of them, Deborah Farone, has decided to leave her post as CMO of Cravath, which she joined in 2003 after 13 years at Debevoise & Plimpton.
Grace under fire. The clear-headed thinking to be a visionary when surrounded by hundreds of genius lawyers. The grit to survive the twists and turns that are modern law firms.
Those are just three of the traits needed to succeed as an elite legal CMO.
Farone has those and more. She began her career at Cravath under the late illustrious presiding partner Bob Joffe, who was succeeded by legendary litigator Evan Chesler and dealmaker extraordinaire C. Allen Parker, and most recently Faiza Saeed, a supernova M&A lawyer. If that's not a calling card for a woman who knows her way around a boardroom, you can stop reading right now.
But if it is, read on. Farone's years advising lawyers on business development; working with the world's top media – and an Academy-award winning screenwriter; and securing Cravath's recognition as the most admired U.S. law firm are both a guidebook and a personal narrative. And one in which we suspect lots of folks will be interested.
Lawdragon: Why did you decide to launch Farone Advisors LLC after more than two decades as the CMO at two of the U.S. most prestigious law firms?
Deborah Farone: What drew me to work in professional services marketing in the first place was the opportunity to work with smart, challenging personalities who want their businesses to grow.  By working as a consultant, I'll have a greater opportunity to dig in to the actual work that I love so much, but this time, for a variety of clients. That can mean business coaching, communications or branding advice. I like getting into the weeds of working with professionals.
LD: What type of firms and organizations do you hope to work with?
DF: The most exciting thing for me is to work with organizations interested in growth. Professional services, whether they are consulting, law, finance … anything with a service element, are fascinating to me. I have started to work with a client who is thinking about the overall brand of their company, but I also like working with organizations undergoing real change because of a trigger in the business environment.
LD: If you had three observations to share with firms seeking to establish or strengthen their marketing and communication, what would those be?
DF: First, it's important in any type of marketing to be strategic, to have a clear vision of what you are trying to accomplish and how you plan to get there.
Second, look at the various forms of marketing and communications channels available today.  There are so many of them.  You need to think about the best way to reach your audience.  For example, is it in person, by email, by webcasting, or by Twitter?
Third, I think people often forget that communications is just one element of the marketing mix.  You need to look at the strength of the service as you would a product, how the client is served and how the offering is priced.  Even with the most brilliantly conceived communications plan, if the other elements are not in focus, you can easily miss the mark.
LD: Is there a 'no-no' that law firms frequently make when it comes to communications?
DF: Preparation is everything.  Whether it pertains to putting together a seminar or doing an interview, prep time is a must. I have been fortunate to have worked with lawyers who believe this, but there are others out there who don't. The smartest law firm partners know that they still need some coaching and preparation in advance of interviews.  That doesn't mean that people need to be "handled" but knowing the ground rules, having at least a few key points in mind and understanding something about the reporter are the basics.   I also think that in the realm of handling crises, you should always look to an outside PR firm.    Even if you have an in-house expert, when you're under the stress of those situations, it makes sense to bounce the ideas off someone with an outside perspective.
LD: How have you seen the CMO function change in law firms from when you joined Debevoise to today?
DF: I think there is a greater emphasis, as there should be, on the bottom line.  Partners want to know that their CMOs are helping them build practices not just promoting reputations.  I also think that with the important role of ACCA (The American Corporate Counsel Association) and the growth of an extraordinary group, CLOC (the Corporate Legal Operations Consortium), CMOs need to be an advocate for the client's perspective.  They need to understand the role of the procurement officer, and know how pricing decisions are made on both sides of the table.  I think today's CMOs are terrific and often an untapped resource.
LD: Any favorite memories from your years in-house?
DF: Many years ago, the first time my team and I were able to demonstrate quantitatively that we had identified a company for our firm who actually became a client was a very big deal for me personally.  It doesn't sound like as big of a deal now – and many firms are doing this, some with highly structured sales teams – but we had spent a good deal of time and effort on developing systems and various methodologies of tracking business indicators.  When something like that finally started to bear fruit, it was very exciting.
LD: What traits or habits do good rainmaking lawyers get right?
DF: I don't believe there is such a thing as luck when it comes to building a practice.  The most successful rainmakers are those who provide superlative service to their clients and work very hard to keep them happy.  They also generally have a lot of discipline in terms of work ethic, and often have systems to remind themselves to stay in touch with clients, even during a time when they are not actively engaged.
LD: I know firms often seek out your advice on what to look for in hiring a CMO. Is there one person that's right for every firm, or any simple advice you can give?
DF: I think firms have to think very hard about what they want in a CMO.  Knowing what skills are needed for the job is key.  I also think chemistry does play a big role in the equation.  Mark Zuckerberg recently said that you should only hire people who you yourself would not mind having as a boss.  I think that's a good lesson.  I also think it's important for the partnership to involve the CMO in strategy and key decision making.  They should be part of those discussions.
LD: Congratulations on the contract to write the definitive book on legal marketing for PLI Press, "Best Practices: Business Development and Marketing for Law Firms". Have you started and what are you most looking forward to about it?
DF: I have started to write it and it's an amazing experience. There are so many brilliant people out there involved in this area, so I am taking the approach that people want to hear from them.  The book is giving me the opportunity to ask questions of managing partners, consultants, general counsel and other thought-leaders.  Even though this profession has grown over the years, there still remain a lot of questions.
LD: You always have one of the best contact lists in the business. Name names if you want – who are some of the legal and business reporters who get it right – and what is it that you like about working with them?
DF: There are a handful who I think are amazing.  Gina Passarella at The American Lawyer does a great job at covering sensitive topics and has a keen eye for real news.  Ashby Jones of The Wall Street Journal reports expertly on law for a business audience and at the same time, keeps it interesting for a lay person.  Randy Smith at The New York Times mastered the long-form financial story before anyone else and his line of questioning makes him the reporter's reporter.  I always keep an eye out for his pieces. I also have always admired David Marcus at The Deal.  I've never met someone who can cover Delaware Court decisions in such infinite detail, and at the same time know when a story is or isn't worth covering.   David is a big picture guy who loves the details.  Alison Frankel at Reuters is simply a genius. And of course I'm also a big fan of Lawdragon.
LD: And last but not least, tell us about your work with Graham Moore, the Oscar award-winning screenwriter whose book on Thomas Edison – "The Last Days of Night" which is brilliant – featured Paul Cravath as its lead character?
DF: I had only a minor role, but it was still thrilling. When I saw in a Hollywood trade publication that the screenwriter of "The Imitation Game" was writing a book about Edison and telling it through the eyes of Westinghouse's young lawyer, Paul Cravath, I contacted Graham's editor and eventually Graham himself and offered to help. Both Allen Parker and I supported Graham by providing research into Paul Cravath's life and work and by having Graham come to the firm to speak with our associates. I also invited Graham to speak at The New York Public Library's Lawyers for the Library Committee event last spring. For a number of years, I have served as an adviser to that committee, and I serve as an advisor of the Chairman of the Library. We had Graham interviewed by Jeff Toobin, and they were brilliant together. The serendipity that results from something as simple as spotting an interesting item in a news article, can be turned into a golden opportunity.