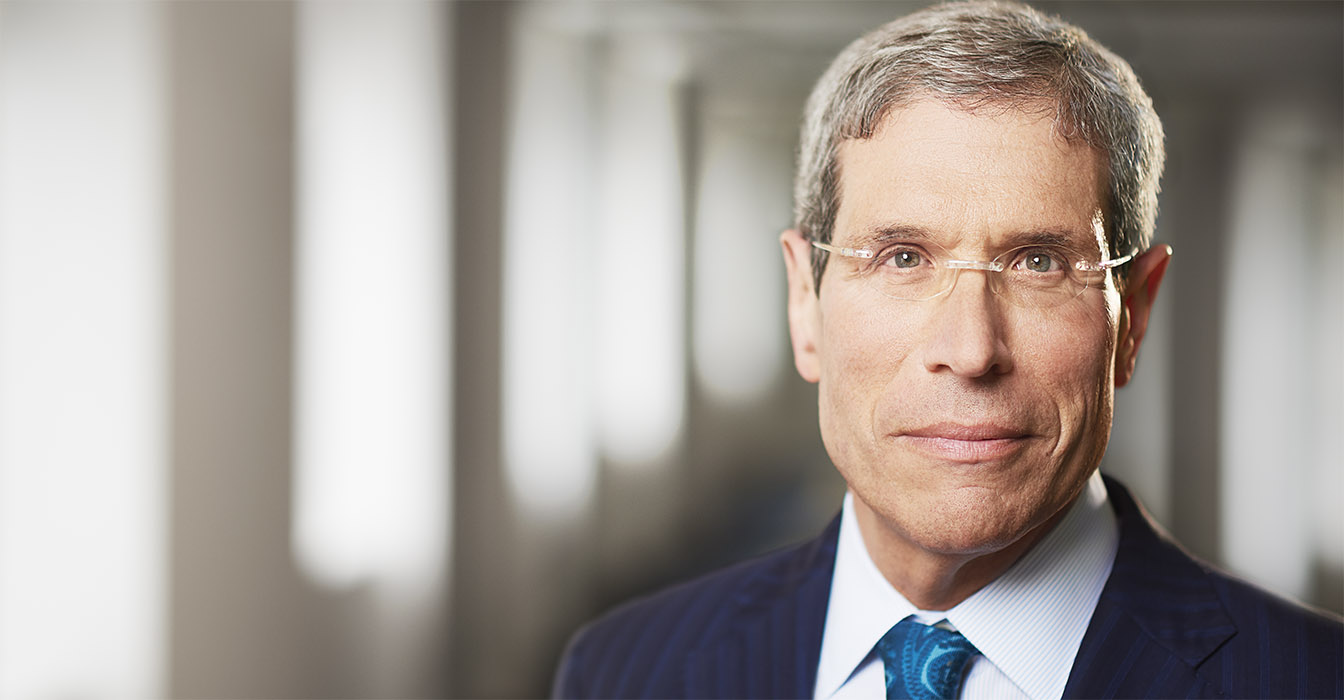 Photo by Laura Barisonzi.
He is preternaturally cool, in an intense sort of way. Which may be exactly what makes Joseph C. Shenker the ideal chairman for Sullivan & Cromwell, inarguably the impresario of American internationalists when it comes to legal affairs.
The Brooklyn-born, night-school educated accountant wielded brilliance, competitiveness and dynamism to rocket to the top of what's considered one of the top three elite U.S. firms. He developed real estate finance for Goldman Sachs, then deployed it for one of Sullivan's largest assets: its own headquarters on the waterfront of Lower Manhattan. He handled several of the biggest sports deals of all time, helping Frank McCourt sell the Los Angeles Dodgers to Guggenheim Baseball Management for a jaw-dropping $2.15 billion. His Dodgers jersey hangs on the wall, #2.15, and the backstory of the sale – which we sadly can't tell here – involves a movie called "Bad Santa," a tuxedo, Magic Johnson, and a dash to Cipriani.
If we don't yet have your attention, there's this: He's an orthodox rabbi in a firm where that would have been considered unlikely when it was founded in 1879. The firm's imprint on the U.S. economy is legendary – from advising John Pierpont Morgan on the formation of Edison GE to the founding of U.S. Steel; from advising European bankers who financed America's railroads and infrastructure to helping create the Securities Act of 1933; from filing the first major registration under that Act to handling Ford Motor Co.'s $643M offering in 1956. The firm's global footprint is perhaps larger still. Try this: When Shenker visits Panama, Sullivan & Cromwell is thanked for the Canal.
His views on leading Sullivan & Cromwell are post-contemporary – reflecting a deep emphasis on the brand, reach and technology – paired with retro values that come from sustaining a jewel of a firm in an era of law firm undertow. His mantra is simple: recruit and train the best lawyers to deliver perfect work to the world's most interesting clients.
Accustomed to looking out toward the world's far horizon, Shenker is currently contemplating a vista that has bent in surprising ways. The world's social unrest is on his mind, as is the imperative for a society of laws in these trying times.
Lawdragon: Joe, can you talk about your path to joining Sullivan & Cromwell and what attracted you to the legal profession?
Joseph C. Shenker: What a lawyer really does is look at a situation, analyze the issues, and try to solve the problem. And that's something I was always pretty good at. I like problem solving: I like pulling apart issues in order to understand and analyze the problem; I like trying to see and understand each protagonist's point of view; and I like articulating and advocating for solutions that work. I was doing that way before I went to law school, just going through life.
LD: Did you debate in high school or college?
JCS: Growing up in Brooklyn . . . I always enjoyed verbal sparring, debating, and advocacy. So I probably debated my entire life. But again, debate in the sense of working to understand every individual's point of view, as opposed to pre-judging, or arguing or debating for only one side.
It is important for a lawyer to put himself/herself in the other "side's" shoes, to understand there is no one necessarily true path and your preconceived notions might not be correct, to have an open mind and the ability to get into someone else's head and understand their point of view.
For example, when doing a deal in China you need to understand the Chinese counterparty's culture and the way they approach problems and solutions and not jump to conclusions based only on your prior experience elsewhere. That's really important in both practicing law and in managing your organization. You should not be fixated on your own ideas; you have to be open to hearing other points of view. It doesn't mean you can't at the end of the day be decisive, but it's a mistake to be closed-minded.
LD: What is distinctive about Sullivan & Cromwell to you?
JCS: What is unusual, I think, about this place is first, we really believe in the "pursuit of excellence." That matters. The perfect isn't the enemy of the good. Intellectual excellence, as well as excellence in client service; both IQ and EQ: really caring about the intellectual problem and pushing the analysis to its furthest, no matter how much time it takes, and having the EQ to empathize with the people you're dealing with, and to recognize and relate to all the players – whether they are on your side or on the other side, or are the judge, regulator or investigator.
Second, S&C is a dynamic firm in terms of our practice: the areas and mix are constantly changing. Part of the reason for that is our roots on Wall Street, the investment banks – who are always innovating. We have to be ahead of the curve.
LD: Any other traits that are distinctive to Sullivan & Cromwell?
JCS: Every firm has its DNA. Some firms and some clients have pushed for the lowest cost per product unit through extreme specialization, mechanization and routinization. Clients will say, "Okay, for a certain segment of my work, that's all I need. The perfect is the enemy of the good."
That's not our philosophy. We can't take the chance. A client once told me, "If the contract is 80% good, but a lot cheaper, in certain circumstances it's good enough." I responded, "That all depends on what 20% you're missing."
Our job is to do the perfect. We have flexibility on what to charge and we can only charge what makes sense, but we don't have flexibility on doing the best we can – and that requires pushing our thought processes and analysis to the fullest.
LD: Can you talk about one of your early experiences that demonstrates the unusual nature of the firm?
JCS: I joined as a summer associate after my second year at Columbia Law School. We were asked to choose practice areas we might be interested in and I chose both tax and "general practice." General practice covers a multitude of evils: everything that's not litigation, estates or tax. It includes many subgroup specialties – which are permeable.
When I came back as an associate, I was asked to choose between tax and general practice. I love the intellectual part of tax, but since I like the people element and negotiation, in addition to the problem solving, I chose general practice. What's neat in general practice at S&C is you are really also working at tax and everything else too.
Once I chose general practice, I was in the pool for any type of transaction assignment. Goldman Sachs was then, and still is, a major client. In 1981 they decided to build a new headquarters at 85 Broad Street. We were assigned to it. And there I was, a rising second year working on this very innovative assignment for Goldman Sachs.
LD: And that was your first big deal?
JCS: The first one on which I had major responsibility. Goldman wanted to do it creatively. They were first buying the land, which was a complicated assemblage, involving closing a city street: Coenties Alley. And they wanted to do everything themselves – in other words, as developers – and they had never developed before. Because they wanted to learn it. So it was all in-house, with us as counsel, and recognizing that neither of us had really done this before.
First we dealt with the city on closing the alley. If you go across the street today, though it's no longer Goldman's headquarters, you will see a crooked brick path that goes through the lobby and that is Coenties Alley. It was part of our deal with the city to preserve the outline of it.
Goldman also wanted to test out pioneering construction financing. They were not in the real estate investment banking business at the time and subsequently went into it. But this was their first try at it so they wanted to push themselves. They said, "Let's finance this in the securities market, in the commercial paper market" – which had never been done for real estate. Today it's the norm, but this was the first time it was done.
We developed a commercial paper program with them based on work we had done to finance nuclear fuel for utilities and continuous casters for steel companies. We adapted what we did there to finance real estate in a first-time ever transaction that became the pioneering transaction for the securitization of real estate, and for Goldman Sachs which became dominant in the field.
LD:  You must have felt a very visceral gratification of actually being able to see the product of your work.
JCS: My kids used to laugh because I walked around New York City with them saying, "Oh, we bought that building. We sold that building. We financed that building."
The interesting thing is that we were given the responsibility. And not being wedded to one thing, to preconceived methods, was the key. If we had been wedded to traditional construction financing, we wouldn't have been the right people. Goldman took a chance on us but they were taking a chance on themselves. And it worked.
From there, we went on to pioneer the whole area of securitization of real estate: we did the first ever Euro-dollar real estate financings, the first ever Libor-based/interest rate swapped real estate financings, the first-ever rated deals, and so on. We literally helped pioneer the whole area, which was Goldman's goal in trying it out on themselves.
LD:  Let's talk a bit about managing the firm, which probably brings a similar array of constituencies and moving parts against a backdrop of a world in turmoil.
JCS: I work with my partners to lead this firm in this world. It's a dominant global firm and right now the world's kind of upside down.
In our lunches with our associates we often try to address this. We explain that we build for the long term and try to minimize the craziness that we're going through at any moment. I tell them we are living in the most complicated, volatile, political and social situation that I've lived through. That obviously impacts business.
And what's even more unusual is that's true all over the world. It's true of the developed countries, whether the United States or Great Britain. It's true in the developing countries of Brazil, obviously Venezuela, Argentina. China has serious social issues it will have to deal with. So we are dealing with tremendous social unrest and probably consequent protectionism worldwide, and that will likely be exacerbated with increasingly rapid technological change. Because that will cause massive job shifting, uncertainty and the need for retraining.
Notwithstanding this, we are huge believers in being citizens of the world, in free trade and in building for the very long term. That's our business. The way economies grow best is through the free flow of goods, services, people and ideas, and the places and institutions that welcome that will be the survivors. And, interestingly, despite the recent uncertainty and protectionist winds, business enterprises are behaving as globally as ever.
LD: If you have a mantra, it's to hire the best people to do the most interesting work. Can you explain how everything comes back to that for you?
JCS: We always want to recruit the best people. You are not going to recruit the best people unless you're offering them a creative, dynamic, diverse, open and welcoming platform. Our practice is not pigeon-holed; we call it "general practice" for a reason – as opposed to a real estate department, an M&A department, etc. When you eliminate "departments" you help avoid pigeon-holing and silos. We want that kind of free flow of ideas, creativity, knowledge, experience and innovation.
I even expect to see the boundaries between litigation and general practice further eroded. All legal work at its core is the same: You are analyzing a problem and trying to arrive at a solution by understanding your client's and its counterparty's (whether contractual counterparts, regulator, investigator, etc.) viewpoints, and needs; you then have to articulate your position and solution orally and/or in writing, and advocate successfully for it.
LD: You hope to focus on the broader Conflict Resolution? That's certainly consistent with the cross-cutting creativity you've achieved with General Practice.
JCS: Intellectual property disputes are a good example of exactly that. You might see a lawsuit, a licensing agreement or a lawsuit that results in a licensing agreement – which is usually what happens. What we need are lawyers who are trained to think as counselors to be able to move fluidly between strategies and approaches.  We need to create people who can cross lines and think with IQ and EQ. You obviously need specialized knowledge, and that's not going to go away. Everyone here has an area of specialized knowledge, but everyone also needs to be trained in broad areas of general knowledge to bridge it so they can be a true advisor. Call on specialties, but understand the whole thing.
That to me is the key to the practice and the key to successful recruiting. Technology and artificial intelligence have made and will undoubtedly make our lives easier with respect to document discovery, production and drafting. That results and will continue to result in making our practice more interesting, because it allows us to focus on multi-disciplinary strategic advice and counseling. That way you are the winner as opposed to the loser, from technological advances.
LD: Which mirrors the challenges we see in society?
JCS: Society's challenge is to make sure we figure out how everyone is a winner from technological change. It should be so, because technology enhances productivity. It makes your life more pleasant, but it does cause job displacement. And we have to figure that out.
Being global also allows us to always solve different new problems, to work with different people and learn new things. I'm in China several times a year, and I love it. I've learned a lot about China that I didn't know before. I love understanding the culture and what makes things tick. How the system operates on a practical level. What their issues are and how you bridge the cross-border gaps. I've given a lecture at Beijing University about exactly that.
A global practice adds interest. You're learning new cultures, new areas, doing business in different places, with different standards and in different industries: that's part of the fun of being a lawyer. It creates a virtuous cycle of recruiting the best, which leads you to the most interesting problems from the most interesting clients which leads you back to recruiting the best.
How do you recruit the best? You offer the most interesting practice and the best and broadest training. Whether they stay here or go somewhere else, we want to work with our lawyers to prepare them for whatever career path they later choose. That's also why we created our Career and Alumni Resource Center. The Center's services are available to all of our lawyers and alums at any point in their careers, and include career counseling, placements with legal and non-legal employers and networking opportunities.
LD: That's a different dialogue from how we used to talk about the relationship between an attorney and the firm.
JCS: People often talk about joining a law firm as golden handcuffs. We actually think of it as wings. That you've been at Sullivan & Cromwell even for three years means you can go anywhere.
LD: I know you think a lot about the society of laws, and that there is nobility in this profession. Do you see a loss of that in society and some firms with the business and societal pressures?
JCS: I do. Part of it has come from the law becoming a bit of a commoditized business; part of it is fee pressure, which is understandable and fair as legal spend has become too high. Part of it is just bad behavior.
LD: Can we talk about the firm's market-leading practice in crisis management? That also seems very of the moment.
JCS: It is a reflection and the epitome of our multi-disciplinary approach. When Bernie Madoff was arrested, we got a call from the president of Yeshiva University saying "We have a real problem"; Madoff was their treasurer and chairman of the Syms Business School. We worked hand-in-glove with our client to deal with this crisis: communicating with all constituencies: the students, the faculty, the Attorney General, the courts, alums, donors, the board.
Today our lawyers are working with Volkswagen and Fiat-Chrysler on their emissions cases. Our global footprint and multi-disciplinary approach are particularly helpful in crisis management because you never know what will hit you as you navigate the crisis and allows us to work with interesting clients on all types of matters.
LD: With your emphasis on listening to the disparate voices in the market, what changes have you detected over the past few years?
JCS: The financial crisis was tough. The stress on financial institutions was extensive. Our job really was to figure out how to add value in those circumstances. We are not looking to build a huge empire of leveraged lawyers who then just go out and churn work. That undermines perfectionism. Our goal is to create and maintain an exciting place to work which the next generation will be as enthusiastic about as I am. And, as part of that, you also have to be doing good: helping people and institutions that people care about.
LD: In this changing world, few things are as valuable as a platinum brand. Let's talk a bit about the value of the Sullivan & Cromwell brand.
JCS: We own this building, for example, right? It's a great asset; a million and a half square feet worth perhaps a billion dollars – but it doesn't compare to the value of our brand. It took us 139 years to create our brand and you can lose it in an instant. The only way you don't lose it is to keep to that pursuit of excellence.
The other thing that goes to our brand is client service. I remember I was dealing with a CFO of a major public company who said to me, "You know Joe, you're a really good lawyer, but there are probably five other lawyers who are as good as you. But what gives me a lot of comfort is I know you worry. When you go to sleep at night I know you're still worrying about me." It's that kind of extra empathy in client service that is important. You have got to recognize it is a client service business, it's not some academic pursuit. It is a part of our brand that we worry about it.
LD: It is so rare for a law firm leader to get brand like you do. That it differentiates you from 10,000 other law firms.
JCS: "It's never about you" is a point you have to understand as a lawyer. It is a service business. For example, your client can sometimes come to you with a problem that another law firm, another lawyer did not handle well. There is sometimes a perhaps fleeting tendency to kind of enjoy that. But that is the wrong thing to be doing to the client. It reflects poorly on you, and it's not what the client is looking for. You're there to solve the problem.
LD: It's your victory that the client came to you in failure.
JCS: But it's not about you; it's about helping them. Your attitude has to be "Okay, how do I solve this?" As opposed to, "Jeez, I can't believe that happened."
LD: How do you assess your global performance during your leadership starting when you got involved with management in 1996 and became vice chairman in early 2006? Just in time for the financial crisis.
JCS: What I am most proud of is to have an environment, a workplace and a practice where our people are happy to come to work and new people want to join us. That comes from creating a stimulating and respectful environment, having our people awake and fully engaged during the day, and asleep at night. That's Nirvana. It's not always accomplished. But that's the goal.
LD: So not money, not profits, you measure your success by having the best work, the best people.
JCS: That creates the money in the process. That's the best business plan.
LD: And how does the firm's global footprint play into that, especially in these times?
JCS: The philosophy of the firm always – going back to before we helped get the Panama Canal built – was to just do interesting things. The Panama Canal was done because we had a French client who was competing with another consortium for whether it should be built in Panama or Nicaragua. So William Nelson Cromwell organized the secession of Panama from Colombia. They still recognize us because of that, and we helped our client whose goal was to have French engineering used to build the canal.
So we were always a global firm, but that's not the goal. Our goal is simply to pursue the best, most interesting work from the best clients. That's what leads us to be global as opposed to saying, "Oh I want to be global. I've got to have an office in XYZ place." That's not the way we approach it.
LD: What are you most proud of during your leadership?
JCS: Not messing it up, to tell you the truth. I always say, "My job is to hand the firm over to the next generation of lawyers in at least as good a shape as I found it."
I've been happy pretty much every day I've walked into this place. There are a lot of stresses, but I love my job. I want that for the future of this firm and for everyone who works here.
LD: How do you think the firm will be different in five years?
JCS: I don't want to prescribe that. I just know we should continue our pursuit of excellence. Push the edge, find the most interesting clients, the most interesting work, make sure we're the most invested in technology and are always investing for the long term. Hire the best people; the rest takes care of itself. We develop new practices and new geographies to respond to client business and economic need. That's how you innovate.
That was true whether it was the development of real estate securities or opening new offices. We just opened in Brussels, even though I always said it was unlikely I would open a new office. But Brexit happened, with a lot of cross-border work and the increase in regulatory scrutiny by the European Commission, and we felt we needed it.
"Five-year plans" never work and we don't do them here. But we are always listening for trends, changes and developments. You have a strategy, and you have a vision, but most important you have core principles and you've got to live by those core principles. Those core principles are: recruit the best, train them the best, treat them the best, and good things will happen. That's the goal, that's the brand.