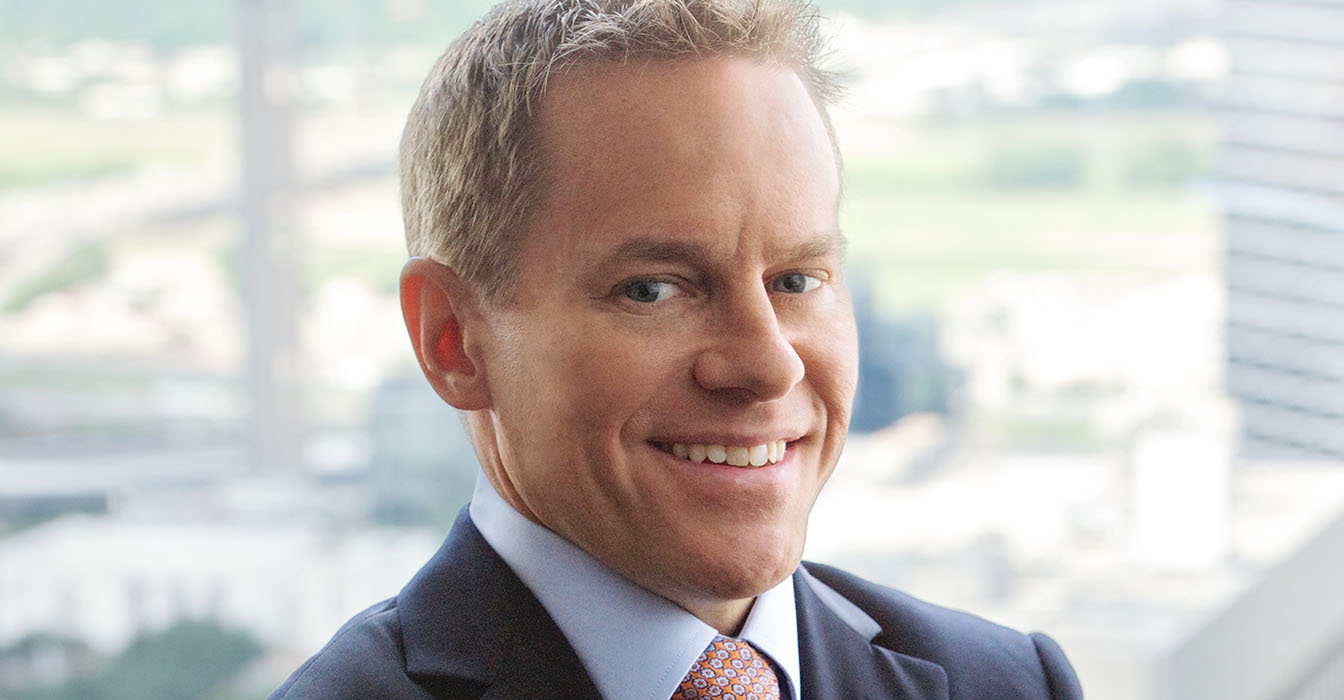 To say Eric Madden is a small-town boy is an understatement. With just four-dozen students in his high school class, he had a chance – actually, it's more like a duty – to try a little bit of everything, from basketball to the debate team and the school newspaper.
Realizing he was too short for his basketball dreams, he decided to use what he knew about arguing and writing to build a career in law. Madden aspired to become a small-town lawyer in Kansas and maybe someday take a seat on the state Supreme Court. But he became fascinated with federal litigation in law school and realized that unless wheat fields provoked federal jurisdiction, he'd reckon to do better in a big city. He chose Dallas and began specializing in bankruptcy cases, eventually joining the boutique firm of Reid Collins & Tsai LLP, which handles complex litigation nationally and internationally.
Lawdragon: Did you start out intending to specialize in bankruptcy cases, or is that something that just occurred along the way?
Eric Madden: I joined a large firm out of law school and spent most of my time working on a big lawsuit pending in bankruptcy court. We were defending a prominent financial institution against claims by the trustee of a bankrupt company who was seeking to recover hundreds of millions of dollars in damages. We ultimately won that case, both at trial and then on appeal in the 5th Circuit, but in working on that case, I learned two things: One, you can find complex litigation arising out of bankruptcy cases, and two, you probably have more fun and find it more challenging to be on the plaintiffs' side of those cases.  And so, I started building this practice representing bankruptcy trustees and creditor committees in what we call, "Who killed the company?" cases.
LD: That's excellent.
EM: It's a nice buzz phrase. When a company fails, sometimes it's due to market forces or just bad luck, but sometimes it's due to greed or self-dealing or conflicts of interest, and when that happens, people should be held accountable. That's the focus of my practice.
LD: Growing up, when you were figuring out what you were going to do with your life, how did you become interested in law? Was litigation your focus?
EM: I grew up on a farm in the middle of Kansas. We grew wheat and corn, and we had horses and cattle. We did it all. I went to a very small high school, and there were a lot of opportunities: I played point guard on the basketball team. I played the lead role in the high school musical. I was editor of the newspaper. I was captain of the debate team. It was just a wonderful experience to grow up there. But I was a short kid with no future in basketball. And I couldn't sing that well. So I decided to combine my writing skills from the newspaper with my argument skills from the debate team and become a lawyer.
LD: What did you study in college?
EM: I studied English and Environmental Policy.
LD: How did those interests feed into your decision to go to the University of Kansas for law school?  Can you talk a little bit about that experience?
EM: I am a lifelong Jayhawk. I bleed crimson and blue. So I went KU for my undergraduate degree, and then stayed there for law school.  My plan was to become a small-town lawyer, raise a family and eventually seek appointment to the Kansas Supreme Court. But my plans changed in law school. I took the federal courts class, a tough class with an even tougher professor – Professor Ellen Sward. I loved the complexity of federal practice and realized that it would be difficult to have that kind of practice as a small-town lawyer. I started to look at bigger cities and bigger firms.
LD:  How did you end up in Texas?
EM:  Texas trial lawyers are legendary, right? I wanted to be part of that club. So I moved to Dallas and joined a big firm.
LD: What were some of your more memorable trials?
EM: At our prior firm, Bill Reid and I tried an unusual case together. We represented the bankruptcy trustee of a Las Vegas company that had operated a billion-dollar Ponzi scheme. It was the largest financial fraud in Nevada's history, according to some of the newspaper stories. The company was affiliated with a reputed Gambino crime family member who had received a large fraudulent transfer from the company shortly before bankruptcy. We sued him to recover the money.
LD: Wow.
EM: It was a surreal experience. He sent holiday cards to my home address and often asked me, at depositions or at hearings, how my kids were doing. One of the key witnesses in the case, his car blew up in his driveway one night. Yet we pressed on with the claims, went to trial, and won a very large judgment against this guy. Afterward, he shook our hands and said that we had always acted like gentlemen.
LD:  Can you talk a little bit about your decision to join Reid Collins? How the opportunity arose?
EM: I worked closely with Bill and his team at our prior firm. They are not only talented lawyers, but also good friends. Over the years, we had each built strong practices in plaintiff-side bankruptcy litigation.  It made perfect sense to join forces.
LD: Was it scary to open an office and leave the bigger firm?
EM: Of course. But I had seen Bill and his team do it so well. I knew we could do the same here in Dallas.
LD: How did the office develop from the day you formed it until now?
EM: We have added some people, but our success isn't measured by head count.  As a boutique firm doing contingency-fee litigation, we don't make money by putting people behind desks and churning hours. We make money by finding compelling cases, developing strong arguments, and getting results. In terms of results, my docket has grown and grown. In our first year after joining the firm, we recovered approximately a billion dollars in settlements and judgments for our clients.
LD: What are some of the technical skills that you needed to master to become an expert in bankruptcy-related litigation?
EM: There are several important skills. First, you need to know how to read a financial statement. You also need to know how to dissect a business: That means learning how they're supposed to operate, and how they failed and who's to blame.
LD: Back to the postmortem.
EM: Right. But probably more important than either of those skills, you need to know how to concisely explain all that to a judge or a jury. Someone once said if you can't explain something simply, then you don't understand it well enough. That's an essential skill for any trial lawyer, but especially for a lawyer trying to explain the failure of an entire company.
LD: Are there cases that you're particularly proud of or that are noteworthy to you?
EM: Sure. Fresh & Easy was a large grocery company based in California. It suddenly collapsed into bankruptcy a couple of years ago. We represented the creditors committee in investigating claims against the company's insiders, including Ron Burkle, a billionaire supermarket magnate.  We conducted an expedited investigation, deposed a bunch of witnesses, and then convinced the Delaware bankruptcy court to freeze their assets.
That allowed us to achieve a very quick and favorable settlement. We recovered $21.5 million in cash, and more importantly, Burkle and his associates waived $104 million in claims against the company. That meant the distribution to creditors in the bankruptcy case would double. In other words, all of the company's unpaid employees and other creditors would receive twice as much because of our work.  It was a rewarding result.
LD: That is a great illustration as to why you like bankruptcy litigation and the meaningful result you can achieve in it.
EM: We feel like we're wearing the white hat in these cases because, as I said, companies often fail because of greed or self-interested conduct. It feels good to represent innocent creditors and achieve a recovery on their behalf.
LD: What do you do outside of your law practice?
EM: My wife and I have four daughters. That means I get to litigate disputes at work and then mediate disputes at home! Our girls keep us busy with their sports, school, and other activities. My wife and I are also pretty involved in our church and teach Sunday school together. I don't have a lot of time outside of work other than chasing my wife and our four daughters around.
About the Author: Katrina Dewey (katrina@lawdragon.com) is the founder and CEO of Lawdragon, which she and her partners created as the new media company for the world's lawyers. She has written about lawyers and legal affairs for 30 years, and is a noted legal editor, creator of numerous lawyer recognition guides and expert on lawyer branding. She is based in Venice, Calif., and New York. She is also the founder of Lawdragon Campus, which covers law students and law schools. View our staff page.